Abstract
Liberal prostitution policy aims at improving labor conditions for prostitutes and protecting victims of forced prostitution. Given its policy mandates, legalized prostitution should be linked to better protection policies for trafficking victims and stronger anti-trafficking measures. In this paper, I investigate empirically whether or not legalized prostitution improves protection policies for victims, as it is presumed. The results of my analysis—using data from 149 countries for the period of 2001–2011—suggest that a liberal prostitution policy does not lead to better protection and, in some cases, legalized prostitution can be detrimental to protecting victims of human trafficking.
Access options
Buy single article
Instant access to the full article PDF.
US$ 39.95
Tax calculation will be finalised during checkout.
Subscribe to journal
Immediate online access to all issues from 2019. Subscription will auto renew annually.
US$ 79
Tax calculation will be finalised during checkout.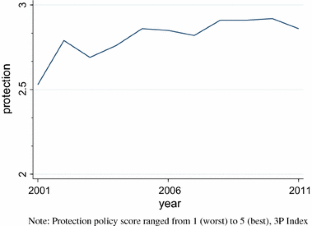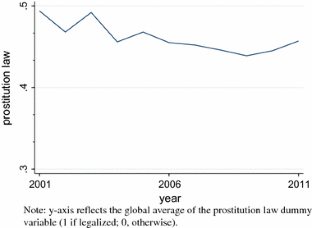 Notes
1.

In particular, several studies have investigated justifications for legalizing or criminalizing prostitution in relation with stigma and values. See Jakobsson and Kotsadam (2011) for the discussions on the prohibition of prostitution and its relation with gender equality and liberalism; Immordino and Russo (2015) regarding how the legality of prostitution affects moral and societal acceptance towards prostitution; and Jakobsson and Kotsadam (2014) on (de-)stigmatization and changes in demand for commercial sex.

2.

3.

4.

Furthermore, the prostitution markets in Germany are said to be one of the largest in Europe, with an estimated 14.6 billion euro in revenues or 0.5 % of the GDP (see Die Welt 2013).

5.

In addition, the Cragg-Donald Wald F-statistic of the weak identification test is 20.44—greater than the critical value of the 10 % level relative bias (Stock and Yogo 2005). This result suggests that the null-hypothesis of weak instrument is rejected at the 10 % level. Note that the Cragg-Donald Wald F-test is conducted by applying a 2SLS method based on the linear assumption, and therefore is not ideal for this model given its non-linearity. Thus, I conducted this weak identification test as an additional check for the robustness of my chosen instrument, ensuring the result of the Chi2-test above.

6.

Given the limitation of within-country variations in prostitution law, I admit that the results of my analysis mainly reflect differences in protection policy across countries under different prostitution regimes. Accordingly, this limitation calls for a cautious interpretation regarding whether legalizing prostitution deteriorates victim protection within a country. However, my findings still emphasize that liberal prostitution policy is not associated with a higher level of protection for victims of human trafficking—contradicting the objectives of the policy.

7.

Bulgaria, Cyprus, Czech Republic, Estonia, Kazakhstan, Kyrgyzstan, Latvia, Moldova, Poland, and Slovakia.
References
Arellano, M., & Bover, O. (1995). Another look at the instrumental variable estimation of error-components models. Journal of Econometrics, 68, 29–51.

Baetschmann, G., Staub, K., & Winkelmann, R. (2015). Consistent estimation of the fixed effects ordered logit model. Journal of the Royal Statistical Society: Series A, 178(3), 685–703.

Barry, K. (1995). The prostitution of sexuality. New York: New York University Press.

Belser, P. (2005). Forced labour and human trafficking: Estimating the profits. International Labour Office Working Paper 42/2005. Geneva.

Blundell, R., & Bond, S. (1998). Initial conditions and moment restrictions in dynamic panel data models. Journal of Econometrics, 87, 115–143.

Chamberlain, G. (1980). Analysis of covariance with qualitative data. Review of Economic Studies, 104, 225–238.

Chapkis, W. (1997). Performing erotic labor. New York: Routledge.

Charnysh, V., Lloyd, P., & Simmons, B. (2015). Frames and consensus formation in international relations: The case of trafficking in persons. European Journal of International Relations, 21(2), 323–351.

Cho, S.-Y., Dreher, A., & Neumayer, E. (2013). Does legalized prostitution increase human trafficking? World Development, 41, 67–82.

Cho, S.-Y., Dreher, A., & Neumayer, E. (2014). The determinants of anti-trafficking policies: Evidence from a new index. Scandinavian Journal of Economics, 116(2), 429–454.

Cho, S.-Y., & Vadlamannati, K. C. (2012). Compliance with the anti-trafficking protocol. European Journal of Political Economy, 28, 249–265.

Danailova-Trainor, G., & Belser, P. (2006). Globalization and the illicit market for human trafficking: An empirical analysis of supply and demand. ILO Working Paper No. 78. International Labour Organization: Geneva.

Das, M., & van Soest, A. (1999). A panel data model for subjective information on household income growth. Journal of Economic Behavior & Organization, 40, 409–426.

Die Welt. (2013). Prostitution—hier noch mehr Zahlen (Prostitution—Here again more numbers). November 3rd, 2013. http://investigativ.welt.de/2013/11/03/black-box-prostitution/

Ekberg, G. (2004). The Swedish law that prohibits the purchase of sexual services: Best practices for prevention of prostitution and trafficking in human beings. Violence against Women, 10(10), 1187–1218.

Farley, M., Cotton, A., Lynn, J., Zumbeck, S., Spiwak, F., Reyes, M., et al. (2003). Prostitution and trafficking in nine countries: An update of violence and posttraumatic stress disorder. Journal of Trauma Practice, 2, 33–74.

Ferrer-i-Carbonell, A., & Frijters, P. (2004). How important is methodology for the estimates of the determinants of happiness? Economics Journal, 114, 641–659.

Hughes, D., & Roche, C. (1999). Making the harm visible: Global sexual exploitation of women and girls. Speaking out and providing services. Kingston, RI: CATW.

Immordino, G., & Russo, F. F. (2015). Laws and stigma: The case of prostitution. European Journal of Law and Economics, 40, 209–223.

International Organization for Migration (IOM). (2010). Counter trafficking module. Geneva.

Jakobsson, N., & Kotsadam, A. (2011). Gender equity and prostitution: An investigation of attitude in Norway and Sweden. Feminist Economics, 17, 31–58.

Jakobsson, N., & Kotsadam, A. (2013). The law and economics of international sex slavery: Prostitution law and trafficking for sexual exploitation. European Journal of Law and Economics, 35, 87–107.

Jakobsson, N., & Kotsadam, A. (2014). Shame on you, John! law, stigmatization, and the demand for sex. European Journal of Law and Economics, 37(3), 393–404.

Jeffreys, S. (1997). The idea of prostitution. Melbourne: Spinifex Press.

Kaufmann, D., Kraay, A., & Mastruzzi, M. (2010). The worldwide governance indicators: Methodology and analytical issues. World Bank Policy Research Department Working Paper No. 5430.

Kempadoo, K., & Doezema, J. (1998). Global sex workers: rights, resistance, and redefinition. New York: Routledge.

Lancaster, T. (2000). The incidental parameter problem since 1948. Journal of Econometrics, 95, 391–413.

Mahmoud, T., & Trebesch, C. (2010). The economics of human trafficking and labor migration: Micro-evidence from Eastern Europe. Journal of Comparative Economics, 38(2), 173–188.

Marshall, M. G., & Jaggers, K. (2009). Polity IV project: Political regime characteristics and transitions, 1800–2009. http://www.systemicpeace.org/polity/polity4.htm.

O'Neill, M. (2001). Prostitution and feminism: Towards a politics of feeling. Cambridge: Polity Press.

Outshoorn, J. (2005). The political debates on prostitution and trafficking of women. Social Politics, 12(1), 141–155.

Pheterson, G. (1996). The prostitution prism. Amsterdam: Amsterdam University Press.

Potrafke, N. (2013). Policies against human trafficking: The role of religion and political institutions. CESifo Working Paper No. 4278, Munich.

Raymond, J. (2004). Prostitution on demand. Violence against Women, 10, 1156–1186.

Roodman, D. (2005). xtabond2: Stata module to extend xtabond dynamic panel data estimator. Statistical Software Components No. S435901, Boston.

Roodman, D. (2007). A short note on the theme of too many instruments. Center for Global Development Working Paper No. 125, Washington DC.

Stock, J., & Yogo, M. (2005). Testing for weak instruments in linear IV regression (chapter 5). In D. Andrews & J. Stock (Eds.), Identification and inference for econometric models. New York: Cambridge University Press.

Truong, T.-D. (1990). Sex, money and morality: The political economy of prostitution and tourism in South East Asia. London: Zed Books.

United Nations. (1949). Convention for the suppression of the traffic in persons and of the exploitation of the prostitution of others. New York.

United Nations. (2000). Convention against transnational organized crime and its protocol to prevent, suppress and punish trafficking in persons, especially women and children. New York.

United Nations. (2007). World abortion policies. United Nations Publication, Sales No. E.07.XIII.6. New York.

United Nations Treaty Collection. (2013). Ratification of the protocol to prevent, suppress and punish trafficking in persons, especially women and children. http://treaties.un.org/

United Nations Office on Drugs and Crime (UNODC). (2006). Trafficking in persons: Global patterns. Vienna.

United States Department of State. (2001–2011). Country report on human rights practice. Washington, DC.

United States Department of State. (2001–2013). Trafficking in persons report. Washington, DC.

Windmeijer, F. (2005). A finite sample correction for the variance of linear efficient two-step GMM estimators. Journal of Econometrics, 126, 25–51.

Wooldridge, J. (2011). Econometric analysis of cross section and panel data. Cambridge: MIT Press.

World Bank. (2013). World development indicator. http://data.worldbank.org/data-catalog/world-development-indicators
Acknowledgments
The author thanks Lukas Stroemsdoerfer and Douglas Pierce for their research assistance.
About this article
Cite this article
Cho, SY. Liberal coercion? Prostitution, human trafficking and policy. Eur J Law Econ 41, 321–348 (2016). https://doi.org/10.1007/s10657-015-9519-7
Keywords
Prostitution

Victim protection

Human trafficking
JEL Classification