Abstract
Entrepreneurship can have important positive effects linked to job creation, wealth and income generation, innovation and industry competitiveness. Scholars and policy-makers around the world have turned to the regulatory environment as a mechanism through which entrepreneurship can be encouraged, grown and its economic benefits harnessed. The effect of regulatory conditions on entrepreneurship however is not well understood, and can be nuanced given the wide range of regulatory tools and possible areas of impact. This paper serves as the introduction to a special issue, which seeks to shed some light on the relationship between regulation, firm dynamics and entrepreneurship. We identify some foundational considerations relevant to this relationship and discuss key questions, followed by a brief overview of each of the papers contained in the special issue.
Access options
Buy single article
Instant access to the full article PDF.
USD 39.95
Price excludes VAT (USA)
Tax calculation will be finalised during checkout.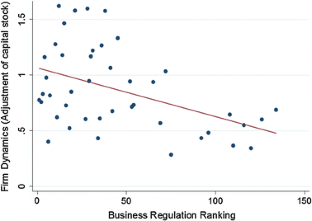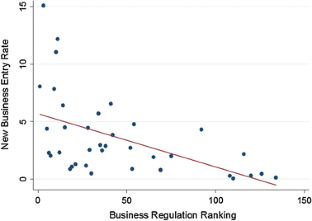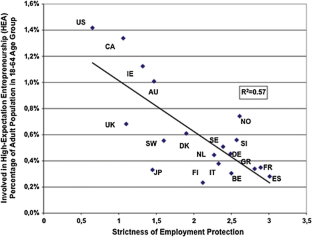 Notes
See Hägg (1997) for a review of economic theories of regulation.

As a measure of quality of regulations, we use the overall doing business index. After merging the three data sources we have 43 and 37 observations respectively for new business entry rate and firm dynamics. Norway and Hong Kong were excluded on the basis that observations were four standard deviations from the mean, but keeping them in the data however does not change the results significantly.
References
Acemoglu, D., Aghion, P., & Zilibotti, F. (2003). Vertical integration and distance to frontier. Journal of the European Economic Association, 1(2–3), 630–638.

Acemoglu, D., Aghion, P., & Zilibotti, F. (2006). Distance to frontier, selection, and economic growth. Journal of the European Economic Association, 4(1), 37–74.

Acs, Z. J., Desai, S., & Hessels, J. (2008). Entrepreneurship, economic development and institutions. Small Business Economics, 31(3), 219–234.

Aghion, P., Burgess, R., Redding, S., & Zilibotti, F. (2006). The unequal effects of liberalization: Evidence from dismantling the License Raj in India. Cambridge: National Bureau of Economic Research.

Ardagna, S., & Lusardi, A. (2008). Explaining international differences in entrepreneurship: The role of individual characteristics and regulatory constraints. In J. Lerner & A. Schoar (Eds.), International differences in entrepreneurship. Chicago: University Chicago Press.

Ardagna, S., & Lusardi, A. (2009). Heterogeneity in the effect of regulation on entrepreneurship and entry size. NBER WP 15510, NBER, Cambridge, MA.

Audretsch, D. B., & Walshok, M. (2013). Creating competitiveness: Entrepreneurship and innovation policies for growth. Cheltenham: Edward Elgar Publishing.

Autorm, D. H., Kerr, W. R., & Kugler, A. D. (2007). Does employment protection reduce productivity? Evidence from US states. Economic Journal, 117(521), 189–217.

Banerjee, A. V., & Newman, A. F. (1993). Occupational choice and the process of development. Journal of Political Economy, 101(2), 274–298.

Bassanini, A., & Venn, D. (2007). Assessing the impact of labour market policies on productivity: A difference-in-differences approach. Paris: OECD Publishing.

Becker, G. S. (1983). A theory of competition among pressure groups for political influence. The Quarterly Journal of Economics, 98(3), 371–400.

Bosma, N., & Levie, J. (2010). Global entrepreneurship monitor: GEM 2009 results.

Braunerhjelm, P., & Eklund, J. E. (2014). Taxes, tax administrative burdens and new firm formation. Kyklos, 67(1), 1–11.

Chun, H., Kim, J. W., Morck, R. & Yeung, B. (2007). Creative destruction and firm-specific performance heterogeneity. NBER Working Paper 13011, Cambridge, MA.

Ciccone, A., & Papaioannou, E. (2006). Red tape and delayed entry. CEPR DP 5996, CEPR, London.

Cullen, J. B., & Gordon, R. H. (2007). Taxes and entrepreneurial risk-taking: Theory and evidence for the US. Journal of Public Economics, 91(7), 1479–1505.

Davidsson, P., & Honig, B. (2003). The role of social and human capital among nascent entrepreneurs. Journal of Business Venturing, 18(3), 301–331.

Desai, S., & Eklund, J. E. (2014). Ownership and the allocation of capital: Evidence from 44 countries. Journal of Institutional and Theoretical Economics, 170(3), 427–452.

Djankov, S. (2008). The regulation of entry: A survey. CEPR Discussion Papers 7080.

Djankov, S., La Porta, R., Lopez-De-Silanes, F., & Shleifer, A. (2002). The regulation of entry. The Quarterly Journal of Economics, 117(1), 1–37.

Dunn, T., & Holtz-Eakin, D. (2000). Financial capital, human capital, and the transition to self-employment: Evidence from intergenerational links. Cambridge: National Bureau of Economic Research.

Estrin, S., Korosteleva, J., & Mickiewicz, T. (2013). Which institutions encourage entrepreneurial growth aspirations? Journal of Business Venturing, 28(4), 564–580.

Evans, D. S., & Jovanovic, B. (1989). An estimated model of entrepreneurial choice under liquidity constraints. The Journal of Political Economy, 97(4), 808–827.

Fonseca, R., Lopez-Garcia, P., & Pissarides, C. A. (2001). Entrepreneurship, start-up costs and employment. European Economic Review, 45(4), 692–705.

Fonseca, R., Michaud, P., & Sopraseuth, T. (2007). Entrepreneurship, wealth, liquidity constraints, and start-up costs. Comparative Labor Law and Policy Journal, 28, 637–674.

Gentry, W. M., & Hubbard, R. G. (2000). Tax policy and entrepreneurial entry. American Economic Review, 90(2), 283–287.

Giannetti, M., & Simonov, A. (2004). On the determinants of entrepreneurial activity: Social norms, economic environment and individual characteristics. Swedish Economic Policy Review, 11(2), 269–313.

Glaeser, E. L., & Kerr, W. R. (2009). Local industrial conditions and entrepreneurship: How much of the spatial distribution can we explain? Journal of Economics & Management Strategy, 18(3), 623–663.

Glaeser, E. L., Resseger, M., & Tobio, K. (2009). Inequality in Cities Journal of Regional Science, 49(4), 617–646.

Gordon, R. H. (1998). Can high personal tax rates encourage entrepreneurial activity? Staff Papers-International Monetary Fund, 45(1), 49–80.

Gordon, N. (2004). Do federal grants boost school spending? Evidence from Title I. Journal of Public Economics, 88(9), 1771–1792.

Gross, D. M., & Ryan, M. (2008). FDI location and size: Does employment protection legislation matter? Regional Science and urban economics, 38(6), 590–605.

Hägg, P. G. (1997). Theories on the economics of regulation: A survey of the literature from a European perspective. European Journal of Law and Economics, 4(4), 337–370.

Hansson, A. (2008). Income taxes and the probability to become self-employed: The case of Sweden. Ratio Working Papers No. 122.

Javorcik, B., Arnold, J., & Mattoo, A. (2006). The productivity effects of services liberalization: Evidence from the Czech Republic. World Bank Policy Research Working Paper.

Klapper, L., Laeven, L., & Rajan, R. (2006). Entry regulation as a barrier to entrepreneurship. Journal of Financial Economics, 82(3), 591–629.

Kugler, A., & Pica, G. (2008). Effects of employment protection on worker and job flows: Evidence from the 1990 Italian reform. Labour Economics, 15(1), 78–95.

Martins, A. P. (2009). Union duopoly with heterogeneous labor: The effect of minimum wage regulation. International Journal of Social Economics, 36(5), 580–607.

Nicoletti, G., & Scarpetta, S. (2003). Regulation, productivity and growth: OECD evidence. Economic policy, 18(36), 9–72.

Pages, C., & Micco, A. (2006). The economic effects of employment protection laws. Paper presented at the IZA/the World Bank conference on employment and development.

Peltzman, S. (1976). Toward a more general theory of regulation. Cambridge, Mass.: National Bureau of Economic Research.

Pigou, A. C. (1938). The economics of welfare. London: MacMillian and Co.

Stenholm, P., Acs, Z. J., & Wuebker, R. (2013). Exploring country-level institutional arrangements on the rate and type of entrepreneurial activity. Journal of Business Venturing, 28(1), 176–193.

Stigler, G. J. (1971). The theory of economic regulation. The Bell Journal of Economics and Management Science, 2(1), 3–21.
Acknowledgments
Valuable research support is acknowledged from the Marianne and Marcus Wallenberg Foundation and Vinnova.
Conflict of interest
None.
About this article
Cite this article
Braunerhjelm, P., Desai, S. & Eklund, J.E. Regulation, firm dynamics and entrepreneurship. Eur J Law Econ 40, 1–11 (2015). https://doi.org/10.1007/s10657-015-9498-8
Published:

Issue Date:

DOI: https://doi.org/10.1007/s10657-015-9498-8
Keywords
JEL Classification