Abstract
We aimed to estimate the relationship between height (a measure of early-life cumulative net nutrition) and later-life cognitive function among older rural South African adults, and whether education modified this relationship. Data were from baseline in-person interviews with 5059 adults ≥ 40 years in the population-based "Health and Aging in Africa: A Longitudinal Study of an INDEPTH Community in South Africa" (HAALSI) study in Agincourt sub-district, South Africa, in 2015. Linear regression was used to estimate the relationship between height quintile and latent cognitive function z-score (representing episodic memory, time orientation, and numeracy), with adjustment for life course covariates and a height-by-education interaction. Mean (SD) height was 162.7 (8.9) cm. Nearly half the sample had no formal education (46%; 2307/5059). Mean age- and sex-adjusted cognitive z-scores increased from − 0.68 (95% CI: − 0.76 to − 0.61) in those with no education in the shortest height quintile to 0.62 (95% CI: 0.52–0.71) in those with at least 8 years of education in the tallest height quintile. There was a linear height disparity in cognitive z-scores for those with no formal education (adjusted β = 0.10; 95% CI: 0.08–0.13 per height quintile), but no height disparity in cognitive z-scores in those with any level of education. Short stature is associated with poor cognitive function and may be a risk factor for cognitive impairment among older adults living in rural South Africa. The height disparity in cognitive function was negated for older adults who had any level of education.
This is a preview of subscription content, log in to check access.
Access options
Buy single article
Instant access to the full article PDF.
US$ 39.95
Price includes VAT for USA
Subscribe to journal
Immediate online access to all issues from 2019. Subscription will auto renew annually.
US$ 99
This is the net price. Taxes to be calculated in checkout.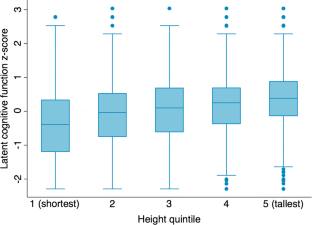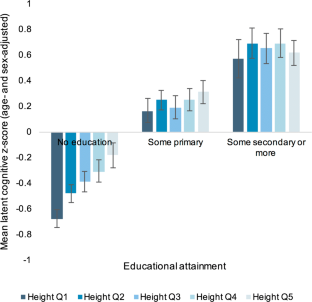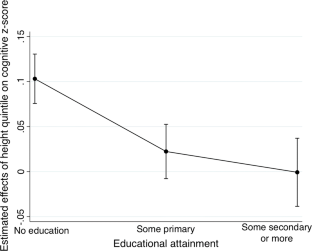 References
1.

Prince M, Bryce R, Albanese E, Wimo A, Ribeiro W, Ferri CP. The global prevalence of dementia: a systematic review and meta-analysis. Alzheimers Dement. 2013;9(1):63–75. https://doi.org/10.1016/j.jalz.2012.11.007.

2.

Lekoubou A, Echouffo-Techeugui J, Kengne A. Epidemiology of neurodegenerative diseases in sub-Saharan Africa: a systematic review. BMC Public Health. 2014;14:653. https://doi.org/10.1186/1471-2458-14-653.

3.

UNICEF, WHO, World Bank Group. Levels and Trends in Child Malnutrition. http://www.who.int/nutgrowthdb/jme_brochoure2017.pdf. Published May 2017. Accessed 30 Jan 2017.

4.

Perkins JM, Subramanian SV, Smith GD, Özaltin E. Adult height, nutrition, and population health. Nutr Rev. 2016;74(3):149–65. https://doi.org/10.1093/nutrit/nuv105.

5.

Stewart R, Hardy R, Richards M. Associations between skeletal growth in childhood and cognitive function in mid-life in a 53-year prospective birth cohort study. PLoS ONE. 2015;10(4):1–10. https://doi.org/10.1371/journal.pone.0124163.

6.

Abbott RD, White LR, Ross GW, et al. Height as a marker of childhood development and late-life cognitive function: the Honolulu–Asia aging study. Pediatrics. 1998;102(3):602–9.

7.

Melrose RJ, Brewster P, Marquine MJ, et al. Early life development in a multiethnic sample and the relation to late life cognition. J Gerontol Ser B Psychol Sci Soc Sci. 2015;70(4):519–31. https://doi.org/10.1093/geronb/gbt126.

8.

Yount KM, Hoddinott J, Stein AD, DiGirolamo AM. Individual capital and cognitive ageing in Guatemala. Popul Stud. 2009;63(3):295–306. https://doi.org/10.1080/00324720903165464.

9.

Laitala VS, Hjelmborg J, Koskenvuo M, et al. Shorter Adult Stature Increases the Impact of Risk Factors for Cognitive Impairment: a Comparison of Two Nordic Twin Cohorts. Twin Res Hum Genet. 2011;14(6):544–52. https://doi.org/10.1375/twin.14.6.544.

10.

Beeri MS, Davidson M, Silverman JM, Noy S, Schmeidler J, Goldbourt U. Relationship between body height and dementia. Am J Geriatr Psychiatry. 2011;13(2):116–23. https://doi.org/10.1176/appi.ajgp.13.2.116.

11.

Maurer J. Height, education and later-life cognition in Latin America and the Caribbean. Econ Hum Biol. 2010;8(2):168–76. https://doi.org/10.1016/j.ehb.2010.05.013.

12.

Zhang Z, Gu D, Hayward MD. Childhood nutritional deprivation and cognitive impairment among older Chinese people. Soc Sci Med. 2010;71(5):941–9. https://doi.org/10.1016/j.socscimed.2010.05.013.

13.

Case A, Paxson C. Height, health, and cognitive function at older ages. Am Econ Rev. 2008;98(2):463–7. https://doi.org/10.1257/aer.98.2.463.

14.

Akachi Y, Canning D. The height of women in Sub-Saharan Africa: the role of health, nutrition, and income in childhood. Ann Hum Biol. 2007;34(4):397–410. https://doi.org/10.1080/03014460701452868.

15.

Huang TL, Carlson MC, Fitzpatrick AL, Kuller LH, Fried LP, Zandi PP. Knee height and arm span: a reflection of early life environment and risk of dementia. Neurology. 2008;70:1818–26. https://doi.org/10.1212/01.wnl.0000311444.20490.98.

16.

Grantham-McGregor S, Cheung YB, Cueto S, Glewwe P, Richter L, Strupp B. Developmental potential in the first 5 years for children in developing countries. Lancet. 2007;369(9555):60–70. https://doi.org/10.1016/S0140-6736(07)60032-4.

17.

LaFave D, Thomas D. Height and cognition at work: labor market productivity in a low income setting. Econ Hum Biol. 2017;25:52–64. https://doi.org/10.1016/j.ehb.2016.10.008.

18.

Deaton A, Arora R. Life at the top: the benefits of height. Econ Hum Biol. 2009;7(2):133–6. https://doi.org/10.1016/j.ehb.2009.06.001.

19.

Batty GD, Shipley MJ, Gunnell D, et al. Height, wealth, and health: an overview with new data from three longitudinal studies. Econ Hum Biol. 2009;7(2):137–52. https://doi.org/10.1016/j.ehb.2009.06.004.

20.

Case A, Paxson C. Stature and status: height, ability, and labor market outcomes. Cambridge: National Bureau of Economic Research; 2006. NBER Working Paper 12466.

21.

Christie P, Collins C. Bantu education: Apartheid ideology and labour reproduction. In: Kallaway P, editor. Apartheid and Education. Braamfontein: Raven Press; 1984. p. 160–83.

22.

United Nations. Apartheid in South Africa: summary of the report of the special committee on the policies of apartheid of the Government of South Africa. New York: United Nations; 1963.

23.

Nguyen TT, Tchetgen EJT, Kawachi I, et al. Instrumental variable approaches to identifying the causal effect of educational attainment on dementia risk. Ann Epidemiol. 2015;26(1):71–6. https://doi.org/10.1016/j.annepidem.2015.10.006.

24.

Clouston SAP, Kuh D, Herd P, Elliott J, Richards M, Hofer SM. Benefits of educational attainment on adult fluid cognition: international evidence from three birth cohorts. Int J Epidemiol. 2012;41(6):1729–36. https://doi.org/10.1093/ije/dys148.

25.

Kobayashi LC, Glymour MM, Kahn K, et al. Childhood deprivation and later-life cognitive function in a population-based study of older rural South Africans. Soc Sci Med. 2017;10:25.

26.

Kabudula CW, Houle B, Collinson MA, et al. Progression of the epidemiological transition in a rural South African setting: findings from population surveillance in Agincourt, 1993–2013. BMC Public Health. 2017;17(1):424. https://doi.org/10.1186/s12889-017-4312-x.

27.

Kahn K, Collinson MA, Xavier Gómez-olivé F, et al. Profile: agincourt health and socio-demographic surveillance system. Int J Epidemiol. 2012;41(4):988–1001. https://doi.org/10.1093/ije/dys115.

28.

Kimani-Murage EW, Kahn K, Pettifor JM, et al. The prevalence of stunting, overweight and obesity, and metabolic disease risk in rural South African children. BMC Public Health. 2010;10:158. https://doi.org/10.1186/1471-2458-10-158.

29.

Muthén L, Muthén B. Examples: confirmatory factor analysis and structural equation modeling. In: Muthén L, Muthén B, editors. MPlus user's guide. 6th ed. Los Angeles: Muthén & Muthén; 2017. p. 55–112.

30.

Sartorius K, Sartorius B, Tollman S, Schatz E, Kirsten J, Collinson M. Rural poverty dynamics and refugee communities in South Africa: a spatial-temporal model. Popul Space Place. 2013;19(1):103–23. https://doi.org/10.1002/psp.697.

31.

Cinnirella F, Piopiunik M, Winter J. Why does height matter for educational attainment? Evidence from German children. Econ Hum Biol. 2011;9(4):407–18. https://doi.org/10.1016/j.ehb.2011.04.006.

32.

Magnusson PKE, Rasmussen F, Gyllensten UB. Height at age 18 is a strong predictor of attained education later in life: cohort study of over 950 000 Swedish men. Int J Epidemiol. 2006;35(3):658–63. https://doi.org/10.1093/ije/dyl011.

33.

Said-Mohamed R, Micklesfield LK, Pettifor JM, Norris SA. Has the prevalence of stunting in South African children changed in 40 years? A systematic review. BMC Public Health. 2015;15(1):534. https://doi.org/10.1186/s12889-015-1844-9.

34.

World Health Organization. Child stunting: prevalence of stunting in children under 5. World Health Statistics Data Visualization Dashboard. http://apps.who.int/gho/data/node.sdg.2-2-viz-1?lang=en. Accessed November 30, 2017.

35.

Gale C. Commentary: height and intelligence. Int J Epidemiol. 2005;34(3):678–9. https://doi.org/10.1093/ije/dyi064.

36.

Fernihough A, McGovern ME. Physical stature decline and the health status of the elderly population in England. Econ Hum Biol. 2015;16:30–44. https://doi.org/10.1002/ana.22528.Toll-like.

37.

Glei DA, Landau DA, Goldman N, et al. Participating in social activities helps preserve cognitive function: an analysis of a longitudinal, population-based study of the elderly. Int J Epidemiol. 2005;34(4):864–71. https://doi.org/10.1093/ije/dyi049.

38.

Bassuk SS, Glass TA, Berkman LF. Social disengagement and incident cognitive decline in community-dwelling elderly persons. Ann Intern Med. 1999;131(3):165–73.

39.

United Nations Centre Against Apartheid. The effects of apartheid on the status of women in South Africa. Black Sch. 1978;10(1):11–20. https://doi.org/10.1080/00064246.1978.11412667.

40.

Tollman SM, Norris SA, Berkman LF. Commentary: the value of life course epidemiology in low-and middle-income countries: an ageing perspective. Int J Epidemiol. 2016;45(4):997–9. https://doi.org/10.1093/ije/dyw109.
Acknowledgements
This work was supported by the National Institute on Aging of the National Institutes of Health [Grant Number P01 AG041710]. The funder had no role in the study design; in the collection, analysis, and interpretation of data; in the writing of the article; or in the decision to submit it for publication. The authors gratefully acknowledge Dr. Nikkil Sudharsanan for advice on the interpretation of data for this manuscript.
Ethics declarations
Ethical approval
Ethical approval was granted by the University of the Witwatersrand Human Research Ethics Committee (M141159), the Harvard T. H. Chan School of Public Health, Office of Human Research Administration (C13-1608-02), and the Mpumalanga Provincial Research and Ethics Committee. Informed consent was obtained from all individuals included in the study. All procedures performed in studies involving human participants were in accordance with the ethical standards of the institutional and/or national research committee and with the 1964 Helsinki declaration and its later amendments or comparable ethical standards.
Electronic supplementary material
Below is the link to the electronic supplementary material.
About this article
Cite this article
Kobayashi, L.C., Berkman, L.F., Wagner, R.G. et al. Education modifies the relationship between height and cognitive function in a cross-sectional population-based study of older adults in Rural South Africa. Eur J Epidemiol 34, 131–139 (2019). https://doi.org/10.1007/s10654-018-0453-1
Received:

Accepted:

Published:

Issue Date:
Keywords
Cognitive function

Older adults

Education

Height

South Africa