Abstract
To quantify the years of life saved from cardiovascular (CVD), cancer and overall deaths among elite athletes according to their main type of physiological effort performed in the Olympic Games. All French athletes participating in the Games from 1912 to 2012, with vital status validated and cause of death (if concerned) identified by the national registries were included (n = 2814, 455 died) and classified according to 6 groups of effort: POWER (continuous effort < 45 s); INTERMEDIATE (45 s ≤ continuous effort < 600 s); ENDURANCE (continuous effort ≥ 600 s); POLYVALENT (participating in different events entering different classifications), INTERMITTENT (intermittent effort, i.e. team sports); PRECISION (targeting events). The theoretical years-lost method was adapted to calculate gains in longevity (years-saved) according to specific-risks under the competing risks model and was implemented in R software. Considering overall-deaths, all groups significantly saved, on average, 6.5 years of life (95% CI 5.8–7.2) compared to the general population. This longevity advantage is mainly driven by a lower risk of cancer which, isolated, contributed to significantly save 2.3 years of life (95% CI 1.2–1.9) on average in each group. The risk of CVD-related mortality in the ENDURANCE and PRECISION groups is not significantly different from the general population. The other groups significantly saved, on average, 1.6 years of life (95% CI 1.2–1.9) from CVD death. The longevity benefits in elite athletes are associated with the type of effort performed during their career, mainly due to differences on the CVD-risk of death.
This is a preview of subscription content, log in to check access.
Access options
Buy single article
Instant access to the full article PDF.
US$ 39.95
Price includes VAT for USA
Subscribe to journal
Immediate online access to all issues from 2019. Subscription will auto renew annually.
US$ 99
This is the net price. Taxes to be calculated in checkout.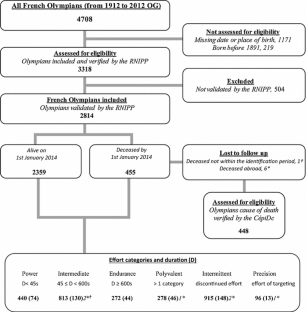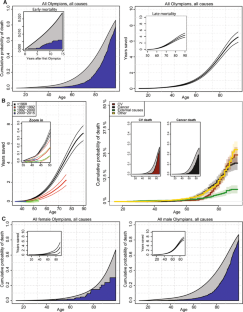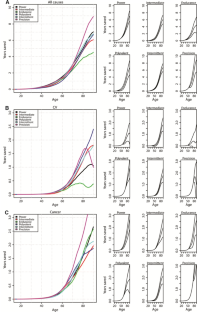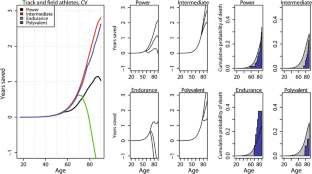 References
1.

Garatachea N, Santos-Lozano A, Sanchis-Gomar F, Fiuza-Luces C, Pareja-Galeano H, Emanuele E, et al. Elite athletes live longer than the general population: a meta-analysis. Mayo Clin Proc. 2014;89:1195–200.

2.

Antero-Jacquemin J, Rey G, Marc A, Dor F, Haïda A, Marck A, et al. Mortality in female and male French olympians: a 1948–2013 cohort study. Am J Sports Med. 2015;43:1505–12.

3.

Antero-Jacquemin J, Desgorces FD, Dor F, Sedeaud A, Haïda A, LeVan P, et al. Row for your life: a century of mortality follow-up of French olympic rowers. PLoS ONE. 2014;9:e113362.

4.

Marijon E, Tafflet M, Antero-Jacquemin J, Helou NE, Berthelot G, Celermajer DS, et al. Mortality of French participants in the Tour de France (1947–2012). Eur Heart J. 2013;34:3145–50.

5.

Clarke PM, Walter SJ, Hayen A, Mallon WJ, Heijmans J, Studdert DM. Survival of the fittest: retrospective cohort study of the longevity of Olympic medallists in the modern era. BMJ. 2012;345:e8308.

6.

Kujala UM, Tikkanen HO, Sarna S, Pukkala E, Kaprio J, Koskenvuo M. Disease-specific mortality among elite athletes. JAMA, J Am Med Assoc. 2001;285:44–5.

7.

Bohm P, Schneider G, Linneweber L, Rentzsch A, Krämer N, Abdul-Khaliq H, et al. Right and left ventricular function and mass in male elite master athletes clinical perspective. Circulation. 2016;133:1927–35.

8.

Heidbuchel H, Claessen G, La Gerche A. Letter by Heidbuchel et al Regarding Article, "Right and left ventricular function and mass in male elite master athletes: a controlled contrast-enhanced cardiovascular magnetic resonance study". Circulation. 2016;134:e360–1.

9.

O'Keefe JH, Lavie CJ. Run for your life… at a comfortable speed and not too far. Heart. 2013;99:516–9.

10.

Eijsvogels TMH, George KP, Thompson PD. Cardiovascular benefits and risks across the physical activity continuum. Curr Opin Cardiol. 2016;31:566–71.

11.

Lavie CJ, O'Keefe JH, Sallis RE. Exercise and the heart—the harm of too little and too much. Curr Sports Med Rep. 2015;14:104–9.

12.

Bhatti SK, O'Keefe JH, Lavie CJ. Of mice and men: atrial fibrillation in veteran endurance runners. J Am Coll Cardiol. 2014;63:89.

13.

Pelliccia A, Kinoshita N, Pisicchio C, Quattrini F, Dipaolo FM, Ciardo R, et al. Long-term clinical consequences of intense, uninterrupted endurance training in olympic athletes. J Am Coll Cardiol. 2010;55:1619–25.

14.

Baldesberger S, Bauersfeld U, Candinas R, Seifert B, Zuber M, Ritter M, et al. Sinus node disease and arrhythmias in the long-term follow-up of former professional cyclists. Eur Heart J. 2008;29:71–8.

15.

Andersen PK. Decomposition of number of life years lost according to causes of death. Stat Med. 2013;32:5278–85.

16.

Andersen PK, Canudas-Romo V, Keiding N. Cause-specific measures of life years lost. Demogr Res. 2013;29:1127–52.

17.

Kessing LV, Vradi E, McIntyre RS, Andersen PK. Causes of decreased life expectancy over the life span in bipolar disorder. J Affect Disord. 2015;180:142–7.

18.

Zwiers R, Zantvoord FWA, Engelaer FM, van Bodegom D, van der Ouderaa FJG, Westendorp RGJ. Mortality in former Olympic athletes: retrospective cohort analysis. BMJ. 2012;345:e7456.

19.

Berthelot G, Sedeaud A, Marck A, Antero-Jacquemin J, Schipman J, Saulière G, et al. Has athletic performance reached its peak? Sports Med Auckl NZ. 2015;45:1263–71.

20.

Marck A, Antero J, Berthelot G, Saulière G, Jancovici J-M, Masson-Delmotte V, et al. Are we reaching the limits of homo sapiens? Front Physiol. 2017;8:812.

21.

Rittweger J, di Prampero PE, Maffulli N, Narici MV. Sprint and endurance power and ageing: an analysis of master athletic world records. Proc R Soc Lond B Biol Sci. 2009;276:683–9.

22.

Rey G. Death certificate data in France: production process and main types of analyses. Rev Med Interne. 2016;37:685–93.

23.

Mitchell JH, Haskell W, Snell P, Van Camp SP. Task force 8: classification of sports. J Am Coll Cardiol. 2005;45:1364–7.

24.

McArdle WD, Katch FI, Katch VL. Exercise physiology: nutrition, energy, and human performance. 8th ed. Philadelphia: LWW; 2014.

25.

Allignol A, Schumacher M, Wanner C, Drechsler C, Beyersmann J. Understanding competing risks: a simulation point of view. BMC Med Res Methodol. 2011;11:86.

26.

Andersen PK, Keiding N. Interpretability and importance of functionals in competing risks and multistate models. Stat Med. 2012;31:1074–88.

27.

Dignam JJ, Zhang Q, Kocherginsky MN. The use and interpretion of competing risks regression models. Clin Cancer Res. 2012;18:2301–8.

28.

Fox EL, Bowers RW, Foss ML. The physiological basis of physical education and athletics. 4 sub ed. Dubuque, IA: William C Brown Pub; 1989.

29.

Alpérovitch A, Bertrand M, Jougla E, Vidal J-S, Ducimetière P, Helmer C, et al. Do we really know the cause of death of the very old? comparison between official mortality statistics and cohort study classification. Eur J Epidemiol. 2009;24:669–75.

30.

Andersen PK, Klein JP, Rosthøj S. Generalised linear models for correlated pseudo-observations, with applications to multi-state models. Biometrika. 2003;90:15–27.

31.

Strasser B, Burtscher M. Survival of the fittest: VO2max, a key predictor of longevity? Front Biosci Landmark Ed. 2018;23:1505–16.

32.

Sayer AA, Kirkwood TBL. Grip strength and mortality: a biomarker of ageing? The Lancet [Internet]. 2015 [Cited 2015 Jun 21]. http://linkinghub.elsevier.com/retrieve/pii/S0140673614623497.

33.

Stanaway FF, Gnjidic D, Blyth FM, Le Couteur DG, Naganathan V, Waite L, et al. How fast does the Grim Reaper walk? Receiver operating characteristics curve analysis in healthy men aged 70 and over. BMJ. 2011;343:d7679.

34.

Kujala UM, Sarna S, Kaprio J, Tikkanen HO, Koskenvuo M. Natural selection to sports, later physical activity habits, and coronary heart disease. Br J Sports Med. 2000;34:445–9.

35.

Zaidi A, Sharma S. Reduced mortality in former Tour de France participants: the benefits from intensive exercise or a select genetic tour de force? Eur Heart J. 2013;34:3106–8.

36.

Schmidt JF, Andersen TR, Andersen LJ, Randers MB, Hornstrup T, Hansen PR, et al. Cardiovascular function is better in veteran football players than age-matched untrained elderly healthy men. Scand J Med Sci Sports. 2015;25:61–9.

37.

Predel H-G. Marathon run: cardiovascular adaptation and cardiovascular risk. Eur Heart J. 2014;35:3091–8.

38.

Semsarian C, Sweeting J, Ackerman MJ. Sudden cardiac death in athletes. BMJ. 2015;350:h1218.

39.

Prior DL, Gerche AL. The athlete's. Heart. 2012;98:947–55.

40.

Harmon KG, Asif IM, Maleszewski JJ, Owens DS, Prutkin JM, Salerno JC, et al. Incidence, cause, and comparative frequency of sudden cardiac death in national collegiate athletic association athletes: a decade in review. Circulation. 2015;132:10–9.

41.

Weinstock J, Estes NAM. The heart of an athlete. Circulation. 2013;127:1757–9.

42.

Arbab-Zadeh A, Perhonen M, Howden E, Peshock RM, Zhang R, Adams-Huet B, et al. Cardiac remodeling in response to 1 year of intensive endurance training. Circulation. 2014;130:2152–61.

43.

Merghani A, Malhotra A, Sharma S. The U-shaped relationship between exercise and cardiac morbidity. Trends Cardiovasc Med. 2015;26:232–40.

44.

Benito B, Gay-Jordi G, Serrano-Mollar A, Guasch E, Shi Y, Tardif J-C, et al. Cardiac arrhythmogenic remodeling in a rat model of long-term intensive exercise training. Circulation. 2011;123:13–22.

45.

Guasch E, Mont L. Exercise and the heart: unmasking Mr Hyde. Heart. 2014;1:999–1000.

46.

Lee D, Brellenthin AG, Thompson PD, Sui X, Lee I-M, Lavie CJ. Running as a key lifestyle medicine for longevity. Prog Cardiovasc Dis [Internet]. [Cited 2017 Apr 18]. http://www.sciencedirect.com/science/article/pii/S0033062017300488.

47.

Lee D, Lavie CJ, Vedanthan R. Optimal dose of running for longevity: is more better or worse? J Am Coll Cardiol. 2015;65:420–2.

48.

Schnohr P, O'Keefe JH, Marott JL, Lange P, Jensen GB. Dose of jogging and long-term mortality: the Copenhagen City Heart Study. J Am Coll Cardiol. 2015;65:411–9.

49.

Marc A, Sedeaud A, Guillaume M, Rizk M, Schipman J, Antero-Jacquemin J, et al. Marathon progress: demography, morphology and environment. J Sports Sci. 2014;32:524–32.

50.

Kim JH, Malhotra R, Chiampas G, d'Hemecourt P, Troyanos C, Cianca J, et al. Cardiac arrest during long-distance running races. N Engl J Med. 2012;366:130–40.

51.

Sanchis-Gomar F, Santos-Lozano A, Garatachea N, Pareja-Galeano H, Fiuza-Luces C, Joyner MJ, et al. My patient wants to perform strenuous endurance exercise. What's the right advice? Int J Cardiol. 2015;197:248–53.

52.

Physical Activity Amount. In: Physical Activity Guidelines Advisory, Committee Report. To the Secretary of Health and Human Services. 2008. https://health.gov/paguidelines/report/pdf/CommitteeReport.pdf. Accessed 2 May 2018.

53.

Sarna S, Sahi T, Koskenvuo M, Kaprio J. Increased life expectancy of world class male athletes. Med Sci Sports Exerc. 1993;25:237–44.

54.

Kettunen JA, Kujala UM, Kaprio J, Bäckmand H, Peltonen M, Eriksson JG, et al. All-cause and disease-specific mortality among male, former elite athletes: an average 50-year follow-up. Br J Sports Med. 2014;49:893–7.

55.

Lai D, Guo F, Hardy RJ. Standardized mortality ratio and life expectancy: a comparative study of Chinese mortality. Int J Epidemiol. 2000;29:852–5.

56.

Anders Ericsson K. Deliberate practice and acquisition of expert performance: a general overview. Acad Emerg Med. 2008;15:988–94.

57.

Wen CP, Wai JPM, Tsai MK, Chen CH. Minimal amount of exercise to prolong life: to walk, to run, or just mix it up? J Am Coll Cardiol. 2014;64:482–4.
Acknowledgements
The authors thank the Institute National du Sport de l'Expertise et de la Performance (INSEP) for its full support and Stacey Johnson for carefully checking English spelling.
Funding
This work was supported by grant from the Ministry of sports, youth, popular education and community life of France (Project no. 12-R-10).
Ethics declarations
Conflicts of interest
The authors declare that they have no conflict of interest.
Ethical approval
All procedures performed in studies involving human participants were in accordance with the ethical standards of the institutional and/or national research committee and with the 1964 Helsinki declaration and its later amendments or comparable ethical standards.
Formal consent
For this type of study formal consent is not required.
Electronic supplementary material
Below is the link to the electronic supplementary material.
About this article
Cite this article
Antero-Jacquemin, J., Pohar-Perme, M., Rey, G. et al. The heart of the matter: years-saved from cardiovascular and cancer deaths in an elite athlete cohort with over a century of follow-up. Eur J Epidemiol 33, 531–543 (2018). https://doi.org/10.1007/s10654-018-0401-0
Received:

Accepted:

Published:

Issue Date:
Keywords
Mortality

Athletes

Cardiovascular

Cancer

Years-saved

Years-lost