Abstract
Recent research suggests that epidemiological forces in religion and health can have opposed effects. Using longitudinal data of people aged 50+ included in wave 1 (2004–2005) of the Survey of Health, Ageing and Retirement in Europe (SHARE), and followed up through waves 2 (2006–2007), 4 (2011) and 5 (2013), we examined two forms of religious internalization and their association with health. Multivariate logistic regressions were used to examine all associations. Taking part in a religious organization was associated with lower odds of GALI (global activity limitation index) (OR = 0.86, 95% CI 0.75, 0.98) and depressive symptoms 0.80 (95% CI 0.69, 0.93), whereas being religiously educated lowered odds of poor self-rated health (SRH) 0.81 (95% CI 0.70, 0.93) and long-term health problems 0.84 (95% CI 0.74, 0.95). The more religious had lower odds of limitations with activities of daily living 0.76 (95% CI 0.58, 0.99) and depressive symptoms 0.77 (95% CI 0.64, 0.92) than other respondents, and compared to people who only prayed and did not have organizational involvement, they had lower odds of poor SRH 0.71 (95% CI 0.52, 0.97) and depressive symptoms 0.66 (95% CI 0.50, 0.87). Conversely, people who only prayed had higher odds of depressive symptoms than non-religious people 1.46 (95% CI 1.15, 1.86). Our findings suggest two types of religiousness: 1. Restful religiousness (praying, taking part in a religious organization and being religiously educated), which is associated with good health, and 2. Crisis religiousness (praying without other religious activities), which is associated with poor health.
This is a preview of subscription content, log in to check access.
Access options
Buy single article
Instant access to the full article PDF.
US$ 39.95
Price includes VAT for USA
Subscribe to journal
Immediate online access to all issues from 2019. Subscription will auto renew annually.
US$ 99
This is the net price. Taxes to be calculated in checkout.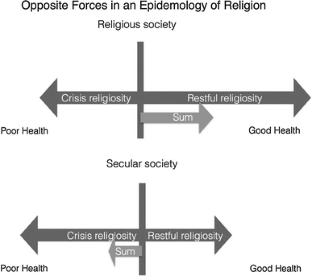 References
1.

Koenig HG. Religion, spirituality, and health: the research and clinical implications. ISRN Psychiatry. 2012;2012:278730. doi:10.5402/2012/278730.

2.

Koenig HG, King DE, Carson VB. Handbook of Religion and Health. Oxford: Oxford University Press; 2012.

3.

Chida Y, Steptoe A, Powell LH. Religiosity/spirituality and mortality. A systematic quantitative review. Psychother Psychosom. 2009;78(2):81–90. doi:10.1159/000190791.

4.

McCullough ME, Hoyt WT, Larson DB, Koenig HG, Thoresen C. Religious involvement and mortality: a meta-analytic review. Health Psychol. 2000;19(3):211–22.

5.

O. Harrison M, Koenig HG, Hays JC, Eme-Akwari AG, Pargament KI. The epidemiology of religious coping: a review of recent literature. Int Rev Psychiatry. 2001;13(2):86–93. doi:10.1080/09540260124356.

6.

Pargament KI, Ensing DS, Falgout K, Olsen H, Reilly B, Van Haitsma K, et al. God help me:(I): religious coping efforts as predictors of the outcomes to significant negative life events. Am J Commun Psychol. 1990;18(6):793–824.

7.

Pargament KI, Olsen H, Reilly B, Falgout K, Ensing DS, Van Haitsma K. God help me (II): the relationship of religious orientations to religious coping with negative life events. J Sci Study Relig. 1992;31(4):504–13.

8.

AbdAleati NS, Mohd Zaharim N, Mydin YO. Religiousness and Mental Health: Systematic Review Study. J Relig Health. 2016;55(6):1929–37. doi:10.1007/s10943-014-9896-1.

9.

Arnes SM, Kleiven M, Olstad R, Fonnebo V. Religious affiliation and mental health–is there a connection? health survey in Finnmark 1990. Tidsskrift for den Norske laegeforening: tidsskrift for praktisk medicin, ny raekke. 1996;116(30):3598–601.

10.

Whitfield W. Religion and mental health. Int J Psychiatr Nurs Res. 1999;5(2):553.

11.

Swinton J, Pattison S. Spirituality. Come all ye faithful. Health Serv J. 2001;111(5786):24–5.

12.

Thygesen LC, Dalton SO, Johansen C, Ross L, Kessing LV, Hvidt NC. Psychiatric disease incidence among Danish seventh-day adventists and Baptists. Soc Psychiatry Psychiatr Epidemiol. 2013;48(10):1583–90. doi:10.1007/s00127-013-0669-z.

13.

Pargament KI. The Psychology of Religion and Coping: Theory, Research, Practice. New York: The Guildford Press; 1997.

14.

Pargament KI, Kennell J, Hathaway W, Grevengoed N, Newman J, Jones W. Religion and the problem-solving process: three styles of coping. J Sci Study Relig. 1988;27(1):90.

15.

Pargament KI, Smith BW, Koenig HG, Perez L. Patterns of positive and negative religious coping with major life stressors. J Sci Study Relig. 1998;37(4):710–24. doi:10.2307/1388152.

16.

Hvidt NC, Hvidtjorn D, Christensen K, Nielsen JB, Sondergaard J. Faith moves mountains-mountains move faith: two opposite epidemiological forces in research on religion and health. J Relig Health. 2016;. doi:10.1007/s10943-016-0300-1.

17.

Ryan RM, Rigby S, King K. Two types of religious internalization and their relations to religious orientations and mental health. J Pers Soc Psychol. 1993;65(3):586.

18.

Ferraro KF, Kelley-Moore JA. Religious consolation among men and women: do healthproblems spur seeking? J Sci Study Relig. 2000;39(2):220–34. doi:10.1111/0021-8294.00017.

19.

Ferraro KF, Kelley-Moore JA. Religious seeking among affiliates and non-affiliates: do mental and physical health problems spur religious coping? Rev Relig Res. 2001;42(3):229–51. doi:10.2307/3512568.

20.

Blalock HM, editor. Causal Models in the Social Sciences. New York: Aldine Transactions; 1985.

21.

Elsass PM, Veiga JF. Acculturation in acquired organizations: a force-field perspective. Hum Relat. 1994;47(4):431–53. doi:10.1177/001872679404700404.

22.

George LK, Ellison CG, Larson DB. Explaining the relationships between religious involvement and health. Psychol Inq. 2002;13(3):190–200.

23.

Wink P, Ciciolla L, Dillon M, Tracy A. Religiousness, spiritual seeking, and personality: findings from a longitudinal study. J Pers. 2007;75(5):1051–70. doi:10.1111/j.1467-6494.2007.00466.x.

24.

Pargament KI. The bitter and the sweet: an evaluation of the costs and benefits of religiousness. Psychol Inq. 2002;13(3):168–81.

25.

Borsch-Supan A, Brandt M, Hunkler C, Kneip T, Korbmacher J, Malter F, et al. Data resource profile: the survey of health, ageing and retirement in Europe (SHARE). Int J Epidemiol. 2013;42(4):992–1001. doi:10.1093/ije/dyt088.

26.

UNESCO. International standard classification of education—ISCED 1997, Re-edition (2006). http://www.uis.unesco.org.

27.

Jagger C, Gillies C, Cambois E, Van Oyen H, Nusselder W, Robine JM. The global activity limitation index measured function and disability similarly across European countries. J Clin Epidemiol. 2010;63(8):892–9. doi:10.1016/j.jclinepi.2009.11.002.

28.

Castro-Costa E, Dewey M, Stewart R, Banerjee S, Huppert F, Mendonca-Lima C, et al. Ascertaining late-life depressive symptoms in Europe: an evaluation of the survey version of the EURO-D scale in 10 nations. The SHARE project. Int J Method Psychiatr Res. 2008;17(1):12–29. doi:10.1002/mpr.236.

29.

Croezen S, Avendano M, Burdorf A, van Lenthe FJ. Social participation and depression in old age: a fixed-effects analysis in 10 European countries. Am J Epidemiol. 2015;182(2):168–76. doi:10.1093/aje/kwv015.

30.

Nicholson A, Rose R, Bobak M. Association between attendance at religious services and self-reported health in 22 European countries. Soc Sci Med. (1982). 2009;69(4):519–28. doi:10.1016/j.socscimed.2009.06.024.

31.

Park NS, Klemmack DL, Roff LL, Parker MW, Koenig HG, Sawyer P, et al. Religiousness and longitudinal trajectories in elders' functional status. Res Aging. 2008;30(3):279–98. doi:10.1177/0164027507313001.

32.

Norton MC, Singh A, Skoog I, Corcoran C, Tschanz JT, Zandi PP, et al. Church attendance and new episodes of major depression in a community study of older adults: the cache county study. J Gerontol B Psychol Sci Soc Sci. 2008;63(3):P129–37.

33.

Di Gessa G, Grundy E. The relationship between active ageing and health using longitudinal data from Denmark, France, Italy and England. J Epidemiol Commun Health. 2014;68(3):261–7. doi:10.1136/jech-2013-202820.

34.

Balbuena L, Baetz M, Bowen R. Religious attendance, spirituality, and major depression in Canada: a 14-year follow-up study. Can J Psychiatry Revue Can de Psychiatr. 2013;58(4):225–32. doi:10.1177/070674371305800408.

35.

Li S, Okereke OI, Chang SC, Kawachi I, VanderWeele TJ. Religious service attendance and lower depression among women-a prospective Cohort study. Ann Behav Med. 2016;50(6):876–84. doi:10.1007/s12160-016-9813-9.

36.

Strawbridge WJ, Shema SJ, Cohen RD, Kaplan GA. Religious attendance increases survival by improving and maintaining good health behaviors, mental health, and social relationships. Ann Behav Med. 2001;23(1):68–74. doi:10.1207/s15324796abm2301_1.

37.

Koenig HG. Religion and remission of depression in medical inpatients with heart failure/pulmonary disease. J Nerv Ment Dis. 2007;195(5):389–95. doi:10.1097/NMD.0b013e31802f58e3.

38.

Lucette A, Ironson G, Pargament KI, Krause N. Spirituality and religiousness are associated with fewer depressive symptoms in individuals with medical conditions. Psychosomatics. 2016;57(5):505–13. doi:10.1016/j.psym.2016.03.005.

39.

VanderWeele TJ, Jackson JW, Li S. Causal inference and longitudinal data: a case study of religion and mental health. Soc Psychiatry Psychiatr Epidemiol. 2016;51(11):1457–66. doi:10.1007/s00127-016-1281-9.

40.

Maselko J, Hayward RD, Hanlon A, Buka S, Meador K. Religious service attendance and major depression: a case of reverse causality? Am J Epidemiol. 2012;175(6):576–83. doi:10.1093/aje/kwr349.

41.

Vanderweele TJ. Re: "Religious service attendance and major depression: a case of reverse causality?". Am J Epidemiol. 2013;177(3):275–6. doi:10.1093/aje/kws415.

42.

Sowa A, Golinowska S, Deeg D, Principi A, Casanova G, Schulmann K, et al. Predictors of religious participation of older Europeans in good and poor health. Eur J Ageing. 2016;13:145–57. doi:10.1007/s10433-016-0367-2.
Acknowledgements
This article uses data from SHARE waves 1 (2004–2005), 2 (2006–2007), 4 (2011) and 5 (2013). The SHARE data collection has been primarily funded by the European Commission through the 5th framework programme (project QLK6-CT-2001-00360). Additional funding came from the US National Institute on Ageing (U01 AG09740-13S2, P01 AG005842, P01 AG08291, P30 AG12815, Y1-AG-4553-01 and OGHA 04-064). Further support from the European Commission through the 6th framework programme (projects SHARE-I3, RII-CT-2006-062193, and COMPARE, CIT5-CT-2005-028857) is gratefully acknowledged. For methodological details, see Börsch-Supan et al. (2013).
Ethics declarations
Conflict of interest
The authors declare that they have no conflict of interest.
Electronic supplementary material
Below is the link to the electronic supplementary material.
About this article
Cite this article
Ahrenfeldt, L.J., Möller, S., Andersen-Ranberg, K. et al. Religiousness and health in Europe. Eur J Epidemiol 32, 921–929 (2017). https://doi.org/10.1007/s10654-017-0296-1
Received:

Accepted:

Published:

Issue Date:
Keywords
Religiousness

Activity limitations

Self-rated health

Depression

Europe