Abstract
Objectives
To assess current medical problems at two Greek refugee sites at Lesbos island (Camp Moria and Caritas hotel), to explore which care is needed and to assess how the provided healthcare can be improved.
Design
In this dynamic cohort study all consecutive patients who visited doctors from the Boat Refugee Foundation were included.
Outcome
Treatment Rates (TR) with 95% Confidence Intervals (95% CI) were calculated for all major health issues. Additionally, the provided health care was evaluated using the SPHERE project standards.
Results
During the observation period of 30 March 2016 to 15 May 2016, 2291 persons were followed for a total of 289 person years (py). The median age of patients was 23.0 (IQR 8–38) years, 30.0% was aged <18. The healthcare demand was high with 3.6 patient visits per py. Upper respiratory tract infections were most commonly diagnosed with a TR of 89.6/100py (95% CI 78.7–10.1) followed by dental problems (TR 18.0/100py, 95% CI 13.1–22.9). The rate of suicide attempts was high at TR 1.4/100py (95% CI 0.03–2.8), and many psychological problems were diagnosed, TR 19.4/100py (95% CI 14.3–24.4). Major health care threats are the lack of a vaccination program, inadequate sanitation and hygiene, and severe overcrowding.
Conclusions
This study can help policy makers and Non-Governmental Organizations decide which health care is needed most in the current European refugee crisis. There is an urgent need for mental and dental healthcare. Furthermore, it is crucial that vaccination programs are initiated and "hotspot" camps should transform in camps designed for long-stay situations.
This is a preview of subscription content, log in to check access.
Access options
Buy single article
Instant access to the full article PDF.
US$ 39.95
Price includes VAT for USA
Subscribe to journal
Immediate online access to all issues from 2019. Subscription will auto renew annually.
US$ 99
This is the net price. Taxes to be calculated in checkout.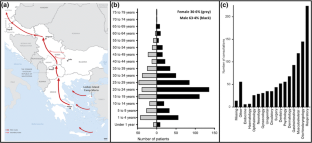 References
1.

The UN Refugee Agency. Mid-year trends 2016 http://www.unhcr.org/statistics/unhcrstats/58aa8f247/mid-year-trends-June-2016.html Accessed 29 May 2017.

2.

The UN Refugee Agency. Global trends forced displacement in 2015. 2015. http://www.unhcr.org/statistics/unhcrstats/576408cd7/unhcr-global-trends-2015.html. Accessed 01 Dec 2016.

3.

The UN Refugee Agency. Regional refugee and migrant response plan for Europe, Eastern Mediterranean and Western Balkan route. 2016. Accessed 01 Dec 2016.

4.

The UN Refugee Agency. Daily estimated arrivals per country–flows through Western Balkans Route. 2016. http://data.unhcr.org/mediterranean/download.php?id=1940. Accessed 01 Dec 2016.

5.

Khan MS, Osei-Kofi A, Omar A, Kirkbride H, Kessel A, Abbara A, et al. Pathogens, prejudice, and politics: the role of the global health community in the European refugee crisis. Lancet Infect Dis. 2016;16(8):e173–7. doi:10.1016/s1473-3099(16)30134-7.

6.

The SPHERE Project. Humanitarian charter and minimum standards in humanitarian response. Minimum standards in health action 2011.

7.

The UN Refugee Agency. Detailed health indicator report, Za'atri refugee camp, Jordan. 2016. http://data.unhcr.org/syrianrefugees/download.php?id=12260. Accessed 03 Jan 2017.

8.

The UN Refugee Agency. Detailed health indicator report, Azraq refugee camp, Jordan. 2016. http://data.unhcr.org/syrianrefugees/download.php?id=12187. Accessed 03 Jan 2017.

9.

Goosen S, Kunst AE, Stronks K, van Oostrum IE, Uitenbroek DG, Kerkhof AJ. Suicide death and hospital-treated suicidal behaviour in asylum seekers in the Netherlands: a national registry-based study. BMC public health. 2011;11:484. doi:10.1186/1471-2458-11-484.

10.

Theuring S, Friedrich-Janicke B, Portner K, Trebesch I, Durst A, Dieckmann S, et al. Screening for infectious diseases among unaccompanied minor refugees in Berlin, 2014-2015. Eur J Epidemiol. 2016;31(7):707–10. doi:10.1007/s10654-016-0187-x.

11.

Sharara SL, Kanj SS. War and infectious diseases: challenges of the Syrian civil war. PLoS Pathog. 2014;10(10):e1004438. doi:10.1371/journal.ppat.1004438.
Acknowledgements
We thank the Boat Refugee Foundation for their support, and all medical staff who volunteered to work in Greek refugee camps who helped us collecting these data.
Author contributions
BN and MPJH conceived the idea of this research and created the first and final drafts. BN, MPJH and JK were responsible for data collection and data input. The analyses were performed by BN. All authors reviewed and contributed to the first and final version of the manuscript.
Ethics declarations
Conflict of interest
All authors have completed the ICMJE uniform disclosure form at www.icmje.org/coi_disclosure.pdf and declare: no support from any organisation for the submitted work; no financial relationships with any organisations that might have an interest in the submitted work in the previous three years; no other relationships or activities that could appear to have influenced the submitted work.
Ethical approval
No informed consent was obtained as this study only summarized routinely collected (as part of regular patient care) anonymous patient data. Therefore, by law, this observational study did not require ethical approval.
Electronic supplementary material
Below is the link to the electronic supplementary material.
About this article
Cite this article
Hermans, M.P.J., Kooistra, J., Cannegieter, S.C. et al. Healthcare and disease burden among refugees in long-stay refugee camps at Lesbos, Greece. Eur J Epidemiol 32, 851–854 (2017). https://doi.org/10.1007/s10654-017-0269-4
Received:

Accepted:

Published:

Issue Date:
Keywords
Europe

Refugee

Health system

Disease burden

Health

Incidence

Cohort study