Abstract
The Born in Guangzhou Cohort Study (BIGCS) is a large-scale prospective observational study investigating the role of social, biological and environmental influences on pregnancy and child health and development in an urban setting in southern China. Pregnant women who reside in Guangzhou and who attend Guangzhou Women and Children's Medical Center (GWCMC) for antenatal care in early pregnancy (<20 weeks' gestation) are eligible for inclusion. Study recruitment commenced in February 2012, with an overall participation rate of 76.3%. Study recruitment will continue until December 2018 to achieve the target sample size of 30,000 mother–child pairs. At 30 April 2016, a total of 75,422 questionnaires have been collected, while 14,696 live births have occurred with planned follow-up of cohort children until age 18 years. During the same period a total of 1,053,000 biological samples have been collected from participants, including maternal, paternal and infant blood, cord blood, placenta, umbilical cord, and maternal and infant stool samples. The dataset has been enhanced by record linkage to routine health and administrative records. We plan future record linkage to school enrolment and national examination records.
This is a preview of subscription content, log in to check access.
Access options
Buy single article
Instant access to the full article PDF.
US$ 39.95
Price includes VAT for USA
Subscribe to journal
Immediate online access to all issues from 2019. Subscription will auto renew annually.
US$ 99
This is the net price. Taxes to be calculated in checkout.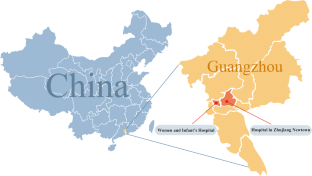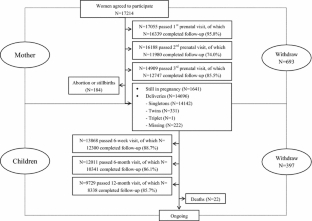 References
1.

Wang Y, Li X, Zhou M, Luo S, Liang J, Liddell CA, et al. Under-5 mortality in 2851 Chinese counties, 1996–2012: a subnational assessment of achieving MDG 4 goals in China. Lancet. 2015;387(10015):273-83. doi:10.1016/S0140-6736(15)00554-1.

2.

Kassebaum NJ, Bertozzi-Villa A, Coggeshall MS, Shackelford KA, Steiner C, Heuton KR, et al. Global, regional, and national levels and causes of maternal mortality during 1990-2013: a systematic analysis for the Global Burden of Disease Study 2013. Lancet. 2014;384(9947):980–1004. doi:10.1016/S0140-6736(14)60696-6.

3.

National Health and Family Planning Commission of the People's Republic of China. Statistics of Health and Family Planning in 2015. http://www.nhfpc.gov.cn/ewebeditor/uploadfile/2016/0820160805160410398 pdf. (in Chinese). Accessed 11 Aug 2016.

4.

Statistics Bureau of Guangzhou Municipality. Principal Aggregate Indicators on National Economic and Social Development and Growth Rates in Annual Statistics of 2015. http://data.gzstats.gov.cn/gzStat1/chaxun/njsj.jsp. Accessed 16 April 2016.

5.

Qiu J, He X, Cui H, Zhang C, Zhang H, Dang Y, et al. Passive smoking and preterm birth in urban China. Am J Epidemiol. 2014;180(1):94–102. doi:10.1093/aje/kwu092.

6.

Tao FB, Hao JH, Huang K, Su PY, Cheng DJ, Xing XY, et al. Cohort Profile: the China-Anhui birth cohort study. Int J Epidemiol. 2013;42(3):709–21. doi:10.1093/ije/dys085.

7.

Yuan MY, He JR, Chen NN, Lu JH, Shen SY, Xiao WQ, et al. Validity and reproducibility of a dietary questionnaire for consumption frequencies of foods during pregnancy in the born in Guangzhou Cohort Study (BIGCS). Nutrients. 2016;. doi:10.3390/nu8080454.

8.

Zung WW. A self-rating depression scale. Arch Gen Psychiatry. 1965;12:63–70.

9.

Zung WW. A rating instrument for anxiety disorders. Psychosomatics. 1971;12(6):371–9. doi:10.1016/s0033-3182(71)71479-0.

10.

Lee DT, Yip SK, Chiu HF, Leung TY, Chan KP, Chau IO, et al. Detecting postnatal depression in Chinese women. Validation of the Chinese version of the Edinburgh Postnatal Depression Scale. Br J Psychiatry J Mental Sci. 1998;172:433–7.

11.

Wei M, Bian X, Squires J, Yao G, Wang X, Xie H, et al. Studies of the norm and psychometrical properties of the ages and stages questionnaires, third edition, with a Chinese national sample. Chin J Pediatrics. 2015;53(12):913–8.

12.

Group BMDC. Gesell developmental diagnosis scale. Beijing: Beijing Mental Development Cooperative Group; 1985.

13.

Nation Bureau of Statistics of China. Annual data. http://data.stats.gov.cn/index.htm. Accessed 15 Feb 2017.

14.

Metzger BE, Lowe LP, Dyer AR, Trimble ER, Chaovarindr U, Coustan DR, et al. Hyperglycemia and adverse pregnancy outcomes. N Engl J Med. 2008;358(19):1991–2002. doi:10.1056/NEJMoa0707943.

15.

Metzger BE, Gabbe SG, Persson B, Buchanan TA, Catalano PA, Damm P, et al. International association of diabetes and pregnancy study groups recommendations on the diagnosis and classification of hyperglycemia in pregnancy. Diabetes Care. 2010;33(3):676–82. doi:10.2337/dc09-1848.

16.

Shen S, Lu J, Zhang L, He J, Li W, Chen N, et al. Single fasting plasma glucose measurement compared with 75 g oral glucose-tolerance test in prediction of adverse perinatal outcomes: a prospective cohort study from China. Lancet. 2016;388(Suppl 1):S8. doi:10.1016/S0140-6736(16)31935-3.

17.

Zhang C, Ning Y. Effect of dietary and lifestyle factors on the risk of gestational diabetes: review of epidemiologic evidence. Am J Clin Nutr. 2011;94(6 Suppl):1975S–9S. doi:10.3945/ajcn.110.001032.

18.

He JR, Yuan MY, Chen NN, Lu JH, Hu CY, Mai WB, et al. Maternal dietary patterns and gestational diabetes mellitus: a large prospective cohort study in China. Br J Nutr. 2015;113(8):1292–300. doi:10.1017/S0007114515000707.

19.

Shen SY, Lu JH, He JR, Liu Y, Chen NN, Yuan MY, et al. Progesterone use in early pregnancy: a prospective birth cohort study in China. Lancet. 2015;. doi:10.1016/S0140-6736(15)00639-X.

20.

He JR, Liu Y, Lu JH, Shen SY, Li WD, Guo Y, et al. Passive smoking during pregnancy undermines maternal mental health: results from the Born in Guangzhou Cohort Study, China. Poster Abstract. The Lancet and Chinese Academy of Medical Sciences (CAMS) Health Summit; Beijing, China; 2015.

21.

Lu JH, Guo Y, Shen SY, Hu F, Chen NN, Wu YF, et al. Association between inflammatory reaction at late pregnancy and the risk of postpartum depression: a prospective cohort stud. Chin J Woman Child Health Res. 2014;25(3):391–3.

22.

Swanson JM, Entringer S, Buss C, Wadhwa PD. Developmental origins of health and disease: environmental exposures. Sem Reprod Med. 2009;27(5):391–402. doi:10.1055/s-0029-1237427.
Acknowledgements
We are grateful to the pregnant women who have participated in BIGCS and all obstetric care providers who have assisted us in the implementation of the study. We especially want to thank Professor Charles Larson for useful comments on the project. BIGCS study is supported by the National Natural Science Foundation of China (81673181), the Guangzhou Science Technology and Innovation Commission (201508030037, 2014A020213022), and the Guangdong Provincial Department of Science and Technology (2012J5100038).
Ethics declarations
Conflict of interest
The authors declare that they have no conflict of interest.
Additional information
Xiu Qiu, Jin-Hua Lu and Jian-Rong He have contributed equally to this work.
Electronic supplementary material
Below is the link to the electronic supplementary material.
About this article
Cite this article
Qiu, X., Lu, J., He, J. et al. The Born in Guangzhou Cohort Study (BIGCS). Eur J Epidemiol 32, 337–346 (2017). https://doi.org/10.1007/s10654-017-0239-x
Received:

Accepted:

Published:

Issue Date:
Keywords
Design

Cohort study

Child

Pregnancy

Record linkage