Abstract
The primary aim of the Swedish national population registration system is to obtain data that (1) reflect the composition, relationship and identities of the Swedish population and (2) can be used as the basis for correct decisions and measures by government and other regulatory authorities. For this purpose, Sweden has established two population registers: (1) The Population Register, maintained by the Swedish National Tax Agency ("Folkbokföringsregistret"); and (2) The Total Population Register (TPR) maintained by the government agency Statistics Sweden ("Registret över totalbefolkningen"). The registers contain data on life events including birth, death, name change, marital status, family relationships and migration within Sweden as well as to and from other countries. Updates are transmitted daily from the Tax Agency to the TPR. In this paper we describe the two population registers and analyse their strengths and weaknesses. Virtually 100 % of births and deaths, 95 % of immigrations and 91 % of emigrations are reported to the Population Registers within 30 days and with a higher proportion over time. The over-coverage of the TPR, which is primarily due to underreported emigration data, has been estimated at up to 0.5 % of the Swedish population. Through the personal identity number, assigned to all residents staying at least 1 year in Sweden, data from the TPR can be used for medical research purposes, including family design studies since each individual can be linked to his or her parents, siblings and offspring. The TPR also allows for identification of general population controls, participants in cohort studies, as well as calculation of follow-up time.
Access options
Buy single article
Instant access to the full article PDF.
US$ 39.95
Tax calculation will be finalised during checkout.
Subscribe to journal
Immediate online access to all issues from 2019. Subscription will auto renew annually.
US$ 79
Tax calculation will be finalised during checkout.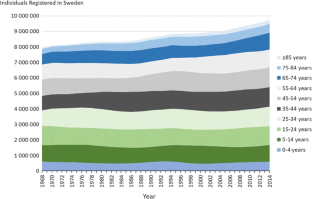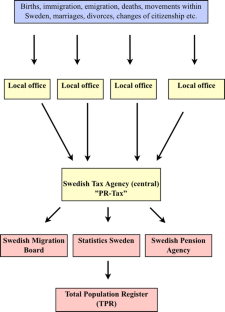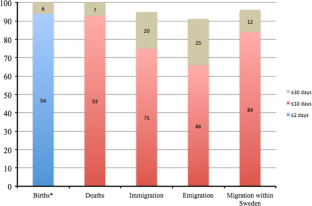 Abbreviations
PIN:

Personal identity number

PR:

Population Register

PR-Tax:

Population Register (maintained by the Swedish Tax Agency)

TPR:

Swedish Total Population Register (maintained by Statistics Sweden)
References
1.

Ludvigsson JF, Otterblad-Olausson P, Pettersson BU, Ekbom A. The Swedish personal identity number: possibilities and pitfalls in healthcare and medical research. Eur J Epidemiol. 2009;24(11):659–67.

2.

Swedish_National_Tax_Agency. Den svenska folkbokföringens historia under tre sekler [English: The Swedish national population registration - history of the last 300 years], 2015.

3.

Statistics_Sweden (Swedish: Statistiska Centralbyrån S. Olika familjer lever på olika sätt - om barns boende och försörjning efter en separation. Demogragfiska rapporter 2014:01 [English: Different families have different ways of living—about children's living and support after a separation], 2014.

4.

Ekbom A. The Swedish Multi-generation Register. Methods Mol Biol. 2011;675:215–20.

5.

Statistics_Sweden (Swedish: Statistiska Centralbyrån S. Overcoverage in the Total Population Register—a register study. Background facts. Population and Welfare 2015;1.

6.

Eriksson JK, Neovius M, Ernestam S, Lindblad S, Simard JF, Askling J. Incidence of rheumatoid arthritis in Sweden: a nationwide population-based assessment of incidence, its determinants, and treatment penetration. Arthritis Care Res (Hoboken). 2013;65(6):870–8.

7.

Busch K, Ludvigsson JF, Ekstrom-Smedby K, Ekbom A, Askling J, Neovius M. Nationwide prevalence of inflammatory bowel disease in Sweden: a population-based register study. Aliment Pharmacol Ther. 2014;39(1):57–68.

8.

Johansson B, Helgesson M, Lundberg I, Nordquist T, Leijon O, Lindberg P, Vingard E. Work and health among immigrants and native Swedes 1990–2008: a register-based study on hospitalization for common potentially work-related disorders, disability pension and mortality. BMC Public Health. 2012;12:845.

9.

Ji J, Ludvigsson JF, Sundquist K, Sundquist J, Hemminki K. Incidence of celiac disease among second-generation immigrants and adoptees from abroad in Sweden: evidence for ethnic differences in susceptibility. Scand J Gastroenterol. 2011;46(7–8):844–8.

10.

Lindblad F, Weitoft GR, Hjern A. ADHD in international adoptees: a national cohort study. Eur Child Adolesc Psychiatry. 2010;19(1):37–44.

11.

Wicks S, Hjern A, Dalman C. Social risk or genetic liability for psychosis? A study of children born in Sweden and reared by adoptive parents. Am J Psychiatry. 2010;167(10):1240–6.

12.

Bjorkenstam E, Hallqvist J, Dalman C, Ljung R. Risk of new psychiatric episodes in the year following divorce in midlife: cause or selection? A nationwide register-based study of 703,960 individuals. Int J Soc Psychiatry. 2013;59(8):801–4.

13.

Wallby T, Modin B, Hjern A. Child health care utilisation in families with young or single mothers in a Swedish county. J Child Health Care. 2013;17:17–29.

14.

Frisell T, Lichtenstein P, Langstrom N. Violent crime runs in families: a total population study of 12.5 million individuals. Psychol Med. 2011;41(1):97–105.

15.

Laszlo KD, Svensson T, Li J, Obel C, Vestergaard M, Olsen J, Cnattingius S. Maternal bereavement during pregnancy and the risk of stillbirth: a nationwide cohort study in Sweden. Am J Epidemiol. 2013;177(3):219–27.

16.

Sariaslan A, Larsson H, D'Onofrio B, Langstrom N, Fazel S, Lichtenstein P. Does population density and neighborhood deprivation predict schizophrenia? A nationwide Swedish family-based study of 2.4 million individuals. Schizophr Bull. 2015;41(2):494–502.

17.

Ludvigsson JF, Andersson E, Ekbom A, Feychting M, Kim JL, Reuterwall C, Heurgren M, Olausson PO. External review and validation of the Swedish national inpatient register. BMC Public Health. 2011;11(1):450.

18.

Ludvigsson JF, Montgomery SM, Ekbom A, Brandt L, Granath F. Small-intestinal histopathology and mortality risk in celiac disease. JAMA. 2009;302(11):1171–8.

19.

Herweijer E, Leval A, Ploner A, Eloranta S, Simard JF, Dillner J, Netterlid E, Sparen P, Arnheim-Dahlstrom L. Association of varying number of doses of quadrivalent human papillomavirus vaccine with incidence of condyloma. JAMA. 2014;311(6):597–603.

20.

Melander O, Maisel AS, Almgren P, Manjer J, Belting M, Hedblad B, Engstrom G, Kilger U, Nilsson P, Bergmann A, Orho-Melander M. Plasma proneurotensin and incidence of diabetes, cardiovascular disease, breast cancer, and mortality. JAMA. 2012;308(14):1469–75.

21.

Melander O, Newton-Cheh C, Almgren P, Hedblad B, Berglund G, Engstrom G, Persson M, Smith JG, Magnusson M, Christensson A, Struck J, Morgenthaler NG, Bergmann A, Pencina MJ, Wang TJ. Novel and conventional biomarkers for prediction of incident cardiovascular events in the community. JAMA. 2009;302(1):49–57.

22.

Ludvigsson JF, Welander A, Lassila R, Ekbom A, Montgomery SM. Risk of thromboembolism in 14,000 individuals with coeliac disease. Br J Haematol. 2007;139(1):121–7.

23.

Ludvigsson JF, Olsson T, Ekbom A, Montgomery SM. A population-based study of coeliac disease, neurodegenerative and neuroinflammatory diseases. Aliment Pharmacol Ther. 2007;25(11):1317–27.

24.

Song H, Ekheden IG, Zheng Z, Ericsson J, Nyren O, Ye W. Incidence of gastric cancer among patients with gastric precancerous lesions: observational cohort study in a low risk Western population. BMJ. 2015;351:h3867.

25.

Holmqvist ME, Neovius M, Eriksson J, Mantel A, Wallberg-Jonsson S, Jacobsson LT, Askling J. Risk of venous thromboembolism in patients with rheumatoid arthritis and association with disease duration and hospitalization. JAMA. 2012;308(13):1350–6.

26.

Bjorkenstam C, Weitoft GR, Hjern A, Nordstrom P, Hallqvist J, Ljung R. School grades, parental education and suicide—a national register-based cohort study. J Epidemiol Community Health. 2011;65(11):993–8.

27.

Ljung R, Lagergren J, Bexelius TS, Mattsson F, Lindblad M. Increased risk of acute pancreatitis among tetracycline users in a Swedish population-based case-control study. Gut. 2012;61(6):873–6.

28.

Andersson RE, Olaison G, Tysk C, Ekbom A. Appendectomy and protection against ulcerative colitis. N Engl J Med. 2001;344(11):808–14.

29.

Lind M, Svensson AM, Kosiborod M, Gudbjornsdottir S, Pivodic A, Wedel H, Dahlqvist S, Clements M, Rosengren A. Glycemic control and excess mortality in type 1 diabetes. N Engl J Med. 2014;371(21):1972–82.

30.

Lagergren J, Bergstrom R, Lindgren A, Nyren O. Symptomatic gastroesophageal reflux as a risk factor for esophageal adenocarcinoma. N Engl J Med. 1999;340(11):825–31.

31.

Huang J, Magnusson M, Torner A, Ye W, Duberg AS. Risk of pancreatic cancer among individuals with hepatitis C or hepatitis B virus infection: a nationwide study in Sweden. Br J Cancer. 2013;109(11):2917–23.

32.

Eriksson JK, Neovius M, Bratt J, Petersson IF, van Vollenhoven RF, Geborek P, Ernestam S. Biological vs. conventional combination treatment and work loss in early rheumatoid arthritis: a randomized trial. JAMA Intern Med. 2013;173(15):1407–14.

33.

Ludvigsson JF, Haberg SE, Knudsen GP, Lafolie P, Zoega H, Sarkkola C, von Kraemer S, Weiderpass E, Norgaard M. Ethical aspects of registry-based research in the Nordic countries. Clin Epidemiol. 2015;7:491–508.

34.

Council_of_the_European_Union. Proposal for a Regulation of the European Parliament and of the Council on the protection of individuals with regard to the processing of personal data and on the free movement of such data (General Data Protection Regulation), 2015.

35.

Swedish_National_Tax_Agency. Kvarskrivning.

36.

Lichtenstein P, Holm NV, Verkasalo PK, Iliadou A, Kaprio J, Koskenvuo M, Pukkala E, Skytthe A, Hemminki K. Environmental and heritable factors in the causation of cancer–analyses of cohorts of twins from Sweden, Denmark, and Finland. N Engl J Med. 2000;343(2):78–85.

37.

Furu K, Kieler H, Haglund B, Engeland A, Selmer R, Stephansson O, Valdimarsdottir UA, Zoega H, Artama M, Gissler M, Malm H, Norgaard M. Selective serotonin reuptake inhibitors and venlafaxine in early pregnancy and risk of birth defects: population based cohort study and sibling design. BMJ. 2015;350:h1798.

38.

Stephansson O, Kieler H, Haglund B, Artama M, Engeland A, Furu K, Gissler M, Norgaard M, Nielsen RB, Zoega H, Valdimarsdottir U. Selective serotonin reuptake inhibitors during pregnancy and risk of stillbirth and infant mortality. JAMA. 2013;309(1):48–54.

39.

Sandin S, Schendel D, Magnusson P, Hultman C, Suren P, Susser E, Gronborg T, Gissler M, Gunnes N, Gross R, Henning M, Bresnahan M, Sourander A, Hornig M, Carter K, Francis R, Parner E, Leonard H, Rosanoff M, Stoltenberg C, Reichenberg A. Autism risk associated with parental age and with increasing difference in age between the parents. Mol Psychiatry. 2015. doi:10.1038/mp.2015.70.

40.

Fletcher RH, Fletcher SW, Fletcher GS. Clinical epidemiology. The Essentials, 5th edn. Baltimore: Lippincott, Williams & Wilkins; 2012.

41.

Statistics_Sweden (Swedish: Statistiska Centralbyrån S. Different families live in different ways—a survey on residence and support of children after a separation. BE51BR1401., 2014.

42.

Bellis MA, Hughes K, Hughes S, Ashton JR. Measuring paternal discrepancy and its public health consequences. J Epidemiol Community Health. 2005;59(9):749–54.
Acknowledgments
Jonas F. Ludvigsson would like to dedicate this paper to Ingvar Johannesson, former civil servant at Statistics Sweden, neighbour and friend. Johannesson authored the report Total Population Register 2002 BEO1O2. Ludvigsson would also like to acknowledge the help of secretary Angelica Netterhall, Karin Wegfors (Statistics Sweden), Jesper Brodin (Statistics Sweden) and Gunnilla Autio (Swedish Tax Agency). We acknowledge financial support from the Swedish Research Council through the Swedish Initiative for Research on Microdata in the Social And Medical Sciences (SIMSAM) framework Grant No. 340-2013-5867.
About this article
Cite this article
Ludvigsson, J.F., Almqvist, C., Bonamy, AK.E. et al. Registers of the Swedish total population and their use in medical research. Eur J Epidemiol 31, 125–136 (2016). https://doi.org/10.1007/s10654-016-0117-y
Received:

Accepted:

Published:

Issue Date:
Keywords
Population

Register

Registry

Public health