Abstract
Incidence and prevalence studies of neurological disorders play an important role in assessing the burden of disease and planning services. However, the assessment of disease estimates is hindered by problems in reporting for such studies. Despite a growth in published reports, existing guidelines relate to analytical rather than descriptive epidemiological studies. There are also no user-friendly tools (e.g., checklists) available for authors, editors and peer-reviewers to facilitate best practice in reporting of descriptive epidemiological studies for most neurological disorders. The Standards of Reporting of Neurological Disorders (STROND) is a guideline that consists of recommendations and a checklist to facilitate better reporting of published incidence and prevalence studies of neurological disorders. A review of previously developed guidance was used to produce a list of items required for incidence and prevalence studies in neurology. A three-round Delphi technique was used to identify the 'basic minimum items' important for reporting, as well as some additional 'ideal reporting items'. An e-consultation process was then used in order to gauge opinion by external neuroepidemiological experts on the appropriateness of the items included in the checklist. Of 38 candidate items, 15 items and accompanying recommendations were developed along with a user-friendly checklist. The introduction and use of the STROND checklist should lead to more consistent, transparent and contextualised reporting of descriptive neuroepidemiological studies resulting in more applicable and comparable findings and ultimately support better healthcare decisions.
Access options
Buy single article
Instant access to the full article PDF.
USD 39.95
Price excludes VAT (USA)
Tax calculation will be finalised during checkout.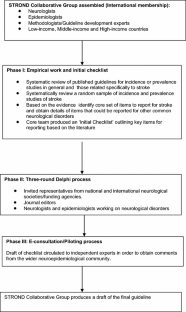 References
Whiteford HA, Ferrari AJ, Degenhardt L, Feigin V, Vos T. The global burden of mental, neurological and substance use disorders: an analysis from the global burden of disease study 2010. PLoS One. 2015;10(2):e0116820.

Rao D, Choi S, Victorson D, Bode R, Peterman A, Heinemann A, et al. Measuring stigma across neurological conditions: the development of the stigma scale for chronic illness (SSCI). Qual Life Res. 2009;18(5):585–95.

Murray CJ, Ezzati M, Flaxman AD, Lim S, Lozano R, Michaud C, et al. GBD 2010: a multi-investigator collaboration for global comparative descriptive epidemiology. Lancet. 2013;380(9859):2055–8.

Hirtz D, Thurman DJ, Gwinn-Hardy K, Mohamed M, Chaudhuri AR, Zalutsky R. How common are the "common" neurologic disorders? Neurology. 2007;68(5):326–37.

Albert SM. Projecting neurologic disease burden: difficult but critical. Neurology. 2007;68(5):322–3.

Vos T, Flaxman AD, Naghavi M, Lozano R, Michaud C, Ezzati M, et al. Years lived with disability (YLDs) for 1160 sequelae of 289 diseases and injuries 1990–2010: a systematic analysis for the global burden of disease study 2010. Lancet. 2013;380(9859):2163–96.

Simera I, Moher D, Hirst A, Hoey J, Schulz KF, Altman DG. Transparent and accurate reporting increases reliability, utility, and impact of your research: reporting guidelines and the EQUATOR Network. BMC Med. 2010;8:24 Epub 2010/04/28.

Feigin V, Kurtzke JF, Korczyn A, Beghi E, Brown A. Bridging the gap between experimental and non-experimental neuroepidemiology, and ultimately—between neuroepidemiological research and practice: round table discussion at the First International Congress on Clinical Neurology and Epidemiology. Neuroepidemiology. 2009;33(4):296–304.

Schulz KF, Altman DG, Moher D. CONSORT 2010 statement: updated guidelines for reporting parallel group randomised trials. J Pharmacol Pharmacother. 2010;1(2):100–7.

Liberati A, Altman DG, Tetzlaff J, Mulrow C, Gotzsche PC, Ioannidis JP, et al. The PRISMA statement for reporting systematic reviews and meta-analyses of studies that evaluate healthcare interventions: explanation and elaboration. BMJ. 2009;339:b2700.

Oermann MH. SQUIRE guidelines for reporting improvement studies in healthcare: implications for nursing publications. J Nurs Care Qual. 2009;24(2):91–5.

von Elm E, Altman DG, Egger M, Pocock SJ, Gotzsche PC, Vandenbroucke JP. Strengthening the reporting of observational studies in epidemiology (STROBE) statement: guidelines for reporting observational studies. BMJ. 2007;335(7624):806–8 Epub 2007/10/20.

Chin JH, Vora N. The global burden of neurologic diseases. Neurology. 2014;83(4):349–51.

Evans C, Beland SG, Kulaga S, Wolfson C, Kingwell E, Marriott J, et al. Incidence and prevalence of multiple sclerosis in the Americas: a systematic review. Neuroepidemiology. 2013;40(3):195–210 Epub 2013/02/01.

Aarsland D, Zaccai J, Brayne C. A systematic review of prevalence studies of dementia in Parkinson's disease. Mov Disord. 2005;20(10):1255–63.

Dorsey ER, Constantinescu R, Thompson JP, Biglan KM, Holloway RG, Kieburtz K, et al. Projected number of people with Parkinson disease in the most populous nations, 2005 through 2030. Neurology. 2007;68(5):384–6.

GBD 2013 Collaborators. Global, regional, and national age–sex specific all-cause and cause-specific mortality for 240 causes of death, 1990–2013: a systematic analysis for the Global Burden of Disease Study 2013. Lancet. 2015;385(9963):117–71.

Moher D, Schulz KF, Simera I, Altman DG. Guidance for developers of health research reporting guidelines. PLoS Med. 2010;7(2):e1000217 (Epub 2010/02/20).

Steurer J. The Delphi method: an efficient procedure to generate knowledge. Skeletal Radiol. 2011;40(8):959–61 Epub 2011/06/15.

Hopewell S, Ravaud P, Baron G, Boutron I. Effect of editors' implementation of CONSORT guidelines on the reporting of abstracts in high impact medical journals: interrupted time series analysis. BMJ. 2012;344:e4178 Epub 2012/06/26.

Turner L, Shamseer L, Altman D, Schulz K, Moher D. Does use of the CONSORT Statement impact the completeness of reporting of randomised controlled trials published in medical journals? A Cochrane reviewa. Syst Rev. 2012;1(1):60.

Moher D, Hopewell S, Schulz KF, Montori V, Gotzsche PC, Devereaux PJ, et al. CONSORT 2010 explanation and elaboration: updated guidelines for reporting parallel group randomised trials. BMJ. 2010;340:c869 Epub 2010/03/25.

Altman DG, Simera I, Hoey J, Moher D, Schulz K. EQUATOR: reporting guidelines for health research. Lancet. 2008;371(9619):1149–50 Epub 2008/04/09.

Simera I, Moher D, Hoey J, Schulz KF, Altman DG. The EQUATOR Network and reporting guidelines: Helping to achieve high standards in reporting health research studies. Maturitas. 2009;63(1):4–6 Epub 2009/04/18.

Cialkowska M, Adamowski T, Piotrowski P, Kiejna A. What is the Delphi method? Strengths and shortcomings. Psychiatria polska. 2008;42(1):5–15 (Epub 2008/06/24. Czym jest metoda Delphi? Zalety i ograniczenia).

Murray CJ, Ezzati M, Flaxman AD, Lim S, Lozano R, Michaud C, et al. GBD 2010: design, definitions, and metrics. Lancet. 2013;380(9859):2063–6.
Additional information
Suzanne Barker-Collo, Michael Brainin, Daniel Davis, Valentina Gallo, Nathalie Jetté, André Karch, John F Kurtzke, Pablo M. Lavados, Giancarlo Logroscino, Gabriele Nagel, Pierre-Marie Preux, Peter M. Rothwell and Lawrence W. Svenson authors are in alphabetical order.
Electronic supplementary material
Below is the link to the electronic supplementary material.
Appendix
Appendix
Core standard of reporting of neurological disorders (STROND) development team
Dr Derrick Bennett (Nuffield Department of Population Health, University of Oxford, Oxford, UK); Professor Carol Brayne (Department of Public Health and Primary Care, University of Cambridge, Cambridge, UK); Professor Valery Feigin (National Institute for Stroke and Applied Neurosciences, AUT University, Auckland, New Zealand), Helen McDonald. National Institute for Stroke and Applied Neurosciences, AUT University, Auckland, New Zealand).
Standard of reporting of neurological disorders (STROND) collaborators
Professor Michael Brainin (Department for Clinical Medicine and Preventive Medicine, Danube-University Krems, Austria; Professor Pierre-Marie Preux, Institute of Tropical Neurology, University of Limoges, Limoges, France; Professor Peter Rothwell, Stroke Prevention Unit, University of Oxford, Oxford, UK; Dr Pablo M. Lavados, Vascular Neurology and Stroke Unit, Neurology Service, Department of Medicine, Clínica Alemana de Santiago, Universidad del Desarrollo and Department of Neurological Sciences, Universidad de Chile, Institute of Neurosurgery, Santiago, Chile; Emeritus Professor John F Kurtzke, Georgetown UniversityUSA.; Dr Suzanne Barker-Collo (Department of Psychology, University of Auckland, New Zealand). Dr Daniel Davis (Faculty of Population Health Sciences, University College London, UK.); Dr Valentina Gallo, Centre of Primary Care and Public Health, Blizard Institute, Queen Mary, University of London, UK; Dr Nathalie Jetté, Department of Clinical Neurosciences and Hotchkiss Brain Institute, Department of Community Health Sciences and O'Brien Institute for Public Health, University of Calgary, Canada; André Karch, Research Group Epidemiology and Statistical Methods, Helmholtz Centre for Infection Research; Lawrence W. Svenson, School of Public Health, University of Alberta, Canada; Professor Giancarlo Logroscino, Neurodegenerative Diseases Unit, Department of Basic Medicine, Neurosciences and Sense Organs, and Department of Clinical Research in Neurology presso Fondazione Card Panico. Tricase,University Aldo Moro, Bari, Italy.; Gabriele Nagel, Institute of Epidemiology and Medical Biometry, University of Ulm, Ulm, Germany.
About this article
Cite this article
Bennett, D.A., Brayne, C., Feigin, V.L. et al. Development of the standards of reporting of neurological disorders (STROND) checklist: a guideline for the reporting of incidence and prevalence studies in neuroepidemiology. Eur J Epidemiol 30, 569–576 (2015). https://doi.org/10.1007/s10654-015-0034-5
Received:

Accepted:

Published:

Issue Date:

DOI: https://doi.org/10.1007/s10654-015-0034-5
Keywords
Neurology

Epidemiology

Incidence

Prevalence

Reporting

Checklist