Abstract
Obesity is a risk factor for arterial and venous thromboembolism. However, it is not known whether obesity mediates risk through shared mechanisms. In a population-based cohort, we aimed to compare the impact of obesity measures on risk of venous thromboembolism (VTE) and myocardial infarction (MI), and explore how obesity-related atherosclerotic risk factors influenced these relationships. Measures of body composition including body mass index , waist circumference (WC), hip circumference (HC), waist-hip ratio (WHR) and waist-to-height ratio (WHtR) were registered in 6,708 subjects aged 25–84 years, who participated in the Tromsø Study (1994–1995). Incident VTE- and MI-events were registered until January 1, 2011. There were 288 VTEs and 925 MIs during a median of 15.7 years of follow-up. All obesity measures were related to risk of VTE. In linear models, WC showed the highest risk estimates in both genders. In categorized models (highest versus lowest quintile), WC showed highest risk in men (HR 3.59; 95 % CI 1.82–7.06) and HC in women (HR 2.27; 95 % CI 1.54–4.92). Contrary, WHR and WHtR yielded the highest risk estimates for MI. The HR of MI (highest vs. lowest quintile) for WHR was 2.11 (95 % CI 1.59–2.81) in men and 1.62 (95 % CI 1.13–2.31) in women. The risk estimates for MI were substantially attenuated after adjustment for atherosclerotic risk factors, whereas the estimates for VTE remained unchanged. Our findings suggest that the impact of body fat distribution, and the causal pathway, differs for the association between obesity and arterial and venous thrombosis.
Access options
Buy single article
Instant access to the full article PDF.
US$ 39.95
Tax calculation will be finalised during checkout.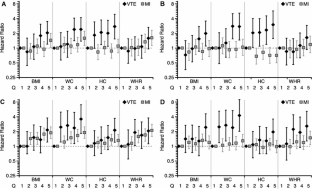 References
1.

Eliasson A, Bergqvist D, Bjorck M, Acosta S, Sternby NH, Ogren M. Incidence and risk of venous thromboembolism in patients with verified arterial thrombosis: a population study based on 23,796 consecutive autopsies. J Thromb Haemost. 2006;4(9):1897–902.

2.

Prandoni P, Bilora F, Marchiori A, Bernardi E, Petrobelli F, Lensing AW, et al. An association between atherosclerosis and venous thrombosis. N Engl J Med. 2003;348(15):1435–41.

3.

Sorensen HT, Horvath-Puho E, Pedersen L, Baron JA, Prandoni P. Venous thromboembolism and subsequent hospitalisation due to acute arterial cardiovascular events: a 20-year cohort study. Lancet. 2007;370(9601):1773–9.

4.

Lind C, Flinterman LE, Enga KF, Severinsen MT, Kristensen SR, Braekkan SK, et al. Impact of Incident Venous Thromboembolism on Risk of Arterial Thrombotic Diseases. Circulation. 2013.

5.

Ageno W, Becattini C, Brighton T, Selby R, Kamphuisen PW. Cardiovascular risk factors and venous thromboembolism: a meta-analysis. Circulation. 2008;117(1):93–102.

6.

Braekkan SK, Hald EM, Mathiesen EB, Njolstad I, Wilsgaard T, Rosendaal FR, et al. Competing risk of atherosclerotic risk factors for arterial and venous thrombosis in a general population: the Tromso study. Arterioscler Thromb Vasc Biol. 2012;32(2):487–91.

7.

Wattanakit K, Lutsey PL, Bell EJ, Gornik H, Cushman M, Heckbert SR, et al. Association between cardiovascular disease risk factors and occurrence of venous thromboembolism. A time-dependent analysis. Thromb Haemost. 2012;108(9):508–15.

8.

Glynn RJ, Rosner B. Comparison of risk factors for the competing risks of coronary heart disease, stroke, and venous thromboembolism. Am J Epidemiol. 2005;162(10):975–82.

9.

Tsai AW, Cushman M, Rosamond WD, Heckbert SR, Polak JF, Folsom AR. Cardiovascular risk factors and venous thromboembolism incidence: the longitudinal investigation of thromboembolism etiology. Arch Intern Med. 2002;162(10):1182–9.

10.

Quist-Paulsen P, Naess IA, Cannegieter SC, Romundstad PR, Christiansen SC, Rosendaal FR, et al. Arterial cardiovascular risk factors and venous thrombosis: results from a population-based, prospective study (the HUNT 2). Haematologica. 2010;95(1):119–25.

11.

Holst AG, Jensen G, Prescott E. Risk factors for venous thromboembolism: results from the Copenhagen City Heart Study. Circulation. 2010;121(17):1896–903.

12.

Yusuf S, Hawken S, Ôunpuu S, Bautista L, Franzosi MG, Commerford P, et al. Obesity and the risk of myocardial infarction in 27 000 participants from 52 countries: a case–control study. Lancet. 2005;366(9497):1640–9.

13.

de Koning L, Merchant AT, Pogue J, Anand SS. Waist circumference and waist-to-hip ratio as predictors of cardiovascular events: meta-regression analysis of prospective studies. Eur Heart J. 2007;28(7):850–6.

14.

Hansson PO, Eriksson H, Welin L, Svardsudd K, Wilhelmsen L. Smoking and abdominal obesity: risk factors for venous thromboembolism among middle-aged men: "the study of men born in 1913". Arch Intern Med. 1999;159(16):1886–90.

15.

Pomp ER, le Cessie S, Rosendaal FR, Doggen CJ. Risk of venous thrombosis: obesity and its joint effect with oral contraceptive use and prothrombotic mutations. Br J Haematol. 2007;139(2):289–96.

16.

Severinsen MT, Kristensen SR, Johnsen SP, Dethlefsen C, Tjonneland A, Overvad K. Anthropometry, body fat, and venous thromboembolism: a Danish follow-up study. Circulation. 2009;120(19):1850–7.

17.

Steffen LM, Cushman M, Peacock JM, Heckbert SR, Jacobs DR Jr, Rosamond WD, et al. Metabolic syndrome and risk of venous thromboembolism: longitudinal Investigation of Thromboembolism Etiology. J Thromb Haemost. 2009;7(5):746–51.

18.

Despres JP, Lemieux I. Abdominal obesity and metabolic syndrome. Nature. 2006;444(7121):881–7.

19.

Ashwell M, Gunn P, Gibson S. Waist-to-height ratio is a better screening tool than waist circumference and BMI for adult cardiometabolic risk factors: systematic review and meta-analysis. Obes Rev. 2012;13(3):275–86.

20.

Czernichow S, Kengne AP, Stamatakis E, Hamer M, Batty GD. Body mass index, waist circumference and waist-hip ratio: which is the better discriminator of cardiovascular disease mortality risk?: evidence from an individual-participant meta-analysis of 82 864 participants from nine cohort studies. Obes Rev. 2011;12(9):680–7.

21.

Wajchenberg BL. Subcutaneous and visceral adipose tissue: their relation to the metabolic syndrome. Endocr Rev. 2000;21(6):697–738.

22.

Grundy SM, Balady GJ, Criqui MH, Fletcher G, Greenland P, Hiratzka LF, et al. Primary prevention of coronary heart disease: guidance from Framingham: a statement for healthcare professionals from the aha task force on risk reduction. Circulation. 1998;97(18):1876–87.

23.

Borch KH, Braekkan SK, Mathiesen EB, Njolstad I, Wilsgaard T, Stormer J, et al. Anthropometric measures of obesity and risk of venous thromboembolism: the Tromso study. Arterioscler Thromb Vasc Biol. 2010;30(1):121–7.

24.

MORGAM Manual [cited 2014 January 22]. Available from. http://www.ktl.fi/publications/morgam/manual/followup/form22.htm.

25.

Obesity: preventing and managing the global epidemic; report of a WHO consultation. Geneva: WHO; 2000. xii, 253s. p.

26.

Lean MEJ, Han TS, Morrison CE. Waist circumference as a measure for indicating need for weight management. BMJ. 1995;311(6998):158–61.

27.

Lean ME, Han TS, Morrison CE. Waist circumference as a measure for indicating need for weight management. BMJ. 1995;311(6998):158–61.

28.

Seidell JC, Pérusse L, Després J-P, Bouchard C. Waist and hip circumferences have independent and opposite effects on cardiovascular disease risk factors: the Quebec Family Study. Am J Clin Nutr. 2001;74(3):315–21.

29.

Heitmann BL, Frederiksen P, Lissner L. Hip circumference and cardiovascular morbidity and mortality in men and women. Obes Res. 2004;12(3):482–7.

30.

Lissner L, Bjorkelund C, Heitmann BL, Seidell JC, Bengtsson C. Larger hip circumference independently predicts health and longevity in a Swedish female cohort. Obes Res. 2001;9(10):644–6.

31.

Després J-P. Body fat distribution and risk of cardiovascular disease: an update. Circulation. 2012;126(10):1301–13.

32.

Stefan N, Kantartzis K, Machann J, Schick F, Thamer C, Rittig K, et al. Identification and characterization of metabolically benign obesity in humans. Arch Intern Med. 2008;168(15):1609–16.

33.

Van Gaal LF, Mertens IL, De Block CE. Mechanisms linking obesity with cardiovascular disease. Nature. 2006;444(7121):875–80.

34.

Liu J, Fox CS, Hickson DA, May WD, Hairston KG, Carr JJ, et al. Impact of abdominal visceral and subcutaneous adipose tissue on cardiometabolic risk factors: the Jackson Heart Study. J Clin Endocrinol Metab. 2010;95(12):5419–26.

35.

Liu J, Fox CS, Hickson D, Bidulescu A, Carr JJ, Taylor HA. Fatty liver, abdominal visceral fat, and cardiometabolic risk factors: the Jackson Heart Study. Arterioscler Thromb Vasc Biol. 2011;31(11):2715–22.

36.

Preis SR, Massaro JM, Robins SJ, Hoffmann U, Vasan RS, Irlbeck T, et al. Abdominal subcutaneous and visceral adipose tissue and insulin resistance in the Framingham heart study. Obesity (Silver Spring, Md). 2010;18(11):2191–8.

37.

Tanko LB, Bagger YZ, Alexandersen P, Larsen PJ, Christiansen C. Peripheral adiposity exhibits an independent dominant antiatherogenic effect in elderly women. Circulation. 2003;107(12):1626–31.

38.

Yim J-E, Heshka S, Albu JB, Heymsfield S, Gallagher D. Femoral-gluteal subcutaneous and intermuscular adipose tissues have independent and opposing relationships with CVD risk. J Appl Physiol. 2008;104(3):700–7.

39.

Snijder MB, Visser M, Dekker JM, Goodpaster BH, Harris TB, Kritchevsky SB, et al. Low subcutaneous thigh fat is a risk factor for unfavourable glucose and lipid levels, independently of high abdominal fat. The Health ABC Study. Diabetologia. 2005;48(2):301–8.

40.

Manolopoulos KN, Karpe F, Frayn KN. Gluteofemoral body fat as a determinant of metabolic health. Int J Obes. 2010;34(6):949–59.

41.

Rexrode KM, Buring JE, Manson JE. Abdominal and total adiposity and risk of coronary heart disease in men. Int J Obes. 2001;25(7):1047–56.

42.

Rexrode KM, Carey VJ, Hennekens CH, et al. ABdominal adiposity and coronary heart disease in women. J Am Med Assoc. 1998;280(21):1843–8.

43.

Lutsey PL, Virnig BA, Durham SB, Steffen LM, Hirsch AT, Jacobs DR Jr, et al. Correlates and consequences of venous thromboembolism: the Iowa Women's Health Study. Am J Public Health. 2010;100(8):1506–13.

44.

Kuk JL, Janiszewski PM, Ross R. Body mass index and hip and thigh circumferences are negatively associated with visceral adipose tissue after control for waist circumference. Am J Clin Nutr. 2007;85(6):1540–4.

45.

Borch KH, BrÆKkan SK, Mathiesen EB, NjØLstad I, Wilsgaard T, Størmer J, et al. Abdominal obesity is essential for the risk of venous thromboembolism in the metabolic syndrome: the Tromsø study. J Thromb Haemost. 2009;7(5):739–45.

46.

Gregor MF, Hotamisligil GS. Inflammatory mechanisms in obesity. Annu Rev Immunol. 2011;29:415–45.

47.

Levi M, van der Poll T, Buller HR. Bidirectional relation between inflammation and coagulation. Circulation. 2004;109(22):2698–704.

48.

Hald EM, Braekkan SK, Mathiesen EB, Njolstad I, Wilsgaard T, Brox J, et al. High-sensitivity C-reactive protein is not a risk factor for venous thromboembolism: the Tromso study. Haematologica. 2011;96(8):1189–94.

49.

Zacho J, Tybjaerg-Hansen A, Nordestgaard BG. C-reactive protein and risk of venous thromboembolism in the general population. Arterioscler Thromb Vasc Biol. 2010;30(8):1672–8.

50.

Kamphuisen PW, Eikenboom JC, Vos HL, Pablo R, Sturk A, Bertina RM, et al. Increased levels of factor VIII and fibrinogen in patients with venous thrombosis are not caused by acute phase reactions. Thromb Haemost. 1999;81(5):680–3.

51.

Braekkan SK, Siegerink B, Lijfering WM, Hansen JB, Cannegieter SC, Rosendaal FR. Role of obesity in the etiology of deep vein thrombosis and pulmonary embolism: current epidemiological insights. Semin Thromb Hemost. 2013;39(5):533–40.

52.

Peverill RE, Teede HJ, Malan E, Kotsopoulos D, Smolich JJ, McGrath BP. Relationship of waist and hip circumference with coagulation and fibrinolysis in postmenopausal women. Clinical science (London, England: 1979). 2007;113(9):383–91.

53.

Allison MA, Cushman M, Callas PW, Denenberg JO, Jensky NE, Criqui MH. Adipokines are associated with lower extremity venous disease: the San Diego population study. J Thromb Haemost. 2010;8(9):1912–8.

54.

Willenberg T, Clemens R, Haegeli LM, Amann-Vesti B, Baumgartner I, Husmann M. The influence of abdominal pressure on lower extremity venous pressure and Hemodynamics: a human in-vivo model simulating the effect of abdominal obesity. Eur J Vasc Endovasc Surg. 2011;41(6):849–55.

55.

Willenberg T, Schumacher A, Amann-Vesti B, Jacomella V, Thalhammer C, Diehm N, et al. Impact of obesity on venous hemodynamics of the lower limbs. J Vasc Surg. 2010;52(3):664–8.

56.

Wiewiora M, Piecuch J, Gluck M, Slowinska-Lozynska L, Sosada K. Shear stress and flow dynamics of the femoral vein among obese patients who qualify for bariatric surgery. Clin Hemorheol Microcirc. 2013;54(3):313–23.

57.

Baum CL 2nd, Ruhm CJ. Age, socioeconomic status and obesity growth. J Health Econ. 2009;28(3):635–48.
Acknowledgments
K.G. Jebsen TREC is supported by an independent grant from the K.G. Jebsen Foundation. Lars D. Horvei receives a grant from the Northern Norway Regional Health Authority. The authors would like to thank Rod Wolstenholme for help with preparing the figures.
Conflict of interest
The authors declare no conflicts of interest.
Ethical standards
The study was approved by the regional committee for medical research ethics and all participants gave their informed written consent to participate.
Electronic supplementary material
Below is the link to the electronic supplementary material.
About this article
Cite this article
Horvei, L.D., Brækkan, S.K., Mathiesen, E.B. et al. Obesity measures and risk of venous thromboembolism and myocardial infarction. Eur J Epidemiol 29, 821–830 (2014). https://doi.org/10.1007/s10654-014-9950-z
Received:

Accepted:

Published:

Issue Date:
Keywords
Obesity

Venous thromboembolism

Myocardial infarction

Metabolic syndrome x