Access options
Buy single article
Instant access to the full article PDF.
US$ 39.95
Tax calculation will be finalised during checkout.
Subscribe to journal
Immediate online access to all issues from 2019. Subscription will auto renew annually.
US$ 79
Tax calculation will be finalised during checkout.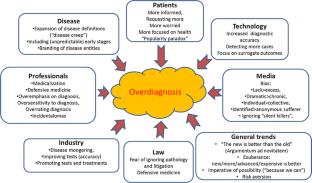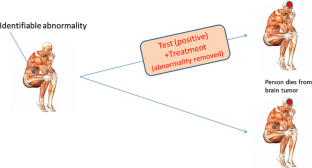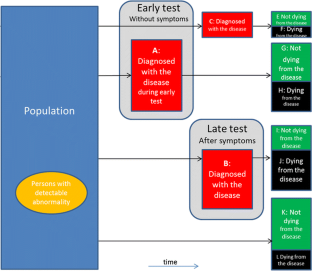 References
1.

Moynihan R, Doust J, Henry D. Preventing overdiagnosis: how to stop harming the healthy. BMJ. 2012;344:e3502. doi:10.1136/bmj.e3502.

2.

Welch HG, Schwartz L, Woloshin S. Overdiagnosed : making people sick in the pursuit of health. Boston: Beacon Press; 2011.

3.

Berwick DM, Hackbarth AD. Eliminating waste in US health care. JAMA. 2012;307(14):1513–6. doi:10.1001/jama.2012.362.

4.

Bloche MG. Beyond the "R word"? Medicine's new frugality. N Engl J Med. 2012;366(21):1951–3. doi:10.1056/NEJMp1203521.

5.

Fisher ES, Wennberg DE, Stukel TA, Gottlieb DJ, Lucas FL, Pinder EL. The implications of regional variations in medicare spending. Part 2: health outcomes and satisfaction with care. Ann Intern Med. 2003;138(4):288–98.

6.

Puliti D, Zappa M, Miccinesi G, Falini P, Crocetti E, Paci E. An estimate of overdiagnosis 15 years after the start of mammographic screening in Florence. Eur J Cancer. 2009;45(18):3166–71. doi:10.1016/j.ejca.2009.06.014.

7.

Jorgensen KJ, Zahl PH, Gotzsche PC. Overdiagnosis in organised mammography screening in Denmark. A comparative study. BMC Women's Health. 2009;9:36. doi:10.1186/1472-6874-9-36.

8.

de Gelder R, Heijnsdijk EA, van Ravesteyn NT, Fracheboud J, Draisma G, de Koning HJ. Interpreting overdiagnosis estimates in population-based mammography screening. Epidemiol Rev. 2011;33(1):111–21. doi:10.1093/epirev/mxr009.

9.

Kalager M, Adami HO, Bretthauer M, Tamimi RM. Overdiagnosis of invasive breast cancer due to mammography screening: results from the Norwegian screening program. Ann Intern Med. 2012;156(7):491–9. doi:10.7326/0003-4819-156-7-201204030-00005.

10.

Falk RS, Hofvind S, Skaane P, Haldorsen T. Overdiagnosis among women attending a population-based mammography screening program. Int J Cancer. 2013;133(3):705–12. doi:10.1002/ijc.28052.

11.

Welch HG, Passow HJ. Quantifying the benefits and harms of screening mammography. JAMA Intern Med. 2014;174(3):448–54. doi:10.1001/jamainternmed.2013.13635.

12.

Independent UK Panel on Breast Cancer Screening. The benefits and harms of breast cancer screening: an independent review. Lancet. 2012;380(9855):1778–86. doi:10.1016/S0140-6736(12)61611-0.

13.

Marmot MG, Altman DG, Cameron DA, Dewar JA, Thompson SG, Wilcox M. The benefits and harms of breast cancer screening: an independent review. Br J Cancer. 2013;108(11):2205–40. doi:10.1038/bjc.2013.177.

14.

International Agency for Research on Cancer (IARC). IARC handbooks of cancer prevention—breast cancer screening. Geneva: World Health Organisation; 2002.

15.

Welch HG, Black WC. Overdiagnosis in cancer. J Natl Cancer Inst. 2010;102(9):605–13. doi:10.1093/jnci/djq099.

16.

Grobin W. Diabetes in the aged: underdiagnosis and overtreatment. Can Med Assoc J. 1970;103(9):915–23.

17.

Feinstein AR, Esdaile JM. Incidence, prevalence, and evidence. Scientific problems in epidemiologic statistics for the occurrence of cancer. Am J Med. 1987;82(1):113–23.

18.

Morrison A. Screening in chronic disease. New York: Oxford University Press; 1985.

19.

Black WC. Overdiagnosis: an underrecognized cause of confusion and harm in cancer screening. J Natl Cancer Inst. 2000;92(16):1280–2.

20.

Etzioni R, Penson DF, Legler JM, et al. Overdiagnosis due to prostate-specific antigen screening: lessons from US prostate cancer incidence trends. J Natl Cancer Inst. 2002;94(13):981–90.

21.

Hofmann B. The technological invention of disease—on disease, technology and values. Oslo: Universitetet i Oslo; 2002.

22.

King L. What is a disease? Philos Sci. 1954;21:193–203.

23.

Reznek L. The nature of disease. New York: Routledge & Keagen Paul; 1987.
Conflict of interest
I certify that there is no conflict of interest in relation to this manuscript, and there are no financial arrangements or arrangements with respect to the content of this manuscript with any companies or organizations. The manuscript is not published elsewhere.
About this article
Cite this article
Hofmann, B. Diagnosing overdiagnosis: conceptual challenges and suggested solutions. Eur J Epidemiol 29, 599–604 (2014). https://doi.org/10.1007/s10654-014-9920-5
Received:

Accepted:

Published:

Issue Date:
Keywords
Common Definition

Early Testing

Health Care Spending

False Negative Test

False Positive Test Result