Abstract
To test the hypothesis that age at retirement is associated with dementia risk among self-employed workers in France, we linked health and pension databases of self-employed workers and we extracted data of those who were still alive and retired as of December 31st 2010. Dementia cases were detected in the database either through the declaration of a long-term chronic disease coded as Alzheimer's disease and other dementia (International Classification of Disease codes G30, F00, F01, F03) or through the claim for reimbursement of one of the anti-dementia drugs. Data were analyzed using Cox proportional hazard model adjusting for potential confounders. Among the 429,803 retired self-employed workers alive on December 31st 2010, prevalence of dementia was 2.65 %. Multivariable analyses showed that the hazard ratio of dementia was 0.968 [95 % confidence interval = (0.962–0.973)] per each extra year of age at retirement. After excluding workers who had dementia diagnosed within the 5 years following retirement, the results remained unchanged and highly significant (p < 0.0001). We show strong evidence of a significant decrease in the risk of developing dementia associated with older age at retirement, in line with the "use it or lose it" hypothesis. Further evidence is necessary to evaluate whether this association is causal, but our results indicate the potential importance of maintaining high levels of cognitive and social stimulation throughout work and retiree life.
Access options
Buy single article
Instant access to the full article PDF.
USD 39.95
Price includes VAT (USA)
Tax calculation will be finalised during checkout.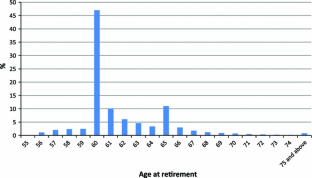 References
1.

Ngandu T, von Strauss E, Helkala EL, Winblad B, Nissinen A, Tuomilehto J, et al. Education and dementia: What lies behind the association? Neurology. 2007;69(14):1442–50.

2.

Cohen CI. Education, occupation, and Alzheimer's disease. JAMA. 1994;272:Letters 1405.

3.

Stern Y. Cognitive reserve and Alzheimer disease. Alzheimer Dis Assoc Disord. 2006;20(Suppl 2):S69–74.

4.

Cummings JL, Vinters HV, Cole GM, Khachaturian ZS. Alzheimer's disease: etiologies, pathophysiology, cognitive reserve, and treatment opportunities. Neurology. 1998;51(Suppl 1):S2–17.

5.

Staff RT, Murray AD, Deary IJ, Whalley LJ. What provides cerebral reserve? Brain. 2004;127:1191–9.

6.

Stern Y. What is cognitive reserve? Theory and research application of the reserve concept. J Int Neuropsychol Soc. 2002;8(3):448–60.

7.

Stern Y, Albert S, Tang MX, Tsai WY. Rate of memory decline in AD is related to education and occupation—Cognitive reserve? Neurology. 1999;53(9):1942–7.

8.

Valenzuela MJ, Sachdev P. Brain reserve and dementia: a systematic review. Psychol Med. 2006;36(4):441–54. doi:10.1017/S0033291705006264.

9.

Kroger E, Andel R, Lindsay J, Benounissa Z, Verreault R, Laurin D. Is complexity of work associated with risk of dementia? The Canadian Study of Health and Aging. Am J Epidemiol. 2008;167(7):820–30.

10.

Potter GG, Helms MJ, Plassman BL. Associations of job demands and intelligence with cognitive performance among men in late life. Neurology. 2008;70(19 Pt 2):1803–8.

11.

Wilson RS, Bennett DA, Bienias JL, Aggarwal NT, de Leon CFM, Morris MC, et al. Cognitive activity and incident AD in a population-based sample of older persons. Neurology. 2002;59(12):1910–4.

12.

Boyle PA, Buchman AS, Wilson RS, Yu L, Schneider JA, Bennett DA. Effect of purpose in life on the relation between Alzheimer disease pathologic changes on cognitive function in advanced age. Arch Gen Psychiatry. 2012;69(5):499–505. doi:10.1001/archgenpsychiatry.2011.1487.

13.

Valenzuela MJ, Sachdev P, Wen W, Chen X, Brodaty H. Lifespan mental activity predicts diminished rate of hippocampal atrophy. PLoS One. 2008;3(7):e2598. doi:10.1371/journal.pone.0002598.

14.

Gates NJ, Valenzuela M, Sachdev PS, Singh NA, Baune BT, Brodaty H, et al. Study of Mental Activity and Regular Training (SMART) in at risk individuals: a randomised double blind, sham controlled, longitudinal trial. BMC Geriatr. 2011;11:19. doi:10.1186/1471-2318-11-19.

15.

Sitzer DI, Twamley EW, Jeste DV. Cognitive training in Alzheimer's disease: a meta-analysis of the literature. Acta Psychiatr Scand. 2006;114(2):75–90. doi:10.1111/j.1600-0447.2006.00789.x.

16.

Unverzagt FW, Guey LT, Jones RN, Marsiske M, King JW, Wadley VG, et al. ACTIVE cognitive training and rates of incident dementia. J Int Neuropsychol Soc. 2012;18(4):669–77. doi:10.1017/S1355617711001470.

17.

Coe NB, von Gaudecker HM, Lindeboom M, Maurer J. The effect of retirement on cognitive functioning. Health Econ. 2012;21(8):913–27. doi:10.1002/hec.1771.

18.

Brookmeyer R, Gray S, Kawas C. Projections of Alzheimer's disease in the United States and the public health impact of delaying disease onset. Am J Public Health. 1998;88(9):1337–42.

19.

Bonsang E, Adam S, Perelman S. Does retirement affect cognitive functioning? J Health Econ. 2012;31(3):490–501. doi:10.1016/j.jhealeco.2012.03.005.

20.

Lupton MK, Stahl D, Archer N, Foy C, Poppe M, Lovestone S, et al. Education, occupation and retirement age effects on the age of onset of Alzheimer's disease. Int J Geriatr Psychiatry. 2010;25(1):30–6. doi:10.1002/gps.2294.

21.

Roberts BA, Fuhrer R, Marmot M, Richards M. Does retirement influence cognitive performance? The Whitehall II Study. J Epidemiol Community Health. 2011;65(11):958–63. doi:10.1136/jech.2010.111849.

22.

Rohwedder S, Willis RJ. Mental retirement. J Econ Perspect. 2010;24(1):119–38. doi:10.1257/jep.24.1.119.

23.

Bamia C, Trichopoulou A, Trichopoulos D. Age at retirement and mortality in a general population sample: the Greek EPIC Study. Am J Epidemiol. 2008;167(5):561–9. doi:10.1093/aje/kwm337.

24.

Hammerman-Rozenberg R, Maaravi Y, Cohen A, Stessman J. Working late: the impact of work after 70 on longevity, health and function. Aging Clin Exp Res. 2005;17(6):508–13.

25.

Gallo WT, Teng HM, Falba TA, Kasl SV, Krumholz HM, Bradley EH. The impact of late career job loss on myocardial infarction and stroke: a 10 year follow up using the health and retirement survey. Occup Environ Med. 2006;63(10):683–7. doi:10.1136/oem.2006.026823.

26.

Stern Y. Cognitive reserve in ageing and Alzheimer's disease. Lancet Neurol. 2012;11(11):1006–12. doi:10.1016/S1474-4422(12)70191-6.

27.

Driscoll I, Troncoso J. Asymptomatic Alzheimer's disease: A prodrome or a state of resilience? Curr Alzheimer Res. 2011;8(4):330–5.

28.

Valenzuela M, Sachdev P. Can cognitive exercise prevent the onset of dementia? Systematic review of randomized clinical trials with longitudinal follow-up. Am J Geriatr Psychiatry. 2009;17(3):179–87. doi:10.1097/JGP.0b013e3181953b57.

29.

Bertrand M, Tzourio C, Alperovitch A. Trends in recognition and treatment of dementia in France. Analysis of the 2004–2010 database of the national health insurance plan. Alzheimer Dis Assoc Disord. 2013;27(3):213–7. doi:10.1097/WAD.0b013e3182695a3b.

30.

Ramaroson H, Helmer C, Barberger-Gateau P, Letenneur L, Dartigues JF. Prevalence of dementia and Alzheimer's disease among subjects aged 75 years or over: updated results of the PAQUID cohort. Rev Neurol (Paris). 2003;159(4):405–11.

31.

Matthews FE, Arthur A, Barnes LE, Bond J, Jagger C, Robinson L, Brayne C. Medical Research Council Cognitive Function and Ageing Collaboration. A two-decade comparison of prevalence of dementia in individuals aged 65 years and older from three geographical areas of England: results of the Cognitive Function and Ageing Study I and II. Lancet. 2013;382(9902):1405–12. doi:10.1016/S0140-6736(13)61570-6.
Acknowledgments
This study was initiated by ILC-France and supported by funds provided by Ipsen Pharma, Van Dyck Health Care, Groupe PREVOIR, Lündbeck SAS, Nutricia Nutrition Clinique (groupe Danone), HSBC France. The funding sources had no role in study design, data collection, analysis, interpretation, or writing of the report.
Conflict of interest
The authors declare that no competing interests exist.
About this article
Cite this article
Dufouil, C., Pereira, E., Chêne, G. et al. Older age at retirement is associated with decreased risk of dementia. Eur J Epidemiol 29, 353–361 (2014). https://doi.org/10.1007/s10654-014-9906-3
Received:

Accepted:

Published:

Issue Date:
Keywords
Dementia

Cognitive reserve

Prevention

Intellectual stimulation