Access options
Buy single article
Instant access to the full article PDF.
US$ 39.95
Tax calculation will be finalised during checkout.
Subscribe to journal
Immediate online access to all issues from 2019. Subscription will auto renew annually.
US$ 79
Tax calculation will be finalised during checkout.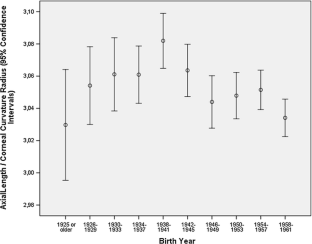 References
1.

Morgan IG, Ohno-Matsui K, Saw SM. Myopia. Lancet. 2012;379:1739–48.

2.

Wong TY, Foster PJ, Hee J, Ng TP, Tielsch JM, Chew SJ, Johnson GJ, Seah SK. Prevalence and risk factors for refractive errors in adult Chinese in Singapore. Invest Ophthalmol Vis Sci. 2000;41:2486–94.

3.

Rose KA, Morgan IG, Smith W, Burlutsky G, Mitchell P, Saw SM. Myopia, lifestyle, and schooling in students of Chinese ethnicity in Singapore and Sydney. Arch Ophthalmol. 2008;126:527–30.

4.

Low W, Dirani M, Gazzard G, Chan YH, Zhou HJ, Selvaraj P, Au Eong KG, Young TL, Mitchell P, Wong TY, Saw SM. Family history, near work, outdoor activity, and myopia in Singapore Chinese preschool children. Br J Ophthalmol. 2010;94:1012–6.

5.

Sharma A, Congdon N, Gao Y, Lu Y, Ye Y, Wu J, Lam DS, Li L, Wu J, Tse YK, Zhang M, Song Y, Griffiths S. Height, stunting, and refractive error among rural Chinese schoolchildren: the See Well to Learn Well project. Am J Ophthalmol. 2010;149:347–53.

6.

Guggenheim JA, Northstone K, McMahon G, Ness AR, Deere K, Mattocks C, Pourcain BS, Williams C. Time outdoors and physical activity as predictors of incident myopia in childhood: a prospective cohort study. Invest Ophthalmol Vis Sci. 2012;53:2856–65.

7.

Grosvenor T. High axial length/corneal radius ratio as a risk factor in the development of myopia. Am J Optom Physiol Opt. 1988;65:689–96.

8.

Zhou JQ, Xu L, Wang S, Wang YX, You QS, Tu Y, Yang H, Jonas JB. The 10-year incidence and risk factors of retinal vein occlusion: the Beijing Eye Study. Ophthalmology. 2013;120:803–8.

9.

Zhao JL, Pan XJ, Sui RF, Pan XJ, Mao J, Li CR, Jiang LJ, Qiu CL, Chen SG, Liu QY. Refractive error study in children: results from Shunyi district, China. Am J Ophthalmol. 2000;129:427–35.

10.

He M, Huang W, Zheng Y, Huang L, Ellwein LB. Refractive error and visual impairment in school children in rural southern China. Ophthalmology. 2007;114:374–82.
Acknowledgments
Supported by National Natural Science Foundation of China. The funders had no role in study design, data collection and analysis, decision to publish, or preparation of the manuscript.
Conflict of interest
The authors have declared that no competing interests exist.
About this article
Cite this article
Wang, Y.X., Xu, L. & Jonas, J.B. The effect of the Chinese Cultural Revolution and Great Leap Forward on the prevalence of myopia. Eur J Epidemiol 28, 1001–1004 (2013). https://doi.org/10.1007/s10654-013-9858-z
Received:

Accepted:

Published:

Issue Date:
Keywords
Axial Length

Myopia

Refractive Error

Cultural Revolution

High Myopia