Abstract
Concern is growing about exposure to electromagnetic fields and male reproductive health. The authors performed a cross-sectional study among military men employed in the Royal Norwegian Navy, including information about work close to equipment emitting radiofrequency electromagnetic fields, one-year infertility, children and sex of the offspring. Among 10,497 respondents, 22% had worked close to high-frequency aerials to a "high" or "very high" degree. Infertility increased significantly along with increasing self-reported exposure to radiofrequency electromagnetic fields. In a logistic regression, odds ratio (OR) for infertility among those who had worked closer than 10 m from high-frequency aerials to a "very high" degree relative to those who reported no work near high-frequency aerials was 1.86 (95% confidence interval (CI): 1.46–2.37), adjusted for age, smoking habits, alcohol consumption and exposure to organic solvents, welding and lead. Similar adjusted OR for those exposed to a "high", "some" and "low" degree were 1.93 (95% CI: 1.55–2.40), 1.52 (95% CI: 1.25–1.84), and 1.39 (95% CI: 1.15–1.68), respectively. In all age groups there were significant linear trends with higher prevalence of involuntary childlessness with higher self-reported exposure to radiofrequency fields. However, the degree of exposure to radiofrequency radiation and the number of children were not associated. For self-reported exposure both to high-frequency aerials and communication equipment there were significant linear trends with lower ratio of boys to girls at birth when the father reported a higher degree of radiofrequency electromagnetic exposure.
Access options
Buy single article
Instant access to the full article PDF.
USD 39.95
Price excludes VAT (USA)
Tax calculation will be finalised during checkout.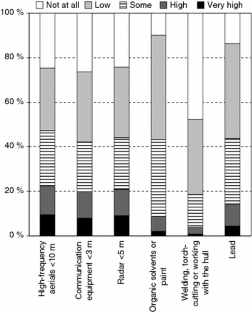 Abbreviations
CI:

Confidence interval

OR:

Odds ratio
References
Skakkebaek NE, Jorgensen N, Main KM, et al. Is human fecundity declining? Int J Androl. 2006;29:2–11.

Sallmen M, Weinberg CR, Baird DD, Lindbohm ML, Wilcox AJ. Has human fertility declined over time? Why we may never know. Epidemiology. 2005;16:494–9.

Carlsen E, Giwercman A, Keiding N, Skakkebaek NE. Evidence for decreasing quality of semen during past 50 years. BMJ. 1992;305:609–13.

Auger J, Kunstmann JM, Czyglik F, Jouannet P. Decline in semen quality among fertile men in Paris during the past 20 years. N Engl J Med. 1995;332:281–5.

Andersen AG, Jensen TK, Carlsen E, et al. High frequency of sub-optimal semen quality in an unselected population of young men. Hum Reprod. 2000;15:366–72.

Bonde JP, Ernst E, Jensen TK, et al. Relation between semen quality and fertility: a population-based study of 430 first-pregnancy planners. Lancet. 1998;352:1172–7.

Bonde JP. Environmental fertility research at the turn of the century. Scand J Work Environ Health. 1999;25:529–36.

Ahlbom A, Green A, Kheifets L, Savitz D, Swerdlow A, ICNIRP. Epidemiology of health effects of radiofrequency exposure. Environ Health Perspect. 2004;112(17):1741-54.

Mageroy N, Mollerlokken OJ, Riise T, Koefoed V, Moen BE. A higher risk of congenital anomalies in the offspring of personnel who served aboard a Norwegian missile torpedo boat. Occup Environ Med. 2006;63:92–7.

Irgens A, Kruger K, Ulstein M. The effect of male occupational exposure in infertile couples in Norway. J Occup Environ Med. 1999;41:1116–20.

Lancranjan I, Maicanescu M, Rafaila E, Klepsch I, Popescu HI. Gonadic function in workmen with long-term exposure to microwaves. Health Phys. 1975;29:381–3.

Weyandt TB, Schrader SM, Turner TW, Simon SD. Semen analysis of military personnel associated with military duty assignments. Reprod Toxicol. 1996;10:521–8.

Hjollund NHI, Bonde JPE, Skotte J. Semen analysis of personnel operating military radar equipment. Reprod Toxicol. 1997;11:897.

Schrader SM, Langford RE, Turner TW, et al. Reproductive function in relation to duty assignments among military personnel. Reprod Toxicol. 1998;12:465–8.

Grajewski B, Clinton C, Schrader SM, et al. Semen quality and hormone levels among radiofrequency heater operators. J Occup Environ Med. 2000;42:993–1005.

Erogul O, Oztas E, Yildirim I, et al. Effects of electromagnetic radiation from a cellular phone on human sperm motility: an in vitro study. Arch Med Res. 2006;37:840–3.

Kilgallon SJ, Simmons LW. Image content influences men's semen quality. Biol Lett. 2005;1:253–5.

Fejes I, Zavaczki Z, Szollosi J, et al. Is there a relationship between cell phone use and semen quality? Arch Androl. 2005;51:385–93.

James WH. Male reproductive hazards and occupation. Lancet. 1996;347:773.

Knave B. Long-term exposure to electric-fields—cross-sectional epidemiologic investigation of occupationally exposed workers in high-voltage substations. Scand J Work Environ Health. 1979;5:115–25.

Nordstrom S. Reproductive hazards among workers at high-voltage substations. Bioelectromagnetics. 1983;4:91–101.

Mubarak Aas. Does high voltage electricity have an effect on the sex distribution of offspring? Hum Reprod. 1996;11:230–1.

Saadat M. Offspring sex ratio in men exposed to electromagnetic fields. J Epidemiol Community Health. 2005;59:339.

Kumar S. Occupational exposure associated with reproductive dysfunction. J Occup Health. 2004;46:1–19.

Luderer U, Bushley A, Stover BD, et al. Effects of occupational solvent exposure on reproductive hormone concentrations and fecundability in men. Am J Ind Med. 2004;46:614–26.

Winker R, Rudiger HW. Reproductive toxicology in occupational settings: an update. Int Arch Occup Environ Health. 2006;79:1–10.

Shiau CY, Wang JD, Chen PC. Decreased fecundity among male lead workers. Occup Environ Med. 2004;61:915–23.

Joffe M, Bisanti L, Apostoli P, et al. Time to pregnancy and occupational lead exposure. Occup Environ Med. 2003;60:752–8.

Aasland OG, Amundsen A, Bovim G, Fauske S, Morland J. [Identification of patients at risk of alcohol-related damage]. Tidsskr Nor Laegeforen. 1990;110:1523–7.

James WH. Offspring sex ratios of people exposed to electromagnetic fields. J Epidemiol Community Health. 2005;59:810.

Mjoen G, Saetre DO, Lie RT, Tynes T, Blaasaas KG, Hannevik M, Irgens LM. Paternal occupational exposure to radiofrequency electromagnetic fields and risk of adverse pregnancy outcome. Eur J Epidemiol. 2006;21:529–35.

Hietanen M. Establishing the health risks of exposure to radiofrequency fields requires multidisciplinary research. Scand J Work Environ Health. 2006;32:169–70.

Foster KR. Thermal and nonthermal mechanisms of interaction of radio-frequency energy with biological systems. IEEE Trans Plasma Sci. 2000;28:15–23.

James WH. Evidence that mammalian sex ratios at birth are partially controlled by parental hormone levels at the time of conception. J Theor Biol. 1996;180:271–86.

Rapport fra ekspertkommissionen vedrørende spørsgsmålet om den fare, der utgår fra stråling fra tidligere radaranlæg i "Bundeswehr" og "Nationale Volksarmee" (Radarkommission). Berlin, den 2.juli 2003.

Frogner T. Historisk granskning av radar i det norske forsvar. Forsvarets laboratorietjeneste, EMC/Kraftforsyning laboratorium 2006-03-31.

Bonde JP, Hjollund NH, Kolstad HA, Abell A, Larsen SB. Environmental semen studies—is infertility increased by a decline in sperm count? Scand J Work Environ Health. 1999;25(Suppl 1):12–6.

Schmidt L, Munster K. Infertility, involuntary infecundity, and the seeking of medical advice in industrialized countries 1970–1992—a review of concepts, measurements and results. Hum Reprod. 1995;10:1407–18.
Acknowledgments
We thank The Royal Norwegian Navy for funding the research program Health, Safety and Work Environment in the Royal Norwegian Navy and the employees in the Royal Norwegian Navy for participating in the study. We are also grateful to Stein Emil Vollset, University of Bergen for important comments in the process of the study and on the article.
About this article
Cite this article
Baste, V., Riise, T. & Moen, B.E. Radiofrequency electromagnetic fields; male infertility and sex ratio of offspring. Eur J Epidemiol 23, 369–377 (2008). https://doi.org/10.1007/s10654-008-9236-4
Received:

Accepted:

Published:

Issue Date:

DOI: https://doi.org/10.1007/s10654-008-9236-4
Keywords
Electromagnetic fields

Infertility

Occupational exposure

Offspring sex ratio

Male infertility

Radiofrequency electromagnetic fields