Abstract
Results obtained from self-reported health data may be biased if those being surveyed respond differently based on health status. This study was conducted to investigate if health, as measured by health care use preceding invitation, influenced response to invitation to a 21-year prospective study, the Millennium Cohort Study. Inpatient and outpatient diagnoses were identified among more than 68,000 people during a one-year period prior to invitation to enroll. Multivariable logistic regression defined how diagnoses were associated with response. Days spent hospitalized or in outpatient care were also compared between responders and nonresponders. Adjusted odds of response to the questionnaire were similar over a diverse range of inpatient and outpatient diagnostic categories during the year prior to enrollment. The number of days hospitalized or accessing outpatient care was very similar between responders and nonresponders. Study findings demonstrate that, although there are some small differences between responders and nonresponders, prior health care use did not affect response to the Millennium Cohort Study, and it is unlikely that future study findings will be biased by differential response due to health status prior to enrollment invitation.
Access options
Buy single article
Instant access to the full article PDF.
USD 39.95
Price excludes VAT (USA)
Tax calculation will be finalised during checkout.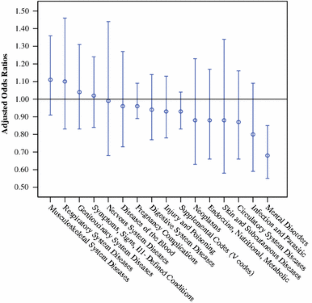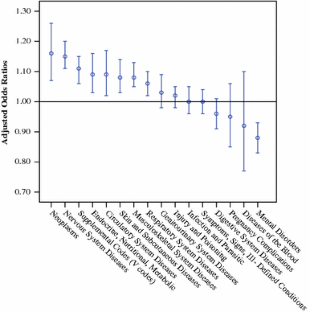 Abbreviations
CI:

Confidence interval

ICD-9-CM:

International Classification of Diseases, Ninth Revision, Clinical Modification

OR:

Odds ratio
References
Boshuizen HC, Viet AL, Picavet HS, Botterweck A, van Loon AJ. Non-response in a survey of cardiovascular risk factors in the Dutch population: determinants and resulting biases. Public Health. 2006;120(4):297–308.

Sogaard AJ, Selmer R, Bjertness E, Thelle D. The Oslo Health Study: the impact of self-selection in a large, population-based survey. Int J Equity Health. 2004;3(1):3.

Van Loon AJ, Tijhuis M, Picavet HS, Surtees PJ, Ormel J. Survey non-response in the Netherlands: effects on prevalence estimates and associations. Ann Epidemiol. 2003;13(2):105–10.

Korkeila K, Souminen S, Ahvenainen J, Ojanlatva A, Rautava P, Helenius H, Koskenvuo M. Non-response and related factors in a nation-wide health survey. Eur J Epidemiol. 2001;17(11):991–9.

Heberlein TA, Baumgartner R. Factors affecting response rates to mailed questionnaires: a quantitative analysis of the published literature. Am Sociol Rev. 1978;43(4):447–62.

Rupp I, Triemstra M, Boshuizen HC, Jacobi CE, Dinant HJ, van den Bos GA. Selection bias due to non-response in a health survey among patients with rheumatoid arthritis. Eur J Public Health. 2002;12(2):131–5.

Kjoller M, Thoning H. Characteristics of non-response in the Danish health interview surveys, 1987–1994. Eur J Public Health. 2005;15(5):528–35.

Etter JF, Perneger TV. Analysis of non-response bias in a mailed health survey. J Clin Epidemiol. 1997;50(10):1123–8.

Freudenstein U, Arthur AJ, Matthews RJ, Jagger C. Community surveys of late-life depression: who are the non-responders? Age Ageing. 2001;30(6):517–21.

Bethel J, Greeen JL, Kalton G, Nord C. Early Childhood Longitudinal Study, Birth Cohort (ECLS-B), Sampling. In: ECLS-B Methodology Report for the 9-Month Data Collection, 2001–2002 (NCES 2005-147). U.S. Department of Education. Vol. 2. Washington, DC: National Center for Education Statistics; 2005.

Sulsky SI. On occupational health and safety research in the US Army: comparability with civilian employee cohorts. J Occup Environ Med. 2003;45(3):220–1.

Ryan MA, Smith TC, Smith B, Amoroso P, Boyko EJ, Gray GC, et al. Millennium Cohort: enrollment begins a 21-year contribution to understanding the impact of military service. J Clin Epidemiol. 2007;60(2):181–91.

The International Classification of Diseases, 9th Revision. In: Speirs L, editor. Clinical modification. 5th ed. Salt Lake City: Medicode Publication 272; 1998.

Baker DG, McQuarrie IG, Murray MG, Lund LM, Dashevsky BA, Mendenhall CL. Diagnostic status and treatment recommendations for Persian Gulf War Veterans with multiple nonspecific symptoms. Mil Med. 2001;166(11):972–81.

Bourdette DN, McCauley LA, Barkhuizen A, Johnston W, Wynn M, Joos SK, et al. Symptom factor analysis, clinical findings, and functional status in a population-based case control study of Gulf War unexplained illness. J Occup Environ Med. 2001;43(12):1026–40.

Cowan DN, Lange JL, Heller J, Kirkpatrick J, DeBakey S. A case–control study of asthma among US Army Gulf War veterans and modeled exposure to oil well fire smoke. Mil Med. 2002;167(9):777–82.

Eisen SA, Kang HK, Murphy FM, Blanchard MS, Reda DJ, Henderson WG, et al. Gulf War veterans' health: medical evaluation of a US cohort. Ann Intern Med. 2005;142(11):881–90.

Escalante A, Fischbach M. Musculoskeletal manifestations, pain, and quality of life in Persian Gulf War veterans referred for rheumatologic evaluation. J Rheumatol. 1998;25(11):2228–35.

Gray GC, Reed RJ, Kaiser KS, Smith TC, Gastanaga VM. Self-reported symptoms and medical conditions among 11,868 Gulf War-era veterans: the Seabee Health Study. Am J Epidemiol. 2002;155(11):1033–44.

Kang HK, Natelson BH, Mahan CM, Lee KY, Murphy FM. Post-traumatic stress disorder and chronic fatigue syndrome-like illness among Gulf War veterans: a population-based survey of 30,000 veterans. Am J Epidemiol. 2003;157(2):141–8.

Karlinsky JB, Blanchard M, Alpern R, Eisen SA, Kang H, Murphy FM, et al. Late prevalence of respiratory symptoms and pulmonary function abnormalities in Gulf War I Veterans. Arch Intern Med. 2004;164(22):2488–91.

Lange JL, Schwartz DA, Doebbeling BN, Heller JM, Thorne PS. Exposures to the Kuwait oil fires and their association with asthma and bronchitis among gulf war veterans. Environ Health Perspect. 2002;110(11):1141–6.

McCauley LA, Joos SK, Barkhuizen A, Shuell T, Tyree WA, Bourdette DN. Chronic fatigue in a population-based study of Gulf War veterans. Arch Environ Health. 2002;57(4):340–8.

Smith TC, Gray GC, Knoke JD. Is systemic lupus erythematosus, amyotrophic lateral sclerosis, or fibromyalgia associated with Persian Gulf War service? An examination of Department of Defense hospitalization data. Am J Epidemiol. 2000;151(11):1053–9.

Young HA, Simmens SJ, Kang HK, Mahan CM, Levine PH. Factor analysis of fatiguing syndrome in Gulf War era veterans: implications for etiology and pathogenesis. J Occup Environ Med. 2003;45(12):1268–73.

Hosmer DW, Lemeshow S. Applied logistic regression. New York: John Wiley & Sons; 1989.

SAS Institute Inc., SAS/STAT® 9.1 Users Guide. Cary, NC: SAS Institute Inc.; 2004.

Helliwell B, Aylesworth R, McDowell I, Baumgarten M, Sykes E. Correlates of nonparticipation in the Canadian Study of Health and Aging. Int Psychogeriatr. 2001;13(Supp 1):49–56.

Hoge CW, Castro CA, Messer SC, McGurk D, Cotting DI, Koffman RL. Combat duty in Iraq and Afghanistan, mental health problems, and barriers to care. N Engl J Med. 2004;351(1):13–22.

Hoge CW, Lesikar SE, Guevara R, Lange J, Brundage JF, Engel CC Jr, et al. Mental disorders among US Military personnel in the 1990s: association with high levels of health care utilization and early military attrition. Am J Psychiatry. 2002;159:1576–83.
Acknowledgments
We are indebted to the Millennium Cohort Study participants, without whom these analyses would not be possible. We thank Scott L. Seggerman from the Management Information Division, Defense Manpower Data Center, Seaside, California. Additionally, we thank Laura Chu, MPH; Lacy Farnell; Gia Gumbs, MPH; Cynthia LeardMann, MPH; Travis Leleu; Steven Spiegel; Damika Webb; Keri Welch, MA; and Jim Whitmer from the Department of Defense Center for Deployment Health Research, Naval Health Research Center, San Diego, California; and Michelle Stoia, also from the Naval Health Research Center. We appreciate the support of the Henry M. Jackson Foundation for the Advancement of Military Medicine, Rockville, Maryland.
Additional information
In addition to the authors, the Millennium Cohort Study Team includes Edward J. Boyko, MD, MPH (Seattle Epidemiologic Research and Information Center, Department of Veterans Affairs Puget Sound Health Care System, Seattle, WA); Gary D. Gackstetter, PhD, DVM, MPH and Tomoko I Hooper, MD MPH (Department of Preventive Medicine and Biometrics, Uniformed Services University of the Health Sciences, Bethesda, MD); Gary D. Gackstetter, PhD, DVM, MPH (Analytic Services, Inc. (ANSER), Arlington, VA); Gregory C. Gray, MD, MPH (College of Public Health, University of Iowa, Iowa City, IA); and James R. Riddle, DVM, MPH (Air Force Research Laboratory, Wright-Patterson Air Force Base, OH).
This represents report 07-07, supported by the Department of Defense, under work unit no. 60002. The views expressed in this article are those of the authors and do not reflect the official policy or position of the Department of the Navy, Department of the Army, Department of the Air Force, Department of Defense, Department of Veterans Affairs, or the US Government. This research has been conducted in compliance with all applicable federal regulations governing the protection of human subjects in research (Protocol NHRC.2000.007).
About this article
Cite this article
Wells, T.S., Jacobson, I.G., Smith, T.C. et al. Prior health care utilization as a potential determinant of enrollment in a 21-year prospective study, the Millennium Cohort Study. Eur J Epidemiol 23, 79–87 (2008). https://doi.org/10.1007/s10654-007-9216-0
Received:

Accepted:

Published:

Issue Date:

DOI: https://doi.org/10.1007/s10654-007-9216-0
Keywords