Abstract
Objective To investigate the effect of weight change and weight fluctuations on all-cause-mortality in men. Methods Within a prospective population-based cohort of 1160 men aged 40–59 years at recruitment, complete weight change patterns from baseline and three follow-up examinations during a period of 15 years of follow-up was used to categorize the 505 men into stable obese, stable non-obese, weight gain, weight loss and weight fluctuation groups. For these men (age range: 55–74 years at start time of survival analysis) further survival was analyzed during the subsequent 15 years. Results Overall, 183 deaths were observed among the 505 men. Only weight fluctuations had a clear significant impact on all-cause mortality. Adjusted hazard rate ratio (HRR (95%-CI)) was 1.86 (1.31–2.66) after adjustment for age group, pre-existing cardiovascular disease or diabetes mellitus, smoking and socio-economic status. The risk rate due to weight loss was borderline significant (HRR = 1.81 (0.99–3.31)). Risk of death due to weight gain (HRR = 1.15 (0.70–1.88)) or stable obesity (HRR = 1.16 (0.69–1.94)), however, were not significantly increased compared to men staying non-obese for the first 15 years after cohort recruitment. Conclusion Weight fluctuations are a major risk factor for all-cause mortality in middle aged men. Moreover, stable obesity does not increase further mortality in men aged 55–74 years in long-term follow-up.
Access options
Buy single article
Instant access to the full article PDF.
USD 39.95
Price excludes VAT (USA)
Tax calculation will be finalised during checkout.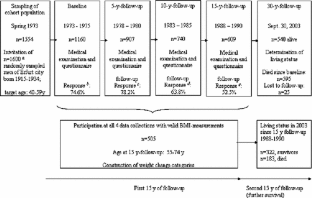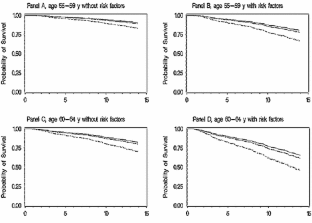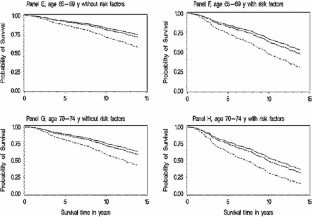 Abbreviations
BMI:

Body mass index

ERFORT study:

Erfurt Male Cohort Study

HRR:

Hazard rate ratio

95%-CI:

95%-Confidence interval
References
Lobstein T, Rigby N, Leach R. EU. Platform on diet, physical activity and health. International Obesity Task Force 2005 http://www.iotf.org/media/euobesity3.pdf.

Ogden CL, Fryar CD, Carroll MD, Flegal KM. Mean body weight, height, and body mass index, United States 1960–2002. Adv. Data 2004;1–17.

Lawrence VJ, Kopelman PG. Medical consequences of obesity. Clin Dermatol 2004;22:296–302.

Blair SN, Shaten J, Brownell K, Collins G, Lissner L. Body weight change, all-cause mortality, and cause-specific mortality in the Multiple Risk Factor Intervention Trial. Ann Intern Med 1993;119:749–57.

Diaz VA, Mainous AG III, Everett CJ. The association between weight fluctuation and mortality: results from a population-based cohort study. J Community Health 2005;30:153–65.

Hamm P, Shekelle RB, Stamler J. Large fluctuations in body weight during young adulthood and twenty-five-year risk of coronary death in men. Am J Epidemiol 1989;129:312–8.

Lissner L, Bengtsson C, Lapisus L, Larsson B, Bengtsson B, Brownell K. Body variability and mortality in the Gothenburg Prospective Studies of men and women. In: Björmtorp P, Rossner S, editors. Obesity in Europe 88: Proceedings of the first European congress on obesity. London: Libbey; 1989. pp. 55–60.

Lissner L, Odell PM, D'Agostino RB, Stokes J III, Kreger BE, Belanger AJ, Brownell KD. Variability of body weight and health outcomes in the Framingham population. N Engl J Med 1991;324:1839–44.

Peters ET, Seidell JC, Menotti A, Arayanis C, Dontas A, Fidanza F, et al. Changes in body weight in relation to mortality in 6441 European middle-aged men: the seven countries study. Int J Obes Relat Metab Disord 1995 Dec;19(12):862–8.

Dyer AR, Stamler J, Greenland P. Associations of weight change and weight variability with cardiovascular and all-cause mortality in the Chicago Western Electric Company Study. Am J Epidemiol 2000;152:324–33.

Iribarren C, Sharp DS, Burchfiel CM, Petrovitch H. Association of weight loss and weight fluctuation with mortality among Japanese American men. N Engl J Med 1995;333:686–92.

Lissner L, Andres R, Muller DC, Shimokata H. Body weight variability in men: metabolic rate, health and longevity. Int J Obes 1990;14:373–83.

Stevens J, Lissner L. Body weight variability and mortality in the Charleston Heart Study. Int J Obes 1990;14:385–6.

Wannamethee SG, Shaper AG, Walker M. Weight change, weight fluctuation, and mortality. Arch Intern Med 2002;162:2575–80.

Meisinger C, Wolke G, Brasche S, Strube G, Heinrich J. Postload plasma glucose and 30-year mortality among nondiabetic middle-aged men from the general population: the ERFORT study. Ann Epidemiol 2006;16:534–9.

Cox D. Regression models and life tables (with discussion). J R Stat Soc B 1972;34:187–220.

Jeffery R. Does weight cycling present a health risk? Am J Clin Nutr 1996;63(Suppl):452S–5S.

Nebeling L, Rogers CJ, Berrigan D, Hursting S, Ballard-Barbash R. Weight cycling and immunocompetence. J Am Diet Assoc 2004;104:892–4.

Shade ED, Ulrich CM, Wener MH, Wood B, Yasui Y, Lacroix K, Potter JD, McTiernan A. Frequent intentional weight loss is associated with lower natural killer cell cytotoxicity in postmenopausal women: possible long-term immune effects. J Am Diet Assoc 2004;104:903–12.

Olson MB, Kelsey SF, Bittner V, Reis SE, Reichek N, Handberg EM, Merz CN. Weight cycling and high-density lipoprotein cholesterol in women: evidence of an adverse effect: a report from the NHLBI-sponsored WISE study. Women's Ischemia Syndrome Evaluation Study Group. J Am Coll Cardiol 2000;36:1565–71.

Schulz M, Liese AD, Boeing H, Cunningham JE, Moore CG, Kroke A. Associations of short-term weight changes and weight cycling with incidence of essential hypertension in the EPIC-Potsdam Study. J Hum Hypertens 2005;19:61–67.

Petersmarck KA, Teitelbaum HS, Bond JT, Bianchi L, Hoerr SM, Sowers MF. The effect of weight cycling on blood lipids and blood pressure in the Multiple Risk Factor Intervention Trial Special Intervention Group. Int J Obes Relat Metab Disord 1999;23:1246–55.

Gregg EW, Gerzoff RB, Thompson TJ, Williamson DF. Intentional weight loss and death in overweight and obese U.S. adults 35 years of age and older. Ann Intern Med 2003;138:383–9.

Wannamethee SG, Shaper AG, Lennon L. Reasons for intentional weight loss, unintentional weight loss, and mortality in older men. Arch Intern Med 2005;165:1035–40.
Acknowledgements
The professional fieldwork of this study is deeply acknowledged. The representatives of the study physicians are the PD Dr. Hartmut Holtz and PD Dr. Klaus-Dieter Dück, who examined together with the PI (G. S.) of the study a large fraction of the study populations and who were involved also in the follow-up programs. The blood tests were conducted by supervision of Prof. Dr. Peter Koehler. The program on psychosocial factors were supervised and conducted by Prof. Dr. M. Geyer, Dr. E. Kunzendorff, Edeltraud Bartel, Klaus Andrzejak, Dr. Katja Limpert, Dr. Günter Stübe, and Helma Bürger. Furthermore, we thank the study nurses Margrit Ullmann, Margot Langelotz, Anke Binding, and Siglinde Litzrodt as well as the team assistant Margret Remke and data manager Elke Siegemund, Hubert Schneller and Claudia Greschik for their extremely cautious work. The authors acknowledge the institutional support of the directors of the department of the Erfurt Medical School, Department for Preventive Cardiology, Prof. Dr. Joachim Knappe, and of the GSF-Institute of Epidemiology, Prof. Dr. Dr. H.-Erich Wichmann.
About this article
Cite this article
Rzehak, P., Meisinger, C., Woelke, G. et al. Weight change, weight cycling and mortality in the ERFORT Male Cohort Study. Eur J Epidemiol 22, 665–673 (2007). https://doi.org/10.1007/s10654-007-9167-5
Received:

Accepted:

Published:

Issue Date:

DOI: https://doi.org/10.1007/s10654-007-9167-5
Keywords
Gender

Cohort study

Mortality

Obesity

Weight change

Weight cycling