Abstract
Spot urinary iodine concentrations (UIC) are presented for 248 individuals from western Kenya with paired drinking water collected between 2016 and 2018. The median UIC was 271 µg L−1, ranging from 9 to 3146 µg L−1, unadjusted for hydration status/dilution. From these data, 12% were potentially iodine deficient (< 100 µg L−1), whilst 44% were considered to have an excess iodine intake (> 300 µg L−1). The application of hydration status/urinary dilution correction methods was evaluated for UICs, using creatinine, osmolality and specific gravity. The use of specific gravity correction for spot urine samples to account for hydration status/urinary dilution presents a practical approach for studies with limited budgets, rather than relying on unadjusted UICs, 24 h sampling, use of significantly large sample size in a cross-sectional study and other reported measures to smooth out the urinary dilution effect. Urinary corrections did influence boundary assessment for deficiency–sufficiency–excess for this group of participants, ranging from 31 to 44% having excess iodine intake, albeit for a study of this size. However, comparison of the correction methods did highlight that 22% of the variation in UICs was due to urinary dilution, highlighting the need for such correction, although creatinine performed poorly, yet specific gravity as a low-cost method was comparable to osmolality corrections as the often stated 'gold standard' metric for urinary concentration. Paired drinking water samples contained a median iodine concentration of 3.2 µg L−1 (0.2–304.1 µg L−1). A weak correlation was observed between UIC and water-I concentrations (R = 0.11).
Access options
Buy single article
Instant access to the full article PDF.
US$ 39.95
Tax calculation will be finalised during checkout.
Subscribe to journal
Immediate online access to all issues from 2019. Subscription will auto renew annually.
US$ 79
Tax calculation will be finalised during checkout.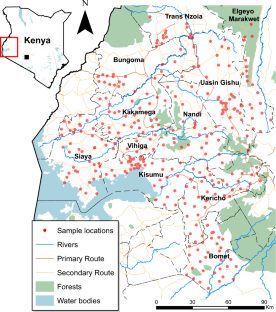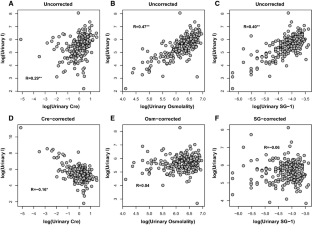 References
Aakre, I., Bjoro, T., Norheim, I., Dtrand, T. A., & Barikmo, I. (2015). Excessive intake and thyroid dysfunction among lactating Saharawi women. Journal of Trace Elements in Medicine and Biology,31, 279–284.

Abizari, A.-R., Dold, S., Kupka, R., & Zimmermann, M. B. (2017). More than two-thirds of dietary iodine in children in northern Ghana is obtained from bouillon cubes containing iodised salt. Public Health Nutrition,20(6), 1107–1113.

Abu, B. A. Z., Oldewage-Theron, W. & Aryeetey, R. N. O. (2018). Risks of excess iodine intake in Ghana: Current situation, challenges and lessons for the future. In Annals of the New York Academy of Sciences (pp. 1–22). https://doi.org/10.1111/nyas.13988.

Andersen, S., Guan, H. X., Teng, W. P., & Laurberg, P. (2009). Speciation of iodine in high iodine groundwater in China associated with goitre and hypothyroidism. Biological Trace Element Research,128, 95–103.

Andersen, S., Pedersen, K. M., Iversen, F., Terpling, S., Gustenhoff, P., Petersen, S. B., et al. (2008). Naturally occurring iodine in humic substances in drinking water in Denmark is bioavailable and determines population iodine intake. British Journal Nutrition,99, 319–325.

Andersson, M., Karumbunathan, V., & Zimmerman, M. B. (2012). Global iodine status in 2011 and trends over the past decade. Journal Nutrition,142, 744–750.

Araki, S., Murata, K., Aono, H., Yanagihara, S., Niinuma, Y., Yamamoto, R., et al. (1986). Comparison of the effects of urinary flow on adjusted and non-adjusted excretion of heavy metals and organic substances in 'healthy' men. Journal Applied Toxicology,6(4), 245–251.

Barikmo, L., Henjum, S., Dahl, I., Oshuag, A., & Torheim, L. E. (2011). Environmental implication of iodine in water, milk and other foods in Saharawi refugee camps in Tindouf, Algeria. Journal of Food Composition and Analysis,24, 637–641.

Bath, S. C., Steer, C. D., Golding, J., Emmett, P., & Rayman, M. (2013). Effect of inadequate iodine status in UK pregnant women on cognitive outcomes in their children: results from the avon longitudinal study of parents and children (ALSPAC). The Lancet,9889, 331–337.

Beal, T., Massiot, E., Arsenault, J. E., Smith, M. R., & Hijmans, R. J. (2017). Global trends in dietary micronutrient supplies and estimated prevalence of inadequate intakes. PLOSOne,12(4), 1–20.

Burgi, H. (2010). Iodine excess. Best Practice and Research Clinical Endocrinology Metabolism,24, 107–115.

Centers for Disease Control and Prevention. (CDC). (2018). National Center for Health Statistics (NCHS). National Health and Nutrition Examination Survey Data. Hyattsville, MD: U.S. Department of Health and Human Services, Centers for Disease Control and Prevention. Accessed 2018, https://www.cdc.gov/nchs/nhanes/index.htm. Accessed 07/01/19.

Cockell, K. A. (2015). Measured iodine status in diverse populations. British Journal of Nutrition,114, 499–500.

Farebrother, J., Zimmerman, M. B., Abdallah, F., Assey, V., Fingerhut, R., Gichohi-Wainaina, W. N., et al. (2018). The effect of excess iodine intake from iodised salt and/or groundwater iodine on thyroid function in non-pregnant and pregnant women, infants and children: a multicenter study in East Africa. Thyroid,28(9), 1–13.

Hays, S. M., Poddalgoda, D., Macey, K., Aylward, L., & Nong, A. (2018). Biomonitoring equivalents for interpretation of urinary iodine. Regulatory Toxicology and Pharmacology,94, 40–46.

Henjum, S., Barikmo, I., Gjerlaug, A. K., Mohamed-Lehabib, A., Oshaug, A., et al. (2010). Endemic goitre and excessive iodine in urine and drinking water among Saharawi refugee children. Public Health Nutrition,13, 1472–1477.

Hussein, I. S., Min, Y., Ghebremeskel, K., & Gaffar, A. M. (2012). Iodine status and fish intake of Sudanese schoolchildren living in the Red Sea and White Nile regions. Public Health Nutrition,15, 2265–2271.

Imran, S., Eva, G., Christopher, S., Flynn, E., & Henner, D. (2010). Is specific gravity a good estimate of urine osmolality? Journal Clinical Laboratory Analysis,24(6), 426–430.

Iodine Global Network (IGN). (2017). Estimates state that 19 countries remain at risk of ID and 10 of iodine excess (SAC data), but that certain population groups e.g. pregnant women, are more at risk. Thirty-nine countries report inadequate intakes in PW. http://www.ign.org/cm_data/IGN_2017_Annual_Report.pdf.

Jooste, P. L., & Strydom, E. S. (2010). Methods for determination of iodine in urine and salt. Best Practice Research Clinical Endocrinology Metabolism,24, 77–88.

Kassim, I. A. R., Moloney, G., Busili, A., Nur, A. Y., Paron, P., et al. (2014). Iodine intake in Somalia is excessive and associated with the source of household drinking water. Journal Nutrition,144, 375–881.

Katagiri, R., Yuan, X., Kobayashi, S., & Sasaki, S. (2017). Effect of excess iodine intake on thyroid diseases in different populations: a systematic review and meta-analyses including observational studies. PLoS ONE,12, e0173722.

Kenya Ministry of Health. (2011). Kenya National Micronutrient Survey 2011, Nutrition and Dietetics Unit, Ministry of Health, Kenya.

Knudsen, N., Christansen, E., Brandt-Christiansen, M., Nygaard, B., & Perrild, H. (2000). Age- and sex-adjusted iodine/creatinine ratio. A new standard in comparison to 24 h values. European Journal of Clinical Nutrition,54, 361–363.

Konig, F., Andersson, M., Hotz, K., Aeberli, I., & Zimmerman, M. B. (2011). Ten repeat collections for urinary iodine from spot samples or 24-hour samples are needed to reliably estimate individual iodine status in women. Journal Nutrition,141, 2049–2054.

Leung, A. M., Avram, A. M., Brenner, A. V., Duntas, L. H., Ehrenkranz, J., Hennessey, J. V., et al. (2015). Potential risks of excess iodine ingestion and exposure: Statement by the American Thyroid Association Public Health Committee. Thyroid,25, 145–146.

Leung, A. M., & Braverman, E. L. (2014). Consequences of excess iodine. Natural Review Endocrinology,10, 136–142.

Medani, A. M. M. H., Elnour, A. A., & Saeed, A. M. (2012). Excessive iodine intake, water chemicals and endemic goitre in a Sudanese coastal area. Public Health Nutrition,16(9), 1586–1592.

Middleton, D. R. S., Watts, M. J., Hamilton, E. M., Ander, E. L., Close, R. M., Exley, K. S., et al. (2016a). Urinary arsenic profiles reveal exposures to inorganic arsenic from private drinking water supplies in Cornwall, UK. Scientific Reports,9, 25656.

Middleton, D. R. S., Watts, M. J., Lark, R. M., Milne, C. J., & Polya, D. A. (2016b). Assessing urinary flow rate, creatinine, osmolality and other hydration adjustment methods for urinary biomonitoring using NHANES arsenic, iodine, lead and cadmium data. Environmental Health,15(6), 1–13.

Nermell, B., et al. (2008). Urinary arsenic concentration adjustment factors and malnutrition. Environmental Research,106, 212–218.

NSO (National Statistics Office of the Republic of Malawi). (2012). Republic of Malawi Integrated Household Survey 2010–2011. NSO, Zomba, Malawi. http://siteresources.worldbank.org/INTLSMS/Resources/3358986-1233781970982/5800988-1271185595871/IHS3_Report.pdf. Accessed April 2019.

Obican, S. G., Jahnke, G. D., Soldin, O. P., & Scialli, A. R. (2012). Teratology public affairs committee position paper: Iodine deficiency in pregnancy. Birth Defects Research (Part A),94, 677–682.

Pedersen, K. M., Laurberg, P., Nohr, S., Jorgensen, A., & Andersen, S. (1999). Iodine in drinking water varies by more than 100-fold in Denmark: importance for iodine content in infant formulas. European Journal of Endocrinology,140, 400–403.

Rana, R., & Raghuvanshi, R. S. (2013). Effect of different cooking methods on iodine losses. Journal Food Science Technology,50, 1212–1216.

Reimann, C., Bjorvatn, K., Frengstad, B., Melaku, Z., Tekle-Haimanot, R., & Siewers, U. (2003). Drinking water quality in Ethiopian section of East African Rift Valley I—data and health aspects. Science of Total Environment,311, 65–80.

Rohner, F., Zimmerman, M. B., Jooste, P., Pandav, C., Caldwell, K., Raghavan, R., et al. (2013). Biomarkers of nutrition for development—Iodine review. Journal Nutrition,144, 1322S–1342S.

Sebotsa, M. L. D., Dannhauser, A., Jooste, P. L., & Joubert, G. (2005). Iodine status as determined by urinary iodine excretion in Lesotho two years after introducing legislation on universal salt iodisation. Nutrition,21, 20–24.

Simpong, D. L., Adu, P., Bashiru, R., Morna, M. T., Yeboah, F. A., Akakpo, H., et al. (2016). Assessment of iodine status among pregnant women in a rural community in ghana—a cross sectional study. Archives of Public Health,74(8), 1–5.

UNICEF. (2007). Guidance and monitoring of salt iodization programmes and determination of population iodine status, https://www.unicef.org/nutrition/files/Monitoring-of-Salt-Iodization.pdf. Accessed April 2019.

Vejbjerg, P., Knudsen, N., Perrild, H., Laurberg, P., Andersen, S., Rasmussen, L. B., et al. (2009). Estimation of iodine intake from various urinary iodine measurements in population studies. Thyroid,19(11), 1281–1286.

Vij, H. S., & Howell, S. (1998). Improving the specific gravity adjustment method for assessing urinary concentrations of toxic substances. American Industrial Hygiene Association Journal,59(6), 375–380.

Watts, M. J., Joy, E. J. M., Young, S. D., Broadley, M. R., Chilimba, A. D. C., Gibson, R. S., et al. (2015). Iodine source apportionment in the Malawian diet. Scientific Reports,5, 15251.

Watts, M. J., Middleton, D. R. S., Marriott, A. L., Humphrey, O. S., Hamilton, E. M., Gardner, A., et al. (2019). Source apportionment of micronutrients in the diets of Kilimanjaro-Tanzania and counties of Western Kenya. Scientific Reports (pending).

Watts, M. J., O'Reilly, J., Maricelli, A., Coleman, A., Ander, E. L., & Ward, N. I. (2009). A snapshot of environmental iodine and selenium in La Pampa and San Juan provinces of Argentina. Journal Geochemical Exploration,107, 87–93.

WHO (2003). Iodine in drinking water: Background document for development of WHO guidelines for drinking-water quality WHO/SDE/WSH/03.04/46. https://www.who.int/water_sanitation_health/dwq/chemicals/iodine.pdf. Accessed Jan 2019.

WHO (World Health Organisation). (2004). Iodine status worldwide. Geneva: World Health Organisation Global Database on Iodine Deficiency.

WHO (World Health Organisation) (2013). Urinary iodine concentrations for determining iodine status in populations, WHO/NMH/NHD/EPG/13.1.

WHO/UNICEF/ICCIDD (World Health Organisation/United Nations Children's Fund/International Council for Control of Iodine Deficiencies Disorders). (2007). Assessment of the iodine deficiency disorders and monitoring their elimination: A guide for programme managers, 3rd ed. Geneva: World Health Organisation, WHO/NDH/01.1.

Yeh, H.-C., Lin, Y.-S., Kuo, C.-C., Weidemann, D., Weaver, V., Fadrowski, J., et al. (2015). Urine osmolality in the US population: implications for environmental biomonitoring. Environmental Research,136, 482–490.

Zimmerman, M. B., Hussein, I., Ghannami, S. A., Badawi, S. E., Hamad, N. M. A., et al. (2016). Estimation of the prevalence of inadequate and excessive iodine intakes in school-age children from the adjusted distribution of urinary iodine concentrations from population surveys. The Journal of Nutrition,146, 1204–1211.

Zimmerman, M. B., Jooste, P. L., & Pandav, P. S. (2008). Iodine deficiency disorders. Lancet,372, 1251–1262.

Zimmermann, M. B., & Andersson, M. (2012). Assessment of iodine nutrition in populations: past, present, and future. Nutrition Reviews,70(10), 553–570.
Acknowledgements
The team would like to thank the BGS Global, BGS ODA and BGS Centre for Environmental Geochemistry for financial support. We would like to thank the many people who assisted in the collection of samples, including the Public Health Officers from each county and in particular the field and laboratory staff from the University of Eldoret (UoE), Moi University (Moi) and BGS: David Samoie, Doreen Meso, Charles Owano (UoE), Esilaba Anabwani Amimo Anabwani (Moi), Nicholas Porter, Sophia Dowell (BGS). Thanks also to David Gardner at the University of Nottingham the School of Veterinary Sciences for creatinine and osmolality measurements. This manuscript is published with the permission of the Executive Director of the British Geological Survey.
Additional information
Publisher's Note
Springer Nature remains neutral with regard to jurisdictional claims in published maps and institutional affiliations.
About this article
Cite this article
Watts, M.J., Middleton, D.R.S., Marriott, A. et al. Iodine status in western Kenya: a community-based cross-sectional survey of urinary and drinking water iodine concentrations. Environ Geochem Health 42, 1141–1151 (2020). https://doi.org/10.1007/s10653-019-00352-0
Received:

Accepted:

Published:

Issue Date:
Keywords
Urinary iodine concentrations

Iodine excess

Hydration status corrections