Abstract
Lead (Pb) is of considerable concern among other heavy metals because of its toxic impact on the environment and human health. The geochemical nature and source–transport–fate of Pb in Nigeria's environmental media are relatively unknown. This study was undertaken to quantify and characterize Pb in soils, sediments and road dusts from Lagos, Nigeria. A total of forty-eight soil samples, seventeen sediment samples and thirteen roadside soils were collected from within Lagos metropolis. The samples were air-dried, screened, pulverized and sieved through 63-µm nylon mesh. Mineralogical constituent of samples were determined using X-ray diffraction. The sieved fractions and pulverized rock samples were digested and analyzed for elemental Pb components using inductively coupled plasma mass spectrometry (ICP-MS). The chemical fractionations of Pb in the samples were determined by sequential analysis. Lead isotope compositions of the samples were determined using quadrupole-based ICP-MS. Lead isotopic ratios and geo-accumulation indexes were used for discriminating and evaluating Pb sources. Quartz, microcline, K-feldspar, plagioclase and kaolinite were the preponderant minerals in powdered rocks, soils and sediments. The concentration (mg/kg) of elemental Pb in sediments and dusts for Lagos was 21-1963; 23-830 and 22-830, respectively. The plots (208Pb/207Pb)/(206Pb/207Pb) revealed that the Pb in the environmental media was derived from anthropogenic sources. The Pb isotopic ratios for soils, sediments and dusts were characterized by lower 208Pb/206Pb ratios, compared to bedrock. The Pb contents are held principally in the organic sulfide and reducible and carbonate phases. The Pb is held in very reactive geochemical phases, and these portend great risk to the environment and public health.
Access options
Buy single article
Instant access to the full article PDF.
US$ 39.95
Tax calculation will be finalised during checkout.
Subscribe to journal
Immediate online access to all issues from 2019. Subscription will auto renew annually.
US$ 79
Tax calculation will be finalised during checkout.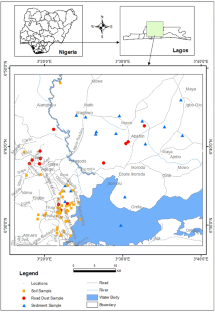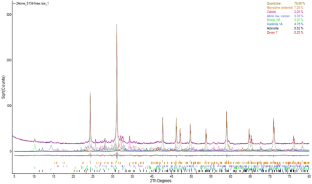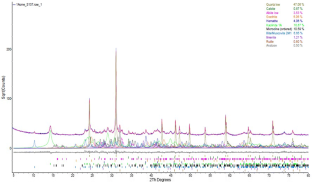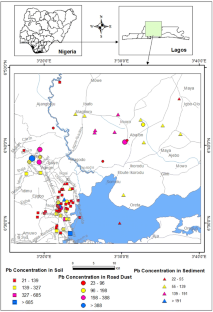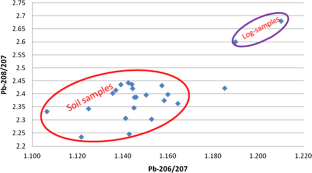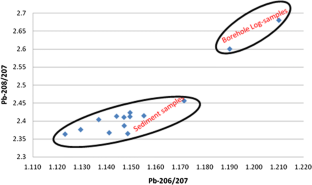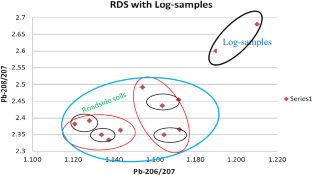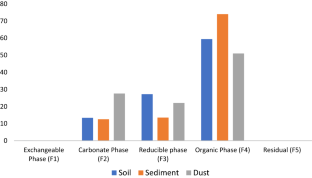 References
Abimbola, A. F., Ajibade, M. O., & Kolawole, T. (2007). Assessment of heavy metals in soils around automobile mechanic workshops in Ibadan, southwestern Nigeria. Aquanterra Journal of African Water Resources and Environment,1(2), 14–22.

Abimbola, A. F., Kolawole, T., Ajibade, O. M., Odewande, A. A., & Asaah, V. A. (2006). Heavy metal in cattle market soil of Ibadan, southwestern Nigeria. Is there any environmental risk? Mineral Wealth.,138, 53–60.

Ault, W. A., Senechal, R. G., & Erlebach, W. E. (1970). Isotopic composition as a natural tracer of lead in the environment. Environmental Science and Technology,4, 305–313.

Bird, G. (2011). Provenancing anthropogenic Pb within the fluvial environment: Developments and challenges in the use of Pb isotopes. Review. Journal Environment International,37, 802–819.

Bird, G., Brewer, P. A., Macklin, M. G., Nikolova, M., Kotsev, T., Mollov, M., et al. (2010). Pb isotope evidence for contaminant-metal dispersal in an international river system: The Lower Danube catchment, Eastern Europe. Journal of Applied Geochemistry. https://doi.org/10.1016/j.apgeochem.2010.04.012.

Cheng, H., & Hu, Y. (2010). Lead (Pb) isotopic fingerprinting and its applications in lead pollution studies in China: A review. Journal of Environmental Pollution,158, 1134–1146.

Demetriades, A., Li, X., Ramsey, M. H., & Thornton, I. (2010). Chemical speciation and bio-accessibility of Pb in surface soil and house dust, Lavrion urban area, Attiki, Hellas. Environmental Geochemistry and Health,32, 529–552.

Federal Survey of Nigeria (1964). Topographical Sheet No. 264. Published by Nigeria Geological Survey.

Hopper, J. F., Ross, H. B., Sturges, W. T., & Barries, L. A. (1991). Regional source discrimination of atmospheric aerosols in Europe using the isotopic composition of lead. Tellus,43B, 45–60.

Hu, H., Watanabe, H., Payton, M., Korrick, S. A., & Rotriitzky, A. (1994). The relationship between bone lead and hemoglobin. JAMA, 272, 1512–1517.

Hu, H., Aro, A., Payton, M., Korrick, S., Sparrow, D., Weiss, S. T., et al. (1996). The relationship of blood and bone lead to hypertension among middle aged to elderly men. JAMA,275, 1171–1176.

Li, X. D., Ramsey, M. H., Coles, B. J., & Thornton, I. (1995). Sequential extraction of soils for multi-element analysis by ICP-AES. Chemical Geology,124, 109–123.

Marcantonio, F., Flowers, G. C., & Templin, N. (1999). Lead contamination in a wetland watershed; isotopes as fingerprints of pollution. Environmental Geology,39, 1071–1076.

Monna, F., Dominik, J., Loizeau, J., Pardos, M., & Arpagaus, P. (1999). Origin and evolution of Pb in sediments of Lake Geneva Switzerland-France: Establishing a stable Pb record. Environmental Science and Technology,33, 2850–2857.

Monna, F., Lancelot, J., Croudace, I. W., Candy, A. B., & Lewis, J. T. (1997). Lead isotopic composition of airborne particulate material from France and the southern UK: Implication for lead pollution sources in urban areas. Environmental Science and Technology, 31, 2277–2286.

Muller, G. (1979). Schwermetalle in den sedimenten des Rhe-ins-Veranderungen seit 1971. Umschau,79, 778–783.

Nriagu, J. O. (1992). Toxic metal pollution in Africa. Science of the Total Environment,181, 93–100.

Odewande, A. A., & Abimbola, A. F. (2008). Contamination indices and heavy metal concentrations in urban soil of Ibadan Metropolis Southwestern Nigeria. Environmental Geochemistry and Health,30, 243–254.

Olatunji, A. S. (2010). Evaluation of groundwater occurrence of metropolitan Lagos, south-western Nigeria. In Z. Jaroslav, K. Andrzej, & K. Ewa (Eds.), KXXXVIII IAH congress, Krakow 2010. Groundwater quality and sustainability (pp. 1409–1413).

Olatunji, A. S., & Abimbola, A. F. (2010). Geochemical evaluation of the Lagos Lagoon sediments and water. World Applied Science Journal,9(2), 178–193.

Olatunji, A. S., Abimbola, A. F., & Afolabi, O. O. (2009). Geochemical assessment of industrial activities on the quality of sediments and soils within Lsdpc industrial estate, Odogunyan, Lagos. Global journal of Environmental Research,3(3), 252–257.

Olatunji, A. S., & Ajayi, F. (2016). Potentially toxic contamination of cultivated wetlands in Lagos, Nigeria. Journal of Health and Pollution,6(10), 95–102.

Onianwa, P. C. (2001). Roadside topsoil concentrations of lead and other heavy metals in Ibadan, Nigeria. Soil and Sediment Contamination,10(6), 577–591.

Shiharata, H., Elias, W., & Patterson, C. C. (1980). Chronological variations in concentrations and isotopic compositions of anthropogenic atmospheric lead in sediments of a remote subalpine pond. Geochimica et Cosmochimica Acta,44, 149–162.

Sun, G., Wang, X., & Hu, Y. (2011). Using stable lead isotopes to trace heavy metal contamination sources in sediments of Xiangjiang and Lishui Rivers in China. Journal of Environmental Pollution,159, 3406–3410.

Thums, C. R., Farago, M. E., & Thornton, I. F. (2008). Bioavailability of trace metals in Brownfield soils in an urban area in the UK. Environmental Geochemistry and Health,30, 549–563.

United Nations, Department of Economic and Social Affairs, Population Division (2018). World urbanization prospects: The 2018 revision.
Additional information
Publisher's Note
Springer Nature remains neutral with regard to jurisdictional claims in published maps and institutional affiliations.
About this article
Cite this article
Olatunji, A.S., Afolabi, O.O. Assessment of Pb contamination of soils, sediments and road dusts of the City of Lagos, Nigeria. Environ Geochem Health 42, 1095–1107 (2020). https://doi.org/10.1007/s10653-019-00330-6
Received:

Accepted:

Published:

Issue Date:
Keywords
Pb isotopic ratio

Sequential analysis

Reducible and organic sulfide phases