Abstract
The contamination of the Sonora River with 40,000 m3 of toxic leachate released from a copper mine on August 6, 2014, was considered the worst environmental disaster of the mining industry in Mexico, exceeding safety levels in the concentrations of heavy metals and arsenic. To explore the potential association of the toxic release with subfecundity, by comparing time to pregnancy (TTP) of women with different levels of exposure at municipalities located along the Sonora River watershed, just 35 km south of the Arizona–Mexico border. Data from 235 pregnancies were included in a retrospective cohort study. Exposure was measured whether pregnancy occurred before or after the disaster and included a non-exposed community outside the watershed. Pregnancies were also compared between communities according to the concentration-level gradient of water pollutants found in the river. Fecundability odds ratios (fORs) were calculated using discrete time analogue of Cox's proportional hazard models. Multiple analysis included all pregnancies with TTP of no more than 12 months, only first-time pregnancy, or excluding women with TTP = 1. The probability for pregnancy decreased after the disaster (fOR 0.55, 95% CI 0.31, 0.97), when the residency was located mid-or-downstream the watershed (fOR 0.37, 95% CI 0.15, 0.91), when reported chicken consumption, when mining was the father's occupation, and when surface water was reported to be used for crop irrigation and for animal consumption. There was a decrease in fecundity on women exposed to the contaminated river. There is a need for more studies to prove these findings and to broaden the knowledge of other possible adverse health effects associated with this environmental disaster.
This is a preview of subscription content, log in to check access.
Access options
Buy single article
Instant access to the full article PDF.
US$ 39.95
Price includes VAT for USA
Subscribe to journal
Immediate online access to all issues from 2019. Subscription will auto renew annually.
US$ 99
This is the net price. Taxes to be calculated in checkout.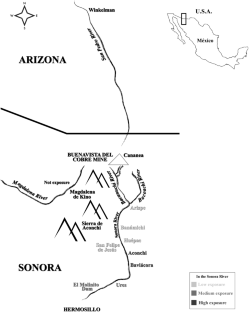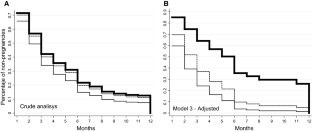 References
Baird, D., Wilcox, A., & Weinberg, C. (1986). Use of time to pregnancy to study enviromental exposures. American Journal of Epidemiology, 124(3), 470–480. https://doi.org/10.1093/oxfordjournals.aje.a114417.

Buck, L. (2014). Persistent environmental pollutants and couple fecundity: An overview. Reproduction, 147(4), 97–104. https://doi.org/10.1530/REP-13-0472.

Buck, L., Sundaram, R., Schisterman, E., Sweeney, A., Lynch, C., Gore-Langton, R., et al. (2012). Heavy metals and couple fecundity, the LIFE study. National Institutes of Health. Chemosphere, 87(11), 1201–1207. https://doi.org/10.1016/j.chemosphere.2012.01.017.

Cedeno, K., Edraki, M., McIntyre, N., Huynh, T., & Callow, I. (2018). Indicators of metal pollution in prospective mining regions: A case study from Philippines. Environmental Geochemistry and Health. https://doi.org/10.1007/s10653-018-0152-6.

Díaz, R., Duarte, H., & Durazo, F. (2016). Amenazas para la salud en el Río Sonora: Análisis exploratorio de la calidad del agua reportada en la base de datos oficial de México. Revista Salud UIS, 48(1), 91–96. https://doi.org/10.18273/revsal.v48n1-2016010.

Dinno, A. (2011). Discrete time survival analysis. Stata library. https://alexisdinno.com/stata/dthaz.html. Accessed January 23, 2016.

Fernandez, V. (2016). Massive spill highlights outdated water quality standards, government oversight in Mexico, Arizona. https://azcir.org/outdated-water-standards-poor-government-oversight-sonora-river-mexico/. Accessed November 20, 2016.

Freedman, L. (1982). Tables of number of patients required in clinical trials using the log-rank test. Statistics in Medicine, 1, 121–129. https://doi.org/10.1002/sim.4780010204.

Gnoth, C., Godehardt, E., Frnak-Herrmann, P., Friol, K., Tigges, J., & Freundl, G. (2005). Definition and prevalence of subfertility and infertility. Human Reproduction, 20(5), 1144–1147. https://doi.org/10.1093/humrep/deh870.

Gomez, A., Valenzuela, J., Meza, D., De la O-Villanueva, M., Ramirez, J., Almendariz, J., et al. (2011). Impact of mining activities on sediments in a semi-arid environment: San Pedro River, Sonora, Mexico. Applied Geochemistry, 26(12), 2101–2112. https://doi.org/10.1016/j.apgeochem.2011.07.008.

Grinalt, J., Ferrer, M., & Macpherson, E. (1999). The mine tailing accident in Aznalcollar. Science of the Total Environment, 242(1–3), 3–11. https://doi.org/10.1016/S0048-9697(99)00372-1.

Haris, H., Looi, L. J., Ariz, A. Z., Mokhtar, N. F., Ayob, N. A. A., Yusoff, F., et al. (2017). Geo-accumulation index and contamination factors of heavy metals (Zn and Pb) in urban river sediment. Environmental Geochemistry and Health. https://doi.org/10.1007/s10653-017-9971-0.

Ibarra, M., & Moreno, J. (2017). La justicia ambiental en el Río Sonora. RevIISE - Revista de Ciencias Sociales y Humanas, 10, 135–155.

Idrovo, A., Sanin, L., & Cole, D. (2005). Tiempo para quedar en embarazo consideraciones generales y metodológicas. Biomedica, 25(3), 398–411. https://doi.org/10.7705/biomedica.v25i3.1364.

International Agency for Research on Cancer. Working Group. (1980). Evaluation of the carcinogenic risk of chemicals to humans—some metals and metallic compounds. PhD Proposal, 23, 1–432.

Jaimes, D. C., Rodríguez, L. A., & Sánchez, L. H. (2015). Tiempo para quedar en embarazo: Evaluación de su reproducibilidad en una cohorte retrospectiva. Revista de la Universidad Industrial de Santander. Salud, 46(1), 41–45.

Jaishankar, M., Tseten, T., Anbalagan, N., Mathew, B. B., & Beeregowda, K. N. (2014). Toxicity, mechanism and health effects of some heavy metals. Interdisciplinary Toxicology, 7(2), 60–72. https://doi.org/10.2478/intox-2014-0009.

Joffe, M. (1997). Time to pregnancy: A measure of reproductive function in either sex. Occupational and Environmental Medicine, 54(5), 289–295.

Joffe, M., Villard, L., Li, Z., Plowman, R., & Vessey, M. (1995). A time to pregnancy questionnaire designed for long term recall: Validity in Oxford, England. Journal of Epidemiology and Community Health, 49(3), 314–319.

Jukic, A. M. Z., Mcconnaughey, D. R., Weinberg, C. R., Wilcox, A. J., & Baird, D. D. (2016). Long-term recall of time to pregnancy. Epidemiology, 27(5), 705–711. https://doi.org/10.1097/EDE.0000000000000506.

Kar, I., Mukhopadhayay, S. K., Patra, A. K., & Pradhan, S. (2017). Bioaccumulation of selected heavy metals and histopathological and hematobiochemical alterations in backyard chickens reared in an industrial area, India. Environmental Science and Pollution Research. https://doi.org/10.1007/s11356-017-0799-z.

Lammers, G. (2014). Río Sonora. La historia detras del derrame. Poder, 5, 22–30.

Marchenko Y, (StataCorp). (2007). Power analysis and sample-size determination in survival models with the new stpower command. http://www.stata.com/meeting/6nasug/marchenko_boston07.pdf. Accessed January 2, 2016.

Medola, P., Messer, L., & Rappazzo, K. (2008). Science linking environmental contaminant exposures with fertility and reproductive health impacts in the adult female. Fertility and Sterility, 89, 81–94. https://doi.org/10.1016/j.fertnstert.2007.12.036.

Osuna, I., Hernandez, B., Campuzano, J., & Salmeron, J. (2006). Body mass index and body image perception in a Mexican adult population: The accuracy of self-reporting. Salud Publica de Mexico, 48(2), 94–103.

Phenrat, T., Otwong, A., Chantharit, A., & Lowry, G. V. (2016). Ten-year monitored natural recovery of lead-contaminated mine tailing in Klity Creek, Kanchanaburi Province, Thailand. Environmental Health Perspectives, 124(10), 1511–1520. https://doi.org/10.1289/EHP215.

Porto, M. (2016). The tragedy of mining and development in Brazil: Public health challenges. Cadernos de Saude Publica, 32(2), 1–3. https://doi.org/10.1590/0102-311X00211015.

Schmidt, C. W. (2000). Bordering on environmental disaster. Environmental Health Perspectives, 108(7), 308–315. https://doi.org/10.1289/ehp.108-a308.

Schwerdtfeger, K. L., & Shreffler, K. M. (2009). Trauma of pregnancy loss and infertility for mothers and involuntarily childless women in the contemporary United States. Journal of Loss and Trauma, 14, 211–227. https://doi.org/10.1080/15325020802537468.

Snijder, C., Velde, E., Roeleveld, N., & Burdorf, A. (2012). Occupational exposure to chemical substances and time to pregnancy: A systematic review. Human Reproduction Update, 18(3), 1–17. https://doi.org/10.1093/humupd/dms005.

Valdéz, J., Reyes, A., Navarrete, E., & Canún, S. (2017). Bajo peso al nacer y defectos congénitos en relación con sitios mineros y campos agrícolas en Sonora, México. Prevalencia 2008–2012. Región y Sociedad, 5, 9–36.

Weinberg, C., Baird, D., & Wilcox, A. (1994). Sources of bias in studies of time to pregnancy. Statistics in Medicine, 13(5–7), 671–681. https://doi.org/10.1002/sim.4780130528.

Wyatt, J., Fimbres, C., Romo, L., Méndez, R. O., & Grijalva, M. (1998). Incidence of heavy metal contamination in water supplies in Northern Mexico. Environmental Research, 76(76), 114–119. https://doi.org/10.1006/enrs.1997.3795.
Acknowledgements
We give special thanks to participants of the study, to Derheyz Ochoa for the collaboration during the pilot study, to the research team of the Universidad de Sonora (senior medical students 2017) and from the Universidad Industrial de Santander.
Ethics declarations
Conflict of interests
The authors declare they have no actual or potential competing financial interests.
Ethical statement
The study was evaluated as low-risk study by the ethical committee of the Universidad de Sonora, Mexico, and the scientific research ethics committee of the Universidad Industrial de Santander, Colombia.
Additional information
Publisher's Note
Springer Nature remains neutral with regard to jurisdictional claims in published maps and institutional affiliations.
Electronic supplementary material
Below is the link to the electronic supplementary material.
About this article
Cite this article
Rivera Carvajal, R., Duarte-Tagles, H. & Idrovo, Á.J. Mining leachate contamination and subfecundity among women living near the USA–Mexico border. Environ Geochem Health 41, 2169–2178 (2019). https://doi.org/10.1007/s10653-019-00275-w
Received:

Accepted:

Published:

Issue Date:
Keywords
Water pollution

Time to pregnancy

Environmental disaster of the mining industry