Abstract
Concentrations and distributions of selected fluoroquinolones (norfloxacin, ciprofloxacin and enrofloxacin) in water, sediments and nine kinds of fish species collected from 6 sites in two marine aquaculture regions of the Pearl River Delta, China, were analyzed by using high-performance liquid chromatography with fluorescence detector (HPLC). The results showed that the concentrations of ciprofloxacin and enrofloxacin were below the limits of quantification (LOQ) in all water samples except for norfloxacin. Norfloxacin and ciprofloxacin concentrations ranged from 1.88 to 11.20 ng g−1 dry wt, 0.76–2.42 ng g−1 dry wt in sediments collected from the Dapeng'ao region (sites 1–3) and ranged from 2.31 to 4.75 ng g−1 dry wt, 1.26–1.76 ng g−1 dry wt in sediments collected from the Hailing Island region (sites 4–6), respectively. However, no enrofloxacin was found in all sediment samples. The three fluoroquinolones (FQs) were detected in all fish samples, and the concentrations were higher in liver tissues than those in muscle tissues. The levels of norfloxacin were higher than ciprofloxacin and enrofloxacin in both liver and muscle tissues. Among the nine marine fish species, Siganus fuscescens from Hailing Island had a significantly high level of norfloxacin in liver tissue (254.58 ng g−1 wet wt), followed by Sparus macrocephalus (133.15 ng g−1 wet wt) from Dapeng'ao, and the lowest value was Lutianus argentimaculatus (5.18 ng g−1 wet wt) from Hailing Island. The obtained results of FQs in present study do not represent a risk to the human health in Guangdong coastal area, based on the maximum residue limits (MRLs) established by Chinese Government and the acceptable daily intake (ADI) recommended by the Food and Agriculture Organization and World Health Organization (FAO/WHO).
Access options
Buy single article
Instant access to the full article PDF.
USD 39.95
Price includes VAT (USA)
Tax calculation will be finalised during checkout.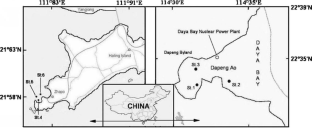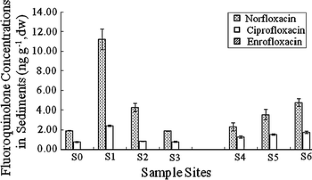 References
Agricultural Sector Criteria of PR China. (2002). Environment-friendly food, codex maximun residue limits for veterinary drugs in aquatic products (NY 5070-2001). Standard Press of China, Beijing (in Chinese).

Andreu, V., Blasco, C., & Pico, Y. (2007). Analytical strategies to determine quinolones residues in food and the environment. Trends in Analytical Chemistry, 26(6), 534–556.

Bergan, T., Dalhoff, A., & Rohwedder, R. (1988). Pharmacokinetics of ciprofloxacin. Infection, 16(Suppl 1), S3–S13.

Björklund, H. V., Råbergh, C. M. I., & Bylund, G. (1991). Residues of oxolinic acid and oxytetracycline in fish and sediments from fish farms. Aquaculture, 97(2), 85–96.

Bogialli, S., D'ascenzo, G., Di Corcia, A., Laganà, A., & Nicolardi, S. (2008). A simple and rapid assay based on hot water extraction and liquid chromatography-tandem mass spectrometry for monitoring quinolone residues in bovine milk. Food Chemistry, 108, 354–360.

Bris, H. L., & Pouliquen, H. (2004). Experimental study on the bioaccumulation of oxytetracycline and oxolinic acid by the blue mussel (Mytilus edulis). An evaluation of its ability to bio-monitor antibiotics in the marine environment. Marine Pollution Bulletin, 48, 434–440.

Brooks, B. W., Chambliss, C. K., Stanley, J. K., Ramirez, A., Banks, K. E., Johnson, R. D., et al. (2005). Determination of select antidepressants in fish from an effluent-dominated stream. Environmental Toxicology and Chemistry, 24, 464–469.

Brown, S. A. (1996). Fluoroquinolones in animal health. Journal of Veterinary Pharmacology and Threapeutics, 19(1), 1–14.

Cardoza, L. A., Knapp, C. W., Larive, C. K., Belden, J. B., Lydy, M., & Graham, D. W. (2005). Factors affecting the fate of ciprofloxacin in aquatic field systems. Water, Air, and Soil pollution, 161, 383–398.

Cheung, K. C., Leung, H. M., Kong, K. Y., & Wong, M. H. (2007). Residual levels of DDTs and PAHs in freshwater and marine fish from Hong Kong markets and their health risk assessment. Chemosphere, 66(3), 460–468.

EC Decision 2002/657. (2002). Commission Decision of 12 August 2002 implementing Council Directive 96/23/EC concerning the performance of analytical methods and the interpretation of results. Official Journal of the European Communities, L221, 8–36.

EMEA (2002). The European Agency for the Evaluation of Medicinal Products. Enrofloxacin, extension to all food producing species, Summary report (5), EMEA/MRL/820/02-FINAL.

Golet, E. M., Alder, A. C., Hartmann, A., Ternes, T. A., & Giger, W. (2001). Trace determination of fluoroquinolone antibacterial agents in solid-phase extraction urban wastewater by and liquid chromatography with fluorescence detection. Analytical Chemistry, 73, 3632–3638.

Golet, E. M., Strehler, A., Alder, A. C., & Giger, W. (2002). Determination of fluoroquinolone antibacterial agents in sewage sludge and sludge-treated soil using accelerated solvent extraction followed by solid-phase extraction. Analytical Chemistry, 74, 5455–5462.

Guo, J. Y., Wu, F. C., Shen, R. L., & Zeng, E. Y. (2010). Dietary intake and potential health risk of DDTs and PBDEs via seafood consumption in South China. Ecotoxicology and Environmental Safety, 73(7), 1812–1819.

Heberer, T. (2002). Tracking persistent pharmaceutical residues from municipal sewage to drinking water. Journal of Hydrology, 266, 175–189.

Hektoen, H., Berge, J. A., Hormazabal, V., & Yndestad, M. (1995). Persistence of antibacterial agents in marine-sediments. Aquaculture, 133, 175–184.

Hopper, D. C., & Wolfson, J. S. (1985). The Fluoroquinolones: Pharmacology, clinical uses, and toxicities in humans. Antimicrobial Agents and Chemotherapy Nov Edition pp. 716–721.

Intorre, L., Cechini, S., & Bertini, S. (2000). Pharmacokinetics of enrofloxacin in the seabass. Aquaculture, 182, 49–59.

Intorre, L., Mengozzi, G., & Bertini, S. (1997). Plasma kinetics and tissue distribution of enrofloxacin and its metabolite ciprofloxacin in the Muscovy Duck. Veterinary Research Communications, 21(2), 127–136.

Joint FAO/WHO Expert Committee on Food Additives (JECFA), (1997). Summary of evaluations performed by the joint FAO/WHO expert committee on food additives. Enrofloxacin. http://www.inchem.org/documents/jecfa/jeceval/jec_691.htm.

Kim, M. S., Lim, J. H., Park, B. K., Hwang, Y. H., & Yun, H. I. (2006). Pharmacokinetics of enrofloxacin in Korean catfish (Silurus asotus). Journal of Veterinary Pharmacology and Therapeutics, 29(5), 397–402.

Knoll, U., Glunder, G., & Kietzmann, M. (1999). Comparative study of the plasma pharmacokinetics and tissue concentrations of danofloxacin and enrofloxacin in broiler chickens. Journal of Veterinary Pharmacology and Therapeutics, 22(4), 239–246.

Kümmerer, K. (2009). Antibiotics in the aquatic environment-A review-Part I. Chemosphere, 75, 417–434.

Küng, K., Riond, J. L., & Wanner, M. (1993). Pharmacokinetics of enrofloxacin and its metabolite ciprofloxacin after intravenous and oral administration of enrofloxacin in dogs. Journal of Veterinary Pharmacology and Therapeutics, 16(4), 462–468.

Lalumera, G. M., Calamari, D., Galli, P., Castiglioni, S., Crosa, G., & Fanelli, R. (2004). Preliminary investigation on the environmental occurrence and effects of antibiotics used in aquaculture in Italy. Chemosphere, 54, 661–668.

Lam, M. W., Tantuco, K., & Mabury, S. A. (2003). Photo Fate: A new approach in accounting for the contribution of indirect photolysis of pesticides and pharmaceuticals in surface waters. Environmental Science and Technology, 37, 899–907.

Le, T. X., & Munekage, Y. (2004). Residues of selected antibiotics in water and mud from shrimp ponds in mangrove areas in Viet Nam. Marine Pollution Bulletin, 49, 922–929.

Lewbart, G., Vaden, S., Deen, J., Manaugh, C., Whitt, D., Doi, A., et al. (1997). Pharmacokinetics of enrofloxacin in the red pacu (Colossoma brachypomum) after intramuscular, oral and bath administration. Journal of Veterinary Pharmacology and Therapeutics, 20(2), 124–128.

Lucchetti, D., Fabrizi, L., Guandalini, E., Podesta, E., Marvasi, L., Zaghini, A., et al. (2004). Long depletion time of enrofloxacin in rainbow trout (Oncorhynchus mykiss). Antimicrob Agents Chemotherapy, 48(10), 3912–3917.

Mimeault, C., Woodhouse, A., Miao, X. S., Metcalfe, C. D., Moon, T. W., & Trudeau, V. L. (2005). The human lipid regulator, gemfibrozil bioconcentrates and reduces testosterone in the goldfish, Carassius auratus. Aquatic Toxicology, 73, 44–54.

Nakata, H., Kannan, K., Jones, P. D., & Giesy, J. P. (2005). Determination of fluoroquinolone antibiotics in wastewater effluents by liquid chromatography-mass spectrometry and fluorescence detection. Chemosphere, 58, 759–766.

Park, H. R., Kim, T. H., & Bark, K. M. (2002). Physicochemical properties of quinolone antibiotics in various environments. European Journal of Medical Chemistry, 37, 443–460.

Picó, V., & Andreu, V. (2007). Fluoroquinolones in soil-risk and challenges. Analytical and Bioanalytical Chemistry, 387, 1287–1299.

Pozo, O. J., Guerrero, C., Sancho, J. V., Ibáeñz, M., Pitarch, E., Hogendoorn, E., et al. (2006). Efficient approach for the reliable quantification and confirmation of antibiotics in water using on-line solid-phase extraction liquid chromatography/tandem mass spectrometry. Journal of Chromatography. A, 1103, 83–93.

Richardson, B. J., Lam, P. K. S., & Martin, M. (2005). Emerging chemicals of concern: Pharmaceuticals and personal care products (PPCPs) in Asia, with particular reference to Southern China. Marine Pollution Bulletin, 50, 913–920.

Samanidou, V., Evaggelopoulou, E., Trötzmüller, M., Guo, X., & Lankmayr, E. (2008). Multi-residue determination of seven quinolones antibiotics in gilthead seabream using liquid chromatography-tandem mass spectrometry. Journal of Chromatograph A, 1203, 115–123.

Schwaiger, J., Ferling, H., Mallow, U., Wintermayr, H., & Negele, R. D. (2004). Toxic effects of the non-steroidal anti-inflammatory drug diclofenac Part 1: Histopathological alterations and bioaccumulation in rainbow trout. Aquatic Toxicology, 68, 141–150.

Tao, R., Ying, G. G., Su, H. C., Zhou, H. W., & Sidhu, J. P. S. (2010). Detection of antibiotic resistance and tetracycline resistance genes in Enterobacteriaceae isolated from the Pearl rivers in South China. Environmental Pollution, 158, 2101–2109.

Tendencia, E. A., & Dela Pena, L. D. (2002). Level and percentage recovery of resistance to oxytetracycline and oxolinic acid of bacteria from shrimp ponds. Aquaculture, 213, 1–13.

Tittlemier, S. A., Van de Riet, J., Burns, G., Potter, R., Murphy, C., Rourke, W., et al. (2007). Analysis of veterinary drug residues in fish and shrimp composites collected during the Canadian Total Diet Study, 1993–2004. Food Additive and Contaminants, 24(1), 14–20.

Tolls, J. (2001). Sorption of veterinary pharmaceuticals in soils: A review. Environmental Science and Technology, 36(17), 3397–3406.

Turel, I. (2002). The interactions of metal ions with quinolone antibacterial agents. Coordination Chemistry Reviews, 232(1–2), 27–47.

Tyczkowska, K., Hedeen, K. M., Aucoin, D. P., & Aronson, A. L. (1989). High-performance liquid chromatographic method for the simultaneous determination of enrofloxacin and its primary metabolite ciprofloxacin in canine serum and prostatic tissue. Journal of Chromatography-Biomedical Applications, 493(2), 337–346.

Tylova, T., Olsovska, J., Novak, P., & Flieger, M. (2010). High-throughput analysis of tetracycline antibiotics and their epimers in liquid hog manure using Ultra Performance Liquid Chromatography with UV detection. Chemosphere, 78, 353–359.

Ueno, R., Okada, Y., & Tatsuno, T. (2001). Pharmacokinetics and metabolism of miloxacin in cultured eel. Aquaculture, 192(1–2), 11–24.

Venglovsky, J., Sasakova, N., & Placha, I. (2009). Pathogens and antibiotic residues in animal manures and hygienic and ecological risks related to subsequent land application. Bioresource Technology, 100, 5386–5391.

Vragović, N., Bažulić, D., & Njari, B. (2011). Risk assessment of streptomycin and tetracycline residues in meat and milk on Croatian market. Food and Chemical Toxicology, 49(2), 352–355.

Wang, J., Ai, Q. H., Mai, K. S., Xu, W., Xu, H. G., Zhang, W. B., et al. (2010). Effects of dietary ethoxyquin on growth performance and body composition of large yellow croaker Pseudosciaena crocea. Aquaculture, 306, 80–84.

Xu, W. H., Zhang, G., Zou, S. C., Li, X. D., & Liu, Y. C. (2007). Determination of selected antibiotics in the Victoria Harbour and the Pearl River, South China using high-performance liquid chromatography-electrospray ionization tandem mass spectrometry. Environmental Pollution, 145, 672–679.

Yu, J., Tang, D. L., Oh, I. S., & Yao, L. J. (2007). Response of harmful algal blooms to environmental changes in Daya Bay, China. Terrestrial Atmospheric and Oceanic Sciences, 18(5), 1011–1027.

Zhang, J. Q., & Dong, Y. H. (2008). Effect of low-molecular-weight organic acids on the adsorption of norfloxacin in typical variable charge soils of China. Journal of Hazardous Material, 151, 833–839.

Zhang, H., & Huang, C. H. (2007). Adsorption and oxidation of fluoroquinolone antibacterial agents and structurally related amines with goethite. Chemosphere, 66(8), 1502–1512.

Zhang, H., Zhang, J., & Zhu, Y. (2009). Identification of Microcystins in waters used for Daiky life by people who live on tai lake during a serious cyanobacteria dominated bloom with risk analysis to human health. Environmental Toxicology, 24(1), 82–86.

Zhao, S., Jiang, H., Li, X., Mi, T., Li, C., & Shen, J. (2007). Simultaneous determination of trace levels of 10 Quinolones in Swine, Chicken, and Shrimp Muscle tissues using HPLC with programmable fluorescence detection. Journal of Agricultural and Food Chemistry, 55, 3829–3834.

Zhou, L. J., Ying, G. G., Zhao, J. L., Yang, J. F., Wang, L., Yang, B., et al. (2011). Trends in the occurrence of human and veterinary antibiotics in the sediments of the Yellow River, Hai River and Liao River in northern China. Environmental Pollution, 159, 1877–1885.
Acknowledgments
Financial support from the National Natural Science Foundation of China (No: U0633006, 40471118, 40976072) is gratefully acknowledged.
About this article
Cite this article
He, X., Wang, Z., Nie, X. et al. Residues of fluoroquinolones in marine aquaculture environment of the Pearl River Delta, South China. Environ Geochem Health 34, 323–335 (2012). https://doi.org/10.1007/s10653-011-9420-4
Received:

Accepted:

Published:

Issue Date:
Keywords
Fluoroquinolones (FQs)

Marine aquaculture

Residue

Pearl River Delta

Risk assessment