Abstract
Thyroid hormone levels sufficient for brain development and normal metabolism require a minimal supply of iodine, mainly dietary. Living near the sea may confer advantages for iodine intake. Iodine (I2) gas released from seaweeds may, through respiration, supply a significant fraction of daily iodine requirements. Gaseous iodine released over seaweed beds was measured by a new gas chromatography–mass spectrometry (GC–MS)-based method and iodine intake assessed by measuring urinary iodine (UI) excretion. Urine samples were obtained from female schoolchildren living in coastal seaweed rich and low seaweed abundance and inland areas of Ireland. Median I2 ranged 154–905 pg/L (daytime downwind), with higher values (~1,287 pg/L) on still nights, 1,145–3,132 pg/L (over seaweed). A rough estimate of daily gaseous iodine intake in coastal areas, based upon an arbitrary respiration of 10,000L, ranged from 1 to 20 μg/day. Despite this relatively low potential I2 intake, UI in populations living near a seaweed hotspot were much higher than in lower abundance seaweed coastal or inland areas (158, 71 and 58 μg/L, respectively). Higher values >150 μg/L were observed in 45.6% of (seaweed rich), 3.6% (lower seaweed), 2.3% (inland)) supporting the hypothesis that iodine intake in coastal regions may be dependent on seaweed abundance rather than proximity to the sea. The findings do not exclude the possibility of a significant role for iodine inhalation in influencing iodine status. Despite lacking iodized salt, coastal communities in seaweed-rich areas can maintain an adequate iodine supply. This observation brings new meaning to the expression "Sea air is good for you!"
This is a preview of subscription content, log in to check access.
Access options
Buy single article
Instant access to the full article PDF.
US$ 39.95
Price includes VAT for USA
Subscribe to journal
Immediate online access to all issues from 2019. Subscription will auto renew annually.
US$ 99
This is the net price. Taxes to be calculated in checkout.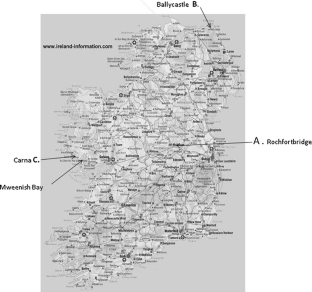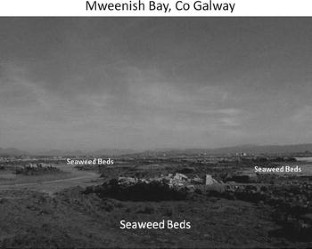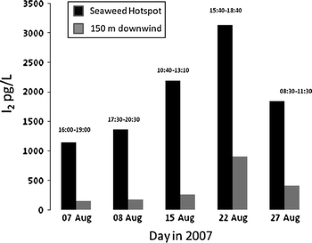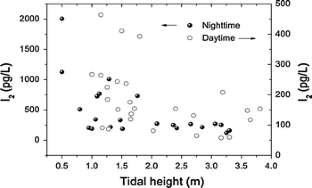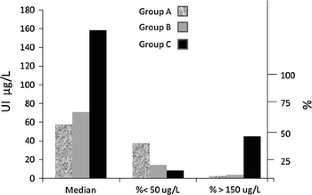 References
Bateson, T. F., & Schwartz, J. (2008). Children's response to air pollutants. Journal of Toxicology and Environmental Health, Part A, 71, 238–243.

Caldwell, K. C., Makhmudov, A., Jones, R. L., & Hollowell, J. G. (2005). EQUIP: A worldwide program to ensure the quality of urinary iodine procedures. Accreditation and Quality Assurance, 10, 356–361.

California Environmental Protection Agency. (1994). Research Note 94-11: How much air do we breathe? http://www.arb.ca.gov/research/resnotes/notes/94-11.htm.

Finley, B. D., & Saltzman, E. S. (2008). Observations of Cl2, Br2 and I2 in coastal marine air. Geophysical Research Letters, 113, D21301.

Fuge, R. (1996). Geochemistry of iodine in relation to iodine deficiency diseases. In J. D. Appleton, R. Fuge, & G. J. H. McCall (Eds.), Environmental geochemistry and health (Vol. 113, pp. 201–211). London: Geological Society Special Publication.

Fuge, R., & Johnson, C. C. (1986). The geochemistry of iodine—a review. Environmental Geochemistry and Health, 8, 31–54.

Harun-Or-Rashid, M., Asai, M., Sun, X. Y., Hayashi, Y., Sakamoto, J., & Murata, Y. (2010). Effect of thyroid statuses on sodium/iodide symporter (NIS) gene expression in the extrathyroidal tissues in mice. Thyroid Research, 3, 3.

Harvey, R. P. (2009). Uncertainty of iodine particulate deposition in the respiratory tract. In V. R. Preedy, G. G. Burrow, & R. Watson (Eds.), Comprehensive handbook of iodine: Nutritional, biochemical and therapeutic aspects (pp. 259–273). Academic Press: London.

Harvey, R. P., Hamby, D. M., & Palmer, T. S. (2006). Uncertainty of the thyroid dose conversion factor for inhalation intakes of 131I and its parametric uncertainty. Radiation Protection Dosimetry, 118, 296–306.

Hession, C., Guiry, M. D., McGarvey, S., & Joyce, J. (1998). Mapping and assessment of the seaweed resources (Ascophyllum nodosum Laminaria spp.) off the west coast of Ireland. Marine Resource Series, 5, 1–89.

Huang, R. J., & Hoffmann, T. (2009). Development of a coupled diffusion denuder system combined with gas chromatography/mass spectrometry for the separation and quantification of molecular iodine and the activated iodine compounds iodine monochloride and hypoiodous acid in the marine atmosphere. Analytical Chemistry, 81(5), 1777–1783.

Huang, R. J., Hou, X. L., & Hoffmann, T. (2010a). Extensive evaluation of a diffusion denuder technique for the quantification of atmospheric stable and radioactive molecular iodine. Environmental Science and Technology, 44(13), 5061–5066.

Huang, R. J., Seitz, K., Buxmann, J., Pöhler, D., Hornsby, K. E., Carpenter, L. J., et al. (2010b). In situ measurements of molecular iodine in the marine boundary layer: The link to macroalgae and the implications for O3, IO, OIO and NOx. Atmospheric Chemistry and Physics, 10, 4823–4833.

Johnson, C. C. (2003). The geochemistry of iodine and its application to environmental strategies for reducing the risks from iodine deficiency disorders (IDD). British Geological SurveyCommissioned Report, CR/03/057N.

Küpper, F. C., Carpenter, L. J., McFiggans, G. B., Palmer, C. J., Waite, T. J., Boneberg, E. M., et al. (2008). Iodide accumulation provides kelp with an inorganic antioxidant impacting atmospheric chemistry. Proceedings of the National Academy of Sciences of the United States of America, 105, 6954–6958.

Lazarus, J. H., & Smyth, P. P. (2008). Iodine deficiency in the UK and Ireland. Lancet, 372(9642), 888.

Limbert, E., Prazeres, S., São Pedro, M., Madureira, D., Miranda, A., Ribeiro, M., Jacome de Castro, J., Carrilho, F., Oliveira, M. J., Reguengo, H., & Borges, F. Thyroid Study Group of the Portuguese Endocrine Society. (2010). Iodine intake in Portuguese pregnant women: results of a countrywide study. European Journal of Endocrinology, 163, 631–635.

McFiggans, G., Coe, H., Burgess, R., Allan, J., Cubison, M., Alfarra, M. R., et al. (2004). Direct evidence for coastal iodine particles from Laminaria macroalgae–linkage to emissions of molecular iodine, Atmos. Chemical Physics, 4, 701–713.

Morgan, A., Morgan, D. J., & Black, A. (1968). As study on the deposition, translocation and excretion of radioiodine inhaled as iodine vapour. Health Physics, 15, 313–322.

Nagataki, S. (2008). The average of dietary iodine intake due to the ingestion of seaweeds is 1.2 mg/day in Japan. Thyroid, 18, 667–668.

Nawoor, Z., Burns, R., Smith, D. F., Sheehan, S., O'Herlihy, C., & Smyth, P. P. (2006). Iodine intake in pregnancy in Ireland—a cause for concern? Irish Journal of Medical Science, 175, 21–24.

O'Dowd, C. D., & Hoffmann, T. (2005). Coastal new particle formation: A review of the current state-of-the-art. Environmental Chemistry, 2, 245–255.

Ohashi, T., Yamaki, M., Pandav, C. S., Karmarkar, M. G., & Irie, M. (2000). Simple microplate method for determination of urinary iodine. Clinical Chemistry, 46, 529–536.

Peters, C., Pechtl, S., Stutz, J., Hebestreit, K., H¨onninger, G., Heumann, K. G., et al. (2005). Reactive and organic halogen species in three different European coastal environments. Atmospheric Chemistry and Physics, 5, 3357–3375.

Pirjola, L., O'Dowd, C. D., Yoon, Y. J., & Sellegri, K. (2005). Modelling iodine particle formation and growth from seaweed in a chamber. Enivronmental Chemistry, 2, 271–281.

Saiz-Lopez, A., & Plane, J. M. C. (2004). Novel iodine chemistry in the marine boundary layer. Geophysics Research Letters, 31, L04112.

Saiz-Lopez, A., Plane, J. M. C., McFiggans, G., Williams, P. I., Ball, S. M., Bitter, M., et al. (2006). Modelling molecular iodine emissions in a coastal marine environment: The link to new particle formation. Atmospheric Chemistry and Physics, 6, 883–895.

Seitz, K., Buxmann, J., Pöhler, D., Sommer, T., Tschritter, J., Neary, T., et al. (2010). The spatial distribution of the reactive iodine species IO from simultaneous active and passive DOAS observations. Atmospheric Chemistry and Physics, 10, 2117–2128.

Sellegri, K., Yoon, Y. J., Jennings, S. G., O'Dowd, C. D., Pirjola, L., Cautenet, S., et al. (2005). Quantification of coastal new ultra-fine particles formation from in situ andchamber measurements during the BIOFLUX campaign. Environmental Chemistry, 2, 260–270.

Smyth, D. & Johnson, C. C. (2010). Distribution of iodine in soils of Northern Ireland. Geochemistry Exploration Environment Analysis. (In press).

Spitzweg, C., Joba, W., Eisenmenger, W., & Heufelder, A. E. (1998). Analysis of human sodium iodide symporter gene expression in extrathyroidal tissues and cloning of its complementary deoxyribonucleic acids from salivary gland, mammary gland, and gastric mucosa. Journal of Clinical Endocrinology and Metabolism, 83, 1746–1751.

Vought, R. L., London, W. T., & Brown, F. A. (1964). A note on atmospheric iodine and its absorption in man. Journal of Clinical Endocrinology and Metabolism, 24, 414–416.

Vought, R. L., Brown, F. A., & London, W. T. (1970). Iodine in the environment. Archives of Environmental Health, 20, 516–522.

Whitehead, D. C. (1984). The distribution and transformation of iodine in the environment. Environment International, 10, 321–339.

WHO. (2007). Assessment of iodine deficiency disorders and monitoring their elimination (3rd ed.). Geneva: WHO, UNICEF, ICCIDD.

Zimmermann, M. B. (2009). Iodine deficiency. Endocrine Reviews, 30, 376–408.
Acknowledgments
The authors gratefully acknowledge the cooperation of the parents and schoolchildren of participating schools in both the Republic of Ireland and Northern Ireland. We greatly appreciate the assistance of the HSE, West, Dr Karla Kyne, Area Community Medical Officer for the Carna Area, Dr Mary FitzGerald, Senior Medical Officer Primary, Community & Continuing Care. Dr John O'Donnell of Galway and Richard Fitzgerald of the Martin Ryan Institute, NUI, Galway. Thanks to Professor Edward Limbert for helpful discussion re Portuguese data. Financial assistance was provided by the Health Research Board, Ireland and the Clinical Endocrinology Trust.
About this article
Cite this article
Smyth, P.P.A., Burns, R., Huang, R.J. et al. Does iodine gas released from seaweed contribute to dietary iodine intake?. Environ Geochem Health 33, 389–397 (2011). https://doi.org/10.1007/s10653-011-9384-4
Received:

Accepted:

Published:

Issue Date:
Keywords
Atmospheric gaseous iodine

Thyroid

Urinary iodine

Seaweed

Iodine