Abstract
The tsunami disaster in the Indian Ocean in December 2004 caused devastation of agricultural soils by salt water over wide areas. Many rice fields located close to the coast were affected by the flood of seawater. Electric conductivity (EC) of soils in tsunami-affected rice fields was found to be higher compared to unaffected fields 2 years after the tsunami. Four soil amendments (gypsum, dolomite, cinnamon ash and rice-husk-charcoal) were tested for their influence on improving the yield parameters of rice grown in a tsunami-affected and a non-affected area. Yield parameters were compared with an untreated control of the same cultivar (AT362) and with a salt resistant rice variety (AT354). The salt resistant variety had the highest grain yield. The two amendments gypsum and rice-husk-charcoal led to an increase in grain yield compared to the untreated control, whereas dolomite and cinnamon ash had no significant effect on grain yield.
Access options
Buy single article
Instant access to the full article PDF.
USD 39.95
Price excludes VAT (USA)
Tax calculation will be finalised during checkout.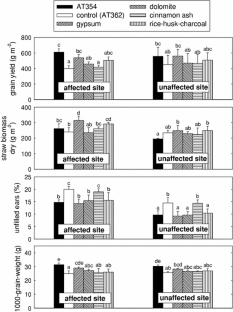 References
Asch, F. (2005) Pflanzliche Reaktionen auf Abiotischen Stress unter veränderlichen Umweltbedingungen, Habilitationsschrift, Landwirtschaftlich Universität der Rheinischen Friedrich-Wilhelms-Universität Bonn.

Asch, F., Dingkuhn, M., Wittstock, C., & Doerffling, K. (1999). Sodium and potassium uptake of rice panicles as affected by salinity and season in relation to yield and yield components. Plant and Soil, 207, 133–145.

Asch, F., Dingkuhn, M., & Dorffling, K. (2000). Salinity increases CO2 assimilation but reduces growth in field-grown irrigated rice. Plant and Soil, 218, 1–10.

Asch, F., Dörffling, K., & Dingkuhn, M. (1995). Response of rice varieties to soil salinity and air humidity: A possible involvement of root-borne ABA. Plant and Soil, 177, 11–19.

Asch, F., & Wopereis, M. C. S. (2001). Responses of field-grown irrigated rice cultivars to varying levels of floodwater salinity in a semi-arid environment. Field Crop Research, 70, 127–137.

Ceuppensa, J., & Wopereis, M. C. S. (1999). Impact of non-drained irrigated rice cropping on soil salinization in the Senegal River Delta. Geoderma 92, 125-140.

De Costa, D. M., Rathnayake, R. M. P. S., De Costa, W. A. J. M., Kumari, W. M. D., & Dissanayake, D. M. N. (2006). Variation of phyllosphere microflora of different rice varieties in Sri Lanka and its relationship to leaf anatomical and physiological characters. Journal of Agronomy and Crop Science, 192, 209–220.

Department of Agriculture, Sri Lanka. http://www.agridept.gov.lk/institutes_more_sub_links.php?id=5&sMenu=Rice%20Research%20and%20Development%20Institute%20(RRDI).

Desplanques, V., Cary, L., Mouret, J.-C., Trolard, F., Bourrié, G., Grauby, O., et al. (2006). Silicon transfer in a rice field in Camargue (France). Journal of Geochemical Exploration, 88, 190–193.

Dobermann, A., & Fairhurst, T. (2000). Rice—nutrient disorders and nutrient management. Singapore: Philippines, Potash and Phosphate Institute (PPI) and International Rice Research Institute (IRRI).

Kathun, S., & Flowers, T. J. (1995). Effects of salinity on seed set in rice. Plant, Cell and Environment, 18, 61–76.

Ma, J., Nishimura, K., & Takahashi, E. (1989). Effect of silicon on the growth of rice plant at different growth stages. Soil Science and Plant Nutrition, 35(3), 347–356.

Marschner, H. (1995). Mineral nutrition of higher plants (2nd ed.). London: Academic Press.

Sultana, N., Ikeda, T., & Kashem, M. A. (2001). Effect of foliar spray of nutrient solutions on photosynthesis, dry matter accumulation and yield in seawater-stressed rice. Environmental and Experimental Botany, 46, 129–140.

Sumith, D., & de Abeysiriwardena, Z. (2004). A simple screening technique for salinity tolerance in rice: Germination rate under stress. Crop Management and Physiology, 2004, 78–79. (December).

Swarup, A. (1985). Effects of exchangeable sodium percentage and presubmergence on yield and nutrition of rice under field conditions. Plant and Soil, 85, 279–288.

USGS Western Coastal & Marine Geology (2005). The December 26, 2004 Indian Ocean Tsunami: Initial Findings on Tsunami Sand Deposits, Damage, and Indunation in Sri Lanka. http://walrus.wr.usgs.gov/tsunami/srilanka05/measurements.html.

Wijetunge, J. J. (2006). Tsunami on 26 December 2004: Spatial distribution of Tsunami height and the extent of inundation in Sri Lanka. Science of Tsunami Hazards, 24(3), 225–239.
About this article
Cite this article
Reichenauer, T.G., Panamulla, S., Subasinghe, S. et al. Soil amendments and cultivar selection can improve rice yield in salt-influenced (tsunami-affected) paddy fields in Sri Lanka. Environ Geochem Health 31, 573–579 (2009). https://doi.org/10.1007/s10653-009-9253-6
Published:

Issue Date:

DOI: https://doi.org/10.1007/s10653-009-9253-6
Keywords