Abstract
Model averaging is commonly used to allow for model uncertainty in parameter estimation. As well as providing a point estimate that is a natural compromise between the estimates from different models, it also provides confidence intervals with better coverage properties, compared to those based on a single best model. In recent years, the concept of a confidence distribution has been promoted as a frequentist analogue of a Bayesian posterior distribution. The confidence distribution for a parameter is a visual representation of the set of \(100(1-\alpha )\%\) confidence intervals for all possible \(\alpha \), and was first proposed over 60 years ago. The purpose of this paper is to promote the use of model-averaged confidence distributions. One of the advantages of doing so is the ability to see unusual shapes in the distribution, such as multi-modality. This allows a more comprehensive assessment of the uncertainty about the parameter of interest, in exactly the same way that a model-averaged posterior distribution can be more useful than a model-averaged credible interval. We show that the model-averaged tail-area (MATA) method for calculating a model-averaged confidence interval leads to the corresponding MATA confidence distribution being a mixture of the confidence distributions associated with the individual models, the mixing being determined by the model weights. We consider two ecological examples that illustrate the advantages of a model-averaged confidence distribution over a model-averaged confidence interval.
Access options
Buy single article
Instant access to the full article PDF.
US$ 39.95
Tax calculation will be finalised during checkout.
Subscribe to journal
Immediate online access to all issues from 2019. Subscription will auto renew annually.
US$ 79
Tax calculation will be finalised during checkout.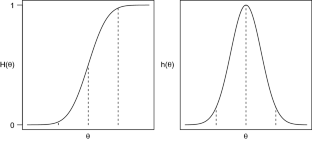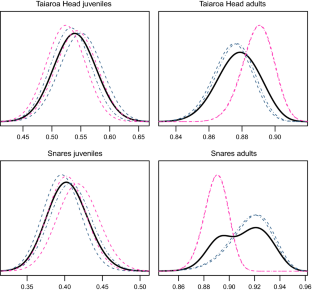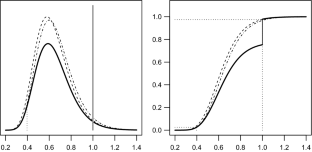 References
Banner KM, Higgs MD (2017) Considerations for assessing model averaging of regression coefficients. Ecol Appl 27(1):78–93

Barker RJ, Link WA (2015) Truth, models, model sets, aic, and multimodel inference: a Bayesian perspective. J Wildl Manag 79(5):730–738

Buckland ST, Burnham KP, Augustin NH (1997) Model selection: an integral part of inference. Biometrics 53(2):603–618

Cade BS (2015) Model averaging and muddled multimodel inferences. Ecology 96(9):2370–2382

Claeskens G, Hjort NL (2008) Model selection and model averaging, vol xvii. Cambridge series on statistical and probabilistic mathematics 27. Cambridge University Press, Cambridge, p 312

Cox DR (1958) Some problems connected with statistical inference. Ann Math Stat 29(2):357–372

Crainiceanu CM, Dominici F, Parmigiani G (2008) Adjustment uncertainty in effect estimation. Biometrika 95(3):635–651

Dormann CF, Calabrese JM, Guillera-Arroita G, Matechou E, Bahn V, Bartoń K, Beale CM, Ciuti S, Elith J, Gerstner K et al (2018) Model averaging in ecology: a review of bayesian, information-theoretic, and tactical approaches for predictive inference. Ecol Monogr 88(4):485–504

Efron B (1993) Bayes and likelihood calculations from confidence intervals. Biometrika 80(1):3–26

Fletcher D (2018) Model averaging. Springer, New York

Fletcher D, Turek D (2011) Model-averaged profile likelihood intervals. JABES 17(1):38–51

Fletcher D, MacKenzie D, Villouta E (2005) Modelling skewed data with many zeros: a simple approach combining ordinary and logistic regression. Environ Ecol Stat 12(1):45–54

Fletcher D, Moller H, Clucas R, Bragg C, Scott D, Scofield P, Hunter CM, Win I, Newman J, McKechnie S et al (2013) Age at first return to the breeding colony and juvenile survival of sooty shearwaters. Condor 115(3):465–476

Fraser DAS (2011) Is Bayes posterior just quick and dirty confidence? Statist Sci 26(3):299–316

Hoeting J, Madigan D, Raftery A, Volinsky C (1999) Bayesian model averaging: a tutorial (with comments by M. Clyde, David Draper and EI George, and a rejoinder by the authors. Stat Sci 14(4):382–417

Kabaila P (2018) On the minimum coverage probability of model averaged tail area confidence intervals. Can J Stat 46(2):279–297

Kabaila P, Welsh A, Abeysekera W (2016) Model-averaged confidence intervals. Scand J Stat 43(1):35–48

Kabaila P, Welsh A, Mainzer R (2017) The performance of model averaged tail area confidence intervals. Commun Stat Theory Methods 46(21):10718–10732

Kamary K, Mengersen K, Robert CP, Rousseau J (2014) Testing hypotheses via a mixture estimation model. arXiv preprint arXiv:1412.2044

Link W, Barker R (2006) Model weights and the foundations of multimodel inference. Ecology 87(10):2626–2635

Little RJ (2006) Calibrated Bayes: a Bayes/frequentist roadmap. Am Stat 60(3):213–223

Pradel R (1993) Flexibility in survival analysis from recapture data: handling trap-dependence. Mark Ind Study Bird Popul 1993:29–37

Pradel R, Hines JE, Lebreton J-D, Nichols JD (1997) Capture-recapture survival models taking account of transients. Biometrics 1997:60–72

Schweder T (2003) Abundance estimation from multiple photo surveys: confidence distributions and reduced likelihoods for bowhead whales off alaska. Biometrics 59(4):974–983

Schweder T (2018) Confidence is epistemic probability for empirical science. J Stat Plan Inference 195:116–125

Schweder T, Hjort NL (2016) Confidence, likelihood, probability, vol 41. Cambridge University Press, Cambridge

Singh K, Xie M, Strawderman WE, et al (2007) Confidence distribution (cd)–distribution estimator of a parameter. In: Complex datasets and inverse problems. Institute of Mathematical Statistics, p 132–150

Turek D (2015) Comparison of the frequentist mata confidence interval with Bayesian model-averaged confidence intervals. J Probab Stat. https://doi.org/10.1155/2015/420483

Turek D, Fletcher D (2012) Model-averaged wald confidence intervals. Comput Stat Data Anal 56(9):2809–2815

Xie M-G, Singh K (2013) Confidence distribution, the frequentist distribution estimator of a parameter: a review. Int Stat Rev 81(1):3–39

Yang Y (2005) Can the strengths of aic and bic be shared? A conflict between model indentification and regression estimation. Biometrika 92(4):937–950

Yao Y, Vehtari A, Simpson D, Gelman A (2018) Using stacking to average bayesian predictive distributions (with discussion). Bayesian Anal 13(3):917–1007

Zeng J, Fletcher D, Dillingham PW, Cornwall CE (2019) Studentized bootstrap model-averaged tail area intervals. PLoS ONE 14(3):1–16
Additional information
Communicated by Pierre Dutilleul.
About this article
Cite this article
Fletcher, D., Dillingham, P.W. & Zeng, J. Model-averaged confidence distributions. Environ Ecol Stat 26, 367–384 (2019). https://doi.org/10.1007/s10651-019-00432-5
Received:

Revised:

Published:

Issue Date:
Keywords
Confidence distribution

Model averaging

Model-averaged posterior distribution

Model uncertainty