Abstract
Wildfires have become one of the principal environmental problems in the Mediterranean basin. While fire plays an important role in most terrestrial plant ecosystems, the potential hazard that it represents for human lives and property has led to the application of fire exclusion policies that, in the long term, have caused severe damage, mainly due to the increase of fuel loadings in forested areas, in some forest systems. The lack of an easy solution to forest fire management highlights the importance of preventive tasks. The observed spatio-temporal pattern of wildfire occurrences may be idealized as a realization of some stochastic process. In particular, we may use a space–time point pattern approach for the analysis and inference process. We studied wildfires in Catalonia, a region in the north-east of the Iberian Peninsula, and we analyzed the spatio-temporal patterns produced by those wildfire incidences by considering the influence of covariates on trends in the intensity of wildfire locations. A total of 3,166 wildfires from 1994–2008 have been recorded. We specified spatio-temporal log-Gaussian Cox process models. Models were estimated using Bayesian inference for Gaussian Markov Random Field through the integrated nested Laplace approximation algorithm. The results of our analysis have provided statistical evidence that areas closer to humans have more human induced wildfires, areas farther have more naturally occurring wildfires. We believe the methods presented in this paper may contribute to the prevention and management of those wildfires which are not random in space or time.
Access options
Buy single article
Instant access to the full article PDF.
USD 39.95
Price excludes VAT (USA)
Tax calculation will be finalised during checkout.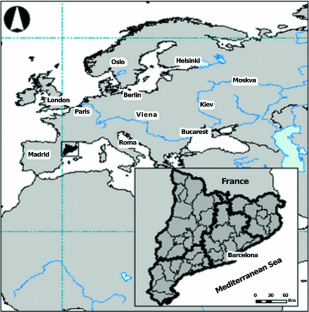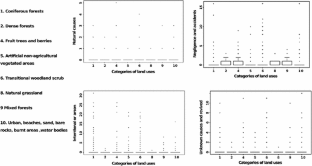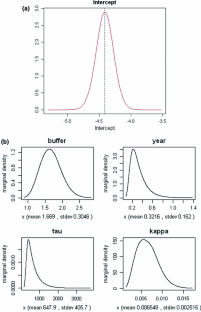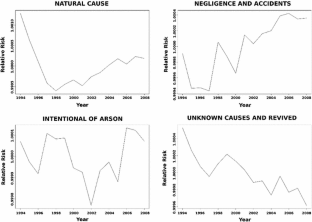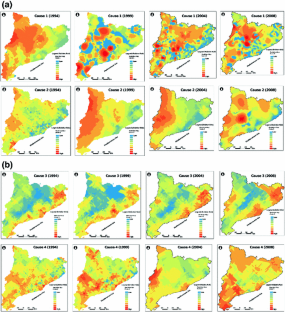 Notes
We acknowledge this comment to one of the anonymous reviewers.
References
Agee JK (1993) Fire ecology of Pacific northwest forests. Island Press, Washington

Baddeley A, Turner R (2005) Spatstat: an R package for analyzing spatial point pattern. J Stat 12:1–42

Bremaud P (1981) Point processes and queues: martingale dynamics. Springer, New York

Breslow NE (1984) Extra-Poisson variation in log-linear models. Appl Stat 33:38–44

Broek J (1995) A score test for zero inflation in a Poisson distribution. Biometrics 51:731–743

Cardille JA, Ventura SJ, Turner MG (2001) Environmental andsocial factors influencing wildfires in the upper midwest. US Ecol Appl 11:111–127

Carmo M, Moreira F, Casimiro P, Vaz P (2011) Land use and topography influence on wildfire occurrence in northern Portugal. Landsc Urban Plan 100:169–176

Chen X (2007) Spatial pattern of wildfire occurrences in Alabama. USA Int J Environ Stud 64(2):229–242

Chuvieco E, Aguado I, Yebra Y, Nieto H, Salas J, Martín MP, Vilar L, Martínez J, Martín S, Ibarra P, Riva J, Baeza J, Rodríguez F, Molina JR, Herrera MA, Zamora R (2010) Development of a framework for fire risk assessment using remote sensing and geographic information system technologies. Ecol Model 221(1):46–58

CREAF (1991) Ecological and forest inventory of Catalonia [in Catalan]. CREAF, Universitat Autònoma de Barcelona, Bellaterra

Daley DJ, Vere-Jones D (1988) An introduction to the theory of point processes. Springer, London

Díaz-Delgado R, Pons X (2001) Spatial patterns of forest fires in Catalonia (NE of Spain) along the period 1975–1995: analysis of vegetation recovery after fire. Forest Ecol Manag 147(1):67–74

Dillon GK, Holden ZA, Morgan P, Crimmins MA, Heyerdahl EK, Luce CH (2011) Both topography and climate affected forest and woodland burn severity in two regions of the western US, 1984–2006. Ecosphere 2(12):130

Drever CR, Drever MC, Messier C, Bergeron Y, Flannigan M (2008) Fire and the relative roles of weather, climate and landscape characteristics in the Great Lakes-St. Lawrence forest of Canada. J Veg Sci 19:57–66

Eidsvik J, Finley AO, Banerjee S, Rue H (2012) Approximate Bayesian inference for large spatial datasets using predictive process models. Comput Stat Data Anal 56(6):1362–1380. Available at http://www.sph.umn.edu/faculty1/wp-content/uploads/2012/11/rr2010-016.pdf

Flannigan MD, Amiro BD, Logan KA, Stocks BJ, Wotton BM (2006) Forest Fires and Climate Change in the 21st Century. Mitigation Adapt Strategies for Global Change 11(4):847–859

García M, Chuvieco E, Nieto H, Aguado I (2008) Combining AVHRR and meteorological data for estimating live fuel moisture. Remote Sens Environ 112(9):3618–3627

Gedalof Z (2011) Climate and spatial patterns of wildfire in North America. Ecol Stud 2:89–115

Geisser S (1993) Predictive inference: an introduction. Chapman and Hall, London

Gneiting T, Raftery AE (2007) Strictly proper scoring rules, prediction, and estimation. J Am Stat Assoc 102:359–378

Gneiting T, Kleiber W, Schlather M (2010) Matérn cross-covariance functions for multivariate random fields. J Am Stat Assoc 105(491):1167–1177

Gralewicz NJ, Nelson TA, Wulder MA (2012) Spatial and temporal patterns of wildfire ignitions in Canada from 1980 to 2006. Int J Wildland Fire 21(3):230–242

Held L, Schrödle B, Rue H (2009) Posterior and cross-validatory predictive checks: a comparison of MCMC and INLA (2009), a chapter in statistical modelling and regression structures—Festschrift in honour of Ludwig Fahrmeir. In: Tutz G, Kneib T (eds) Physica-Verlag, Heidelberg. Available at http://www.r-inla.org/papers

Illian JB, Sørbye SH, Rue H, Hendrichsen D (2010) Fitting a log Gaussian Cox process with temporally varying effects—a case study. Preprint Statistics No 17. http://www.math.ntnu.no/inla/r-inla.org/papers/S17-2010.pdf. Accessed on 13 Aug 2012

Illian JB, Sørbye SH, Rue H (2012) A toolbox for fitting complex spatial point process models using integrated nested Laplace approximation (INLA). Ann Appl Stat 6(4):1499–1530

Juan P, Mateu J, Saez M (2012) Pinpointing spatio-temporal interactions in wildfire patterns. Stoch Environ Res Risk Asses 26(8):1131–1150

King G (1989) Event count models for international relations: generalizations and applications. Int Stud Quart 33:123–147

Krainski ET (2013) The R-INLA tutorial: SPDE models. http://www.math.ntnu.no/inla/r-inla.org/tutorials/spde/spde-tutorial.pdf. Accessed on 13 May 13 2013

Lambert D (1992) Zero-inflated Poisson regression, with application to defects in manufacturing. Technometrics 34:1–14

Latent models. The R INLA project. http://www.r-inla.org/models/latentmodels. Accessed on 13 Aug 2012

Lindgren F, Rue H, Lindstrom J (2011) An explicit link between Gaussian fields and Gaussian Markov random fields: the SPDE approach (with discussion). J Roy Stat Soc Ser B 73(4):423–498

Liu Z, Yang J, Chang Y, Weisberg PJ, He HS (2012) Spatial patterns and drivers of fire occurrence and its future trend under climate change in a boreal forest of Northeast China. Glob Change Biol 18(6):2041–2056

Loepfe L, Martínez-Vilalta J, Piñol J (2011) An integrative model of human-influenced fire regimes and landscape dynamics. Environ Model Softw 26(8):1028–1040

Martino S, Rue H (2010) Case studies in Bayesian computation using INLA (2010) to appear in Complex data modeling and computationally intensive statistical methods (R-code). Available at http://www.r-inla.org/papers

Millington JDA, Wainwright J, Perry GLW, Romero-Calcerrada R, Malamud BD (2009) Modelling Mediterranean landscape succession-disturbance dynamics: a landscape fire-succession model. Environ Model Softw 24:1196–1208

Millington JDA, Walters MB, Matonis MS, Liu J (2010) Effects of local and regional landscape characteristics on wildlife distribution across managed forests. Forest Ecol Manag 259:1102–1110

Miranda BR, Sturtevant BR, Stewart SI, Hammer RB (2011) Spatial and temporal drivers of wildfire occurrence in the context of rural development in northern Wisconsin. USA Int J Wildland Fire 21(2):141–154

Møller J, Díaz-Avalos C (2010) Structured spatio-temporal shot-noise Cox point process models, with a view to modelling forest fires. Scand J Stat 37:2–15

Moreira F, Rego F, Ferrera P (2001) Temporal (1958–1995) pattern of change in a cultural landscape of north-western Portugal: implications for fire occurrence. Landsc Ecol 101:111–115

Mullahy J (1986) Specification and testing of some modified count data models. J Econom 33:341–365

National Interagency Fire Center (2013) The science of windland fire. http://www.nifc.gov/. Accessed on 9 Feb 2013

National Wildfire Coordinating Group (NWCG) Fire Policy Committee (2010) Terminology updates resulting from release of the guidance for the implementation of federal wildland fire management policy (2009) NWCG#024-2010 Memorandum. Boise, ID: National Wildfire Coordinating Group, p 3 (+ Attachment A: Terminology updates list April 30, 2010, p 8)

O'Donnell AJ (2011) Spatial and temporal patterns of wildfires in semi-arid south-western Australia. Thesis (Ph.D.)—University of Western Australia

Ordóñez C, Saavedra A, Rodríguez-Pérez JR, Castedo-Dorado F, Covián E (2012) Using model-based geostatistics to predict lightning-caused wildfires. Environ Model Softw 29(1):44–50

Pettit LI (1990) The conditional predictive ordinate for the normal distribution. J Roy Stat Soc Ser B 52:175–184

Piñol J, Terradas J, Lloret F (1998) Climate warming, wildfire hazard and wildfire occurrence in coastal eastern spain. Clim change 38:345–357

Plummer M (2008) Penalized loss functions for Bayesian model comparison. Biostatistics 9(3):523–539

Pyne SJ, Andrew PL, Laven RD (1996) Introduction to wildland fire, 2nd edn. Wiley, New York

Ramis R, Diggle P, Boldo E, Garcia-Perez J, Fernandez-Navarro P, Lopez-Abente G (2012) Analysis of matched geographical areas to study potential links between environmental exposure to oil refineries and non-Hodgkin lymphoma mortality in Spain. Int J Health Geogr 11:4

R-Development Core Team (2011) R: A language and environment for statistical computing. R Foundation for Statistical Computing, Vienna, Austria. ISBN 3-900051-07-0. URL http://www.R-project.org/

Riebler A., Held L, Rue H (2013) Estimation and extrapolation of time trends in registry data—borrowing strength from related populations. Annals of Applied Statistics [in press]

R-INLA project (2012) http://www.r-inla.org/home. Accessed on 13 Aug 2012

Röder A, Hill J, Duguy B, Alloza JA, Vallejo R (2008) Using long time series of Landsat data to monitor fire events and post-fire dynamics and identify driving factors. A case study in the Ayora region (eastern Spain). Remote Sens Environ 112(1):259–273

Romero-Calcerrada R, Barrio-Parra F, Millington JDA, Novillo CJ (2010) Spatial modelling of socioeconomic data to understand patterns of human-caused wildfire ignition risk in the SW of Madrid (central Spain). Ecol Model 221(1):34–45

Rue H, Martino S, Chopin N (2009) Approximate Bayesian inference for latent Gaussian models by using integrated nested Laplace approximations (with discussion). J Roy Stat Soc Ser B 71:319–392

Saez M, Barceló MA, Tobias A, Varga D, Ocaña-Riola R, Juan P, Mateu J (2012) Space-time interpolation of daily air temperatures. J Environ Stat 3(5), July

Scott A (2000) The pre-quaternary history of fire. Palaeogeogr Palaeoclim Palaeoecol 164:281

Serra L, Juan P, Varga D, Mateu J, Saez M (2012) Spatial pattern modelling of wildfires in Catalonia, Spain 2004–2008. Environ Model Softw 40:235–244

Simpson D, Illian J, Lindgren F, Sørbye SH, Rue H (2011) Going off grid: computationally efficient inference for log-Gaussian Cox processes. NTNU Technical report 10. http://www.math.ntnu.no/~daniesi/S10-2011.pdf. Accessed on 13 Aug 2012

Spiegelhalter DJ, Best NG, Carlin BR, van der Linde A (2002) Bayesian measures of model complexity and fit (with discussion). J Roy Stat Soc Ser B 64:583–639

Taylor BM, Diggle PJ (2013) INLA or MCMC?. A Tutorial and comparative evaluation for spatial prediction in log-Gaussian Cox processes, to appear in Journal of Statistical Computation and Simulation

Varga D (2007) Landscape and agricultural abandonment in the Mediterranean mountains. An approximation to the Hortmoier and Sant Aniol Valleys (Alta Garrotxa) from the Landscape Ecology. Doctoral Dissertation. Girona, Spain: University of Girona, ISBN: 978-84-691-1538-1

Waagepetersen R (2004) Convergence of posteriors for discretized log Gaussian Cox processes. Stat Prob Lett 66(3):229–235

Wilhelmsen M, Dimakos XK, Husebø T, Fiskaaen M. Bayesian (2009) Modelling of credit risk using integrated nested Laplace approximations. SAMBA/47/08, Norsk Regnesentral, 2009. Available at http://publications.nr.no/BayesianCreditRiskUsingINLA.pdf

Yang J, He HS, Shifley SR (2008) Spatial controls of occurrence and spread of wildfires in the Missouri Ozark highlands. Ecol Appl 18:1212–1225
Acknowledgments
Jorge Mateu and Carlos Díaz-Ávalos were partly funded in this work by the grant from the 'Towards Excellence' doctoral program for visiting professors, MHE2011-00258, ECD/3628/2011, from the Ministry of Education, Culture and Sport, Spain. We would like to thank the Forest Fire Prevention Service (Servei de Prevenció d'Incendis Forestals) of the Government of Catalonia (Generalitat de Catalunya) for providing wildfire data. We also thank the Environment Department of the Government of Catalonia for access to the digital map databases. We appreciate the comments of the attendees at the '3rd International Conference on Modelling, Monitoring and Management of Forest Fires', on May 22–24, 2012, at the Wessex Institute, New Forest, United Kingdom; at the Royal Statistical Society 2012 International Conference, September 3–6, 2012, in Telford, United Kingdom; and at the 'VI International Workshop on Spatio-Temporal Modelling', METMA VI, on September 12–14, 2012, at the Research Centre of Mathematics—CMAT of Minho University, Guimaraes, Portugal, where a preliminary version of this work was presented. We are indebted to Dr. Mark Olson by dedicating one weekend to review our manuscript. Last, but not the least we acknowledged the comments of three anonymous reviewers that, without doubt, help us improve our work.
Conflict of interest
There are no conflicts of interest for any of the authors. All authors disclose any actual or potential conflict of interest including any financial, personal or other relationships with other people or organizations within three years of beginning the submitted work that could inappropriately influence, or be perceived to influence, their work.
Additional information
Handling Editor: Ashis SenGupta.
About this article
Cite this article
Serra, L., Saez, M., Mateu, J. et al. Spatio-temporal log-Gaussian Cox processes for modelling wildfire occurrence: the case of Catalonia, 1994–2008. Environ Ecol Stat 21, 531–563 (2014). https://doi.org/10.1007/s10651-013-0267-y
Received:

Revised:

Published:

Issue Date:

DOI: https://doi.org/10.1007/s10651-013-0267-y
Keywords
Covariates

GMRF

INLA

Log-Gaussian Cox models

Marks

Spatio-temporal point processes

Wildfire