Abstract
This article presents findings from an ongoing study focused on deconstructing pedagogical practices of successful mathematics teachers in classrooms with high populations of traditionally underserved students. Using grounded theory, the manuscript reports on general themes and specific practices of culturally responsive mathematics teaching (CRMT) that have been "unearthed" from data collected over several years in three diverse mathematics classrooms. The findings indicate that, regardless of cultural setting, relationships and trust are central to CRMT, while communication patterns and various forms of knowledge mediate these relationships. Ultimately, CRMT provides student access, which is mediated by culture and identity, to complex mathematical ideas. Common concrete practices, such as warm demander pedagogy and reflection, are discussed. These results speak to the complexity of the culturally responsive mathematics classroom and provide suggestions to educators, administrators, and teacher educators who aim to become more culturally responsive.
Access options
Buy single article
Instant access to the full article PDF.
USD 39.95
Price excludes VAT (USA)
Tax calculation will be finalised during checkout.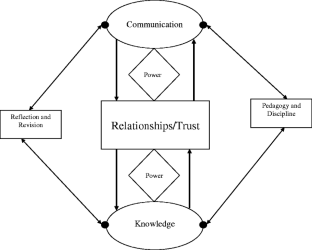 Notes
"traditionally underserved" is defined here as students who are ethnic minorities and/or come from a low socioeconomic background, and who are educationally disadvantaged based on high-stakes test scores.

Pseudonyms have been used to protect the identities of the schools, states, and participants.

Title I was put in place to "improve the academic achievement of the disadvantaged." These schools receive "extra" resources and are populated by students living in poverty. As such, "Title I" schools and districts are understood to be serving economically disadvantaged populations.
References
Arnett, J. (1995). Broad and narrow socialization: The family in the context of a cultural theory. Journal of Marriage and the Family, 57, 617–628.

Blumer, H. (1969). Symbolic interactionism: Perspective and method. Berkeley, CA: University of California.

Bonner, E. P. (2011). Unearthing culturally responsive teaching: The legacy of Gloria Jean Merriex. Lanham, MD: Hamilton Books.

Borman, G. D., & Overman, L. T. (2004). Academic resilience in mathematics among poor and minority students. The Elementary School Journal, 104(3), 177–195.

Boykin, A. W., & Allen, B. A. (2004). Cultural integrity and schooling outcomes of African American children from low-income backgrounds. In P. B. Pufall & R. P. Unsworth (Eds.), Rethinking childhood (pp. 104–120). Piscataway, NJ: Rutgers University.

Caldwell, C. H., Zimmerman, M. A., Bernat, D. H., Sellers, R. M., & Notaro, P. C. (2002). Racial identity, maternal support, and psychological distress among African American adolescents. Child Development, 73(4), 1322–1336.

Charmaz, K. (2006). Constructing grounded theory: A practical guide through qualitative analysis. London: Sage.

Chiu, M. M., & Xihua, Z. (2008). Family and motivation effects on mathematics achievement: Analysis of students in 41 countries. Learning and Instruction, 18, 321–336.

Dandy, E. B. (1991). Black communications: Breaking down the barriers. Chicago, IL: African American Images.

Delpit, L. D. (1993). The politics of teaching literate discourse. In T. Perry & J. W. Fraser (Eds.), Freedom's plow: Teaching in the multicultural classroom (pp. 285–296). New York, NY: Routledge.

Delpit, L. D. (1995). Other people's children: Cultural conflict in the classroom. New York, NY: The New Press.

Fosnot, C. T. (1996). Teachers construct constructivism: The center for constructivist teaching/teacher preparation project. In C. T. Fosnot (Ed.), Constructivism: Theory, perspectives, and practice (pp. 205–216). New York, NY: Teachers College.

Foster, M. (1997). Black teachers on teaching. New York, NY: The New Press.

Gay, G. (2009). Preparing culturally responsive mathematics teachers. In B. Greer, S. Mukhopadhyay, A. B. Powell, & S. Nelson-Barber (Eds.), Culturally responsive mathematics education (pp. 189–205). New York, NY: Routledge.

Gay, G. (2010). Culturally responsive teaching: Theory, research, and practice (2nd ed.). New York, NY: Teachers College.

Greer, B., Mukhopadhyay, S., Powell, A. B., & Nelson-Barber, S. (Eds.). (2009). Culturally responsive mathematics education. New York, NY: Routledge.

Gutiérrez, R., & Dixon-Román, E. D. (2011). Beyond gap gazing: How can thinking about education comprehensively help us (re)invision mathematics education? In B. Atweh, M. Graven, W. Secada, & P. Valero (Eds.), Mapping equity and quality in mathematics education (pp. 21–34). New York, NY: Springer.

Gutstein, E. (2006). Reading and writing the world with mathematics: Toward a pedagogy for social justice. New York, NY: Routledge.

Gutstein, E., & Peterson, B. (Eds.). (2005). Rethinking mathematics: Teaching social justice by the numbers. Milwaukee, WI: Rethinking Schools.

Helms, J. E. (1990). Black and white racial identity attitudes: Theory, research, and practice. Westport, CT: Greenwood Press.

Hooks, B. (1989). Talking back. Boston, MA: South End Press.

Howard, G. R. (2006). We can't teach what we don't know: White teachers, multiracial schools (2nd ed.). New York, NY: Teachers College.

Irvine, J. J. (2003). Educating teachers for diversity: Seeing with a cultural eye. New York, NY: Teachers College.

Irvine, J. J., & Fraser, J. (1998). Warm demanders. Education Week, 17(35), 56.

Ismail, N. A. (2009). Understanding the gap in mathematics achievement of Malaysian students. The Journal of Educational Research, 105(5), 389–392.

Ladson-Billings, G. (1994). The dreamkeepers: Successful teachers of African American Children. San Francisco, CA: Jossey-Bass.

Ladson-Billings, G. (1995). But that's just good teaching! The case for culturally relevant teaching. Theory Into Practice, 34(3), 159–165.

Ladson-Billings, G. (2001). Crossing over to Canaan: The journey of new teachers in diverse classrooms. San Francisco, CA: Jossey-Bass.

Lamb, S., Hogan, D., & Johnson, T. (2001). The stratification of learning opportunities and achievement in Tasmanian secondary schools. Australian Journal of Education, 45(2), 153–167.

Lee, J. (2006). Tracking achievement gaps and assessing the impact of NCLB on the gaps: An in-depth look into national and state reading and math outcome trends. Cambridge, MA: The Civil Rights Project at Harvard University.

Lee, V. E., Zuze, T. L., & Ross, K. R. (2005). School effectiveness in 14 sub-Saharan African countries: Links with 6th graders' reading achievement. Studies in Educational Evaluation, 31(2–3), 207–246.

Marks, G. N. (2005). Accounting for immigrant non-immigrant differences in reading and mathematics in twenty countries. Ethnic and Racial Studies, 28(5), 925–946.

Martin, D. B., Gholson, M. L., & Leonard, J. (2010). Mathematics as gatekeeper: Power and privilege in the production of knowledge. Journal of Urban Mathematics Education, 3(2), 12–24.

Moll, L. C., Amanti, C., Neff, D., & Gonzalez, N. (1992). Funds of knowledge for teaching: A qualitative approach to connect homes and classrooms. Theory Into Practice, 31(1), 132–141.

National Center for Education Statistics (2009). The Nation's Report Card: Mathematics 2009 (NCES 2010-451). Institute of Education Sciences, U.S. Department of Education, Washington, DC.

National Council of Teachers of Mathematics (2000). Principles and standards for school mathematics. Reston, VA: National Council of Teachers of Mathematics.

Nieto, S. (2010). The light in their eyes: Creating multicultural learning communities (10th anniversary edition). New York, NY: Teachers College Press.

Richardson, V., & Placier, P. (2001). Teacher change. In V. Richardson (Ed.), Handbook of research on teaching (4th ed., pp. 905–947). Washington, DC: American Educational Research Association.

Schoen, H. L., Cebulla, J. J., Finn, K. F., & Fi, C. (2003). Teacher variables that relate to student achievement when using a standards-based curriculum. Journal for Research in Mathematics Education, 34(3), 228–259.

Sheets, R. H. (2005). Diversity pedagogy: Examining the role of culture in the teaching-learning process. Boston, MA: Allyn & Bacon.

Siddle-Walker, V. (2000). Valued segregated schools for African American children in the South, 1935–1969: A review of common themes and characteristics. Review of Educational Research, 70(3), 253–285.

Sleeter, C. E. (2001). Preparing teachers for culturally diverse schools. Journal of Teacher Education, 52, 94–106.

Smith, B. O. (1971). On the anatomy of teaching. In R. T. Hyman (Ed.), Contemporary thought on teaching (pp. 20–27). Englewood Cliffs, NJ: Prentice-Hall.

Steinberg, L. (1990). Autonomy, conflict, and harmony in the family relationship. In S. S. Feldman & G. R. Elliot (Eds.), At the threshold: The developing adolescent (pp. 255–276). Cambridge, MA: Harvard University.

Ware, F. (2006). Warm demander pedagogy. Urban Education, 41(4), 427–456.
About this article
Cite this article
Bonner, E.P. Investigating practices of highly successful mathematics teachers of traditionally underserved students. Educ Stud Math 86, 377–399 (2014). https://doi.org/10.1007/s10649-014-9533-7
Published:

Issue Date:

DOI: https://doi.org/10.1007/s10649-014-9533-7
Keywords
Culturally responsive teaching

Classroom equity

Teacher practice

Teacher knowledge

Student access