Abstract
Use of highlighting is a prevalent study strategy among students, but evidence regarding its benefit for learning is mixed. We examined highlighting in relation to distributed study and students' attitudes about highlighting as a study strategy. Participants read a text passage twice while highlighting or not, with their readings either distributed or massed, and followed by a week-delayed test. An overall benefit of highlighting occurred, with highlighting being especially beneficial with massed readings of the passages. Importantly, highlighting did not impair knowledge of non-highlighted information. Interestingly, those students reporting that they did not think highlighting was beneficial or were unsure about its benefits actually benefitted more from highlighting than did students who were pro-highlighting. Overall, our results indicate that under some conditions, highlighting can be a beneficial study strategy for learning and argue for students being trained in how to optimize the potential benefits of their highlighting behavior.
This is a preview of subscription content, log in to check access.
Access options
Buy single article
Instant access to the full article PDF.
US$ 39.95
Price includes VAT for USA
Subscribe to journal
Immediate online access to all issues from 2019. Subscription will auto renew annually.
US$ 99
This is the net price. Taxes to be calculated in checkout.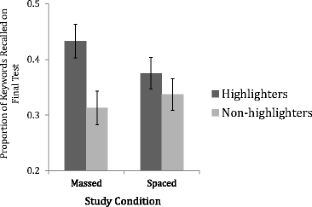 Notes
1.

As a separate manipulation, we also explored whether the benefits of testing (Roediger and Karpicke 2006) might interact with highlighting. Specifically, participants were given an immediate test on six of the twelve fill-in-the-blank questions shortly after the second reading of the passage. All twelve questions were then tested after the 1-week delay, allowing us to assess the benefits of the earlier test. Although we observed a large benefit of testing, F(1, 180) = 102.99, MSE = 4.24, p < 0.001, with keywords tested immediately remembered significantly better on the delayed test (M = 0.47, SE = 0.02) than were keywords not tested immediately (M = 0.26, SE = 0.02), the effect of testing did not interact with either the spacing (p = 0.83) or highlighting (p = 0.33) manipulations. Consequently, for the sake of succinctness, and because educators are most likely to be interested in how highlighting affects long-term learning and performance, we collapsed all data from the tested versus non-tested conditions and report only one score to reflect the week-delayed final recall performance.
References
Arnold, M. B. (1942). A study of the relation to breakdown. Journal of Educational Psychology, 33, 449–457.

Bell, K. E., & Limber, J. E. (2010). Reading skill, textbook marking, and course performance. Literacy Research and Instruction, 49, 56–67. doi:10.1080/19388070802695879.

Bjork, R. A. (1994). Institutional impediments to effective training. In D. Druckman & R. A. Bjork (Eds.), Learning, remembering, believing: enhancing human performance (pp. 295–306). Washington, DC: National Academy Press.

Bjork, R. A. (1999). Assessing our own competence: heuristics and illusions. In D. Gopher & A. Koriat (Eds.), Attention and performance XVII. Cognitive regulation of performance: interaction of theory and application (pp. 435–459). Cambridge: MIT Press.

Bjork, E. L., & Bjork, R. A. (2011). Making things hard on yourself, but in a good way: creating desirable difficulties to enhance learning. In M. A. Gernsbacher, R. W. Pew, L. M. Hough, & J. R. Pomerantz (Eds.), Psychology and the real world: essays illustrating fundamental contributions to society (pp. 56–64). New York: Worth Publishers.

Bjork, R. A., Dunlosky, J., & Kornell, N. (2013). Self-regulated learning: beliefs, techniques, and illusions. Annual Review of Psychology, 64, 417–444. doi:10.1146/annurev-psych-113011-143823.

Brown, A. L., & Smiley, S. S. (1978). The development of strategies for studying texts. Child Development, 49, 1076–1088.

Callender, A. A., & McDaniel, M. A. (2009). The limited benefits of rereading educational texts. Contemporary Educational Psychology, 34, 30–41.

Craik, F. I. M., & Lockhart, R. S. (1972). Levels of processing: a framework for memory research. Journal of Verbal Learning & Verbal Behavior, 11, 671–684.

Dempster, F. N. (1996). Distributing and managing the conditions of encoding and practice. In E. L. Bjork and R. A. Bjork (Eds.), Handbook of perception and cognition. Vol. 10, Memory, pp. 317-344. New York: Academic Press.

Dunlosky, J., Rawson, K. A., Marsh, E. J., Nathan, M. J., & Willingham, D. T. (2013). Improving students' learning and comprehension: promising directions from cognitive and educational psychology. Psychological Science in the Public Interest, 14, 4–58. doi:10.1177/1529100612453266.

Fass, W., & Schumacher, G. M. (1978). Effects of motivation, subject activity, and readability on the retention of prose materials. Journal of Educational Psychology, 70, 803–807.

Fowler, R. L., & Barker, A. S. (1974). Effectiveness of highlighting for retention of text material. Journal of Applied Psychology, 59, 358–364.

Hintzman, D. L. (1974). Theoretical implications of the spacing effect. In R. L. Solso (Ed.), Theories in cognitive psychology: the Loyola Symposium (pp. 77–99). Postomac, MD: Erlbaum.

Hoon, P. W. (1974). Efficacy of three common study methods. Psychological Reports, 35, 1057–1058.

Howe, M. J., & Singer, L. (1975). Presentation variables and students' activities in meaningful learning. British Journal of Educational Psychology, 45, 52–61.

Idstein, P., & Jenkins, J. R. (1972). Underlining versus repetitive reading. Journal of Educational Research, 65, 321–323.

Johnson, L. L. (1988). Effects of underlining textbook sentences on passage and sentence retention. Reading Research and Instruction, 28, 18–32.

Karpicke, J. D., Butler, A. C., & Roediger, H. L. (2009). Metacognitive strategies in student learning: do students practice retrieval when they study on their own? Memory, 138, 471–479.

Koriat, A., & Bjork, R. A. (2005). Illusions of competence in monitoring one's knowledge during study. Journal of Experimental Psychology: Learning, Memory, and Cognition, 31, 187–194.

Kornell, N. (2009). Optimising learning using flashcards: spacing is more effective than cramming. Applied Cognitive Psychology, 23, 1297–1317. doi:10.1002/acp.1537.

Kornell, N., & Bjork, R. A. (2007). The promise and perils of self-regulated study. Psychonomic Bulletin & Review, 14, 219–224.

Kornell, N., & Bjork, R. A. (2009). A stability bias in human memory: overestimating remembering and underestimating learning. Journal of Experimental Psychology: General, 138, 449–468.

Leutner, D., Leopold, C., & Den Elzen-Rump, V. (2007). Self-regulated learning with a text-highlighting strategy: a training experiment. Zeitschrift Für Psychologie/Journal of Psychology, 215(3), 174–182. doi:10.1027/0044-3409.215.3.174.

Nist, S. L., & Hogrebe, M. C. (1987). The role of underlining and annotating in remembering textual information. Reading Research and Instruction, 27, 12–25.

Nist, S. L., & Simpson, M. L. (1988). The effectiveness and efficiency of training college students to annotate and underline text. National Reading Conference Yearbook, 37, 251–257.

Peterson, S. E. (1992). The cognitive functions of underlining as a study technique. Reading Research and Instruction, 31, 49–56.

Rickards, J., & August, G. (1975). Generative underlining strategies in prose recall. Journal of Educational Psychology, 67, 860–865.

Rickards, J., & Denner, P. R. (1979). Depressive effects of underlining and adjunct questions on children's recall of text. Instructional Science, 8, 81–90.

Roediger, H. L., & Karpicke, J. D. (2006). The power of testing memory: basic research and implications for educational practice. Perspectives on Psychological Science, 1, 181–210. doi:10.1111/j.1745-6916.2006.00012.x.

Silvers, V. L., & Kreiner, D. S. (1997). The effects of pre-existing inappropriate highlighting on reading comprehension. Reading Research and Instruction, 36, 217–223.

Smith, S. M., Glenberg, A., & Bjork, R. A. (1978). Environmental context and human memory. Memory & Cognition, 6, 342–353.

Sobel, H. S., Cepeda, N. J., & Kapler, I. V. (2011). Spacing effects in real-world classroom vocabulary learning. Applied Cognitive Psychology, 25, 763–767. doi:10.1002/acp.1747.

Stordahl, K. E., & Christensen, C. M. (1956). The effect of study techniques on comprehension and retention. Journal of Educational Research, 49, 561–570.

Wade, S. E., & Trathen, W. (1989). Effect of self-selected study methods on learning. Journal of Educational Psychology, 81, 40–47.

Wallace, W. P. (1965). Review of the historical, empirical, and theoretical status of the von Restorff phenomenon. Psychological Bulletin, 63, 410–424.
Acknowledgments
We thank John Nestojko and Gabriela Pocasangre for their contributions to this project. This research was supported by Grant 29192G from the James S. McDonnell Foundation.
About this article
Cite this article
Yue, C.L., Storm, B.C., Kornell, N. et al. Highlighting and Its Relation to Distributed Study and Students' Metacognitive Beliefs. Educ Psychol Rev 27, 69–78 (2015). https://doi.org/10.1007/s10648-014-9277-z
Keywords
Highlighting

Spacing

Text marking

Metacognitive beliefs about study strategies