Abstract
Methylmercury causes behavioural and reproductive effects in adult mammals via early developmental exposure. Similar studies in birds are limited and mostly focussed on aquatic systems, but recent work has reported high blood mercury concentrations in terrestrial, passerine songbirds. We used the zebra finch (Taeniopygia guttata) as a model to explore the long-term effects of early developmental exposure to methylmercury exposure. Chicks were dosed orally with either the vehicle control, 0.0315 µg Hg/g bw/day, or 0.075 µg Hg/g bw/day throughout the nestling period (days 1–21 post-hatching). We then measured (a) short-term effects on growth, development, and behaviour (time to self-feeding, neophobia) until 30 days of age (independence), and (b) long-term effects on courtship behaviour and song (males) and reproduction (females) once methylmercury-exposed birds reached sexual maturity (90 days post-hatching). High methylmercury treated birds had mean blood mercury of 0.734 ± 0.163 µg/g at 30 days post-hatching, within the range of values reported for field-sampled songbirds at mercury contaminated sites. However, there were no short-term effects of treatment on growth, development, and behaviour of chicks, and no long-term effects on courtship behaviour and song in males or reproductive performance in females. These results suggest that the nestling period is not a critical window for sensitivity to mercury exposure in zebra finches. Growing nestlings can reduce blood mercury levels through somatic growth and depuration into newly growing feathers, and as a result they might actually be less susceptible compared to adult birds receiving the same level of exposure.
Access options
Buy single article
Instant access to the full article PDF.
USD 39.95
Price includes VAT (USA)
Tax calculation will be finalised during checkout.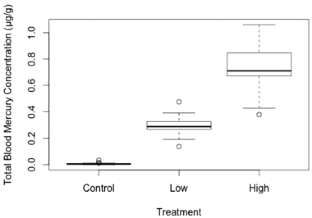 References
Airey DC, DeVoogd TJ (2000) Greater song complexity is associated with augmented song system anatomy in zebra finches. Neuroreport 11:1749–1754

Bailey DJ, Rosebush JC, Wade J (2002) The hippocampus and caudomedial neostriatum show selective responsiveness to conspecific song in the female zebra finch. J Neurobiol 52:43–51

Basu N, Tutino R, Zhang Z, Cantonwine DE, Goodrich JM, Somers EC, Rodriguez L, Schnaas L, Solano M, Mercado A, Peterson K, Sánchez BN, Hernández-Avila M, Hu H, Maria Téllez-Rojo M (2014) Mercury levels in pregnant women, children, and seafood from Mexico City. Environ Res 135:63–69

Bennett RS, French JB, Rossmann R, Haebler R (2009) Dietary toxicity and tissue accumulation of methylmercury in American Kestrels. Arch Environ Contam Toxicol 56:149–156

Beyrouty P, Stamler CJ, Liu JN, Loua KM, Kubow S, Chan HM (2006) Effects of prenatal methylmercury exposure on brain monoamine oxidase activity and neurobehavior of rats. Neurotoxicol Teratol 28:251–259

Bornhausen M, Müsch HR, Greim H (1980) Operant behavior performance changes in rats after prenatal methylmercury exposure. Toxicol Appl Pharm 56:305–310

Brasso RL, Cristol DA (2008) Effects of mercury exposure on the reproductive success of tree swallows (Tachycineta bicolor). Ecotoxicology 17:133–141

Burbacher TM, Grant KS, Mayfield DB, Gilbert SG, Rice DC (2005) Prenatal methylmercury exposure affects spatial vision in adult monkeys. Toxicol Appl Pharm 208:21–28

Castoldi AF, Coccini T, Ceccatelli S, Manzo L (2001) Neurotoxicity and molecular effects of methylmercury. Brain Res Bull 55:197–203

Castoldi AF, Onishchenko N, Johansson C, Coccini T, Roda E, Vahter M, Ceccatelli S, Manzo L (2008) Neurodevelopmental toxicity of methylmercury: Laboratory animal data and their contribution to human risk assessment. Regul Toxicol Pharmcol 51:215–229

Ceccatelli S, Bose R, Edoff K, Onishchenko N, Spulber S (2013) Long-lasting neurotoxic effects of exposure to methylmercury during development. J Intern Med 273(5):490–497. https://doi.org/10.1111/joim.12045

Clarkson TW, Magos L (2006) The toxicology of mercury and its chemical compounds. Crit Rev Toxicol 36:609–662

Condon AM, Cristol DA (2009) Feather growth influences blood mercury level of young songbirds. Environ Toxicol Chem 28:395–401

Crino OL, Buchanan KL, Trompf L, Mainwaring MC, Griffith SC (2017) Stress reactivity, condition, and foraging behavior in zebra finches: effects on boldness, exploration, and sociality. Gen Comp Endocrinol 244:101–107

Cristol DA, Brasso RL, Condon AM, Fovargue RE, Friedman SL, Hallinger KK, Monroe AP, White AE (2008) The movement of aquatic mercury through terrestrial food webs. Science 320:335–335

Elliott KH, Elliott JE (2016) Origin of sulfur in diet drives spatial and temporal mercury trends in seabird eggs from Pacific Canada 1968–2015. Environ Sci Technol 50:13380–13386

Eng ML, Elliott JE, MacDougall-Shackleton SA, Letcher RJ, Williams TD (2012) Early exposure to 2,2',4,4',5-Pentabromodiphenyl Ether (BDE-99) affects mating behavior of zebra finches. Toxicol Sci 127:269–276

Evers DC, Savoy LJ, DeSorbo CR, Yates DE, Hanson W, Taylor KM, Siegel LS, Cooley JH, Bank MS, Major A, Munney K, Mower BF, Vogel HS, Schoch N, Pokras M, Goodale MW, Fair J (2008) Adverse effects from environmental mercury loads on breeding common loons. Ecotoxicology 17:69–81

Falluel-Morel A, Sokolowski K, Sisti HM, Zhou X, Shors TJ, DiCicco-Bloom E (2007) Developmental mercury exposure elicits acute hippocampal cell death, reductions in neurogenesis, and severe learning deficits during puberty. J Neurochem 103:1968–1981

Forstmeier W, Segelbacher G, Mueller C, Kempanaers B (2007) Genetic variation and differentiation in captive and wild zebra finches (Taeniopygia guttata). Mol Ecol 16:4039–4050

Gillet A-MTY, Seewagen CL (2014) Mercury exposure of a wetland songbird, Agelaius phoeniceus, in the New York metropolitan area and its effect on nestling growth rate. Environ Monit Assess 186:4029–4036

Griffith SC, Buchanan KL (2010) The Zebra Finch: The ultimate Australian supermodel. Emu 110:v–xii

Hallinger KK, Zabransky DJ, Kazmer KA, Cristol DA (2010) Birdsong differs between mercury-polluted and reference Sites. Auk 127:156–161

Henry KA, Cristol DA, Varian-Ramos CW, Bradley EL (2015) Oxidative stress in songbirds exposed to dietary methylmercury. Ecotoxicology 24:520–526

Heinz GH, Hoffman DJ, Klimstra JD, Stebbins KR, Kondrad SL, Erwin CA (2009) Species differences in the sensitivity of avian embryos to methylmercury. Arch Environ Contam Toxicol 56:129–138

Hodgson ZG, Meddle SL, Roberts ML, Buchanan KL, Evans MR, Metzdorf R, Gahr M, Healy SD (2007) Spatial ability is impaired and hippocampal mineralocorticoid receptor mRNA expression reduced in zebra finches (Taeniopygia guttata) selected for acute high corticosterone response to stress. Proc R Soc B 274:239–245

Hu G, Jin M, Lin X, Guo C, Zhang L, Sun Z (2010) Mercury distribution in neonatal rat brain after intrauterine methylmercury exposure. Environ Toxicol Pharmacol 29:7–11

Jackson AK, Evers DC, Adams EM, Cristol DA, Eagles-Smith C, Edmonds ST, Gray CE, Hoskins B, Lane OP, Sauer A et al. (2015) Songbirds as sentinels of mercury in terrestrial habitats of eastern North America. Ecotoxicology 24:453–467

Jackson AK, Evers DC, Etterson MA, Condon AM, Folsom SB, Detweiler J, Schmerfeld J, Cristol DA (2011) Mercury exposure affects the reproductive success of a free-living terrestrial songbird, the Carolina Wren (Thryothorus ludovicianus). Auk 128:759–769

Kenow KP, Meyer MW, Hines RK, Karasov WH (2007) Distribution and accumulation of mercury in tissues of captive-reared common loon (Gavia immer) chicks. Environ Toxicol Chem 26:1047–1055

Kobiela ME, Cristol DA, Swaddle JP (2015) Risk-taking behaviours in zebra finches affected by mercury exposure. Anim Behav 103:153–160

McKay JL, Maher CR (2012) Relationship between blood mercury levels and components of male song in Nelson's sparrows (Ammodramus nelsoni). Ecotoxicology 21:2391–2397

Monteiro LR, Furness RW (2001) Kinetics, dose-response, excretion, and toxicity of methylmercury in free-living Cory's shearwater chicks. Environ Toxicol Chem 20:1816–1823

Oberlander JG, Schlinger BA, Clayton NS, Saldanha CJ (2004) Neural aromatization accelerates the acquisition of spatial memory via an influence on the songbird hippocampus. Horm Behav 45:250–258

Pacyna EG, Pacyna JM, Steenhuisen F, Wilson S (2006) Global anthropogenic mercury emission inventory for 2000. Atmos Environ 40:4048–4063

Patel SN, Clayton NS, Krebs JR (1997) Hippocampal tissue transplants reverse lesion-induced spatial memory deficits in zebra finches (Taeniopygia guttata). J Neurosci 17:3861–3869

Provencher JF, Mallory ML, Braune BM, Forbes MR, Gilchrist HG (2014) Mercury and marine birds in Arctic Canada: effects, current trends, and why we should be paying closer attention. Environ Rev 22:244–255

Rimmer CC, McFarland KP, Evers DC, Miller EK, Aubry Y, Busby D, Taylor RJ (2005) Mercury concentrations in Bicknell's Thrush and other insectivorous passerines in montane forests of Northeastern North America. Ecotoxicology 14:223–240

Rimmer CC, Miller EK, McFarland KP, Taylor RJ, Faccio SD (2010) Mercury bioaccumulation and trophic transfer in the terrestrial food web of a montane forest. Ecotoxicology 19:697–709

Rutkiewicz J, Basu N (2013) Methylmercury egg injections: Part 1-Tissue distribution of mercury in the avian embryo and hatchling. Ecotoxicol Environ Saf 93:68–76

Sadananda M, Bischof H-J (2004) c-fos is induced in the hippocampus during consolidation of sexual imprinting in the zebra finch (Taeniopygia guttata). Hippocampus 14:19–27

Sakamoto M, Kakita A, Bezerra de Oliveira R, Sheng Pan H, Takahashi H (2004) Dose-dependent effects of methylmercury administered during neonatal brain spurt in rats. Dev Brain Res 152:171–176

Salvante KG, Vézina F, Williams TD (2010) Evidence for within-individual energy reallocation in cold-challenged, egg-producing birds. J Exp Biol 213(12):1991–2000. https://doi.org/10.1242/jeb.036319

Scheuhammer AM, Lord S, Wayland M, Burgess N, Champoux L, Elliott JE (2016) Major correlates of mercury in small fish and common loons (Gavia immer) across four large study sites in Canada. Environ Pollut 210:361–370

Scheuhammer AM, Meyer MW, Sandheinrich MB, Murray MW (2007) Effects of environmental methylmercury on the health of wild birds, mammals, and fish. AMBIO 36(1):12–19https://doi.org/10.1579/0044-7447(2007)36[12:eoemot]2.0.co;2

Seewagen CL (2010) Threats of environmental mercury to birds: knowledge gaps and priorities for future research. Bird Conserv Int 20:112–123

Selin NE (2009) Global biogeochemical cycling of mercury: a review. Annu Rev Environ Resour 34:43–63

Sitarek K, Gralewicz S (2009) Early developmental effects of separate or combined perinatal exposure to Methylmercury (MeHg) and 2,2',4,4',5,5'-Hexachlorobiphenyl (PCB 153) in the rat. Int J Occup Med Environ Health 22:89–105

Sokolowski K, Falluel-Morel A, Zhou X, DiCicco-Bloom E (2011) Methylmercury (MeHg) elicits mitochondrial-dependent apoptosis in developing hippocampus and acts at low exposures. Neurotoxicology 32:535–544

Spalding MG, Frederick PC, McGill HC, Bouton SN, Richey LJ, Schumacher IM, Blackmore CGM, Harrison J (2000) Histologic, neurologic, and immunologic effects of methylmercury in captive great egrets. J Wildl Dis 36:423–435

Varian-Ramos CW, Swaddle JP, Cristol DA (2014) Mercury reduces avian reproductive success and imposes selection: an experimental study with adult- or lifetime-exposure in zebra finch. PLoS One 9:e95674

Weiner J, Krabbenhoft D, Heinz G, Scheuhammer A (2003) Ecotoxicology of mercury. In: Hoffman DJ, Rattner BA, Burton Jr GA, Cairns Jr J (eds) Handbook of ecotoxicology, 2nd edn. CRC Press, Boca Raton, FL, p 409–463

Weiss B, Stern S, Cox C, Balys M (2005) Perinatal and lifetime exposure to methylmercury in the mouse: behavioral effects. Neurotoxicology 26:675–690

Whitney M, Cristol D (2017) Rapid depuration of mercury in songbirds accelerated by feather molt. Environ Toxicol Chem. https://doi.org/10.1002/etc.3888

Whitney MC, Cristol DA (2018) Impacts of Sublethal Mercury Exposure on Birds: A Detailed Review Rev Environ Contam Toxicol 244:113–163. https://doi.org/10.1007/398_2017_4

Williams TD (1996) Intra- and inter-individual variation in reproductive effort in captive-breeding zebra finches (Taeniopygia guttata).Can J Zool 74:85–91

Yu MS, Eng ML, Williams TD, Basu N, Elliott JE (2016) Acute embryotoxic effects but no long term reproductive effects of in ovo methylmercury exposure in zebra finches (Taeniopygia guttata): acute but no long-term effects of in ovo methylmercury exposure in a passerine model. Environ Toxicol Chem 9999:1–7

Yu MS, Eng ML, Williams TD, Guigueno MF, Elliott JE (2017) Assessment of neuroanatomical and behavioural effects of in ovo methylmercury exposure in zebra finches (Taeniopygia guttata). Neurotoxicology 59:33–39
Funding
Funding was provided by the Canadian Atmospheric Regulatory Agenda program of Environment Canada and National Science and Engineering Research Council Discovery grants RGPIN-155395-2012 (TDW) and RGPIN-2016-04583 (JE).
Ethics declarations
Conflict of interest
The authors declare that they have no conflict of interest.
Ethical approval
All applicable international, national, and/or institutional guidelines for the care and use of animals were followed. Specifically, work was conducted under a Simon Fraser University Animal Committee Permit (1070B-08) according to the guidelines of the Canadian Committee on Animal Care. This article does not contain any studies with human participants performed by any of the authors.
Electronic supplementary material
About this article
Cite this article
Morran, S.A.M., Elliott, J.E., Young, J.M.L. et al. Ecologically-relevant exposure to methylmercury during early development does not affect adult phenotype in zebra finches (Taeniopygia guttata). Ecotoxicology 27, 259–266 (2018). https://doi.org/10.1007/s10646-017-1890-4
Accepted:

Published:

Issue Date:
Keywords
Methylmercury

Avian

Growth

Behaviour

Reproduction

Zebra Finch