Abstract
Arsenic (As) is an environmental toxin pollutant that affects the numerous physiological processes of plants. In present study, two Brassica napus L. cultivars were subjected to various concentrations (0, 50, 100, and 200 µM) of As for 14 days, plants were examined for As subcellular distribution, photosynthesis parameters, oxidative stress, and ultrastructural changes under As-stress. Differential fraction analysis showed that significant amount of As was accumulated in the cell wall as compared to other organelles. Decline in photosynthetic efficiency under As stress was observed in term of reduced pigment contents and gas exchange parameters. Differential responses of antioxidants at both enzymatic and gene levels to higher As stress were more pronounced in cultivar ZS 758 as compared to Zheda 622. The qRT-PCR analysis showed that heat shock protein 90 (Hsp90) and metallothionein were over-expressed in As stressed B. napus plants. Disorganization of cell structure and the damages in different organelles were some of the obvious variations in cultivar Zheda 622 as compared to ZS 758.
Access options
Buy single article
Instant access to the full article PDF.
US$ 39.95
Tax calculation will be finalised during checkout.
Subscribe to journal
Immediate online access to all issues from 2019. Subscription will auto renew annually.
US$ 79
Tax calculation will be finalised during checkout.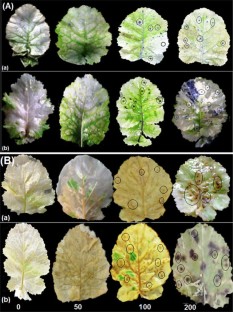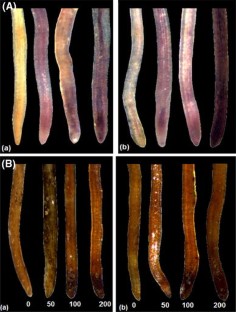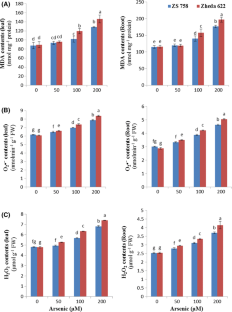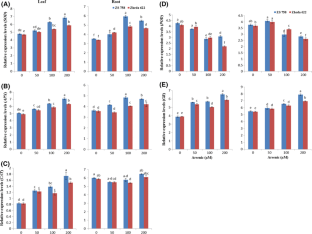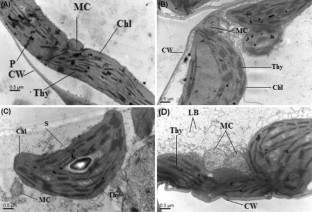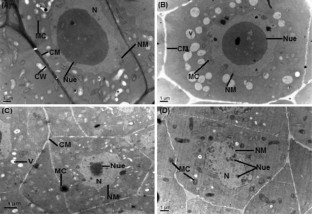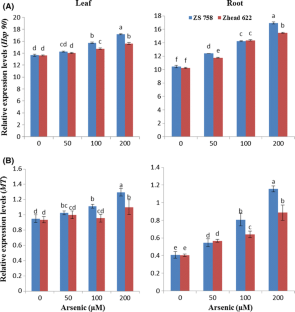 References
Aebi H (1984) Catalase in vitro. Methods Enzymol 105:121–126

Ahammed GJ, Choudhary SP, Chen S, Xia X, Shi K, Zhou Y, Yu J (2013) Role of brassinosteroids in alleviation of phenanthrene-cadmium co-contamination-induced photosynthetic inhibition and oxidative stress in tomato. J Exp Bot 64:199–213

Ahn O, Kim SH, Lee J, Kim HR, Lee HS, Kwak SS (2012) Three Brassica rapa metallothione in genes are differentially regulated under various stress conditions. Mol Biol Rep 39:2059–2067

Ahsan N, Lee DG, Kim KH, Alam I, Lee SH, Lee KW, Lee H, Lee BH (2010) Analysis of arsenic stress-induced differentially expressed proteins in rice leaves by two dimensional gel electrophoresis coupled with mass spectrometry. Chemosphere 78:224–231

Ali B, Qian P, Jin R, Ali S, Khan M, Aziz R, Tian T, Zhou WJ (2014) Physiological and ultra-structural changes in Brassica napus seedlings induced by cadmium stress. Biol Plant 58:131–138

Ansari MKA, Shao HB, Umar S, Ahmad A, Ansari HS, Iqbal M, Owens G (2013) Screening Indian mustard genotypes for phytoremediating arsenic-contaminated soils. Clean Soil Air Water 41:195–201

Austruy A, Wanat N, Moussard C, Vernay P, Joussein E, Ledoigt G, Hitmi A (2013) Physiological impacts of soil pollution and arsenic uptake in three plant species: Agrostis capillaris, Solanum nigrum and Vicia faba. Ecotoxicol Environ Safe 90:28–34

Bhattacharya P, Samal AC, Majumdar J, Banerjee S, Santra SC (2013) In-vitro assessment on the impact of soil arsenic in the eight rice varieties of West Bengal, India. J Hazard Mater 262:1091–1097

Brown MA, Zhu L, Schmidt C, Tucker PW (2007) Hsp90: from signal transduction to cell transformation. Biochem Biophys Res Commun 363:241–246

Caldelas C, Bort J, Febrero A (2012) Ultrastructure and subcellular distribution of Cr in Iris pseudacorus L. using TEM and X-ray microanalysis. Cell Biol Toxicol 28:57–68

Carrier P, Baryla A, Havaux M (2003) Cadmium distribution and microlocalization in oilseed rape (Brassica napus) after long-term growth on cadmium contaminated soil. Planta 216:939–950

Choudhury B, Chowdhury S, Biswas AK (2011) Regulation of growth and metabolism in rice (Oryza sativa L.) by arsenic and its possible reversal by phosphate. J Plant Int 6:15–24

Chun L, Shu F, Yun S, Li J, Yang LX, Xiao H (2007) Effects of arsenic on seed germination and physiological activities of wheat seedlings. J Environ Sci 19:725–732

Dronnet VM, Renard C, Axelos MAV, Thibault JF (1996) Heavy metals binding by pectins: selectivity, quantification and characterisation. In: Visser J, Voragen AGJ (eds) Pectins and pectinases, vol 14. Elsevier, Amsterdam, pp 535–540

Farooq MA, Li L, Ali B, Gill RA, Wang J, Ali S, Gill MB, Zhou WJ (2015) Oxidative injury and antioxidant enzymes regulation in arsenic-exposed seedlings of four Brassica napus L. cultivars. Environ Sci Pollut Res 22:10699–10712

Feng R, Wei C, Tu W, Tang S, Wu F (2011) Simultaneous hyperaccumulation of arsenic and antimony in Cretan brake fern: evidence of plant uptake and subcellular distribution. Microchem J 97:38–43

Feng R, Weic C, Tu S (2013) The roles of selenium in protecting plants against abiotic stresses. Environ Exp Bot 87:58–68

Foyer CH, Noctor G (2005) Oxidant and antioxidant signaling in plants: a reevaluation of the concept of oxidative stress in a physiological context. Plant Cell Environ 28:1066–1071

Fridovich I (1995) Superoxide radical and superoxide dismutases. Annu Rev Biochem 64:97–112

Gill RA, Ali B, Islam F, Farooq MA, Gill MB, Mwamba TM, Zhou WJ (2015) Physiological and molecular analyses of black and yellow seeded Brassica napus regulated by 5-aminolivulinic acid under chromium stress. Plant Physiol Biochem 94:130–143

Goupil P, Souguira D, Ferjani E, Faurec O, Hitmid A, Ledoigta G (2009) Expression of stress-related genes in tomato plants exposed to arsenic and chromium in nutrient solution. J Plant Physiol 166:1446–1452

Grispen VMJ, Nelissen HJM, Verkleij JAC (2006) Phytoextraction with Brassica napus L.: a tool for sustainable management of heavy metal contaminated soils. Environ Pollut 144:77–83

Gupta M, Sharma P, Sarin NB, Sinha AK (2009) Differential response of arsenic stress in two varieties of Brassica juncea L. Chemosphere 74:1201–1208

Gusman GS, Oliveira JA, Farnese FS, Cambraia J (2013) Arsenate and arsenite: the toxic effects on photosynthesis and growth of lettuce plants. Acta Physiol Plant 35:1201–1209

Hoagland D, Arnon D (1941) Physiological aspects of availability of nutrients for plant growth. Soil Sci 51:431–444

Hossain MA, Piyatida P, Jaime A, daSilva T, Fujita M (2012) Molecular mechanism of heavy metal toxicity and tolerance in plants: central role of glutathione in detoxification of reactive oxygen species and methylglyoxal and in heavy metal chelation. J Bot. doi:10.1155/2012/872875

Jain M, Gadre RP (2004) Inhibition of 5-amino levulinic acid dehydratase activity by arsenic in excised etiolated maize leaf segments during greening. J Plant Physiol 161:251–255

Jiang M, Zhang J (2001) Effect of abscisic acid on active oxygen species, antioxidative defence system and oxidative damage in leaves of maize seedlings. Plant Cell Physiol 42:1265–1273

Jiang M, Zhang J (2002) Water stress-induced abscisic acid accumulation triggers the increased generation of reactive oxygen species and up-regulates the activities of antioxidant enzymes in maize leaves. J Exp Bot 53:2401–2410

Leterrier M, Airaki M, Palma JM, Chaki M, Barroso JB, Corpas FJ (2012) Arsenic triggers the nitric oxide (NO) and S-nitrosoglutathione (GSNO) metabolism in Arabidopsis. Environ Pollut 166:136–143

Li WX, Chen TB, Huang ZC, Lei M, Liao XY (2006) Effect of arsenic on chloroplast ultrastructure and calcium distribution in arsenic hyperaccumulator Pteris vittata L. Chemosphere 62:803–809

Liao XY, Xie H, Chen TB, Xiao XY, Yan XL, Qu LM, Wu B (2007) Ultrastructure and subcellular distributions of arsenic and calcium in Pteris vittata L. Plant Nutr Fertil Sci 13:305–312 (in Chinese)

Livak KJ, Schmittgen TD (2001) Analysis of relative gene expression data using real-time quantitative PCR and the 2−ΔΔCT method. Methods 25:402–408

Luo H, Li H, Zhang X, Fu J (2011) Antioxidant responses and gene expression in perennial ryegrass (Lolium perenne L.) under cadmium stress. Ecotoxicology 20:770–778

Mahdieh S, Ghaderian S, Karimi MN (2013) Effect of arsenic on germination, photosynthesis and growth parameters of two winter wheat varieties in Iran. J Plant Nutr 36:651–664

Megateli S, Semsari S, Couderchet M (2009) Toxicity and removal of heavy metals (cadmium, copper, and zinc) by Lemna gibba. Ecotoxicol Environ Safe 72:1774–1780

Meharg AA, Hartley-Whitaker J (2002) Arsenic uptake and metabolism in arsenic resistant and nonresistant plant species. New Phytol 154:29–43

Milioni D, Hatzopoulos P (1997) Genomic organization of hsp90 gene family in Arabidopsis. Plant Mol Biol 35:955–961

Momoh EJJ, Zhou WJ (2001) Growth and yield responses to plant density and stage of transplanting in winter oilseed rape (Brassica napus L.). J Agron Crop Sci 186:253–259

Nakano Y, Asada K (1981) Hydrogen-peroxide is scavenged by ascorbate-specific peroxidase in spinach-chloroplasts. Plant Cell Physiol 22:867–880

Panda SK, Matsumoto H (2010) Changes in antioxidant gene expression and induction of oxidative stress in pea (Pisum sativum L.) under Al stress. Biometals 23:753–762

Pigna M, Cozzolino V, Violante A, Meharg AA (2009) Influence of phosphate on the arsenic uptake by wheat (Triticum durum L.) irrigated with arsenic solutions at three different concentrations. Water Air Soil Pollut 197:371–380

Porra RJ, Thompson WA, Kriedemann PE (1989) Determination of accurate extinction coefficients and simultaneous equations for assaying chlorophylls a and b extracted with four different solvents: verification of the concentration of chlorophyll standards by atomic absorption spectroscopy. Biochim Biophys Acta 975:384–394

Rahmana MA, Hasegawa H, Rahman MM, Islam MN, Miahc MAM, Tasmen A (2007) Effect of arsenic on photosynthesis, growth and yield of five widely cultivated rice (Oryza sativa L.) varieties in Bangladesh. Chemosphere 67:1072–1079

Romero-Puertas MC, Rodriguez-Serrano M, Corpas FJ, Gomez M, del Rio LA, Sandalio LM (2004) Cadmium-induced subcellular accumulation of O •−2 and H2O2 in pea leaves. Plant Cell Environ 27:1122–1134

Rout JY, Sahoo RSL (2013) Antioxidant enzyme gene expression in response to copper stress in Withania somnifera L. Plant Growth Regul 71:95–99

Schutzendubel A, Polle A (2002) Plant responses to abiotic stresses: heavy metal-induced oxidative stress and protection by mycorrhization. J Exp Bot 53:1351–1365

Seregin IV, Ivanov VB (1997) Histochemical investigation of cadmium and lead distribution in plants. Russ J Plant Physiol 44:791–796

Shanker AK (2008) Mode of action and toxicity of trace elements. In: MNV Prasad (ed) Trace elements as contaminants and nutrients: consequences in ecosystems and human health. Wiley, Hoboken. doi:10.1002/9780470370124.ch21

Sharma I (2012) Arsenic induced oxidative stress in plants. Biolgia 67:447–453

Shen S, Li XF, Cullen WR, Weinfeld M, Le XC (2013) Arsenic binding to proteins. Chem Rev 113:7769–7792

Shri M, Kumar S, Chakrabarty D, Kumar PT, Mallick S, Misra P, Shukla D, Mishra S, Srivastava S, Tripathi RD, Tuli R (2009) Effect of arsenic on growth, oxidative stress, and antioxidant system in rice seedlings. Ecotoxicol Environ Safe 72:1102–1110

Singh N, Ma LQ, Rathinasabapathi BM (2006) Metabolic adaptations to arsenic-induced oxidative stress in Pteris vittata L. and Pteris ensiformis L. Plant Sci 170:274–282

Srivastava M, Ma LQ, Singh N, Singh S (2006) Antioxidant responses of hyperaccumulator and sensitive Fern species to arsenic. Environ Exp Bot 56:1335–1342

Sun L, Yan XL, Liao XY, Wen Y, Chong ZY, Liang T (2011) Interactions of arsenic and phenanthrene on their uptake and antioxidative response in Pteris vittata L. Environ Pollut 159:3398–3405

Thordal-Christensen H, Zhang Z, Wei YD, Collinge DB (1997) Subcellular localization of H2O2 in plants. H2O2 accumulation in papillae and hypersensitive response during the barley-powdery mildew reaction. Plant J 11:1187–1194

Tombuloglu H, Semizoglu N, Sakcali S, Kekec G (2012) Boron induced expression of some stress-related genes in tomato. Chemosphere 86:433–438

Velikova V, Yordanov I, Edreva A (2000) Oxidative stress and some antioxidant systems in acid rain-treated bean plants. Plant Sci 151:59–66

Verma S, Dubey RS (2003) Led toxicity induces lipid peroxidation and alters the activities of antioxidants enzymes in growing rice plants. Plant Sci 164:645–655

Wang L, Yang L, Yang F, Li X, Song Y, Wang X, Hu X (2010) Involvements of H2O2 and metallothionein in NO-mediated tomato tolerance to copper toxicity. J Plant Physiol 167:1298–1306

Wu Z, Mc Grouther K, Chen D, Wu W, Wang H (2013) Subcellular distribution of metals within Brassica chinensis L. in response to elevated lead and chromium stress. J Agric Food Chem 61:4715–4722

Xiong J, An LY, Lu H, Zhu C (2009) Exogenous nitric oxide enhances cadmium tolerance of rice by increasing pectin and hemicellulose contents in root cell wall. Planta 230:755–765

Zeng F, Zhou W, Qiu B, Ali S, Wu F, Zhang G (2011) Subcellular distribution and chemical forms of chromium in rice plants suffering from different levels of chromium toxicity. J Plant Nutr Soil Sci 174:249–256

Zhang WF, Zhang F, Raziuddin R, Gong HJ, Yang ZM, Lu L, Ye QF, Zhou WJ (2008) Effects of 5-aminolevulinic acid on oilseed rape seedling growth under herbicide toxicity stress. J Plant Growth Regul 27:159–169

Zhao FJ, Ma JF, Meharg AA, McGrath SP (2009) Arsenic uptake and metabolism in plants. New Phytol 181:777–794

Zhou WJ, Leul M (1999) Uniconazole-induced tolerance of rape plants to heat stress in relation to changes in hormonal levels, enzyme activities and lipid peroxidation. Plant Growth Regul 27:99–104

Zhou YQ, Huang SZ, Yu SL, Gu JG, Zhao JZ, Han YL, Fu JJ (2010) The physiological response and sub-cellular localization of lead and cadmium in Iris pseudacorus L. Ecotoxicology 19:69–76
Acknowledgments
This study was supported by the National High Technology Research and Development Program of China (2013AA103007), Jiangsu Collaborative Innovation Center for Modern Crop Production, Special Fund for Agro-scientific Research in the Public Interest (201303022), the Science and Technology Department of Zhejiang Province (2012C12902-1), and China Postdoctoral Science Foundation (2015M570512).
Ethics declarations
Conflict of interest
The authors declare that the research was conducted in the absence of any potential conflict of interest.
About this article
Cite this article
Farooq, M.A., Gill, R.A., Ali, B. et al. Subcellular distribution, modulation of antioxidant and stress-related genes response to arsenic in Brassica napus L.. Ecotoxicology 25, 350–366 (2016). https://doi.org/10.1007/s10646-015-1594-6
Accepted:

Published:

Issue Date:
Keywords
Arsenic toxicity

Antioxidant enzyme activities

Brassica napus L.

Oxidative stress

Subcellular fractions