Abstract
Pharmaceuticals and Personal care products (PPCPs) are often found in effluents from wastewater treatment plants (WWTPs) due to insufficient removal during wastewater treatment processes. To understand the factors affecting the removal of PPCPs in classical activated sludge WWTPs, the present study was performed to assess the removal of frequently occurring pharmaceuticals (Naproxen, Fenoprofen, Ketoprofen, Dichlofenac, Carbamazepine) and the biocide Triclosan in activated sludge from four different Danish WWTPs. The respective degradation constants were compared to operational parameters previous shown to be of importance for degradation of micropollutants such as biomass concentration, and sludge retention time (SRT). The most rapid degradation, was observed for NSAID pharmaceuticals (55–90 % for Fenoprofen, 77–94 % for Ketoprofen and 46–90 % for Naproxen), followed by Triclosan (61–91 %), while Dichlofenac and Carbamazepine were found to be persistent in the systems. Degradation rate constants were calculated as 0.0026–0.0407 for NSAID pharmaceuticals and 0.0022–0.0065 for triclosan. No relationships were observed between degradation rates and biomass concentrations in the diverse sludges. However, for the investigated PPCPs, the optimal SRT was within 14–20 days (for these values degradation of these PPCPs was the most efficient). Though all of these parameters influence the degradation rate, none of them seems to be overall decisive. These observations indicate that the biological composition of the sludge is more important than the design parameters of the respective treatment plant.
Access options
Buy single article
Instant access to the full article PDF.
US$ 39.95
Tax calculation will be finalised during checkout.
Subscribe to journal
Immediate online access to all issues from 2019. Subscription will auto renew annually.
US$ 79
Tax calculation will be finalised during checkout.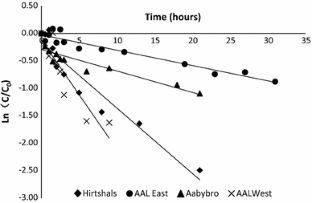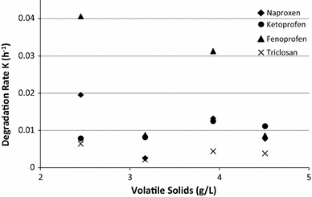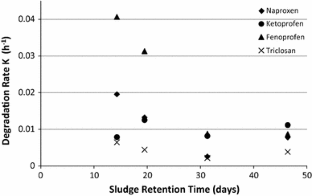 References
Andresen J, Bester K (2006) Elimination of organophosphate ester flame retardants and plasticizers in drinking water purification. Water Res 40:621–629

Bester K (2005) Fate of triclosan and triclosan-methyl in sewage treatment plants and surface waters. Arch Environ Contam Toxicol 49(1):9–18

Chen XJ, Bester K (2009) Determination of organic micro-pollutants such as personal care products, plasticizers and flame retardants in sludge. Anal Bioanal Chem 395:1877–1884

Chen XJ, Nielsen JL, Furgal K, Liu YL, Lolas IB, Bester K (2011) Biodegradation of triclosan and formation of methyl-triclosan in activated sludge under aerobic conditions. Chemosphere 84:452–456

Cirja M, Ivashechkin P, Schäffer A, Corvini PFX (2008) Factors affecting the removal of organic micropollutants from wastewater in conventional treatment plants (CTP) and membrane bioreactors (MBR). Rev Environ Sci Biotechnol 7:61–78

Coogan MA, Edziyie RE, La Point TW, Venables BJ (2007) Algal bioaccumulation of triclocarban, triclosan, and methyl-triclosan in a North Texas wastewater treatment plant receiving stream. Chemosphere 67:1911–1918

Daughton CG, Ternes TA (1999) Pharmaceuticals and personal care products in the environment: agents of subtle change? Environ Health Perspect 107(6):907–938

Dursun A, Suleyman K, Ersan O (2012) Toxicity of non-steroidal anti-inflammatory drugs: a review of melatonin and diclofenac sodium association. Histol Histopathol 27:417–436

Falås P, Baillon-Dhumez A, Andersen HR, Ledin A, Jansen JL (2012) Suspended biofilm carrier and activated sludge removal of acidic pharmaceuticals. Water Res 46:1167–1175

Huang MH, Li YM, Gu GW (2008) The effects of hydraulic retention time and sludge retention time on the fate of di-(2-ethylhexyl) phthalate in a laboratory-scale anaerobic–anoxic–aerobic activated sludge system. Bioresour Technol 99:8107–8111

Joss A, Zabczynski S, Gobel A, Hoffmann B, Loffler D, McArdell CS, Ternes TA, Thomsen A, Siegrist H (2006) Biological degradation of pharmaceuticals in municipal wastewater treatment: proposing a classification scheme. Water Res 40:1686–1696

Koh YKK, Chiu TY, Boobis AR, Scrimshaw MD, Bagnall JP, Soares A, Pollard S, Cartmell E, Lester JN (2009) Influence of operating parameters on the biodegradation of steroid estrogens and nonylphenolic compounds during biological wastewater treatment processes. Environ Sci Technol 43:6646–6654

Kolpin DW, Furlong ET, Meyer MT, Thurman EM, Zaugg SD, Barber LB, Buxton HT (2002) Pharmaceuticals, hormones, and other organic wastewater contaminants in U.S. streams, 1999–2000: a national reconnaisasance. Environ Sci Technol 36:1202–1211

Metcalf and Eddy Inc, Revised by Tchobanoglous G, Burton FL, Stensel HD (2004) Wastewater engineering, treatment and reuse. International edition, 4th edn. McGraw Hill, New York, pp 123–126

Miao XS, Yang JJ, Metcalfe CD (2005) Carbamazepine and its metabolites in wastewater and in biosolids in a municipal wastewater treatment plant. Environ Sci Technol 39:7469–7475

Monteiro SC, Boxall ABA (2009) Factors affecting the degradation of pharmaceuticals in agricultural soils. Environ Toxicol Chem 28:2546–2554

Onesios KM, Yu JT, Bouwer EJ (2009) Biodegradation and removal of pharmaceuticals and personal care products in treatment systems: a review. Biodegradation 20:441–466

Páxeus N (2004) Removal of selected non-steroidal anti-inflammatory drugs (NSAIDs), gemfibrozil, carbamazepine, beta-blockers, trimethoprim and triclosan in conventional wastewater treatment plants in five EU countries and their discharge to the aquatic environment. Water Sci Technol 50:253–260

Radjenovic J, Petrovic M, Barcelo D (2007) Analysis of pharmaceuticals in wastewater and removal using a membrane bioreactor. Anal Bioanal Chem 387:1365–1377

Sipma J, Osuna B, Collado N, Monclus H, Ferrero G, Comas J, Rodriguez-Roda I (2010) Comparison of removal of pharmaceuticals in MBR and activated sludge systems. Desalination 250:653–659

Solomon KR, Hillis DG, Lissemore L, Sibley PK (2009) Risks of agricultural pharmaceuticals in surface water systems and soils. Vet Pharm Environ 1018:191–204

Stasinakis AS, Petalas AV, Mamais D, Thomaidis NS, Gatidou G, Lekkas TD (2007) Investigation of triclosan fate and toxicity in continuous-flow activated sludge systems. Chemosphere 68:375–381

Suárez S, Carballa M, Omil F, Lema JM (2008) How are pharmaceutical and personal care products (PPCPs) removed from urban wastewaters? Rev Environ Sci Biotechnol 7:125–138

Weber S, Leuschner P, Kampfer P, Dott W, Hollender J (2005) Degradation of estradiol and ethinyl estradiol by activated sludge and by a defined mixed culture. Appl Microbiol Biot 67:106–112

Wilson BA, Smith VH, DeNoyelles F, Larive CK (2003) Effects of three pharmaceutical and personal care products on natural freshwater algal assemblages. Environ Sci Technol 37:1713–1719

Xu N, Johnson AC, Jurgens MD, Llewellyn NR, Hankins NP, Darton RC (2009) Estrogen concentration affects its biodegradation rate in activated sludge. Environ Toxicol Chem 28:2263–2270

Zhang Y, Geißen SU, Gal C (2008) Carbamazepine and diclofenac: removal in wastewater treatment plants and occurrence in water bodies. Chemosphere 73:1151–1161
Acknowledgments
This study was supported by the Danish Research Council through the FTP project "In situ characterization of microbial degraders of Triclosan and methyl-triclosan from wastewater treatment plants" as well as the key laboratory of pollution ecology and environmental engineering, Institute of Applied Ecology, Chinese Academy of Sciences, and was carried out at Aalborg University.
Ethics declarations
Conflict of interest
The authors declare that they have no conflict of interest.
About this article
Cite this article
Chen, X., Vollertsen, J., Nielsen, J.L. et al. Degradation of PPCPs in activated sludge from different WWTPs in Denmark. Ecotoxicology 24, 2073–2080 (2015). https://doi.org/10.1007/s10646-015-1548-z
Accepted:

Published:

Issue Date:
Keywords
PPCPs

Sludge

Biodegradation

Sludge retention time

Wastewater treatment plants