Abstract
Metals constitute an important group of abiotic stressors that elicit stress responses in marine algae that include the production of reactive oxygen species (ROS). Silver (Ag) is a highly toxic metal to organisms but despite this there are relatively few studies on how it affects marine macroalgae (seaweeds). In a landmark study published in 1977 the first information was provided on the accumulation of Ag in Fucus spp. (Phaeophyceae) from the Looe estuary, located in south-west England, an area with a long history of mining activity. In the present study, the estuary has been re-visited and the patterns of Ag accumulation in two Fucus spp. and sediment re-examined after 35 years. We conclude that Ag concentrations in sediment and macroalgae from specific sites within the catchment remain high, but more generally sediment concentrations have declined by approximately 65 % and the dissolved, bioavailable fraction by 24 % over this period. In addition, from laboratory studies we provide data on the speciation and toxic effects of Ag under different salinity regimes in the euryhaline brown seaweed, Fucus ceranoides. From these exposure experiments, it was found that with increasing Ag concentrations growth was inhibited and lipid peroxidation associated with ROS production increased. The magnitude of the toxic effects was greater at a salinity of 10 than 28 psu which reflects the greater bioavailability of the toxic species of Ag (Ag+ and AgCl0) at reduced salinities. These findings emphasise the importance of investigating the effects of metal pollution in conjunction with other, natural, environmental stressors such as salinity.
This is a preview of subscription content, log in to check access.
Access options
Buy single article
Instant access to the full article PDF.
US$ 39.95
Tax calculation will be finalised during checkout.
Subscribe to journal
Immediate online access to all issues from 2019. Subscription will auto renew annually.
US$ 99
Tax calculation will be finalised during checkout.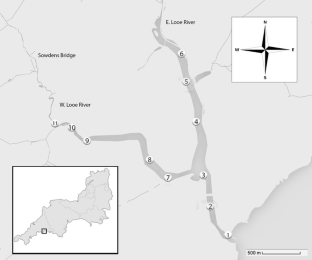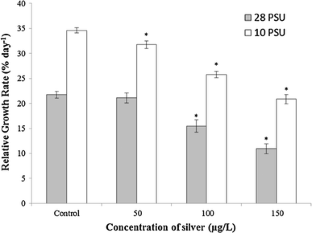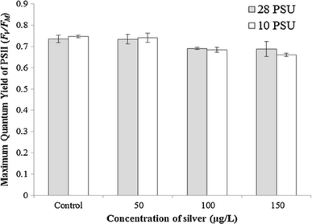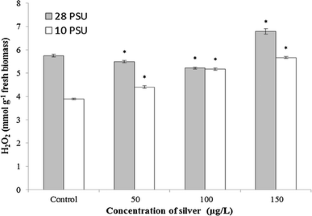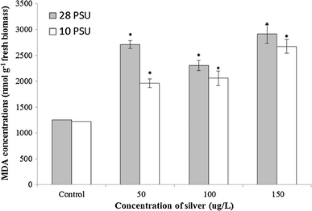 References
Barreiro R, Picaldo L, Real C (2002) Biomonitoring heavy metals in estuaries: a field comparison of two brown algae species inhabiting upper estuarine reaches. Environ Monit Assess 75:121–134. doi:10.1023/A:1014479612811

Brown MT, Newman JE (2003) Physiological responses of Gracilariopsis longissima (S.G. Gmelin) Steentoft, L.M. Irvine and Farnham (Rhodophyceae) to sub-lethal copper concentrations. Aquat Toxicol 64:201–213. doi:10.1016/S0166-445X(03)00054-7

Bryan GW (1983) Brown seaweed, Fucus vesiculosus, and the gastropod, Littorina littorea, as indicators of trace-metal availability in estuaries. Sci Total Environ 28:91–104. doi:10.1016/S0048-9697(83)80010-2

Bryan GW (1984) Pollution due to heavy metals and their compounds. In: Kinne O (ed) Marine ecology part 3. Wiley, London, pp 1289–1430

Bryan GW, Gibbs PE (1983) Heavy metals in the Fal Estuary, Cornwall: a study of long-term contamination by mining waste and its effects on estuarine organisms. Occas Publ Mar Biol Assoc UK 2:1–112

Bryan GW, Hummerstone LG (1977) Indicators of heavy metal contamination in the Looe Estuary (Cornwall) with particular regard to silver and lead. J Mar Biol Assoc UK 57:75–92. doi:10.1017/S002531540002124X

Burzynski M, Zurek A (2007) Effects of copper and cadmium on photosynthesis in cucumber cotyledons. Photosynthetica 45:239–244. doi:10.1007/s11099-007-0038-9

Cain DJ, Luoma SN, Wallace WG (2004) Linking metal bioaccumulation of aquatic insects to their distribution patterns in a mining-impacted river. Environ Toxicol Chem 23:1463–1473. doi:10.1897/03-291

Cairrao E, Couderchet M, Soares AMVM, Guilhermino L (2004) Glutathione-S-transferase activity of Fucus spp. as a biomarker of environmental contamination. Aquat Toxicol 70:277–286. doi:10.1016/j.aquatox.2004.09.005

Collen J, Davison IR (1999) Reactive oxygen production and damage in intertidal Fucus Spp. (Phaeophyceae). J Phycol 35:54–61. doi:10.1046/j.1529-8817.1999.3510054.x

Dewey H (1921) Lead, silver-lead and zinc ores of Cornwall, Devon and Somerset. Economic Memoirs (Special Reports on Mineral Resources), Geological Survey of the United Kingdom 21, 72

Esposito A, Pagnanelli F, Lodi A, Soliso C, Veglio F (2001) Biosorption of heavy metals by Sphaerotilus natans: an equilibrium study at different pH and biomass concentrations. Hydrometallurgy 60:129–141. doi:10.1016/S0304-386X(00)00195-X

Halliwell B, Gutteridge JMC (1989) Free radicals in biology and medicine, 2nd edn. Clarendon Press, Oxford

Han T, Kang SH, Park JS, Lee HK, Brown MT (2008) Physiological responses of Ulva pertusa and U. armoricana to copper exposure. Aquat Toxicol 86:176–184. doi:10.1016/j.aquatox.2007.10.016

Hellebust JA (1976) Osmoregulation. Annu Rev Plant Physiol 27:485–505

Huang J, Redmann RE (1995) Responses of growth, morphology, and anatomy to salinity and calcium supply in cultivated and wild barley. Can J Bot 73:1859–1866. doi:10.1139/b95-198

Khfaji AK, Norton TA (1979) The effects of salinity on the distribution of Fucus ceranoides. Estuar Coast Mar Sci 8:433–439. doi:10.1016/0302-3524(79)90060-4

Langston WJ, Chesman BS, Burt GR, Hawkins SJ, Readman J, Worsfold P (2003) Characterisation of the South West European Marine Sites: Plymouth Sound and Estuaries cSAC, SPA. Marine Biological Association, Plymouth

Li R, Brawley SH (2004) Improved survival under heat stress in intertidal embryos (Fucus spp.) simultaneously exposed to hypersalinity and the effect of parental thermal history. Mar Biol 144:205–213. doi:10.1007/s00227-003-1190-9

Luoma SN (2008) Silver nanotechnologies and the environment: old problems or new challenges? Project on emerging nanotechnologies

Luoma SN, Ho YB, Bryan GW (1995) Fate, bioavailability and toxicity of silver in estuarine environments. Mar Pollut Bull 31:44–54. doi:10.1016/0025-326X(95)00081-W

Maharana D, Jena K, Pise NM, Jagtap TG (2010) Assessment of oxidative stress indices in a marine macro brown alga Padina tetrastromatica (Hauck) from comparable polluted coastal regions of the Arabian Sea, West coast of India. J Environ Sci 22:1413–1418. doi:10.1016/S1001-0742(09)60268-0

Mamboya FA (2007) Heavy metal contamination and toxicity, studies of macroalgae from the Tanzanian Coast: 1–48. Stockholm University

Maxwell K, Johnson GN (2000) Chlorophyll fluorescence—a practical guide. J Exp Bot 51:659–668. doi:10.1093/jexbot/51.345.659

Morel FMM, Reuter JG, Anderson DM, Guillard RRL (1979) Aquil- chemically defined phytoplankton culture-medium for trace-metal studies. J Phycol 15:135–141. doi:10.1111/j.1529-8817.1979.tb02976.x

Navabpour S, Morris K, Allen R, Harrison E, Mackerness SAH, Buchanan- Wollaston V (2003) Expression of senescence-enhanced genes in response to oxidative stress. J Exp Bot 54:2285–2292. doi:10.1093/jxb/erg267

Navarro E, Piccapietra F, Wagner B, Marconi F, Kaegi R, Odzak N, Sigg L, Behra R (2008) Toxicity of Silver Nanoparticles to Chlamydomonas reinhardtii. Environ Sci Technol 42:8959–8964. doi:10.1021/es801785m

Pinto E, Sigaud-Kutner TCS, Leitao MAS, Okamotmo OK, Morse D, Colepicolo P (2003) Heavy metal induces oxidative stress in algae. J Phycol 39:1008–1018. doi:10.1111/j.0022-3646.2003.02-193.x

Price NM, Harrison GI, Hering JG, Hudson RJ, Nirel PMV, Palenik B, Morel FMM (1989) Preparation and chemistry of the artificial algal culture medium Aquil. Biol Oceanogr 6:443–461. doi:10.1080/01965581

Rai LC, Gaur JP, Kumar HD (2008) Phycology and heavy metal pollution. Biol Rev 56:99–151. doi:10.1111/j.1469-185X.1981.tb00345.x

Rainbow PS, Kriefman S, Smith BD, Luoma SN (2011) Have the bioavailabilities of trace metals to a suite of biomonitors changed over three decades in SW England estuaries historically affected by mining. Sci Total Environ 409:1589–1602. doi:10.1016/j.scitotenv.2011.01.012

Ralph PJ, Smith RA, Macinnis-Ng CMO, Seery CR (2007) Use of fluorescence-based ecotoxicological bioassays in monitoring toxicants and pollution in aquatic systems: review. Toxicol Environ Chem 89:589–607. doi:10.1080/02772240701561593

Ratte HT (1999) Bioaccumulation and toxicity of silver compounds: a review. Environ Toxicol Chem 18:89–108. doi:10.1002/etc.5620180112

Salgado LT, Andrade LR, Amado-Filho GM (2005) Localization of specific monosaccharide in cells of the brown alga Padina gymnospora and the relation to heavy-metal accumulation. Protoplasma 225:123–128. doi:10.1007/s00709-004-0066-2

Suter GW, Lewis MA (1989) Silver transport and impact in estuarine and marine systems. In: Aquatic toxicology and environmental fate, vol 11, pp 5–18. ASTM STP 1007, Philadelphia

Szivak I, Behra R, Sigg L (2009) Metal induced reactive oxygen species production in Chlamydomonas reinhardtii (Chlorophyceae). J Phycol 45:427–435. doi:10.1111/j.1529-8817.2009.00663.x

Tappin AD, Barriada JL, Braungardt CB, Evans EH, Patey MD, Achterberg EP (2010) Dissolved silver in European estuarine and coastal waters. Water Res 44:4204–4216. doi:10.1016/j.watres.2010.05.022

Tipping E (1998) Humic ion-binding model VI: an improved description of the interactions of protons and metal ions with humic substances. Aquat Geochem 4:3–47. doi:10.1023/a:1009627214459

Turner A, Brice D, Brown MT (2012) Interactions of silver nanoparticles with the marine macroalga, Ulva lactuca. Ecotoxicology 21:148–154. doi:10.1007/s10646-011-0774-2

Varma R, Turner A, Brown MT (2011) Bioaccumulation of metals by Fucus ceranoides in estuaries of South West England. Mar Pollut Bull 62:2557–2562. doi:10.1016/j.marpolbul.2011.08.016

Varma R, Turner A, Brown MT, Millward GE (2013) Metal accumulation kinetics by the estuarine macroalga, Fucus ceranoides. Estuar Coast Shelf Sci 128:33–40. doi:10.1016/j.ecss.2013.05.014

Vass I, Kirilovsky D, Perewoska I, Máté Z, Nagy F, Etienne AL (2000) UV-B radiation induced exchange of the D1 reaction centre subunits produced from the psbA2 and psbA3 genes in the Cyanobacterium synechocystis sp. PCC 6803. Eur J Biochem 167:2640–2648. doi:10.1046/j.1432-1327.2000.01274.x

Wood CM, Grosell M, McDonald MD, Playle RC, Walsh PJ (2010) 532 Effects of waterborne silver in a marine teleost, the gulf toadfish533 (Opsanus beta): effects of feeding and chronic exposure on bioaccumulation. Aquat Toxicol 99:138–148. doi:10.1016/j.aquatox.2010.04.012

Ye J, Li Y, Teruya K, Katakura Y, Ichikawa A, Eto H, Hosoi M, Nishimoto S, Shirahata S (2005) Enzyme-digested fucoidan extracts derived from seaweed Mozuku of Cladosiphon novae-caledoniae kylin inhibit invasion and angiogenesis of tumour cells. Cytotechnology 47:117–126. doi:10.1007/s10616-005-3761-8

Zhang ZS, Yang C, Gao HY, Zhang LT, Fan XL, Liu MJ (2014) The higher sensitivity of PSI to ROS results in lower chilling–light tolerance of photosystems in young leaves of cucumber. J Photochem Photobiol B 137:127–134. doi:10.1016/j.jphotobiol.2013.12.012
Acknowledgments
We gratefully acknowledge technical support provided by Angela Harrop, Andrew Atfield and Andrew Fisher.
Conflict of interest
The authors declare that they have no conflicts of interest.
About this article
Cite this article
Ramesh, K., Berry, S. & Brown, M.T. Accumulation of silver by Fucus spp. (Phaeophyceae) and its toxicity to Fucus ceranoides under different salinity regimes. Ecotoxicology 24, 1250–1258 (2015). https://doi.org/10.1007/s10646-015-1495-8
Accepted:

Published:

Issue Date:
Keywords
Fucus spp.

Silver

Accumulation

Toxicity

Salinity