Abstract
This study examined how genotypes of Daphnia pulicaria from a single population, separated by thousands of generations of evolution in the wild, differ in their sensitivity to a novel anthropogenic stressor. These genotypes were resurrected from preserved resting eggs isolated from sediments belonging to three time periods: 2002–2008, 1967–1977, and 1301–1646 A.D. Toxicity of the organophosphate insecticide chlorpyrifos was determined through a series of acute toxicity tests. There was a significant dose–response effect in all genotypes studied. Moreover, significant variation in toxicity among genotypes within each time period was detected. Importantly, a significant effect of time period on sensitivity to chlorpyrifos was found. Analysis of the median effect concentrations (EC50s) for genotypes within each time period indicated that the 1301–1646 genotypes were 2.7 times more sensitive than the 1967–1977 genotypes. This trend may be partially explained by microevolutionary shifts in response to cultural eutrophication.
This is a preview of subscription content,
to check access.
Access this article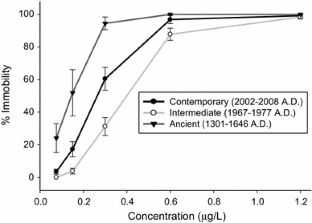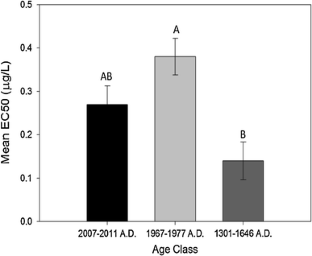 Similar content being viewed by others
References
Atterberry TT, Burnett WT, Chambers JE (1997) Age-related differences in parathion and chlorpyrifos toxicity in male rats: target and nontarget esterase sensitivity and cytochrome P450-mediated metabolism. Toxicol Appl Pharmacol 147(2):411–418

Bailey SA, Duggan IC, van Overdijk CDA, Johengen TH, Reid DF, MacIsaac HJ (2004) Salinity tolerance of diapausing eggs of freshwater zooplankton. Freshw Biol 49(3):286–295

Baker JE, Eisenreich SJ, Eadie BJ (1991) Sediment trap fluxes and benthic recycling of organic carbon, polycyclic aromatic hydrocarbons, and polychlorobiphenyl congeners in Lake Superior. Environ Sci Technol 25(3):500–509

Barata C, Baird DJ, Mitchell SE, Soares AMVM (2002) Among- and within-population variability in tolerance to cadmium stress in natural populations of Daphnia magna: implications for ecological risk assessment. Environ Toxicol Chem 21(5):1058–1064

Barron M, Plakas S, Wilga P (1991) Chlorpyrifos pharmacokinetics and metabolism following intravascular and dietary administration in channel catfish. Toxicol Appl Pharmacol 108(3):474–482

Bickham J (2011) The four cornerstones of evolutionary toxicology. Ecotoxicology 20(3):497–502

Carvalho RA, Omoto C, Field LM, Williamson MS, Bass C (2013) Investigating the molecular mechanisms of organophosphate and pyrethroid resistance in the fall armyworm Spodoptera frugiperda. PLoS One 8(4):e62268

Clark B, Di Giulio R (2012) Fundulus heteroclitus adapted to PAHs are cross-resistant to multiple insecticides. Ecotoxicology 21(2):465–474

Coats JR, Symonik DM, Bradbury SP, Dyer SD, Timson LK, Atchison GJ (1989) Toxicology of synthetic pyrethroids in aquatic organisms: an overview. Environ Toxicol Chem 8(8):671–679

Costa LG, Giordano G, Guizzetti M, Vitalone A (2007) Neurotoxicity of pesticides: a brief review. Front Biosci 13:1240–1249

Dillon ME, Wang G, Huey RB (2010) Global metabolic impacts of recent climate warming. Nature 467(7316): 704-706.

Decaestecker E, Gaba S, Raeymaekers JAM, Stoks R, Van Kerckhoven L, Ebert D, De Meester L (2007) Host-parasite 'Red Queen' dynamics archived in pond sediment. Nature 450(7171):870–873

DeMott WR, Zhang Q-X, Carmichael WW (1991) Effects of toxic cyanobacteria and purified toxins on the survival and feeding of a copepod and three species of Daphnia. Limnol Oceanogr 36(7):1346–1357

Derry A, Arnott S, Boag P (2010) Evolutionary shifts in copepod acid tolerance in an acid-recovering lake indicated by resurrected resting eggs. Evol Ecol 24(1):133–145

Frisch D, Morton PK, Chowdhury PR, Culver BW, Colbourne JK, Weider LJ, Jeyasingh PD (2014) A millennial-scale chronicle of evolutionary responses to cultural eutrophication in Daphnia. Ecol Lett 17(3):360–368

Giesy JP, Solomon KR, Coats JR, Dixon KR, Giddings JM, Kenaga EE (1999) Chlorpyrifos: ecological risk assessment in North American aquatic environments. Rev Environ Contam Toxicol 160:1–129

Gilbert JJ (1990) Differential effects of Anabaena Affinis on Cladocerans and Rotifers: mechanisms and implications. Ecology 71(5):1727–1740

Golenda C, Forgash AJ (1985) Fenvalerate cross-resistance in a resmethrin-selected strain of the house fly. J Econ Entomol 78(1):19–24

Hairston NG Jr, Lampert W, Cáceres CE, Holtmeier CL, Weider LJ, Gaedke U, Fischer JM, Fox JA, Post DM (1999) Lake ecosystems: rapid evolution revealed by dormant eggs. Nature 401(446). doi:10.1038/46731

Hairston NG Jr, Holtmeier CL, Lampert W, Weider LJ, Post DM, Fischer JM, Fox JA, Gaedke U (2001) Natural selection for grazer resistance to toxic cyanobacteria: evolution of phenotypic plasticity? Evolution 55(11):2203–2214

Hemingway J, Small GJ, Monro AG (1993) Possible mechanisms of organophosphorus and carbamate insecticide resistance in German cockroaches (Dictyoptera: Blattelidae) from different geographical areas. J Econ Entomol 86(6):1623–1930

Jarvinen AW, Nordling BR, Henry ME (1983) Chronic toxicity of Dursban (Chlorpyrifos) to the fathead minnow (Pimephales promelas) and the resultant acetylcholinesterase inhibition. Ecotoxicol Environ Saf 7(4):423–434

Jeyasingh PD (2007) Plasticity in metabolic allometry: the role of dietary stoichiometry. Ecol Lett 10(4):282–289

Jeyasingh PD, Weider LJ, Sterner RW (2009) Genetically-based trade-offs in response to stoichiometric food quality influence competition in a keystone aquatic herbivore. Ecol Lett 12(11):1229–1237

Johnson N, Kliman R (2002) Hidden evolution: progress and limitations in detecting multifarious natural selection. Genetica 114(3):281–291

Kamrin MA (1997) Pesticide profiles: toxicity, environmental impact, and fate. CRC Press, Boca Raton

Kilham S, Kreeger D, Lynn S, Goulden C, Herrera L (1998) COMBO: a defined freshwater culture medium for algae and zooplankton. Hydrobiologia 377(1–3):147–159

Lampert W (2011) Daphnia: development of a model organism in ecology and evolution. Int Ecol Inst, Nordbünte

Lydy MJ, Belden JB, Ternes MA (1999) Effects of temperature on the toxicity of M-parathion, chlorpyrifos, and pentachlorobenzene to Chironomus tentans. Arch Environ Contam Toxicol 37(4):542–547

Meyer JN, Di Giulio RT (2003) Heritable adaptation and fitness costs in killifish (Fundulus heteroclitus) inhabiting a polluted estuary. Ecol Appl 13(2):490–503

Minnesota Department of Agriculture: Pesticide Management Unit (2013) 2013 Annual monitoring report. http://www.mda.state.mn.us/~/media/Files/chemicals/maace/2013wqmreport.pdf

Moore M, Huggett D, Gillespie W Jr, Rodgers J Jr, Cooper C (1998) Comparative toxicity of chlordane, chlorpyrifos, and aldicarb to four aquatic testing organisms. Arch Environ Contam Toxicol 34(2):152–157

Nacci D, Champlin D, Jayaraman S (2010) Adaptation of the estuarine fish Fundulus heteroclitus (Atlantic killifish) to polychlorinated biphenyls (PCBs). Estuar Coasts 33(4):853–864

Navis S, Waterkeyn A, Voet T, De Meester L, Brendonck L (2013) Pesticide exposure impacts not only hatching of dormant eggs, but also hatchling survival and performance in the water flea Daphnia magna. Ecotoxicology 22(5):803–814

Oi M, Dauterman WC, Motoyama N (1992) Toxicokinetic analysis, of dermally applied diazinon in resistant and susceptible houseflies, Musca domestica L. Appl Entomol Zool 27(3):371–383

Orsini L, Schwenk K, De Meester L, Colbourne JK, Pfrender ME, Weider LJ (2013) The evolutionary time machine: using dormant propagules to forecast how populations can adapt to changing environments. Trends Ecol Evol 28(5):274–282

Palma P, Palma V, Fernandes R, Soares A, Barbosa I (2008) Acute toxicity of atrazine, endosulfan sulphate and chlorpyrifos to Vibrio fischeri, Thamnocephalus platyurus and Daphnia magna, relative to their concentrations in surface waters from the Alentejo region of Portugal. Bull Environ Contam Toxicol 81(5):485–489

Roy Chowdhury P, Frisch D, Becker D, Lopez J, Weider L, Colbourne J, Jeyasingh PD (2014) Differential transcriptomic responses of ancient and modern Daphnia genotypes to phosphorus supply. Mol Ecol. doi:10.1111/mec.13009.

Safe S, Hutzinger O (1984) Polychlorinated biphenyls (PCBs) and polybrominated biphenyls (PBBs): biochemistry, toxicology, and mechanism of action. Crit Rev Toxicol 13(4):319–395

Sarnelle O, Wilson AE (2005) Local adaptation of Daphnia pulicaria to toxic cyanobacteria. Limnol Oceanogr 50(5):1565–1570

Siegfried BD, Ono M (1993) Parathion toxicokinetics in resistant and susceptible strains of the Greenbug (Homoptera: Aphididae). J Econ Entomol 86(5):1317–1323

Sørensen JG, Kristensen TN, Loeschcke V (2003) The evolutionary and ecological role of heat shock proteins. Ecol Lett 6(11):1025–1037

Steinberg CEW, Hartmann HM (1988) Planktonic bloom-forming Cyanobacteria and the eutrophication of lakes and rivers. Freshw Biol 20(2):279–287

United States Environmental Protection Agency. EPA History. (Last updated 2014). http://www2.epa.gov/aboutepa/epa-history

Van der Hoeven N, Gerritsen AAM (1997) Effects of chlorpyrifos on individuals and populations of Daphnia pulex in the laboratory and field. Environ Toxicol Chem 16(12):2438–2447

Van Doorslaer W, Stoks R, Duvivier C, Bednarska A, De Meester L (2009) Population dynamics determine genetic adaptation to temperature in Daphnia. Evolution 63(7):1867–1878

Van Wijngaarden R, Leeuwangh P (1989) Relation between toxicity in laboratory and pond: an ecotoxicological study with chlorpyrifos. Mededelingen Faculteit Landbouwwetenschappen Rijksuniversiteit Gent 54(3b):1061–1069

Warton DI, Hui FKC (2010) The arcsine is asinine: the analysis of proportions in ecology. Ecology 92(1):3–10

Weston DP, Poynton HC, Wellborn GA, Lydy MJ, Blalock BJ, Sepulveda MS, Colbourne JK (2013) Multiple origins of pyrethroid insecticide resistance across the species complex of a nontarget aquatic crustacean, Hyalella azteca. Proc Natl Acad Sci 110(41):16532–16537

Whitehead A, Pilcher W, Champlin D, Nacci D (2012) Common mechanism underlies repeated evolution of extreme pollution tolerance. Proc Biol Sci 279(1728):427–433

Wirgin I, Waldman JR (2004) Resistance to contaminants in North American fish populations. Mutat Res/Fundam Mol Mech Mutagen 552(1–2):73–100

Wyn B, Sweetman JN, Leavitt PR, Donald DB (2007) Historical metal concentrations in lacustrine food webs revealed using fossil ephippia from Daphnia. Ecol Appl 17(3):754–764
Acknowledgments
The experimental animals were generated as part of a U.S. National Science Foundation (NSF-IOS-OEI) collaborative grant to P.D. Jeyasingh (#0924401) and L.J. Weider (#0924289). We thank M. Tobler for statistical advice.
Ethical Standards
We declare that the experiment described in this manuscript complied with all current laws regarding research in the United States of America.
Conflict of interest
The authors declare they have no conflicts of interest.
About this article
Cite this article
Simpson, A.M., Jeyasingh, P.D. & Belden, J.B. Variation in toxicity of a current-use insecticide among resurrected Daphnia pulicaria genotypes. Ecotoxicology 24, 488–496 (2015). https://doi.org/10.1007/s10646-014-1397-1
Accepted:

Published:

Issue Date:

DOI: https://doi.org/10.1007/s10646-014-1397-1
Keywords