Abstract
Despite growing concerns over mercury (Hg) exposure to humans and wildlife on a global scale, little is known about Hg bioaccumulation in the New World tropics. From 2005 to 2011, we monitored Hg concentrations in blood of nine avian species occupying a geographic range of tropical wet broadleaf sites on the island of Hispaniola, including eight passerines (two Nearctic–Neotropical migrant and six resident species) and one top order predatory accipiter. Invertivorous songbirds were further differentiated by foraging guild, with six species of ground-foragers and two species of foliage-gleaners. Blood Hg concentrations were orders of magnitude higher in birds sampled in central and southern cloud forest sites (1,000–1,800 m elevation) than in northern and northeastern rainforest sites (50–500 m elevation), with migratory and resident species both showing 2–20× greater blood Hg concentrations in cloud forests than in rainforests. Within cloud forest sites, ground-foraging species had higher Hg concentrations than foliage-gleaning species. Top order predatory sharp-shinned hawks (Accipiter striatus) had the highest blood Hg concentrations among all species, suggesting that Hg biomagnification is occurring in terrestrial forests of Hispaniola. Two migrant songbird species overwintering on the island had higher blood Hg concentrations than have been recorded on their North American breeding grounds. Future studies should seek to elucidate sources of variation in atmospheric Hg deposition on Hispaniola and to quantify the dynamics of Hg cycling in tropical forest ecosystems, which may differ in important ways from patterns documented in temperate forest ecosystems.
Access options
Buy single article
Instant access to the full article PDF.
US$ 39.95
Tax calculation will be finalised during checkout.
Subscribe to journal
Immediate online access to all issues from 2019. Subscription will auto renew annually.
US$ 79
Tax calculation will be finalised during checkout.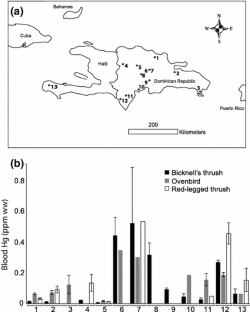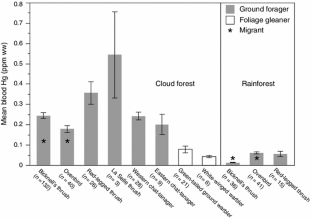 References
Ashe K (2012) Elevated mercury concentrations in humans of Madre de Dios. Peru. PLoS ONE 7:e33305. doi:10.1371/journal.pone.0033305

Brasso R, Cristol D (2008) Effects of mercury exposure on the reproductive success of tree swallows (Tachycineta bicolor). Ecotoxicology 17:133–141. doi:10.1007/s10646-007-0163-z

Brown D, Sherry T (2006) Food supply controls the body condition of a migrant bird wintering in the tropics. Oecologia 149:22–32. doi:10.1007/s00442-006-0418-z

Burger J, Gochfeld M (1997) Risk, mercury levels, and birds: relating adverse laboratory effects to field biomonitoring. Environ Res 75:160–172

Burger J, Gochfeld M (2001) On developing bioindicators for human and ecological health. Environ Monit Assess 66:23–46. doi:10.1023/a:1026476030728

Cristol DA, Brasso RL, Condon AM, Fovargue RE, Friedman SL, Hallinger KK, Monroe AP, White AE (2008) The movement of aquatic mercury through terrestrial food webs. Science 320:335. doi:10.1126/science.1154082

Cristol DA, Smith F, Varian-Ramos C, Watts B (2011) Mercury levels of Nelson's and saltmarsh sparrows at wintering grounds in Virginia, USA. Ecotoxicology 20:1773–1779. doi:10.1007/s10646-011-0710-5

Demers JD, Driscoll CT, Fahey TJ, Yavitt JB (2007) Mercury cycling in litter and soil in different forest types in the Adirondack region, New York, USA. Ecol Appl 17:1341–1351. doi:10.1890/06-1697.1

Edmonds ST, Evers DC, Cristol DA, Mettke-Hofmann C, Powell LL, McGann AJ, Armiger JW, Lane OP, Tessler DF, Newell P, Heyden K, O'Driscoll NJ (2010) Geographic and seasonal variation in mercury exposure of the declining rusty blackbird. Condor 112:789–799. doi:10.1525/cond.2010.100145

Evers D (2008) Mercury in terrestrial birds of Belize. BRI Report 2008-05

Evers DC, Han Y-J, Driscoll CT, Kamman NC, Goodale MW, Lambert KF, Holsen TM, Chen CY, Clair TA, Butler T (2007) Biological mercury hotspots in the northeastern United States and southeastern Canada. Bioscience 57:29–43. doi:10.1641/B570107

Evers D, Duron M, Yates D, Schoch N (2009) An exploratory study of methylmercury availability in terrestrial wildlife of New York and Pennsylvania, 2005–2006. New York State Energy Research and Development Authority Report NYSERDA 10–03.

French JB, Bennett RS, Rossmann R (2010) Mercury in the blood and eggs of American kestrels fed methylmercury chloride. Environ Toxicol Chem 29:2206–2210. doi:10.1002/etc.284

Fukuzaki N, Tamura R, Hirano Y, Mizushima Y (1986) Mercury emission from a cement factory and its influence on the environment. Atmos Environ 20:2291–2299

Hawley D, Hallinger K, Cristol D (2009) Compromised immune competence in free-living tree swallows exposed to mercury. Ecotoxicology 18:499–503. doi:10.1007/s10646-009-0307-4

Hill E, Henny C, Grove R (2008) Mercury and drought along the lower Carson River, Nevada: II. Snowy egret and black-crowned night-heron reproduction on Lahontan Reservoir, 1997–2006. Ecotoxicology 17:117–131. doi:10.1007/s10646-007-0180-y

Jackson AK, Evers DC, Etterson MA, Condon AM, Folsom SB, Detweiler J, Schmerfeld J, Cristol DA (2011) Mercury exposure affects the reproductive success of a free-living terrestrial songbird, the Carolina wren (Thryothorus ludovicianus). Auk 128:759–769. doi:10.1525/auk.2011.11106

Lacher TE, Goldstein MI (1997) Tropical ecotoxicology: status and needs. Environ Toxicol Chem 16:100–111. doi:10.1002/etc.5620160111

Latta S, Rimmer Christopher, Keith Allan, Wiley James, Raffaele Herbert, McFarland Kent, Fernandez Eladio (2006) Birds of the Dominican Republic and Haiti. Princeton University Press, Princeton

Lawson ST, Scherbatskoy TD, Malcolm EG, Keeler GJ (2003) Cloud water and throughfall deposition of mercury and trace elements in a high elevation spruce-fir forest at Mt. Mansfield. Vermont. J Environ Monitor 5:578–583

Leady BS, Gottgens JF (2001) Mercury accumulation in sediment cores and along food chains in two regions of the Brazilian Pantanal. Wetlands Ecol Manage 9:349–361. doi:10.1023/a:1011856517552

Lindberg S, Bullock R, Ebinghaus R, Engstrom D, Feng X, Fitzgerald W, Pirrone N, Prestbo E, Seigneur C (2007) A Synthesis of progress and uncertainties in attributing the sources of mercury in deposition. Ambio 36:19–33. doi:10.1579/0044-7447(2007)36[19:asopau]2.0.co;2

Lovett GM (1984) Rates and mechanisms of cloud water deposition to a subalpine balsam fir forest. Atmos Environ 18:361–371. doi:10.1016/0004-6981(84)90110-0

Mergler D, Anderson HA, Chan LHM, Mahaffey KR, Murray M, Sakamoto M, Stern AH (2007) Methylmercury exposure and health effects in humans: a worldwide concern. Ambio 36:3–11. doi:10.1579/0044-7447(2007)36[3:meahei]2.0.co;2

Montagnini F, Neufeld HS, Uhl C (1984) Heavy metal concentrations in some non-vascular plants in an Amazonian rainforest. Water Air Soil Pollut 21:317–321. doi:10.1007/bf00163632

Pacyna EG, Pacyna JM (2002) Global emission of mercury from anthropogenic sources in 1995. Water Air Soil Pollut 137:149–165. doi:10.1023/a:1015502430561

Rea AW, Lindberg SE, Keeler GJ (2001) Dry deposition and foliar leaching of mercury and selected trace elements in deciduous forest throughfall. Atmos Environ 35:3453–3462

Rimmer CC, McFarland KP, Evers DC, Miller EK, Aubry Y, Busby D, Taylor RJ (2005) Mercury concentrations in Bicknell's thrush and other insectivorous passerines in montane forests of northeastern North America. Ecotoxicology 14:223–240. doi:10.1007/s10646-004-6270-1

Rimmer C, Miller E, McFarland K, Taylor R, Faccio S (2009) Mercury bioaccumulation and trophic transfer in the terrestrial food web of a montane forest. Ecotoxicology 19:697–709. doi:10.1007/s10646-009-0443-x

Schroeder WH, Munthe J, Lindqvist O (1989) Cycling of mercury between water, air, and soil compartments of the environment. Water Air Soil Pollut 48:337–347. doi:10.1007/bf00283335

Schwesig D, Ilgen G, Matzner E (1999) Mercury and methylmercury in upland and wetland acid forest soils of a watershed in NE-Bavaria, Germany. Water Air Soil Pollut 113:141–154. doi:10.1023/a:1005080922234

Shriver GW, Evers DC, Hodgman TP, MacCulloch BJ, Taylor RJ (2006) Mercury in sharp-tailed sparrows breeding in coastal wetlands. Environ Bioindic 1:129–135. doi:10.1080/15555270600695734

Tarras-Wahlberg NH, Flachier A, Lane SN, Sangfors O (2001) Environmental impacts and metal exposure of aquatic ecosystems in rivers contaminated by small scale gold mining: the Puyango River basin, southern Ecuador. Sci Total Environ 278:239–261. doi:10.1016/s0048-9697(01)00655-6

Townsend J (2011) Mercury accumulation in forest floor horizons, songbirds and salamanders along a forested elevational gradient in the Catskill Mountains, New York. Ph.D. thesis, State University of New York College of Environmental Science and Forestry, Syracuse

Townsend JM, Rimmer CC, McFarland KP (2010) Winter territoriality and spatial behavior of Bicknell's thrush (Catharus bicknelli) at two ecologically distinct sites in the Dominican Republic. Auk 127:514–522. doi:10.1525/auk.2010.09160

Townsend JM, Rimmer CC, Townsend AK, McFarland KP (2011) Sex and age ratios of Bicknell's thrush wintering in Hispaniola. Wilson J Ornithol 123:367–372. doi:10.1676/10-065.1

UNEP (2009) The global atmospheric mercury assessment: sources, emissions and transport. UNEP-Chemicals, Geneva

Uryu Y, Malm O, Thornton I, Payne I, Cleary D (2001) Mercury contamination of fish and its implications for other wildlife of the Tapajós Basin, Brazilian Amazon. Conserv Biol 15:438–446. doi:10.1046/j.1523-1739.2001.015002438.x

Weathers KC, Lovett GM, Likens GE (1995) Cloud deposition to a spruce forest edge. Atmos Environ 29:665–672

Winder V, Emslie S (2011) Mercury in breeding and wintering Nelson's sparrows (Ammodramus nelsoni). Ecotoxicology 20:218–225. doi:10.1007/s10646-010-0573-1

Wolfe MF, Schwarzbach S, Sulaiman RA (1998) Effects of mercury on wildlife: a comprehensive review. Environ Toxicol Chem 17:146–160. doi:10.1002/etc.5620170203
Acknowledgments
We gratefully acknowledge funding support from the American Ornithologists' Union, the Association of Field Ornithologists, the Carolyn Foundation, the Eastern Bird Banding Association, the John D. and Catherine T. MacArthur Foundation, The Nature Conservancy, the Stewart Foundation, the Thomas Marshall Foundation, the U.S. Fish and Wildlife Service, the U.S. Forest Service Office of International Programs, the Wilson Ornithological Society, and friends of the Vermont Center for Ecostudies and the Vermont Institute of Natural Science. JMT was supported by a U.S. Environmental Protection Agency STAR Graduate Fellowship. Permission to band and collect blood samples from birds was provided by the U.S. Geological Survey Bird Banding Laboratory. Permission to conduct research and collect blood samples in the Dominican Republic was provided by the Subsecretaria de Áreas Protegidas y Biodiversidad. We thank M. Montesdeoca and E. Mason for excellent training and advice on laboratory methods. We are especially thankful to H. Almonte, J. Almonthe, J. Brocca, E. Cuevas, P. Diaz, S. Frey, E. Garrido, J. Hart, P. Johnson, J. Klavins, V. Mejia, R. Ortiz, and A. Townsend for their outstanding field work under difficult conditions. Constructive reviews of this manuscript were provided by two anonymous reviewers. John D. and Catherine T. MacArthur Foundation Grant #53450. U.S. Forest Service Office of International Programs Grant # MBP-BITH-20100427. USEPA STAR Fellowship #FP-91693701-1.
Conflict of interest
The authors declare they have no conflict of interest.
About this article
Cite this article
Townsend, J.M., Rimmer, C.C., Driscoll, C.T. et al. Mercury concentrations in tropical resident and migrant songbirds on Hispaniola. Ecotoxicology 22, 86–93 (2013). https://doi.org/10.1007/s10646-012-1005-1
Accepted:

Published:

Issue Date:
Keywords
Bicknell's thrush

Bioaccumulation

Biomagnification

Hispaniola

Mercury

Neotropical migrant

Tropical ecotoxicology