Abstract
The existence of genetic variability is a key element of the adaptive potential of a natural population to stress. In this study we estimated the additive and non-additive components of the genetic variability of net reproductive rate (R0) in a natural Daphnia magna population exposed to Cd stress at two different temperatures. To this end, life-table experiments were conducted with 20 parental and 39 offspring clonal lineages following a 2 × 2 design with Cd concentration (control vs. 3.7 μg Cd/L) and temperature (20 vs. 24 °C) as factors. Offspring lineages were obtained through inter-clonal crossing of the different parental lineages. The population mean, additive and non-additive genetic components of variation in each treatment were estimated by fitting an Animal Model to the observed R0 values using restricted maximum likelihood estimation. From those estimates broad-sense heritabilities (H2), narrow-sense heritabilities (h2), total (CVG) and additive genetic coefficients of variation (CVA) of R0 were calculated. The exposure to Cd imposed a considerable level of stress to the population, as shown by the fact that the population mean of R0 exposed to Cd was significantly lower than in the control at the corresponding temperature, i.e. by 23 % at 20 °C and by 88 % at 24 °C. The latter difference indicates that increasing temperature increased the stress level imposed by Cd. The H² and CVG were significantly greater than 0 in all treatments, suggesting that there is a considerable degree of genetic determination of R0 in this population and that clonal selection could rapidly lead to increasing population mean fitness under all investigated conditions. More specifically, the H² was 0.392 at 20 °C+Cd and 0.563 at 24 °C+Cd; the CVG was 30.0 % at 20 °C+Cd and was significantly higher (147.6 %) in the 24 °C+Cd treatment. Significant values of h2 (= 0.23) and CVA (= 89.7 %) were only found in the 24 °C+Cd treatment, suggesting that the ability to produce more offspring under this stressful condition may be inherited across sexual generations. In contrast, in the less stressful 20 °C+Cd treatment the h2 (0.06) and CVA (7.0 %) were very low and not significantly higher than zero. Collectively our data indicate that both the asexual and sexual reproduction phases in cyclic parthenogenetic D. magna populations may play a role in the long-term adaptive potential of Daphnia populations to chemical stress (with Cd as the current example) and that environmental variables which influence the stress level of that chemical may influence this adaptive potential (with temperature as current example).
Access options
Buy single article
Instant access to the full article PDF.
US$ 39.95
Tax calculation will be finalised during checkout.
Subscribe to journal
Immediate online access to all issues from 2019. Subscription will auto renew annually.
US$ 79
Tax calculation will be finalised during checkout.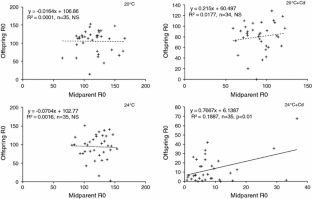 References
Agra AR, Guilhermino L, Soares AMVM, Barata C (2010) Genetic costs of tolerance to metals in Daphnia longispina populations historically exposed to a copper mine drainage. Environ Toxicol Chem 29(4):939–946

Barata C, Baird DJ, Amat F, Soares AMVM (2000) Comparing population responses to contaminants between laboratory and field: an approach using Daphnia magna ephippial egg banks. Funct Ecol 14(4):513–523

Barata C, Baird DJ, Mitchell SE, Soares AMVM (2002a) Among and within population variability in tolerance to cadmium stress in natural populations of Daphnia magna: implications for ecological risk assessment. Environ Toxicol Chem 21(5):1058–1065

Barata C, Baird DJ, Soares AMVM (2002b) Determining genetic variability in the distribution of sensitivities of toxic stress among and within field populations of Daphnia magna. Environ Sci Technol 36(14):3045–3049

Bold HC, Wynne MJ (1978) Introduction to the algae. Prentice-Hall, Englewood Cliffs

Brendonck L, De Meester L, Hairston NG, Jr (1998) Evolutionary and ecological aspects of crustacean diapause. Arch Hydrobiol (Special Issues) 52: 561 pp

Caceres CE (1997) Dormacy in invertebrates. Invertebr Biol 116(4):371–383

Chaumot A, Gos P, Garric J, Geffard O (2009) Additive vs non-additive genetic components in lethal cadmium tolerance of Gammarus (Crustacea): novel light on the assessment of the potential for adaptation to contamination. Aquat Toxicol 94:294–299

De Clerck S, Cousyn C, De Meester L (2001) Evidence for local adaptation in neighbouring Daphnia populations: a laboratory transplant experiment. Freshw Biol 46(2):187–198

De Meester L (1991) An analysis of the phototactic behavior of Daphnia magna clones and their sexual descendants. Hydrobiology 225:217–227

De Meester L, Vanoverbeke J, De Gelas K, Ortells R, Spaak P (2006) Genetic structure of cyclic parthenogenetic zooplankton populations––a conceptual framework. Arch Hydrobiol 167(1–4):217–244

De Schamphelaere KAC, Janssen CR (2004) Effects of chronic dietary copper exposure on growth and reproduction of Daphnia magna. Environ Toxicol Chem 23:2038–2049

Elendt BP, Bias WR (1990) Trace nutrient deficiency in Daphnia magna cultured in standard medium for toxicity testing. Effects of the optimization of culture conditions on life history parameters of Daphnia magna. Water Res 24(9):1157–1167

Falconer DS, Mackay TFC (1996) Introduction to quantitative genetics, 4th edn. Longman, Essex

Heugens EHW, Jager T, Creyghton R, Kraak MHS, Hendriks AJ, Van Straalen NM, Admiraal W (2003) Temperature dependent effects of cadmium on Daphnia magna: accumulation versus sensitivity. Environ Sci Technol 37:2145–2151

Hoffmann AA, Hercus MJ (2000) Environmental stress as an evolutionary force. Bioscience 50(3):217–226

Houle D (1992) Comparing evolvability and variability of quantitative traits. Genetics 130(1):195–204

Jansen M, Coors A, Stoks R, De Meester L (2011) Evolutionary ecotoxicology of pesticide resistance: a case study in Daphnia. Ecotoxicology 20:543–551

Klerks PL, Levinton JS (1993) Evolution of resistance and changes in community composition in metal-polluted environments––a case study––study on Foundry Cove. Ecotoxcicology of metals in invertebrates. Setac Special Publications series, pp. 223–241

Klerks PL, Moreau CJ (2001) Heritability of resistance to individual contaminants and to contaminant mixtures in the sheepshead minnow (Cyprinodon variegatus). Environ Toxicol Chem 20(8):1746–1751

Klerks PL, Xie L, Levinton JS (2011) Quantitative genetics approaches to study evolutionary processes in ecotoxicology; a perspective from research on the evolution of resistance. Ecotoxicology 20:513–523

Kutner MH, Nachtsheim CJ, Neter J, Li W (2004) Applied linear statistical models (fifth edition. McGraw-Hill/Irwin, New York, 1396p. K

Lopes I, Baird DJ, Ribeiro R (2004) Genetic determination of tolerance to lethal and sublethal copper concentrations in field populations of Daphnia longispina. Arch Environ Contam Toxicol 46:43–51

Lynch M, Walsh B (1998) Genetics and analysis of quantitative traits. Sinauer Associates, Sunderland

Medina MH, Correa JA, Barata C (2007) Micro-evolution due to pollution: possible consequences for ecosystem responses to toxic stress. Chemosphere 67(11):2105–2114

Messiaen M, De Schamphelaere KAC, Muyssen BTA, Janssen CR (2010) Micro-evolutionary response of Daphnia magna population exposed to temperature and cadmium stress. Ecotoxicol Environ Safe 73(6):1114–1122

Morgan AJ, Kille P, Stürzenbaum SR (2007) Microevolution and ecotoxicology of metals in invertebrates. Environ Sci Technol 41(4):1085–1096

Organization for Economic Cooperation and Development. (1998) Daphnia magna reproduction test. Guidelines for the testing of chemicals No. 211, Paris, France

Sgrò CM, Hoffmann AA (1998) Effects of stress combinations on the expression of additive genetic variation for fecundity in Drosophila melanogaster. Gen Res 72(1):13–18

Sun L, Perdue EM, McCarthy JF (1995) Using reverse osmosis to obtain organic matter from surface and ground waters. Water Res 29(6):1471–1477

Van Doorslaer W, Vanoverbeke J, Duvivier C, Rousseaux S, Jansen M, Jansen B, Feuchtmayr H, Atkinson D, Moss B, Stoks R, De Meester L (2009) Local adaptation to higher temperatures reduces immigration success of genotypes from a warmer region in the water flea Daphnia magna. Glob Change Biol 15(12):3046–3055

Van Straalen NM, Timmermans MJ (2002) Genetic variation in toxicant-stressed populations: an evaluation of the "Genetic Erosion" hypothesis. Hum Ecol Risk Assess 8(5):983–1002

Ward TJ, Robinson WE (2005) Evolution of cadmium resistance in Daphnia magna. Environ Toxicol Chem 24(9):2341–2349
Acknowledgments
This research was funded by FWO-Vlaanderen. The authors thank Leen Van Imp, Emmy Pequeur, Gisèle Bockstael, Marc Vanderborght, and Nancy De Saeyer, and Marianne Vandenhove for technical support.
Electronic supplementary material
Below is the link to the electronic supplementary material.
About this article
Cite this article
Messiaen, M., Janssen, C.R., Thas, O. et al. The potential for adaptation in a natural Daphnia magna population: broad and narrow-sense heritability of net reproductive rate under Cd stress at two temperatures. Ecotoxicology 21, 1899–1910 (2012). https://doi.org/10.1007/s10646-012-0923-2
Accepted:

Published:

Issue Date:
Keywords
Genetic variability

Populations

Heritability

Metal