Abstract
Two studies were carried out to examine the impact of maternal fipronil exposure on embryonic and offspring development. In the first study, breeding female zebra finches were orally dosed with single sublethal levels of fipronil (1, 5, and 10 mg/kg body weight) to determine behavioural and developmental consequences on chicks following maternal pesticide exposure. Significant levels of fipronil and fipronil-sulfone residues were detected in eggs laid by females in all dosed groups, however, these were undetectable in eggs laid 13 days after treatment. The level of sulfone detected in eggs was consistently higher than that of the parent fipronil compound. Of the seven eggs laid in the treatment groups, only one (14%) chick hatched and this was from the lowest dose group. This chick was severely underdeveloped at 10 days of age in comparison to control chicks and fiproles were detected in brain, liver, and adipose tissues collected following euthanasia of this individual. In contrast, there was 100% hatchability of control group eggs and all chicks fledged nests on schedule. In the second study, domestic chicken eggs were injected with 5.5, 17.5, and 37.5 mg/kg egg weight of fipronil directly into the yolk sac on day 12 of incubation. Treatment did not affect hatching success, however, behavioural and developmental abnormalities were observed in hatchlings from the highest dose group. These chicks also demonstrated reduced feeding rates, as indicated by reduced body mass at 48 h period post hatch. Both fipronil and fipronil-sulfone residues were detected in brain and liver tissue of hatchlings at all pesticide dose levels tested.
Access options
Buy single article
Instant access to the full article PDF.
US$ 39.95
Tax calculation will be finalised during checkout.
Subscribe to journal
Immediate online access to all issues from 2019. Subscription will auto renew annually.
US$ 79
Tax calculation will be finalised during checkout.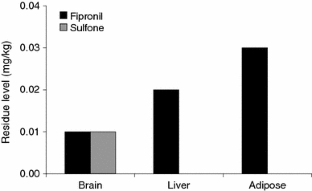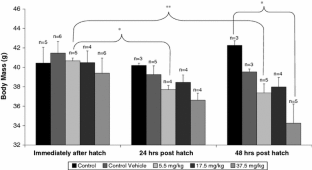 References
AgriSolutions (2006) Analysis of fipronil and metabolites in tissue by GC/MS. Certificate of analysis. Method no AAM-FIP-09. AgriSolutions, Australia

Astheimer LB, Grau CR (1985) The timing and energetic consequences of egg formation in the Adélie penguin. Condor 87:256–268

BASF (2003) Material safety data sheet: fipronil. BASF Australia Ltd, Noble Park, VIC, Australia

BASF (2005) Fipronil: worldwide technical bulletin. BASF Agricultural Products, NC

Beggel S, Werner I, Connon RE, Geist JP (2010) Sublethal toxicity of commercial insecticide formulations and their active ingredients to larval fathead minnow (Pimephales promelas). Sci Total Environ 408:3169–3175

Bryceland AC (1994a) M&B 46030 technical: toxicity and reproduction study in bobwhite quail. Rhone-Poulenc Ag Company, Research Triangle Park Data evaluation record EPA MRID no. 429186-22

Bryceland AC (1994b) M&B 46030 technical: toxicity and reproduction study in mallard ducks. Rhone-Poulenc Ag Company, Research Triangle Park Data evaluation record EPA MRID no. 429186-23

OECD (2003) OECD guideline for the testing of chemicals: Acute oral toxicity up-and-down procedure. Guideline 425. Organisation for Economic Co-operation and Development, Environment Directorate. Paris, France

DeWitt JB (1955) Effects of chlorinated hydrocarbon insecticides upon quail and pheasants. Agric Food Chem 3(8):672–676

EPA (2001) Assessment of the impact of insecticide spraying of Australian plague locusts. Environment Protection Agency, Department for Environment and Heritage, Government of South Australia. Adelaide, Australia

Fernie K, Shutt J, Letcher R, Ritchie I, Bird D (2009) Environmentally relevant concentrations of DE-71 and HBCD alter eggshell thickness and reproductive success of American kestrels. Environ Sci Technol 43(6):2124–2130

Fildes KJ, Astheimer LB, Story P, Buttemer WA, Hooper MJ (2006) Cholinesterase response in native birds exposed to fenitrothion during locust-control operations in eastern Australia. Environ Toxicol Chem 25:2964–2970

Hainzl D, Cole LM, Casida JE (1998) Mechanisms for selective toxicity of fipronil insecticide and its sulfone metabolite and desulfinyl photoproduct. Chem Res Toxicol 11:1529–1535

Hoffman DJ, Rattner BA, Burton GA Jr, Cairns J Jr (2003) Handbook of ecotoxicology. Lewis Publishers, Boca Raton

JMPR (1997) Pesticide residues in food 1997 evaluations part II toxicological & environmental: 932 fipronil. Joint meeting on pesticide residues in food and the environment: FAO and WHO. http://www.inchem.org/documents/jmpr/jmpmono/v097pr09.htm. Accessed 20 August 2010

JMPR (2001) Pesticide residues in food: fipronil-2001 evaluations. Part I, FAO plant production and protection paper 171. Joint meeting on pesticide residues: FAO and WHO

Kitulagodage M, Astheimer LB, Buttemer WA (2008) Diacetone alcohol, a dispersant solvent, contributes to acute toxicity of a fipronil-based insecticide in a passerine bird. Ecotoxicol Environ Saf 71:597–600

Lundholm CE (1997) DDE-induced eggshell thinning in birds: Effects of p, p′-DDE on the calcium and prostaglandin metabolism of the eggshell gland. Comp Biochem Physiol C 118(2):113–128

Rahn H, Paganelli CV, Ar A (1974) The avian egg: air-cell gas tension, metabolism, and incubation time. Respir Physiol 22:297–309

Russ M (2005) An investigation of the effects locust pesticides, fenitrothion and fipronil, on avian development using an in-ovo model. Masters thesis, University of Wollongong, NSW, Australia

Speake BK, Murray AMB, Noble RC (1998) Transport and transformation of yolk lipids during development of the avian embryo. Prog Lipid Res 37(1):1–32

Stehr CM, Linbo TL, Incardona JP, Scholz NL (2006) The developmental neurotoxicity of fipronil: notochord degeneration and locomotor defects in zebrafish embryos and larvae. Toxicol Sci 92(1):270–278

Szabo JK (2005) Avian-locust interactions in eastern Australia and the exposure of birds to locust control pesticides. PhD thesis. Texas Tech University, Lubbock

Szabo JK, Davy PJ, Astheimer LB, Hooper MJ (2009) Predicting avian species distributions to evaluate the spatio-temporal overlap with locust control operations in eastern Australia. Ecol Appl 19:2026–2037

Tingle CCD, Rother JA, Dewhurst CF, Lauer S, King WJ (2003) Fipronil: environmental fate, ecotoxicology, and human health concerns. Rev Environ Contam Toxicol 176:1–66

Wiemeyer SN, Porter RD (1970) DDE thins eggshells of captive American kestrels. Nature 227(5259):737–738

Zann RA (1996) The zebra finch: a synthesis of field and laboratory studies. Oxford University Press, Oxford
Acknowledgments
We thank the Australian Research Council, the University of Wollongong Institute for Conservation Biology, and the Australian Plague Locust Commission for supporting this research. We also thank Professor Tom Scott from the University of Sydney's Poultry Research Unit for provision of fertilized chicken eggs. Thanks are also due to members of the Physiological Ecology lab (University of Wollongong, Australia) for their helpful discussions and providing assistance in caring for birds.
About this article
Cite this article
Kitulagodage, M., Buttemer, W.A. & Astheimer, L.B. Adverse effects of fipronil on avian reproduction and development: maternal transfer of fipronil to eggs in zebra finch Taeniopygia guttata and in ovo exposure in chickens Gallus domesticus . Ecotoxicology 20, 653–660 (2011). https://doi.org/10.1007/s10646-011-0605-5
Accepted:

Published:

Issue Date:
Keywords
Fipronil

Pesticide

Birds

Eggs

Zebra finch

Development