Abstract
Siriella armata (Crustacea, Mysidacea) is a component of the coastal zooplankton that lives in swarms in the shallow waters of the European neritic zone, from the North Sea to the Mediterranean. Juveniles of this species were examined as standard test organisms for use in marine acute toxicity tests. The effects of reference toxicants, three trace metals (Copper, Cadmium and Zinc), and one surfactant, sodium dodecyl sulfate (SDS) were studied on S. armata neonates (<24 h) reared in the laboratory. Acute toxicity tests were carried out with filtered sea water on individual chambers (microplate wells for metals or glass vials for SDS) incubated in an isothermal room at 20°C, with 16 h light: 8 h dark photoperiod for 96 h. Each neonate was fed daily with 10–15 nauplii of Artemia salina. Acute (96 h) LC50 values, in increasing order, were 46.9 μg/L for Cu, 99.3 μg/L for Cd, 466.7 μg/L for Zn and 8.5 mg/L for SDS. The LC10, NOEC and LOEC values were also calculated. Results were compared with Daphnia magna, a freshwater cladoceran widely used as a standard ecotoxicological test organism. Acute (48 h) LC50 values were 56.2 μg/L for Cu, 571.5 μg/L for Cd, 1.3 mg/L for Zn and 27.3 mg/L for SDS. For all the reference toxicants studied, the marine mysid Siriella armata showed higher sensitivity than the freshwater model organism Daphnia magna, validating the use of Siriella mysids as model organisms in marine acute toxicity tests.
This is a preview of subscription content, log in to check access.
Access options
Buy single article
Instant access to the full article PDF.
US$ 39.95
Tax calculation will be finalised during checkout.
Subscribe to journal
Immediate online access to all issues from 2019. Subscription will auto renew annually.
US$ 99
Tax calculation will be finalised during checkout.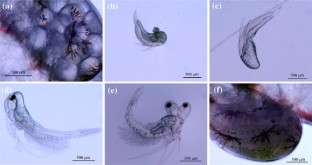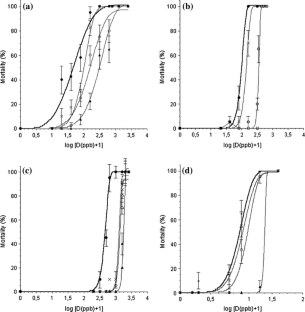 References
Adema DDD (1978) Daphnia magna as a test animal in acute and chronic toxicity test. Hydrobiologia 59(2):125–134

Amiard JC, Amiard-Triquet C, Berthet B, Metayer C (1987) Comparative study of the patterns of bioaccumulation of essential (Cu, Zn) and non-essential (Cd, Pb) trace metals in various estuarine and coastal organisms. J Exp Mar Biol Ecol 106:73–89

Attar NJ, Maly EJ (1982) Acute toxicity of cadmium, zinc and cadmium-zinc mixtures to Daphnia magna. Arch Environ Contam Toxicol 1:291–296

Baird DJ, Barber I, Bradley M, Calow P, Soares AMVM (1989) The Daphnia bioassay: a critique. Hydrobiologia 188(189):403–406

Baird DJ, Barber I, Bradley M, Soares AMVM, Calow P (1991) A comparative study of genotype sensitivity to acute toxic stress using clones of Daphnia magna. Ecotoxicol Environ Saf 2:257–265

Beiras R, Albentosa M (2004) Inhibition of embryo development of the commercial bivalves Ruditapes decussatus and Mytilus galloprovincialis by trace metals; implications for the implementation of seawater quality criteria. Aquaculture 230:205–213

Beiras R, Bellas J (2008) Inhibition of embryo development of the Mytilus galloprovincialis marine mussel by organic pollutants; assessment of risk for its extensive culture in the Galician Rias. Aquaculture 227:208–212

Beiras R, His E (1995) Effects of dissolved mercury on embryogenesis, survival and growth of Mytilus galloprovincialis mussel larvae. Mar Ecol Prog Ser 126:185–189

Bellas J, Beiras R, Mariño-Balsa JC, Fernández N (2005) Toxicity of organic compounds to marine invertebrate embryos and larvae: a comparison between the sea-urchin embryogenesis bioassay and alternative test species. Ecotoxicology 14:335–351

Bellas J, Thor P (2007) Effects of selected PAHs on the survival and reproduction of the calanoid copepod Acartia tonsa. Ecotoxicology 16:465–474

Bellas J, Vázquez E, Beiras R (2001) Toxicity of Hg, Cu, Cd, and Cr on early developmental stages of Ciona intestinalis (Chordata, Ascidiacea) with potential application in marine water quality assessment. Water Res 35(12):2905–2912

Birmelin J, Cuzin-Roudy MR, Gnassia-Barelli M, Puiseux-Dao S (1995) The Mysid Siriella armata as a test organism in toxicology: effects of cadmium. Mar Environ Res 39:317–320

Blust R, Kockelbergh E, Baillieul M (1992) Effect of salinity on the uptake of cadmium by the brine shrimp Artemia franciscana. Mar Ecol Prog Ser 84:245–254

Bodar CWM, van der Sluis I, van Montfort JCP, Voogt PA, Zandee DI (1990) Cadmium resistance in Daphnia magna. Aquat Toxicol 16:33–40

Cripe GM (1994) Comparative acute toxicities of several pesticides and metals to Mysidopsis bahia and postlarval Penaeus duorarum. Environ Toxicol Chem 13(11):1867–1872

Cuzin-Roudy J, Tchernigovtzeff C (1985) Chronology of the female molt cycle in Siriella armata M.Edw. (Crustacea: Mysidacea) based on marsupial development. J Crust Biol 5(1):1–14

Cuzin-Roudy J, Berreur-Bonnenfant J, Fried Montaufier MC (1981) Chronology of post-embryonic development in Siriella armata (M.Edw.) (Crustacea: Mysidacea) reared in the laboratory: growth and sexual differentiation. J Crust Biol 5(1):1–14

Emson S, Crane M (1994) A comparison of the toxicity of Cadmium to the Mysid shrimps Neomysis Integer (Leach) and Mysidopsis bahia (Molenock). Water Res 28(8):1711–1713

Fernández N, Beiras R (2001) Combined toxicity of dissolved mercury with Copper, Lead and Cadmium on embryogenesis and early larval growth of the Paracentrotus lividus sea-urchin. Ecotoxicology 10:263–271

Ferrer L, Andrade S, Asteasuain R, Marcovecchio J (2006) Acute toxicities of four metals on the early life stages of the crab Chasmagnathus granulata from Bahía Blanca estuary, Argentina. Ecotoxicol Environ Saf 65:209–217

Garnacho E, Peck LS, Tyler PAA (2000) Variations between winter and summer in the toxicity of copper to a population of the mysid Praunus flexuosus. Mar Biol 137:631–636

Gentile SM, Gentile JH, Walker J, Heltshe JF (1982) Chronic effects of cadmium on two species of mysid shrimp: Mysidopsis bahia and Mysidopsis bigelowi. Hydrobiologia 93:195–204

Gopalakrishnan S, Thilagam H, Raja PV (2007) Toxicity of heavy metals on Embryogenesis and larvae of the marine sedentary polychaete Hydroides elegans. Arch Environ Contam Toxicol 52:171–178

Guilhermino L, Diamantino T, Silva MC, Soares AMVM (2000) Acute toxicity test with Daphnia magna: an alternative to mammals in the prescreening of chemical toxicity? Ecotoxicol Environ Saf 46:357–362

His E, Beiras R, Seaman MNL (2000) The assessment of marine pollution–bioassays with bivalve embryos and larvae. In: Southward AJ, Tyler PA, Young CM (eds) Adv Mar Biol 37. Academic Press, San Diego, pp 1–178

Janssen CR, Persoone G (1993) Rapid toxicity screening-tests for aquatic biota. 1. Methodology and experiments with Daphnia magna. Environ Toxicol Chem 12(4):711–717

Langdon CJ, Harmon VL, Vance MM, Kreeger KE, Kreeger DA, Champan GA (1996) A 7-d toxicity test for marine pollutants using the Pacific mysid Mysidopsis intii. 1. Culture and protocol development. Environ Toxicol Chem 15(10):1815–1823

Lewis PA, Horning WB II (1991) Differences in acute toxicity test results of three reference toxicants on Daphnia at two temperatures. Environ Toxicol Chem 10:1351–1357

Lorenzo JI, Nieto O, Beiras R (2002) Effect of humic acids on speciation and toxicity of copper to Paracentrotus lividus larvae in seawater. Aquat Toxicol 58:27–41

Lorenzo JI, Aierb E, Mubian VK, Blust R, Beiras R (2003) Indications of regulation on copper accumulation in the blue mussel Mytilus edulis. In: Villalba A, Reguera B, Romalde JL, Beiras R (eds) Moluscan shellfish safety, pp 533–544. Xunta de Galicia-UNESCO. ISBN 84-453-3638-X Clave: CL

Lussier SM, Gentile JH, Walker J (1985) Acute and chronic effects of heavy metals and cyanide on Mysidopsis Bahía (Crustacea: Mysidacea). Aquat Toxicol 7:25–35

Mariani L, De Pascale D, Faraponova O, Tornambè A, Sarni A, Giuliani S, Ruggiero G, Onorati F, Magaetti E (2006) The use of a test battery in marine ecotoxicology: the acute toxicity of sodium dodecyl sulfate. Environ Toxicol 21(4):373–379

Mariño-Balsa JC (2002) Uso de las fases larvarias de crustáceos decápodos y misidáceos en ecotoxicología marina. Tesis Doctoral. Universidad de Vigo. 207 pp

Mariño-Balsa JC, Poza E, Vázquez E, Beiras R (2000) Comparative toxicity of dissolved metals to early larval stages of Palaemon serratus, Maja squinado and Homarus gammarus (Crustacea: Decapoda). Arch Environ Contam Toxicol 39(3):345–351

Martin M, Osborn K, Billig P, Glickstein N (1981) Toxicities of ten metals to Crassostrea gigas and Mytilus edulis embryos and Cancer magister larvae. Mar Pollut Bull 12(9):305–308

Mclusky DS, Hagerman L (1987) The toxicity of chromium, nickel and zinc: effects of salinity and temperature, and the osmoregulatory consequences in the mysid Praunus flexuosus. Aquat Toxicol 10:225–238

Meng Q, Li X, Feng Q, Cao Z (2008) The acute and chronic toxicity of five heavy metals on the Daphnia magna. In: Bioinformatics and biomedical engineering, 2008, ICBBE 2008. The 2nd international conference, pp 4555–4558. ISBN:978-1-4244-1747-6

Muyssen BTA, Janssen CR (2004) Multi-generation cadmium acclimation and tolerance in Daphnia magna Straus. Environ Pollut 130:309–316

Nimmo DR, Rigby RA, Bahner LH, Sheppard JM (1978) The acute and chronic effects of cadmium on the estuarine Mysid, Mysidopsis bahía. Bull Environ Contam Toxicol 19(1):80–85

Ong ES, Din ZB (2001) Cadmium, copper, and zinc toxicity to the clam, Donax faba C. and the blood cockle, Andara granosa L. Bull Environ Contam Toxicol 66:86–93

OSPAR Commission (2006) Background document on assessment criteria for the sediment seawater elutriate, pore-water and whole sediment bioassays. SIME 06/4/8-E(L)

Rainbow PS (1995) Physiology, physicochemistry and metal uptake—a crustacean perspective. Mar Pollut Bull 31(1–3):55–59

Sardo AM, Morgado F, Soares AMVM (2005) Mesopodopsis slaberi (Crustacea: Mysidacea): can it be used in toxicity test? Ecotoxicol Environ Saf 60:81–86

Sarma SSS, Nandini S (2006) Review of recent ecotoxicological studies on cladocerans. J Environ Sci Health Part B 41(8):1417–1430

Smokorowski KE, Lasenby DC, Evans RD (1998) Quantifying the uptake and release of cadmium and copper by the opossum shrimp Mysis relicta preying upon the cladoceran Daphnia magna using stable isotope tracers. Can J Fish Aquat Sci 55:909–916

Tattersall WM, Tattersall OS (1951) The British Mysidacea, vol 136. The Ray Society, Bernard Quaritch Ltd, London

UNE-EN ISO 6341:1996 (1996) Calidad del agua. Determinación de la inhibición de la movilidad de Daphnia magna straus. (Cladocera crustácea). Ensayo de Toxicidad aguda

USEPA (2002a) Methods for measuring the acute toxicity of effluents and receiving waters to freshwater and marine organisms, 5th edn. EPA 821-R-02-012

USEPA (2002b) Short-term methods for estimating the chronic toxicity of effluents and receiving waters to marine and estuarine organisms, 3rd edn. EPA 821-R0-20-14

Verslycke T, Vangheluwe M, Heijerick D, De Schamphelaere K, van Sprang P, Janssen CR (2003) The toxicity of metal mixtures to the estuarine mysid Neomysis integer (Crustacea: Mysidacea) under changing salinity. Aquat Toxicol 64:307–315

Villegas-Navarro A, Romero González MC, Rosas López E (1999) Evaluation of Daphnia magna as an indicator of toxicity and treatment efficacy of textile wastewaters. Environ Int 25(5):619–624

Whiting VK, Cripe GM, Lepo JE (1996) Effects of the anionic surfactant, sodium dodecyl sulfate, on newly-hatched blue crabs, Callinectes sapidus, and other routinely tested estuarine crustaceans. Arch Environ Contam Toxicol 31:293–295

Widdows J (1993) Marine and estuarine invertebrate toxicity test. In: Calow P (ed) Handbook of ecotoxicology, vol 1, Chap 9. Blackwell Scientific, Oxford, pp 145–166

ECOTOX database. Available on EPA's public web page http://cfpub.epa.gov/ecotox/
Acknowledgments
We wish to thank Dr. J. Bellas, I. Durán, D. Rial and the staff of Department of Ecology and Animal Biology (University of Vigo, Galicia, Spain). We are also grateful to E. Poza, R. Gómez, D. Costas and M.J. Valcarce for the capture and maintenance of mysids in the laboratory, and all the staff of Estación de Ciencias Mariñas de Toralla (ECIMAT, Vigo, Galicia) for their support during the course of this work. S. Pérez was granted with a fellowship from the University of Vigo. This study was also partially funded by the research proyect PGIDIT05RMA31201PR from Xunta de Galicia.
About this article
Cite this article
Pérez, S., Beiras, R. The mysid Siriella armata as a model organism in marine ecotoxicology: comparative acute toxicity sensitivity with Daphnia magna . Ecotoxicology 19, 196 (2010). https://doi.org/10.1007/s10646-009-0405-3
Received:

Accepted:

Published:
Keywords
Mysidacea

Siriella armata
Daphnia magna

Ecotoxicology

Metals

SDS