Abstract
Biomarkers as lipid peroxidation, metallothionein and δ-aminolevulinic acid dehydratase were determined in Cathorops spixii to compare the biological responses of this fish from estuaries with distinct anthropogenic influence. Three areas were selected in two estuaries in accordance with the levels of contamination for the polluted (Santos/São Vicente) and with the hydrodynamic characteristics for the non-polluted (Cananéia) estuary. Water characteristics and mercury levels in C. spixii confirmed a high human influence in the polluted system. In general, the biomarkers showed differences between the estuaries, suggesting disturbances in the specific cell mechanisms due to the presence of multiple xenobiotics in the contaminated system. Therefore, these biomarkers are recommended to promote more accurate information about the exposure to pollutants. Additionally, the study of the effect of the multiple xenobiotics on resident species such as the benthic fish C. spixii can favor a better assessment of the environmental quality of these systems.
Access options
Buy single article
Instant access to the full article PDF.
US$ 39.95
Tax calculation will be finalised during checkout.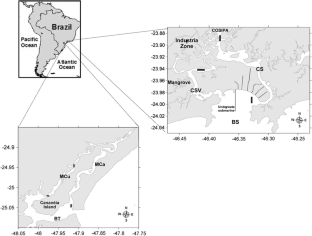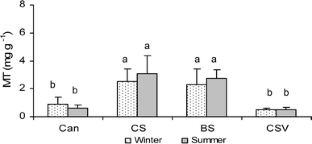 References
Adams SM, Ryon MG (1994) A comparison of health assessment approaches for evaluating the effects of contaminant-related stress on fish populations. J Aquat Ecosyst Health 3:15–25

Alho CJR, Vieira LM (1997) Fish and wildlife resources in the Pantanal wetlands of Brazil and potential disturbances from the release of environmental contaminants. Environ Toxicol Chem 16:71–74

Alves Costa JRMA, Mela M, Silva de Assis HC, Pelletier E, Randi MAF, Oliveira-Ribeiro CA (2007) Enzymatic inhibition and morphological changes in Hoplias malabaricus from dietary exposure to lead (II) or methylmercury. Ecotoxicol Environ Saf 67:82–88

Amiard JC, Amiard-Triquet C, Barka S, Pellerin J, Rainbow PS (2006) Metallothioneins in aquatic invertebrates: their role in metal detoxification and their use as biomarkers. Aquat Toxicol 76:160–202

Azevedo JS (2008) Biomarcadores de Contaminação Ambiental em Cathorops spixii nos estuários de Santos/São Vicente e Cananéia, São Paulo, Brasil. Unpublished PhD Thesis, Universidade de São Paulo, São Paulo, Brazil, p 219

Balkas TI, Tugrul S, Salihoglu I (1982) Trace metal levels in fish and crustacean from Northeastern Mediterranean Coastal Waters. Mar Environ Res 6:281–289

Bebianno MJ, Langston WJ (1989) Quantification of metallothioneins in marine invertebrates using differential pulse polarography. Electrochim Acta 7:59–64

Bebianno MJ, Santos C, Canário J, Gouveia N, Sena-Carvalho D, Vale C (2007) Hg and metallothionein-like proteins in the black scabbardfish Aphanopus carbo. Food Chem Toxicol 45:1443–1452

Berglind R (1986) Combined and separate effects of cadmium, lead and zinc on ALA-D activity, growth and hemoglobin content in Daphnia magna. Environ Toxicol Chem 5:989–995

Berlin A, Schaller KN (1974) European standardized method for determination of delta-ALAD activity in blood. Z Klin Chem Klin Biochem 12:389–390

Bícego MC, Taniguchi S, Yogui GT, Montone RC, Silva DAM, Lourenço RA, Martins CC, Sasaki ST, Pellizari VH, Weber RR (2006) Assessment of contamination by polychlorinated biphenyls and aliphatic and aromatic hydrocarbons in sediments of the Santos and São Vicente Estuary System, São Paulo, Brazil. Mar Pollut Bull 52:1784–1832

Cetesb (2005) Qualidade das águas litorâneas no Estado de São Paulo: relatório Técnico–Balneabilidade das Praias, 2004. Cetesb, São Paulo, p 334

Dórea JG (2003) Fish are central in the diet of Amazonian riparians: should we worry about their mercury concentrations? Environ Res 92:232–244

Erdelmeier I, Gerard-Monnier D, Yadan JC, Acudiere J (1998) Reactions of N-methyl-2-phenylindole with malondialdehyde and 4-hydroxyalkenals. Mechanistic aspects of the colorimetric assay of lipid peroxidation. Chem Res Toxicol 11:1184–1194

Fernandes D, Bebianno MJ, Porte C (2008) Hepatic levels of metal and metallothioneins in two commercial fish species of the Northern Iberian shelf. Sci Total Environ 391:159–167

Ferreira M, Moradas-Ferreira P, Reis-Henriques MA (2005) Oxidative stress biomarkers in two resident species, mullet (Mugil cephalus) and flounder (Platichthys flesus), from a polluted site in River Douro Estuary, Portugal. Aquat Toxicol 71:39–48

Grasshoff K, Ehrhardt M, Kremling K (1983) Methods of seawatwer analysis, 2nd edn. Verlag Chemie, Weinheim, Germany, p 419

Hortellani MC, Sarkis JES, Bonetti J, Bonetti C (2005) Evaluation of mercury contamination in sediments from Santos—São Vicente Estuarine System, São Paulo State, Brazil. J Braz Chem Soc 16(6A):1140–1149

Horvat M (1996) Mercury analysis and speciation in environmental samples. In: Baeyens W et al (eds) Global and regional mercury cycles: sources, fluxes and mass balances. NATO ASI Series, Partnership Sub-Series, 2. Environment, vol 21. Kluwer Academic Publishers, Netherlands, pp 1–31

Jackson TA (1997) Long-range atmospheric transport of mercury to ecosystems and the importance of anthropogenic emissions–a critical review and evaluation of the published evidence. Environ Rev 5:99–120

Karels AE, Soimasuo M, Lappivaara J, Leppanen H, Aaltonen T, Mellanen P, Oikari AOJ (1998) Effects of EFC-bleached kraft mill effluent on reproductive steroids and liver MFO activity in populations of pearch and roach. Ecotoxicology 7:123–132

Lacorn M, Lahrssen A, Rotzoll N, Simat TJ, Steinhart H (2001) Quantification of metallothionein isoforms in fish liver and its implications for biomonitoring. Environ Toxicol Chem 20:140–145

Martin LK, Black MC (1998) Biomarker assessment of the effects of coal strip-mine contamination on channel catfish. Ecotoxicol Environ Saf 41:307–320

Monserrat JM, Martinez PE, Geracitano LA, Amado LL, Martins CMG, Pinho GLL, Chaves IS, Ferreira-Cravo M, Ventura-Lima J, Bianchini A (2007) Pollution biomarkers in estuarine animals: critical review and new perspectives. Comp Biochem Physiol Part C 146:221–234

Perottoni J, Lobato LP, Silveira A, Rocha JBT, Emanuelli T (2004) Effects of mercury and selenite on d-aminolevulinate dehydratase activity and on selected oxidative stress parameters in rats. Environ Res 95:166–173

Porvari P (1995) Mercury levels of fish in Tucuruí hydroelectric reservoir and in River Mojú in Amazonia, in the state of Para, Brazil. Sci Total Environ 175:109–117

Roesijadi G (1992) Metallothioneins in metal regulation and toxicity in aquatic animals. Aquat Toxicol 22:81–114

Schmitt CJ, Whyte JJ, Roberts AP, Annis ML, May TW, Tillitt DE (2007) Biomarkers of metals exposure in fish from lead-zinc mining areas of Southeastern Missouri, USA. Ecotoxicol Environ Saf 67:31–47

Tréguer P, Le Corre P (1975) Manuel d′analysis des sels nutritifs dans l′eau de mer. 2èd Brest, Université de Bretagne Occidentale, France, p 110

Winkler LW (1888) Die Bestimmung des in wasser gelosten sauerstoffes. Ber Deutsch Chem Gesellschaft 21:2843–2854
Acknowledgments
This work was supported by CAPES (Brazilian Agencies for Science and Technology), Oceanographic Institute of University of São Paulo and the Laboratory of Ecotoxicology and Environmental Chemistry of the University of Algarve. J. S. Azevedo was a recipient of fellowships from CAPES (PDEE).
About this article
Cite this article
Azevedo, J.S., Serafim, A., Company, R. et al. Biomarkers of exposure to metal contamination and lipid peroxidation in the benthic fish Cathorops spixii from two estuaries in South America, Brazil. Ecotoxicology 18, 1001–1010 (2009). https://doi.org/10.1007/s10646-009-0370-x
Received:

Accepted:

Published:

Issue Date:
Keywords
Metallothionein

ALAD activity

Lipid peroxidation

Mercury

Cathorops spixii

Santos/São Vicente

Cananéia