Abstract
Mercury is a pervasive environmental contaminant and a well-documented immunosuppressor. However, little is known about the effects of mercury contamination on health of free-living vertebrate populations. The South River in Virginia, USA was heavily contaminated with industrial mercury from 1929 to 1950, and recent studies have documented high levels of circulating mercury in riparian songbirds breeding below the site of contamination. Here we used two standardized immune assays, mitogen-induced swelling in response to phytohaemagglutinin (PHA) and antibody response to sheep red blood cells (SRBCs), to test for effects of mercury toxicity on the immune system of female tree swallows (Tachycineta bicolor) which feed on terrestrial and aquatic insects along the contaminated waterway. We found that females breeding at mercury-contaminated sites mounted significantly weaker PHA-induced swelling responses than those at reference sites in both years of study. However, among females on the contaminated sites, individual bloodstream mercury concentration did not predict the extent of mitogen-induced swelling. We did not detect any differences between reference and contaminated females in the strength of antibody responses to SRBCs, but sample sizes for this assay were significantly smaller. Overall, our results suggest that mercury toxicity can exert sub-lethal immunosuppression in free-living, insectivorous songbirds. The potential fitness consequences of the detected differences in immunocompetence caused by mercury toxicity warrant further study.
Access options
Buy single article
Instant access to the full article PDF.
USD 39.95
Price excludes VAT (USA)
Tax calculation will be finalised during checkout.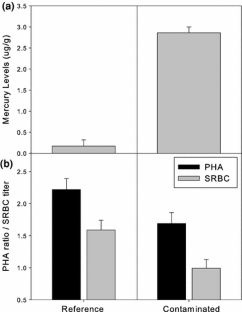 References
Brasso RL, Cristol DA (2008) Effects of mercury exposure on the reproductive success of tree swallows (Tachycineta bicolor). Ecotoxicol 17:133–141. doi:10.1007/s10646-007-0163-z

Carter LJ (1977) Chemical plants leave unexpected legacy for two Virginia rivers. Science 198:1015–1020. doi:10.1126/science.198.4321.1015

Cristol DA, Brasso RL, Condon AM, Fovargue RE, Friedman SL, Hallinger KK et al (2008) The movement of aquatic mercury through terrestrial food webs. Science 320:335. doi:10.1126/science.1154082

Day RD, Segars AL, Arendt MD, Lee AM, Peden-Adams MM (2007) Relationship of blood mercury levels to health parameters in the loggerhead sea turtle (Caretta caretta). Environ Health Perspect 115:1421–1428

Deerenberg C, Apanius V, Daan S, Bos N (1997) Reproductive effort decreases antibody responsiveness. Proc R Soc Lond B Biol Sci 264:1021–1029. doi:10.1098/rspb.1997.0141

Evers DC, Burgess NM, Champoux L, Hoskins B, Major A, Goodale WM et al (2005) Patterns and interpretation of mercury exposure in freshwater avian communities in northeastern North America. Ecotoxicol 14:193–221. doi:10.1007/s10646-004-6269-7

Friedman SL, Brasso RL, Condon AM (2008) An improved simple nest-box trap. J Field Ornithol 79:99–101. doi:10.1111/j.1557-9263.2008.00150.x

Gorissen L, Snoeijs T, Van Duyse E, Eens M (2005) Heavy metal pollution affects dawn singing behaviour in a small passerine bird. Oecologia 145:504–509. doi:10.1007/s00442-005-0091-7

Haggqvist B, Havarinasab S, Bjorn E, Hultman P (2005) The immunosuppressive effect of methylmercury does not preclude development of autoimmunity in genetically susceptible mice. Toxicol 208:149–164. doi:10.1016/j.tox.2004.11.020

Henny CJ, Kaiser JL, Packard HA, Grove RA, Taft MR (2005) Assessing mercury exposure and effects to American dippers in headwater streams near mining sites. Ecotoxicol 14:709–725. doi:10.1007/s10646-005-0023-7

Hill CH (1979) Dietary influences on resistance to Salmonella infection in chicks. Fed Proc 38:2129–2133

Janssens E, Dauwe T, Pinxten R, Bervoets L, Blust R, Eens M (2003) Effects of heavy metal exposure on the condition and health of nestlings of the great tit (Parus major), a small songbird species. Environ Pollut 126:267–274. doi:10.1016/S0269-7491(03)00185-4

Kennedy MW, Nager RG (2006) The perils and prospects of using phytohaemagglutinin in evolutionary ecology. Trends Ecol Evol 21:653–655. doi:10.1016/j.tree.2006.09.017

Kenow KP, Grasman KA, Hines RK, Meyer MW, Gendron-Fitzpatrick A, Spalding MG et al (2007) Effects of methylmercury exposure on the immune function of juvenile common loons (Gavia immer). Environ Toxicol Chem 26:1460–1469. doi:10.1897/06-442R.1

Kumar A, Chauhan RS, Singh NP (1999) Immunopathological effect of mercury on humoral immune response in chickens. Indian J Anim Sci 69:550–552

Martin LB II, Han P, Lewittes J, Kuhlman JR, Klasing KC, Wikelski M (2006) Phytohemagglutinin-induced skin swelling in birds: histological support for a classic immunoecological technique. Funct Ecol 20:290–299. doi:10.1111/j.1365-2435.2006.01094.x

O'Halloran J, Irwin S, Harrison S, Smiddy P, O'Mahony B (2003) Mercury and organochlorine content of dipper Cinclus cinclus eggs in south-west Ireland: trends during 1990–1999. Environ Pollut 123:85–93. doi:10.1016/S0269-7491(02)00336-6

Rimmer CC, McFarland KP, Evers DC, Miller EK, Aubry Y, Busby D et al (2005) Mercury concentrations in Bicknell's thrush and other insectivorous passerines in Montane forests of northeastern North America. Ecotoxicol 14:223–240. doi:10.1007/s10646-004-6270-1

Robertson RJ, Stutchbury BJ, Cohen RR (1992) Tree Swallow (Tachycineta bicolor). In: Poole A, Stettenheim P, Gill F (eds) The birds of North America, No. 11. The Academy of Natural Sciences, Philadelphia PA, and American Ornithologists' Union, Washington DC

Scheuhammer AM, Meyer WM, Sandheinrich MB, Murray MW (2007) Effects of environmental methylmercury on the health of wild birds, mammals, and fish. Ambio 36:12–19. doi:10.1579/0044-7447(2007)36[12:EOEMOT]2.0.CO;2

Shenker BJ, Rooney C, Vitale L, Shapiro IM (1992) Immunotoxic effects of mercuric compounds on human lymphocytes and monocytes: I. Suppression of T-cell activation. Immunopharmacol Immunotoxicol 14:539–553

Shriver WG, Evers DC, Hodgman TP, Macculloch BJ, Taylor RJ (2006) Mercury in sharp-tailed sparrows breeding in coastal wetlands. Environ Bioindic 1:129–135. doi:10.1080/15555270600695734

Smits JE, Bortolotti GR, Tella JL (1999) Simplifying the phytohaemagglutinin skin-testing technique in studies of avian immunocompetence. Funct Ecol 13:567–572. doi:10.1046/j.1365-2435.1999.00338.x

Spalding MG, Frederick PC, McGill HC, Bouton SN, Richey LJ, Schumacher IM et al (2000) Histologic, neurologic, and immunologic effects of methylmercury in captive great egrets. J Wildl Dis 3:423–435

Stutchbury BJ, Robertson RJ (1986) A simple trap for catching birds in nest boxes. J Field Ornithol 57:64–65

Wiener J, Krabbenhoft D, Heinz G, Scheuhammer A (2003) Ecotoxicology of mercury. In: Hoffman D, Rattner BA, Burton GA Jr, Cairns J Jr (eds) Handbook of ecotoxiology. CRC Press, Boca Raton, pp 409–463

Zelikoff JT, Smialowicz R, Bigazzi PE, Goyer RA, Lawrence DA, Maibach HI et al (1994) Immunomodulation by metals. Fundam Appl Toxicol 22:1–7. doi:10.1006/faat.1994.1001
Acknowledgments
Funding was provided by E.I. DuPont de Nemours and Company and the Vice Provost for Research at College of William & Mary and NSF UBM 0436318. We thank the South River Science Team, Rebecka Brasso, Anne Condon, Rachel Fovargue, Adrian Monroe, Robert Taylor and the many cooperative landowners in the Shenandoah Valley. Two anonymous reviewers helped to improve the manuscript.
About this article
Cite this article
Hawley, D.M., Hallinger, K.K. & Cristol, D.A. Compromised immune competence in free-living tree swallows exposed to mercury. Ecotoxicology 18, 499–503 (2009). https://doi.org/10.1007/s10646-009-0307-4
Received:

Accepted:

Published:

Issue Date:

DOI: https://doi.org/10.1007/s10646-009-0307-4
Keywords
Mercury

Songbird

Immune competence

Tree swallow

Tachycineta bicolor