Abstract
An experimental tree swallow population was established in the headwaters of the Shenandoah River, Virginia, USA to assess the accumulation and effects of mercury contamination on birds that eat emergent aquatic insects. One tributary, the South River, was contaminated with mercury before 1950. Reproductive success of swallows nesting within 50 m of this river was compared to that of three uncontaminated reference tributaries in 2005 and 2006. Female swallows on the contaminated stretch of river had significantly elevated blood and feather total mercury (blood: 3.56 ± 2.41 ppm ww vs. 0.17 ± 0.15 ppm reference; feather: 13.55 ± 6.94 ppm vs. 2.34 ± 0.87 ppm reference), possibly the highest ever reported for an insectivorous songbird. Insects collected by the swallows to be fed to nestlings averaged 0.97 ± 1.11 ppm dw total mercury, significantly higher than on reference sites. Swallows in the contaminated area produced fewer fledglings than those in reference areas. The effect of mercury contamination on productivity was detectable only for young females in the contaminated area that were breeding for the first time in 2006, a segment of the population that may already have been stressed by inexperience. Tree swallows served as practical and effective biomonitors for mercury levels and effects and have great potential as proxy biomonitors for more logistically challenging birds such as loons or eagles.
Access options
Buy single article
Instant access to the full article PDF.
USD 39.95
Price excludes VAT (USA)
Tax calculation will be finalised during checkout.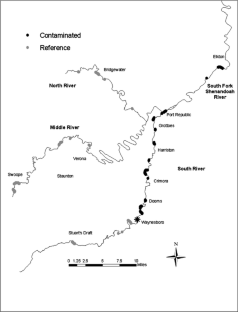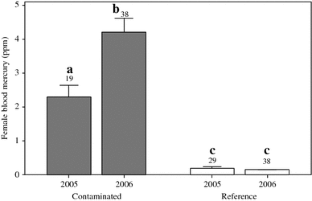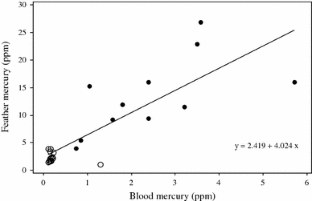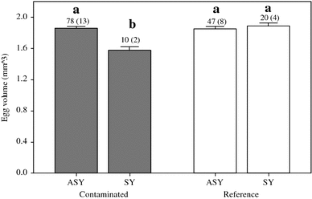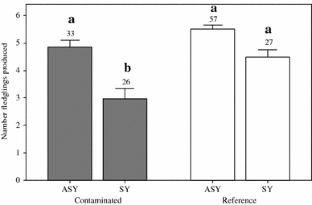 References
Ardia DR, Wasson MF, Winkler DW (2006) Individual quality and food availability determine yolk and egg mass and egg composition in tree swallows Tachycineta bicolor. J Avian Biol 37:252–259

Barr JF (1986) Population dynamics of the common loon (Gauia immer) associated with mercury-contaminated waters in northwestern Ontario. Canadian Wildlife Service, Ottawa, Ontario, Canada

Bishop CA, Koster MD, Chek AA, Hussell DJT, Jock K (1995) Chlorinated hydrocarbons and mercury in sediments, red-winged blackbirds (Agelaius phoeniceus) and tree swallows (Tachycineta bicolor) from wetlands in the Great Lakes-St. Lawerence River Basin. Environ Toxicol Chem 14:491–501

Brasso R (2007) The effects of mercury on the nesting success and return rate of tree swallows (Tachycineta bicolor). Masters thesis. The College of William and Mary, Williamsburg, VA, USA

Burger J, Gochfield M (1997) Risk, mercury levels, and birds: relating adverse laboratory effects to field biomonitoring. Environ Res 75:160–172

Carter LJ (1977) Chemical plants leave unexpected legacy for two Virginia rivers. Science 198:1015–1020

Custer CM, Custer TW, Allen PD, Stromborg KL, Melancon, MJ (1998) Reproduction and environmental contamination in tree swallows nesting in the Fox River drainage and Green Bay, Wisconsin, USA. Environ Toxicol Chem 17:1786–1798

Custer CM, Custer TW, Dummer PM, Munney KL (2003) Exposure and effects of chemical contaminants on tree swallows nesting along the Housatonic River, Berkshire County, Massachusetts, USA, 1998–2000. Environ Toxicol Chem 22:1605–1621

Custer CM, Custer TW, Warburton D, Hoffman DJ, Bickham JW, Matson CW (2006) Trace element concentrations and bioindicator responses in tree swallows from northwestern Minnesota. Environ Monit Assess 118:247–266

Evers DC, Taylor KM, Major A, Taylor RJ, Poppenga RH, Scheuhammer AM (2003) Common loon eggs as indicators of methylmercury availability in North America. Ecotoxicology 12:69–81

Evers DC, Burgess NM, Champoux L, Hoskins B, Major A, Goodale WM, Taylor RJ, Poppenga R, Daigle T (2005) Patterns and interpretation of mercury exposure in freshwater avian communities of northeastern north America. Ecotoxicology 14:193–221

Gerrard PM, St Louis VL (2001) The effects of experimental reservoir creation on the bioaccumulation of methylmercury and reproductive success of tree swallows (Tachycineta bicolor). Environ Sci Technol 35:1329–1338

Heinz GH, Hoffman DJ (2003) Predicting mercury in mallard ducklings from mercury in chorioallantoic membranes. Bull Environ Contamin Toxicol 70:1242–1246

Hoyt DF (1979) Practical methods of estimating volume and fresh weight of bird eggs. Auk 96:73–77

Janssens E, Dauwe T, Pinxten R, Eens M (2003) Breeding performance of great tits (Parus major) along a gradient of heavy metal pollution. Environ Toxicol Chem 22:1140–1145

Mengelkoch JM, Niemi GJ, Regal RR (2004) Diet of the nestling tree swallow. Condor 106:423–429

McCarty JP (2001) Use of tree swallows in studies of environmental stress. Rev Toxicol 4:61–104

Robertson RJ, Stutchbury BJ, Cohen RR (1992) Tree swallow. In: Poole A, Stettenheim P, Gill F (eds) The birds of North America, no. 11. Academy of Natural Sciences, Philadelphia, and American Ornithologists' Union, Washington DC

Scheuhammer AM, Meyer WM, Sandheinrich MB, Murray MW (2007) Effects of environmental methylmercury on the health of wild birds, mammals, and fish. Ambio 36:12–19

Spalding MG, Frederick PC, McGill HC, Bouton SN, McDowell LR (2000) Methylmercury accumulation in tissues and its effects on growth and appetite in captive great egrets. J Wildl Dis 36:411–422

Stutchbury BJ, Rohwer S (1990) Molt patterns in the tree swallow (Tachycineta bicolor). Can J Zool 68:1468–1472

Thompson DR (1996) Mercury in birds and terrestrial mammals. In: Beyer WN, Heinz GH, Redmon-Norwood AW (eds) Environmental contaminants in wildlife: interpreting tissue concentrations. Lewis Publishers, Boca Raton, FL, USA, pp 341–356

USDI (1998) Guidelines for the interpretation of the biological effects of selected constituents in biota, water, and sediment: mercury, Report No. 3. National irrigation water quality program information, United States Department of the Interior

Weech SA, Scheuhammer AM, Elliott JE (2006) Mercury exposure and reproduction in fish–eating birds breeding in the Pinchi Lake region, British Columbia, Canada. Environ Toxicol Chem 25:1433–1440

Weiner JG, Krabbenhoft DP, Heinz GH, Scheuhammer AM (2003) Ecotoxicology of mercury. In: Hoffman DJ, Rattner BA, Burton GA Jr, Cairns J Jr (eds) Handbook of ecotoxicology. Lewis Publishing, Boca Raton, FL

Wolfe MF, Schwarzbach S, Sulaiman RA (1998) Effects of mercury on wildlife: a comprehensive review. Environ Toxicol Chem 17:146–160
Acknowledgements
Funding was provided by E. I. DuPont de Nemours, the National Science Foundation UBM 0436318, and the Office of the Vice Provost for Research at the College of William & Mary. We thank Anne Condon, Rachel Fovargue, Scott Friedman, Kelly Hallinger, Dana Hawley, Ravi Jefferson George, Sean Koebley, Liz Langer, Maryse Leandre, Adrian Monroe, Jack Reese, and Ariel White for assistance with fieldwork. We are also indebted to all of the cooperative landowners in the Shenandoah Valley, graduate committee members John Swaddle and Randy Chambers, and the entire South River Science Team.
About this article
Cite this article
Brasso, R.L., Cristol, D.A. Effects of mercury exposure on the reproductive success of tree swallows (Tachycineta bicolor). Ecotoxicology 17, 133–141 (2008). https://doi.org/10.1007/s10646-007-0163-z
Received:

Accepted:

Published:

Issue Date:

DOI: https://doi.org/10.1007/s10646-007-0163-z
Keywords
Mercury

Productivity

Tree swallow

Tachycineta bicolor

Reproductive success