Abstract
Concentrations of four trace elements (Cd, Ni, Cu and Pb) were determined in eggshells of grey heron (Ardea cinerea) and black-crowned night herons (Nycticorax nycticorax) from Nallihan Bird Paradise, which is located in the northern part of Sariyar Dam Reservoir, Turkey. Results indicated that, within the same area, these ardeid species differed in the levels of Cd, Cu and Pb in their eggshells (generally grey heron > night heron), possibly because females may have foraged in different habitats and regions. Geometric means found for Cd, Ni, Cu and Pb in eggshells were 0.931 mg/kg, 0.405 mg/kg, 6.755 mg/kg and 4.567 mg/kg, respectively, for grey heron; and 0.230 mg/kg, 0.220 mg/kg, 1.369 mg/kg and 1.108 mg/kg, respectively, for night heron. High bioaccumulation from sediments to eggshells occured for Cu and Pb, while Cd and Ni exhibited low accumulation. Bioaccumulation ratios were calculated as 19.63 (Cu) and 22.9 (Pb) in eggshells of grey herons. In conclusion, eggshells of grey herons appeared to be good bioindicators for monitoring of Cu and Pb in Nallihan Bird Paradise.
Access options
Buy single article
Instant access to the full article PDF.
USD 39.95
Price excludes VAT (USA)
Tax calculation will be finalised during checkout.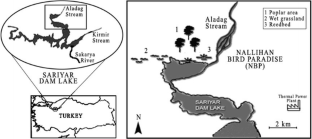 References
Ayaş Z, Kolankaya D (1996) Accumulation of some heavy metals in various environments and organisms at Göksu Delta, Türkiye, 1991–1993. Bull Environ Contam Toxicol 56:65–72

Ayaş Z, Barlas NE, Kolankaya D (1997) Determination of organochlorine pesticide residues in various environments and organisms in Göksu Delta, Turkey. Aquatic Toxicol 39:171–181

Ayaş Z (2004) Some organochlorine and heavy metal residues in eggshells of Audouin's gulls from Turkey. 3rd European conference on pesticides and releated organic micropollutants in the environment, Halkidiki, Oct. 7–10

Boncompagni E, Muhammed RJ, Orvini E, Gandini C, Sanpera C, Ruiz X, Fasola M (2003) Egrets as monitors of trace metal contamination in wetlands of Pakistan. Arch Environ Contam Toxicol 45:399–406

Burger J (1994) Heavy metals in avian eggshells: another excretion method. J Toxicol Environ Health 41:207–220

Burger J, Pokras M, Chafel R, Gochfeld M (1994) Heavy metal concentrations in feathers of common loons (Gavia immer) in the Northeastern United States and age differences in mercury levels. Environ Monit Assess 30:1–7

Burger J (2002) Food chain differences affect heavy metals in bird eggs in Barnegat Bay, New Jersey. Environ Res Sect A 90:33–39

Connell DW, Wong BFS, Lam PKS, Poon KF, Lam MHW, Wu RSS, Richardson BJ, Yen YF (2002) Risks to breeding success of ardeids by contaminants in Hong Kong: evidence from trace metals in feathers. Ecotoxicology 11:49–59

Connell DW, Fung CN, Minh TB, Tanabe S, Lam PKS, Wong BFS, Lam MHW, Wong LC, Wu RSS, Richardson BJ (2003) Risk to breeding success of fish-eating Ardeids due to persistent organic contaminants in Hong Kong: evidence from organochlorine compounds in eggs. Water Res 37:459–467

Dauwe T, Bervoets L, Pinxten R, Blust R, Eens M (2003) Variation of heavy metals within and among feathers of birds of prey: effects of molt and external contamination. Environ Pollut 124:429–436

Ekmekci FG, Yerli SV, Ozmen M, Ayaş Z (2000) The Effects of Pollution of Sariyar Dam Lake in and Its Tributaries on Fish. A Scientific Report, The Scientific and Research Council of Turkey, TUBİTAK-TARP-1846, 230 p

Fasola M, Movalli A, Gandini C (1998) Heavy metal, organochlorine pesticide, and PCB residues in eggs and feathers of herons breeding in northern Italy. Arch Environ Contam Toxicol 34:87–93

Furness RW (1993) Birds as monitors of pollutants. In: Furness RW, Greenwood JJD (eds) Birds as monitors of environmental change. London, Champan and Hall, pp 86–88

Furness RW (1996) Cadmium in birds. In: Beyer WN, Heinz GH, Redmon-Norwood AW (eds) Environmental contaminants in wildlife: interpreting tissue concentrations. Boca Raton, Lewis Publishers FL, pp 389–404

Furness RW, Camphuysen KCJ (1997) Seabirds as monitors of the marine environment. ICES J Marine Sci 54:726–737

Gochfeld M, Burger J (1998) Temporal trends in metal levels in eggs of the endangered Roseate Tern (Sterna dougallii) in New York. Environ Res Sect A 77:36–42

Goutner V, Furness RW, Papakostas G (2001) Mercury in feathers of Squacco Heron (Ardeola ralloides) chicks in relation to age, hatching order, growth, and sampling dates. Environ Pollut 111:107–115

Kolankaya D (2006) Organochlorine pesticide residues and their toxic effects on the environment and organisms in Turkey. Intern J Environ Anal Chem 86:147–160

Lam JCW, Tanabe S, Wong BSF, Lam PKS (2004) Trace element residues in eggs of Little Egret (Egretta garzetta) and Black-crowned Night-Heron (Nycticorax nycticorax) from Hong Kong, China. Mar Pollut Bull 48:390–396

Lam JCW, Tanabe S, Lama MHW, Lam PKS (2005) Risk to breeding success of waterbirds by contaminants in Hong Kong: evidence from trace elements in eggs Environ Pollut 135:481–490

Mateo R, Taggart M, Meharg AA (2003) Lead and arsenic in bones of birds of prey from Spain. Environ Pollut 126:107–114

Mora MA (2003) Heavy metals and metalloids in egg contents and eggshells of passerine birds from Arizona. Environ Pollut 125:393–400

Morera M, Sanpera C, Crespo S, Jover L, Ruiz X (1997) Inter and intraclutch Variability in heavy metals and selenium levels in Audouin's gull eggs from Ebro Delta, Spain. Arch Environ Contam Toxicol 33:71–75

Movalli PA (2000) Heavy metal and other residues in feathers of laggar falcon (Falco biarmicus) jugger from six districts of Pakistan. Environ Pollut 109:267–275

Perktaş U, Ayaş Z (2005) Birds of Nallihan Bird Paradise (Central Anatolia, Turkey). Turk. J Zool 29:45–59

Saeki K, Okabe Y, Kim EY, Tanabe S, Fukuda M, Tatsukawa R (2000) Mercury and cadmium in common cormorants (Phalacrocorax carbo). Environ Pollut 108:249–255

Scheuhammer AM (1987) The chronic toxicity of aluminium, cadmium, mercury and lead in birds: a review. Environ Pollut 46:263–295

Scheuhammer AM, Norris SL (1996) The ecotoxicology of lead shot and lead fishing weights. Ecotoxicology 5:279–295

Somer G, Ülkü U (2004) A new and direct method for the trace element determination in cauliflower by differential pulse polarography. Talanta 62:323–328

Sorensen EM (1991) Metal poisoning in fish. Boca Raton, FL, CRC Press

Sundlof SF, Spalding MG, Wentworth JD, Steible CK (1995) Mercury in livers of wading birds (Ciconiiformes) in southern Florida. Arch Environ Contam Toxicol 27:299–305

Walsh PM (1990) The use of seabirds as monitors of heavy metals in the marine environment. In: Furness RW, Rainbow PS (eds) Heavy metals in the marine environment. Boca Raton, FL, CRC Press, pp 183–204

Zhou L, Li J, Yin H, Chang W, Wang X, Liu Q, Xu S, Gui X, Yan R (2005) Enrichment characteristics of heavy metals in heron eggs. Ying Yong Sheng Tai Xue Bao 16:1932–1937
About this article
Cite this article
Ayaş, Z. Trace element residues in eggshells of grey heron (Ardea cinerea) and black-crowned night heron (Nycticorax nycticorax) from Nallihan Bird Paradise, Ankara-Turkey. Ecotoxicology 16, 347–352 (2007). https://doi.org/10.1007/s10646-007-0132-6
Received:

Accepted:

Published:

Issue Date:

DOI: https://doi.org/10.1007/s10646-007-0132-6
Keywords