Abstract
Coal tar based pavement sealers are applied regularly to parking lots and contain significant levels of polycyclic aromatic hydrocarbons (PAHs). Recently a connection between elevated levels of PAHs in streams and storm water runoff from parking lots has been identified. We tested the hypothesis that coal tar based pavement sealers could alter the survival, growth, and development of amphibians using a model species, Xenopus laevis. Ten fertilized individuals were placed singly into containers containing one of four treatment groups: control, low, medium, and high (respective nominal concentrations 0, 3, 30, and 300 ppm TPAH). All of the individuals in the high exposure group died by the sixth day of exposure. By day 14 there were significant patterns of stunted growth (p<0.0001) and slower development (p=0.006) in the medium and high exposure groups relative to the control and low treatment groups. When the experiment ended on day 52 the control and low-dose individuals had achieved more advanced developmental stages than the medium group (p=0.0007). These data indicate that these commonly used coal tar based pavement sealers may potentially affect the amphibian taxa living in areas that receive storm water runoff.
Access options
Buy single article
Instant access to the full article PDF.
US$ 39.95
Tax calculation will be finalised during checkout.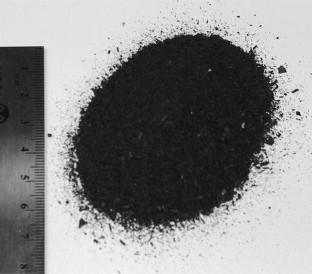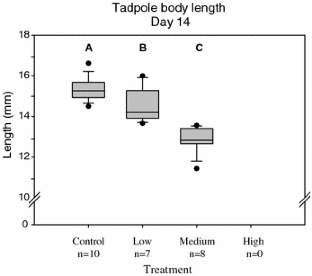 References
Fernandez M., Lharidon J., 1994 Effects of light on the cytotoxicity and genotoxicity of benzo(a)pyrene and an oil refinery effluent in the newt Environ. Mol. Mutagen. 24, 124–36

Freese B., 2003 Coal: A Human History. Perseus Publishing Cambridge MA

Gallo, M.A. (2001). History and scope of toxicology. In C.D. Klassen (ed). Casarett and Doull's Toxicology: The Basic Science of Poisons, 6th edn. NY: McGraw-Hill Medical Publishing Division

Hatch A.C., Burton G.A., 1998 Effects of photoinduced toxicity of fluoranthene on amphibian embryos and larvae Environ. Toxicol. Chem. 17, 1777–85

Klassen C.D., 2001 Casarett and Doull's Toxicology: The Basic Science of Poisons. 6th edn. McGraw Hill New York, NY

MacDonald D.D., Ingersoll C.G., Berger T.A., 2000 Development and evaluation of consensus-based sediment quality guidelines for freshwater ecosystems Arch. Environ. Contam. Toxicol. 39, 20–31

Mahler, B.J., Van Meter, P.C. and Wilson, J.T. (2004). Concentrations of polycyclic aromatic hydrocarbons (PAHs) and major and trace elements in simulated rainfall runoff from parking lots, Austin, Texas, 2003. U.S. Geological Survey Open-File Report 2004-1208. U.S. Department of the Interior

Mahler B.J., Van Metre P.C., Bashara T.J., Wilson J.T., Johns D.A., 2005 Parking lot sealcoat: an unrecognized source of urban polycyclic aromatic hydrocarbons Environ. Sci. Technol. 39, 5560–66

Monson P.D., Call D.J., Cox D.A., Liber K., Ankley G.T., 1999 Photoinduced toxicity of fluoranthene to northern leopard frogs (Rana pipiens) Environ. Toxicol. Chem. 18, 308–12

Nieuwkoop P.D., Faber J., 1994 Normal Table of Xenopus laevis (Daudin): A Systematical and Chronological Survey of the Development from the Fertilized Egg Till the End of Metamorphosis Garland Publisher New York

Patterson, H.H., MacDonald, B., Fang, F., Cronan, C. (1996). Enhancement of the water solubility of organic pollutants such as pyrene by dissolved organic matter. In J.S. Gaffney, N.A. Marley, S.B. Clark (eds.), Humic and Fulvic Acids: Isolation, Structure, and Environmental Role, pp. 288–98. Washington DC: American Chemical Society

R Development Core Team (2004). R: A language and environment for statistical computing, version 1.9.1. R Foundation for Statistical Computing, Vienna, Austria, ISBN 3-900051-00-3, URL http://www.R-project.org

Sadinski W.J., Levay F., Wilson M.C., Hoffman J.R., Bodell W.J., Anderson S.L., 1995 Relationships among DNA adducts, micronuclei, and fitness parameters in Xenopus laevis exposed to benzo(a)pyrene Aquat. Toxicol. 32, 333–53

SealMaster (2002). Material safety data sheet for SealMaster coal tar pavement sealer product no. S1000: Sandusky, Ohio, prepared February 21, 2002

STAR Inc. (1996). Material safety data sheet for Star Seal asphalt pavement sealer: Columbus, Ohio, prepared July 18, 1996

Thami G.P., Sarkar R., 2002 Coal tar past, present and future Chem. Dermatol. 27, 99–103

Van Metre P.C., Mahler B.J., Furlong E.T., 2000 Urban sprawl leaves its PAH signature Environ. Sci. Technol. 34, 4064–70
Acknowledgments
The City of Austin Watershed Protection Department provided the coal tar pavement sealant flakes, the photograph of the sealant flakes, and the corresponding chemical data that made this project possible. Special thanks to Nancy McClintock and Mateo Scoggins of the City of Austin for keeping this project going. We would also like to thank Christina Byerly for assistance in the lab.
About this article
Cite this article
Bryer, P.J., Elliott, J.N. & Willingham, E.J. The Effects of Coal Tar Based Pavement Sealer on Amphibian Development and Metamorphosis. Ecotoxicology 15, 241–247 (2006). https://doi.org/10.1007/s10646-005-0055-z
Received:

Accepted:

Published:

Issue Date:
Keywords
PAHs

Xenopus

runoff

non-point source pollution