Abstract
This paper revisits the so-called 'ICT-productivity paradox' from a long-run perspective by using annual Australian data for 1965–2013. It provides estimates of long-run and short-run elasticities of labour productivity with respect to ICT capital deepening, and explores the nature of long-run causality among productivity growth and ICT and non-ICT capital deepening. The estimates of long-run elasticities are derived by employing both time-series and panel data econometric techniques. The empirical results provide strong confirmatory evidence of the long-run impact of ICT capital deepening on labour productivity in Australia.
Access options
Buy single article
Instant access to the full article PDF.
USD 39.95
Price includes VAT (USA)
Tax calculation will be finalised during checkout.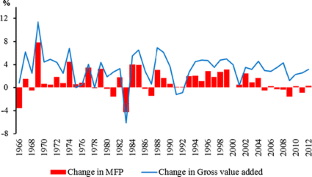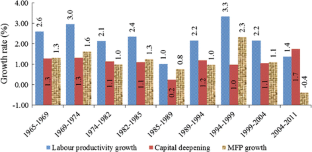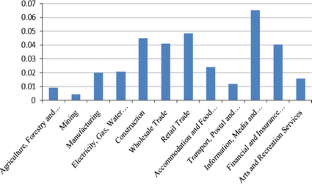 Notes
1.

Accurately identifying productivity cycles is a daunting task. Estimation results have been found to be quite sensitive even to the minor variations in the period selected (Parham et al. 2001). Moreover, time series econometrics is highly data intensive and may not produce very useful results for any one particular cycle. A longer sample is therefore preferable. Of course, the longer the sample, the greater the chance of significant temporal structural breaks in parameter values and model specificity.

2.

From an econometric point-of-view, the use of a larger sample is always preferable than using a shorter sample as estimation is more efficient, provided any structural changes are properly allowed for in the estimated model. For that reason, using data back to the 1960s allows one to cover various cycles of economic activity. As reported in Parham (2004b), Australia experienced a relatively better performance in output growth, labour and MFP—contributed to by strong growth in capital services and hours worked—in the 1960s as compared to the 1970s and 1980s. Subsequently, labour productivity and MFP boosted again in the 1990s, followed once again by an apparent slowdown in the 2000s. Modelling labour productivity from the 1960s, therefore, allows a counterbalancing of these ups and downs and provides a better understanding of the role of the various contributing factors to productivity from a longer term perspective.

3.

Market sector in Australia consists of 16 out of 19 industrial sectors. It includes all industries except for Public Administration and Safety; Education and Training; Health Care and Social Assistance; and Ownership of Dwellings.

4.

The Information, Media and Telecommunication sector includes units engaged in (1) creating, enhancing and storing information products in media, (2) transmitting information products using analogue and digital signals, and (3) providing transmission services and/or operating the infrastructure to enable the transmission and storage of information and information products.

5.

These may happen through other contextual factors. As for example, Christopoulos and McAdam (2013) found that expenditures on ICT bolsters the positive impact openness on technical efficiency among the OECD manufacturing sector.

6.

For brevity, we focus on Australian literature on ICT and productivity. Please see Shahiduzzaman and Alam (2014a) for a review of ICT-economic growth nexus for Australia as well as OECD countries. Draca et al. (2006), Kretschmer (2012) provides a comprehensive review of international literature on ICT-productivity paradox.

7.

One of the reviewers pointed to the possible role of complementary factors in the relationship between ICT and productivity. However, these complementary variables work through the channel of MFP (Mc Morrow et al. 2010), a shift parameter in the models. In addition, in our model, non-ICT capital consists of R&D and other forms of capital. Nonetheless, it is possible to disaggregate different forms of capital and show their impact on MFP. Given the length and scope of the paper, we intend to cover this very important issue in our future research. We present results for quality-adjusted hours worked of labour for a shorter sample in the panel data analysis.

8.

The market sector accounted for about 83 % of Gross Value Added at basic prices (in chain value measure) for all industries in 2012–13 (ABS 2014a).

9.

While the ABS has expanded its market sector to cover the 16 industries listed earlier, insufficient disaggregated data are available for the extra four industries to be included in the industry level analysis.

10.

11.

Detailed diagnostic test results can be obtained upon request.

12.

The results on the selection of optimal lags and Johansen cointegration are not reported here, but will be made available from the corresponding author upon request.

13.

It should be noted that this result of unidirectional causality is quite sensitive to the inclusion of data for 2013. In fact, bi-directionality is supported when the model is estimated for the period of 1965–2012.
References
ABS (2012) Cat no. 5204, Australian System of National Accounts, various tables. Australian Bureau of Statistics (ABS), Canberra, August 17, 2012. http://www.abs.gov.au/AUSSTATS

ABS (2014a) Cat no. 5204, Australian system of national accounts, Table 5, Australian Bureau of Statistics (ABS), Canberra, August 17, 2012. http://www.abs.gov.au/AUSSTATS

ABS (2014b) Cat no. 5204, Table 69. Information technology net capital stock, selected items by industry, Australian Bureau of Statistics (ABS), Canberra, April 06, 2014. http://www.abs.gov.au/AUSSTATS

Acharya RC, Basu S (2010) ICT and total factor productivity growth: intangible capital or productive external ties?. Micro-Economic Policy and Analysis Industry, Canada

Aghion P, Howitt P (1992) A model of growth through creative destruction. Econometrica 60(2):323–351

Aghion P, Howitt P (1998) Endogenous growth theory. MIT press, Cambridge

Banks G (2001) The role of ICT in Australia's economic performance. In: Commonwealth research forum proceedings of the Commonwealth research forum. Rydges Lakeside, Canberra

Bean C (2000) The Australian economic "miracle": a view from the north. In: Gruen D, Shrestha S (eds) The Australian economy in the 1990s. Reserve Bank of Australia, Sydney, pp 73–114

Bresnahan TF, Trajtenberg M (1995) General purpose technologies 'Engines of growth'? J Econ 65(1):83–108

Cardona M, Kretschmer T, Strobel T (2013) ICT and productivity: conclusions from the empirical literature. Inf Econ Policy 25(3):109–125

Choi I (2001) Unit root tests for panel data. J Int Money Finan 20(2):249–272

Christopoulos D, McAdam P (2013) 'Openness, efficiency and technology: an industry assessment. Scott J Polit Econ 60(1):56–70

Cobb CW, Douglas PH (1928) A theory of production. Am Econ Rev 18(1):139–165

Colecchia A, Schreyer P (2002) ICT investment and economic growth in the 1990s: is the United States a unique case? A comparative study of nine OECD countries. Rev Econ Dynam 5(2):408–442

Daveri F, Silva O (2004) Not only Nokia: what Finland tells us about new economy growth. Econ Policy 19(38):117–163

Dickey D, Fuller W (1979) Distribution of the estimators for autoregressive time series with a unit root. J Am Stat Assoc 74(366):427–431

Dickey D, Fuller W (1981) Likelihood ratio statistics for autoregressive time series with a unit root. Econ J Econ Soc 49(4):1057–1072

Dolman B (2009) What happened to Australia's productivity surge? Austr Econ Rev 42(3):243–263

Draca M, Sadun R, Van Reenen J (2006) Productivity and ICT: a review of the evidence. Centre for Economic Performance, The London School of Economics and Political Science, London

Edquist H (2005) The Swedish ICT miracle—myth or reality? Inf Econ Policy 17(3):275–301

Engle R, Granger C (1987) Co-integration and error correction: representation, estimation, and testing. Econometrica 55(2):251–276

Esso LJ (2012) Re-examining the saving-investment nexus: threshold cointegration and causality evidence from the ECOWAS. Econ Change Restruct 45(3):193–220

Fisher RA (1932) Statistical methods for research workers. Oliver and Boyd, Edinburgh

Gordon RJ (2000) Does the "New Economy" measure up to the great inventions of the past? J Econ Perspect 14(4):49–74

Gregory AW, Hansen BE (1996) Residual-based tests for cointegration in models with regime shifts. J Econ 70(1):99–126

Gretton P, Gali J, Parham D (2002a) Uptake and impacts of ICT in the Australian economy: evidence from aggregate, sectoral and firm levels. In: OECD workshop on ICT and business performance, productivity commission, Canberra, December, proceedings of the OECD workshop on ICT and business performance, productivity commission, Canberra, December

Gretton P, Gali J, Parham D (2002b) Uptake and impacts of ICT in the Australian economy: evidence from aggregate, sectoral and firm levels. In: Workshop on ICT and business performance. Proceedings of the workshop on ICT and business performance. OECD, Paris

Gretton P, Gali J, Parham D (2004) The effects of ICTs and complementary innovations on Australian productivity growth. In: OECD (ed) The economic impact of ICT. OECD, Paris

Gruen D (2012) The importance of productivity. In: Productivity perspective conference: productivity commission—Australian Bureau of Statistics: proceedings of the productivity perspective conference: productivity commission—Australian Bureau of Statistics Canberra, November

Im KS, Pesaran MH, Shin Y (2003) Testing for unit roots in heterogeneous panels. J Econ 115(1):53–74

Johansen S (1988) Statistical analysis of cointegration vectors. J Econ Dynam Control 12(2–3):231–254

Johansen S (1991) Estimation and hypothesis testing of cointegration vectors in Gaussian vector autoregressive models. Econ J Econ Soc 59:1551–1580

Johansen S (1995) Likelihood-based inference in cointegrated vector autoregressive models. Oxford University Press, New York

Jorgenson DW (2001) Information technology and the US economy. Am Econ Rev 91(1):1–32

Jorgenson DW (2004) Information technology and the G7 economies. MIT Press, Cambridge

Jorgenson DW, Griliches Z (1967) The explanation of productivity change. Rev Econ Stud 34(3):249–283

Jorgenson DW, Stiroh KJ (1999) Productivity growth: current recovery and longer-term trends. Am Econ Rev 89(2):109–115

Jorgenson DW, Stiroh KJ (2000) Raising the speed limit: U.S. economic growth in the information age. Brook Papers Econ Act 2000(1):125–235

Jorgenson DW, Ho MS, Stiroh KJ (2008) A retrospective look at the U.S. productivity growth resurgence. J Econ Perspect 22(1):3–24

Kao C, Chiang M-H (2001) On the estimation and inference of a cointegrated regression in panel data. Advances in econometrics 15:179–222

Kretschmer T (2012) Information and communication technologies and productivity growth: a survey of the literature. OECD Publishing, Paris

Kumar RR, Stauvermann PJ, Patel A (2015) Nexus between electricity consumption and economic growth: a study of Gibraltar. Econ Change Restruct 48(2):119–135

Kwiatkowski D, Phillips PCB, Schmidt P, Shin Y (1992) Testing the null hypothesis of stationarity against the alternative of a unit root. J Econ 54:159–178

Maddala GS, Wu S (1999) A comparative study of unit root tests with panel data and a new simple test. Oxford Bull Econ Stat 61(S1):631–652

Mc Morrow K, Röger W, Turrini A (2010) Determinants of TFP growth: a close look at industries driving the EU–US TFP gap. Struct Change Econ Dynam 21(3):165–180

Narayan P (2005) The saving and investment nexus for China: evidence from cointegration tests. Appl Econ 37(17):1979–1990

Oliner SD, Sichel DE (1994) Computers and output growth revisited: how big is the puzzle? Brook Papers Econ Activ 1994(2):273–334

Oliner SD, Sichel DE (2000) The resurgence of growth in the late 1990s: is information technology the story? J Econ Perspect 14(4):3–22

Oliner SD, Sichel DE (2002) Information technology and productivity: where are we now and where are we going?. Divisions of Research & Statistics and Monetary Affairs, Federal Reserve Board, USA

O'Mahony M, Vecchi M (2005) Quantifying the impact of ICT capital on output growth: a heterogeneous dynamic panel approach. Economica 72(288):615–633

Parham D (2002) Productivity gains: importance of ICTs. Agenda 9(3):195–210

Parham D (2004a) Australia's 1990s productivity surge and its determinants. University of Chicago Press, Chicago, pp 41–70

Parham D (2004b) Sources of Australia's productivity revival. Econ Record 80(249):239–257

Parham D (2005) Australia's 1990s productivity surge: a response to Keith Hancock's challenge. Austr Bull Labour 31(3):295

Parham D, Roberts P, Sun H (2001) Information technology and Australia's productivity surge. Staff Research Paper, Productivity Commission, Canberra

Pedroni P (1999) Critical values for cointegration tests in heterogeneous panels with multiple regressors. Oxford Bull Econ Stat 61(S1):653–670

Pedroni P (2001) Fully modified OLS for heterogeneous cointegrated panels. Adv Econ 15:93–130

Pedroni P (2004) Panel cointegration: asymptotic and finite sample properties of pooled time series tests with an application to the PPP hypothesis. Econ Theory 20(03):597–625

Pesaran MH (1999) An autoregressive distributed lag modelling approach to cointegration analysis. In: Proceedings of the Cambridge University Citeseer. Cambridge University

Pesaran MH (2007) A simple panel unit root test in the presence of cross-section dependence. J Appl Econ 22(2):265–312

Pesaran M, Pesaran B (1997) Working with Microfit 4.0: interactive econometric analysis. Oxford University Press, Oxford

Pesaran M, Shin Y, Smith R (2001) Bounds testing approaches to the analysis of level relationships. J Appl Econ 16(3):289–326

Phillips PC, Moon HR (1999) Linear regression limit theory for nonstationary panel data. Econometrica 67(5):1057–1111

Phillips PCB, Perron P (1988) Testing for a unit root in time series regression. Biometrika 75(2):335–346

Quiggin J (2001) The Australian productivity miracle: a sceptical view. Agenda 8(4):333–348

Quiggin J (2006) Stories about productivity. Austr Bull Labour 32(1):18–26

Rambaldi AN, Doran HE (1996) Testing for Granger non-causality in cointegrated systems made easy, vol. In: Working papers in econometrics and applied and applied statistics 88. Department of Econometrics, The University of New England

Romer P (1990) Endogenous technological change. J Polit Econ 98(5):71–101

Shahiduzzaman M, Alam K (2012) Cointegration and causal relationships between energy consumption and output: assessing the evidence from Australia. Energy Econ 34(6):2182–2188

Shahiduzzaman M, Alam K (2014) A reassessment of energy and GDP relationship: the case of Australia. Environ Dev Sustain 16(2):323–344

Shahiduzzaman M, Alam K (2014a) Information technology and its changing roles to economic growth and productivity in Australia. Telecommun Policy 38:125–135

Shahiduzzaman M, Alam K (2014b) The long-run impact of Information and communication technology on economic output: the case of Australia. Telecommun Policy 38(7):623–633

Solow RM (1956) A contribution to the theory of economic growth. Q J Econ 70(1):65–94

Solow RM (1957) Technical change and the aggregate production function. Rev Econ Statist 39(3):312–320

Solow RM (1987) We'd better watch out. The New York Times Book Review, July 12

Squalli J (2007) Electricity consumption and economic growth: bounds and causality analyses of OPEC members. Energy Econ 29(6):1192–1205

Stiroh K (2002a) Reassessing the impact of IT in the production function: a meta-analysis. Federal Reserve Bank of New York, mimeo

Stiroh KJ (2002b) Information technology and the US productivity revival: what do the industry data say? Am Econ Rev 92(5):1559–1576

Stiroh KJ (2002c) Are ICT spillovers driving the new economy? Rev Income Wealth 48(1):33–57

Stock JH, Watson MW (1988) Testing for common trends. J Am Stat Assoc 83(404):1097–1107

Swan TW (1956) Economic growth and capital accumulation. Econ Rec 32(2):334–361

Toda HY, Yamamoto T (1995) Statistical inference in vector autoregressions with possibly integrated processes. J Econ 66(1–2):225–250

Triplett JE (1999) The Solow productivity paradox: what do computers do to productivity? Can J Econ Revue canadienne d'Economique 32(2):309–334

Van Ark B, Inklaar R (2005) Catching up or getting stuck? Europe's troubles to exploit ICT's productivity potential. Groningen Growth and Development Center, Groningen

Venturini F (2007) ICT and productivity resurgence: a growth model for the information age. BE J Macroecon 7(1):1–26

Venturini F (2009) The long-run impact of ICT. Empir Econ 37(3):497–515

Vourvachaki E (2009) Information and communication technologies in a multi-sector endogenous growth model. CERGE-EI Working Paper, no. 386

Westerlund J (2007) Testing for error correction in panel data*. Oxford Bull Econ Stat 69(6):709–748

Zivot E, Andrews DWK (2002) Further evidence on the great crash, the oil-price shock, and the unit-root hypothesis. J Bus Econ Stat 20(1):25–44
Acknowledgments
This project is supported through the Australian Government's Collaborative Research Networks (CRN) program. The authors thank George Hondroyiannis, the Editor in Chief of the journal, and the two anonymous reviewers for their very useful comments.
About this article
Cite this article
Shahiduzzaman, M., Layton, A. & Alam, K. On the contribution of information and communication technology to productivity growth in Australia. Econ Change Restruct 48, 281–304 (2015). https://doi.org/10.1007/s10644-015-9171-9
Received:

Accepted:

Published:

Issue Date:
Keywords
Information and communication technology

Capital deepening

Productivity
JEL Classification