Abstract
The use of therapy dogs as an animal-assisted education (AAE) intervention in the early childhood special education classroom (ECSE) is a growing phenomenon. Research reflects the potential of using canines to support the academic and functional performance of young students with disabilities. Using therapy dogs in a classroom setting to support AAE might seem simple, but the author encourages ECSE teachers, principals, and handlers to adopt certain practices that will ultimately promote safe human–animal interactions and effective educational opportunities. The effective implementation of AAE with therapy dogs in an ECSE classroom requires the discussion of appropriate protocol; careful planning between the handler, principal, school staff; and reflective practice. A protocol will ensure the safety and well-being of young students with disabilities and the canine. Handlers and ECSE teachers should embrace a co-planning approach that synthesizes the content knowledge of the ECSE teacher and the canine expertise of the handler. Reflective practices along with co-planning will ensure both teacher and handler implement an intervention that potentially optimizes student learning toward an academic or functional performance goal. Collaboration among professionals is critical to meeting established student learning outcomes. A lack of collaboration may result in the implementation of ill-planned, ill-implemented practices that are misaligned to established human–animal interaction standards and may have negative consequences for student and canine health and behavior. This article will discuss strategies that will help school staff and therapy dog handlers promote appropriate practices during the implementation of AAE interventions.
Access options
Buy single article
Instant access to the full article PDF.
USD 39.95
Price excludes VAT (USA)
Tax calculation will be finalised during checkout.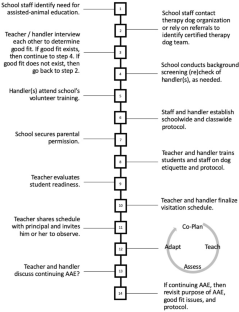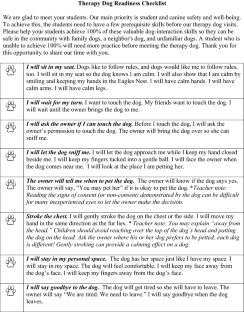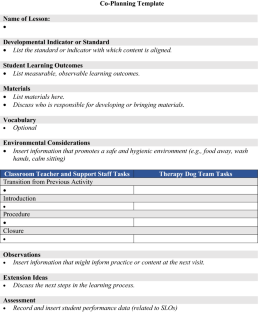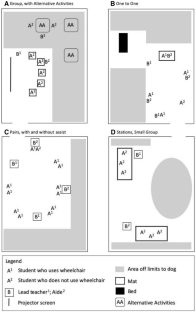 References
Alliance of Therapy Dogs. (2017). About the alliance of therapy dogs. Retrieved September 19, 2019, from https://www.therapydogs.com/alliance-therapy-dogs/.

American Kennel Club (AKC). (2019). Therapy dog organizations. Retrieved October 23, 2019, from https://www.akc.org/products-services/title-recognition-program/therapy-dog-program/therapy-dog-organizations/.

American Veterinary Medical Foundation. (2019). Animal assisted interventions: Definitions. Retrieved September 1, 2019, from https://www.avma.org/KB/Policies/Pages/Animal-Assisted-Interventions-Definitions.aspx.

Animal Assisted Intervention International. (2018). Standards of practice. Retrieved January 18, 2019, from https://aai-int.org/wp-content/uploads/2018/12/AAII-Standards-December-15-2018.pdf.

Animal Assisted Intervention International. (2019). Animal assisted intervention. Retrieved September 18, 2019, from https://aai-int.org/aai/animal-assisted-intervention/.

Bassette, L. A., & Taber-Doughty, T. (2013). The effects of a dog reading visitation program on academic engagement behavior in three elementary students with emotional and behavioral disabilities: A single case design. Child & Youth Care Forum,42, 239–256.

Beetz, A., Uvnäs-Moberg, K., Julius, H., & Kotrschal, K. (2012). Psychosocial and psychophysiological effects of human–animal interactions: The possible role of oxytocin. Frontiers in Psychology,3, 1–15.

Bustad, L. K., & Hines, L. M. (1984). Historical perspectives on the human–animal bond. In R. K. Anderson, B. L. Hart, & L. A. Hart (Eds.), The pet connection: Its influence on our health and quality of life. Minneapolis: University of Minnesota Press.

C.F.R. § 35.136 (2016).

Chumley, P. R. (2012). Historical perspectives of the human–animal bond within the Department of Defense. U.S. Army Medical Department Journal,2, 18–20.

Fung, S. (2019). Effect of a canine-assisted read aloud intervention on reading ability and physiological response: A pilot study. Animal,9, 474.

Gee, N. R., Belcher, J. M., Grabski, J. L., DeJesus, M., & Riley, W. (2012). The presence of a therapy dog results in improved object recognition performance in preschool children. Anthrozoös,25, 289–300.

Gee, N. R., Harris, S. L., & Johnson, K. L. (2007). The role of therapy dogs in speed and accuracy to complete motor skills tasks for preschool children. Anthrozoös,20, 375–386.

Gee, N. R., Sherlock, T. R., Bennett, E. A., & Harris, S. L. (2010). Preschoolers' adherence to instructions as a function of presence of a dog and motor skills task. Anthrozoös,22, 267–276.

Gilchrist, J., Sacks, J. J., White, D., & Kresnow, M. J. (2008). Dog bites: Still a problem? Injury Prevention,14, 296–301.

Hunter, R. (2004). Madeline Hunter's mastery teaching: Increasing instructional effectiveness in elementary and secondary schools (Updated ed.). Thousand Oaks, CA: Corwin Press.

Kirnan, J., Siminerio, S., & Wong, Z. (2016). The impact of a therapy dog program on children's reading skills and attitudes toward reading. Early Childhood Education Journal,44, 637–651.

le Roux, M. C., Swartz, L., & Swart, E. (2014). The effect of an animal-assisted reading program on the reading rate, accuracy and comprehension of grade 3 students: A randomized control study. Child & Youth Care Forum,43, 655–673.

Levinson, B. (1962). The dog as co-therapist. Mental Hygiene,46, 59–65.

McCulloch, M. J. (2019). Pet partners: Who we are. Retrieved September 18, 2019, from https://petpartners.org/about-us/who-we-are/.

O'Haire, M. E. (2010). Companion animals and human health: Benefits, challenges, and the road ahead. Journal of Veterinary Behavior,5, 226–234.

O'Haire, M. E., McKenzie, S. J., Beck, A. M., & Slaughter, V. (2013). Social behaviors increase in children with autism in the presence of animals compared with toys. PLoS,8, e57010. https://doi.org/10.1371/journal.pone.0057010.

Pendry, P., & Vandagriff, J. L. (2019). Animal visitation program (AVP) reduces cortisol levels of university students: A randomized controlled trial. AERA Open,5, 1–12.

Pet Partners. (2019). Program requirements. Retrieved September 18, 2019, from https://petpartners.org/volunteer/become-a-handler/program-requirements/.

Schuck, S. E., Emmerson, N. A., Fine, A. H., & Lakes, K. D. (2015). Canine-assisted therapy for children with ADHD: Preliminary findings from the positive assertive cooperative kids study. Journal of Attention Disorders,19, 125–137. https://doi.org/10.1177/1087054713502080.

Serpell, J. A. (2011). Historical and cultural perspectives on human–pet interactions. In P. McCardle, S. McCune, J. Griffin, L. Esposito, & L. Freund (Eds.), Animals in our lives: Human–animal interaction in family, community, and therapeutic settings (pp. 11–22). Baltimore, MD: Paul H. Brookes Publishing Company.

Serpell, J. A. (2019). Animal-assisted interventions in historical perspective. In A. H. Fine (Ed.), Handbook on animal-assisted therapy: Foundations and guidelines for animal-assisted interventions (5th ed.). San Diego, CA: Elsevier Academic Press.

Therapy Dogs International. (2019a). Mission statement and history. Retrieved September 17, 2019, from https://www.tdi-dog.org/About.aspx?Page=Mission+Statement+and+History.

Therapy Dogs International. (2019b). Therapy dogs international testing guidelines. Retrieved June 1, 2019, from https://www.tdi-dog.org/HowToJoin.aspx?Page=New+TDI+Test.

Wells, D. L. (2009). The effects of animals on human health and wellbeing. Journal of Social Issues,65, 523–543.
Additional information
Publisher's Note
Springer Nature remains neutral with regard to jurisdictional claims in published maps and institutional affiliations.
About this article
Cite this article
Sandt, D.D. Effective Implementation of Animal Assisted Education Interventions in the Inclusive Early Childhood Education Classroom. Early Childhood Educ J 48, 103–115 (2020). https://doi.org/10.1007/s10643-019-01000-z
Published:

Issue Date:

DOI: https://doi.org/10.1007/s10643-019-01000-z
Keywords
Therapy dog

Animal-assisted education

Early childhood special education

Canine-assisted interventions

Human–animal interactions