Abstract
As the pressure to succeed academically is imposed on children earlier than ever before, it is essential to understand what characteristics are most important to parents and teachers in order to be school ready. While formally readiness is typically measured using chronological age and mastery of cognitive skills, it also involves physical, behavioral and social-emotional development. Variability exists culturally as to the importance of these various early school readiness characteristics. Moreover, while parents and teachers generally agree, discrepancies between parents and teachers on the importance of specific components for early school readiness arise. In the current study, we examined which characteristics of early school readiness were deemed most and least important according to parents and teachers of 30–42 months old children. Our findings indicate that teachers and parents agreed upon the relative importance of early school readiness components. For both groups, being healthy, happy, and socially skilled were generally ranked as more important than cognitive abilities in the preschool aged child. These conclusions are promising because children's success is facilitated when parents and teachers share beliefs on which skills children need to successfully transition into the classroom environment.
Access options
Buy single article
Instant access to the full article PDF.
USD 39.95
Price excludes VAT (USA)
Tax calculation will be finalised during checkout.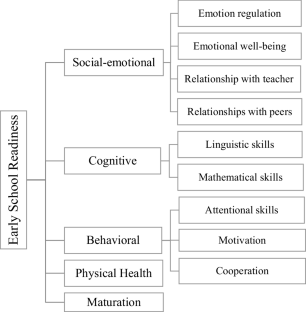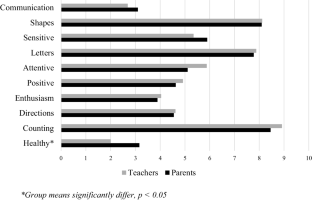 References
Alexander, K. L., Entwisle, D. R., & Horsey, C. S. (1997). From first grade forward: Early foundations of high school dropout. Sociology of Education, 70, 87–107.

Almlund, M., Duckworth, A. L., Heckman, J. J., & Kautz, T. D. (2011). Personality psychology and economics. In E. A. Hanushek, S. Machin & L. Woessmann (Eds.), Handbook of the economics of education (Vol (4, pp. 1–181). Amsterdam: Elsevier.

Arnold, D. H., Ortiz, C., Curry, J. C., Stowe, R. M., Goldstein, N. E., Fisher, P. H., Zeljoja, A., & Yershova, K. (1999). Promoting academic success and preventing disruptive behavior disorders through community partnership. Journal of Community Psychology, 5, 589–598.

Bernstein, S., West, J., Newsham, R., & Reid, M. (2014). Kindergartners' skills at school entry: an analysis of the ECLS-K (No. 2bf45b57834447fa8430f0da600b24a9). Mathematica Policy Research.

Boyer, E. (1991). Ready to learn: A mandate for the nation. Princeton: Carnegie Foundation for the Advancement of Teaching.

Bradley, R. H., & Corwyn, R. F. (2002). Socioeconomic status and child development. Annual Review of Psychology, 53(1), 371–399.

Brooks-Gunn, J., & Duncan, G. J. (1997). The effects of poverty on children. Children and Poverty, 7(2), 55–71.

Carlton, M., & Winsler, A. (1999). School readiness: The need for a paradigm shift. School Psychology Review, 28, 338–352.

Cooper, J., Masi, R., & Vick, J. (2009). Social-emotional Development in Early Childhood: What Every Policymaker Should Know. Columbia University Academic Commons.

Davies, M., & North, J. (1990). Teacher's expectations of school entry skills. Australian Journal of Early Childhood, 15, 44–46.

Denham, S. A., & Bassett, H. H. (2018). Implications of preschoolers' emotional competence in the classroom. In K. V. Keefer et al. (Eds.), Emotional Intelligence in Education, The Springer Series on Human Exceptionality, 135–171.

Denham, S. A., Bassett, H. H., Sirotkin, Y., & Zinsser, K. (2013). Head Start preschoolers' emotional positivity and emotion regulation predict their social-emotion behavior, classroom adjustment, and early school success. National Head Start Association Dialog, 16(2), 8–33. Online only.

Dockett, S., & Perry, B. (2004). What makes a successful transition to school? Views of Australian parents and teachers. International Journal of Early Years Education, 12(3), 217–230.

Duncan, G. J., & Magnuson, K. A. (2013). Investing in preschool programs. Journal of Economic Perspectives, 27, 109–132.

Elkind, D. (2008). Some misunderstandings of school readiness. Exchange: The Early Childhood Leaders' Magazine Since 1978, 49–52.

Espinosa, L. M., Thornburg, K. R., & Mathews, M. C. (1997). Rural kindergarten teachers' perceptions of school readiness: A comparison with the Carnegie study. Early Childhood Education Journal, 25, 119–125.

Farran, D. C. (2011). Rethinking school readiness. Exceptionality Education International, 21, 5–15.

Fayez, M., Ahmad, J. F., & Oliemat, E. (2016). Jordanian kindergarten and 1st-grade teachers' beliefs about child-based dimensions of school readiness. Journal of Research in Childhood Education, 30(3), 293–305. https://doi.org/10.1080/02568543.2016.1178195.

Gesell, A. (1928). Infancy and human growth. Oxford England: Macmillan.

Hadley, P. A., Wilcox, K. A., & Rice, M. L. (1994). Talking at school: Teacher expectations in preschool and kindergarten. Early Childhood Research Quarterly, 9, 111–129.

Hains, A. H., Fowler, S. A., Schwartz, I. S., Kottwitz, E., & Rosenkoetter, S. (1989). A comparison of preschool and kindergarten teacher expectations for school readiness. Early Childhood Research Quarterly, 4, 75–88.

Harraine, C., & Clifford, R. (1996). When are children ready for kindergarten? Views of families, kindergarten teachers, and child care providers. Paper presented at the Annual Meeting of the American Educational Research Association, New York, NY.

Heaviside, S. H. E. (1993). Public school kindergarten teacher's views of children's readiness for school. Washington, DC: U.S. Department of Education, National Center of Educational Statistics.

Heckman, J. J., Humphries, J. E., & Kautz, T. (2014). The myth of achievement tests: The GED and the role of character in American life. Chicago: University of Chicago Press.

Hernández, M. M., Eisenberg, N., Valiente, C., VanSchyndel, S. K., Spinrad, T. L., Silva, K. M., … Southworth, J. (2016). Emotional expression in school context, social relationships, and academic adjustment in kindergarten. Emotion, 16, 553–556.

Herndon, K. J., Bailey, C. S., Shewark, E. A., Denham, S. A., & Bassett, H. H. (2013). Preschoolers' emotion expression and regulation: Relations with school adjustment. The Journal of Genetic Psychology, 174, 642–663.

Hughes, C., & Ensor, R. (2007). Executive function and theory of mind: Predictive relations from ages 2 to 4. Developmental Psychology, 43, 1447–1459.

Hustedt, J. T., Buell, M. J., Hallam, R. A., & Pinder, W. M. (2018). While kindergarten has changed, some beliefs stay the same: Kindergarten teachers' beliefs about readiness. Journal of Research in Childhood Education, 32, 52–66.

Kagan, S. L. (1990). Readiness 2000: Rethinking rhetoric and responsibility. Phi Delta Kappa, 72, 272–279.

Kagan, S. L. (1992). Readiness past, present, and future: Shaping the agenda. Young Children, 48, 48–53.

Kim, J., Murdock, T., & Choi, D. (2005). Investigation of parents' beliefs about readiness for kindergarten: An examination of the National Household Education Survey (NHES: 93). Educational Research Quarterly, 29(2), 3–17.

Ladd, G. W. (1990). Having friends, keeping friends, making friends, and being liked by peers in the classroom: Predictors of children's early school adjustment? Child Development, 61, 1081–1100.

Lewit, E. M., & Baker, L. S. (1995). School readiness. The Future of Children: Critical Issues for Children and Youth, 5(2), 1–12.

Lin, H.-L., Lawrence, F. R., & Gorrell, J. (2003). Kindergarten teachers' views of children's readiness for school. Early Childhood Research Quarterly, 18, 225–237. https://doi.org/10.1016/S0885-2006(03)00028-0.

LoCasale-Crouch, J., Mashburn, A. J., Downer, J. T., & Pianta, R. C. (2008). Pre-kindergarten teachers' use of transition practices and children's adjustment to kindergarten. Early Childhood Research Quarterly, 23, 124–139.

McClelland, M. M., Morrison, F. J., & Holmes, D. L. (2000). Children at risk for early academic problems: The role of learning-related social skills. Early Childhood Research Quarterly, 15, 307–329.

Nix, R. L., Bierman, K. L., Heinrichs, B. S., Gest, S. D., Welsh, J. A., & Domitrovich, C. E. (2016). The randomized controlled trial of Head Start REDI: Sustained effects on developmental trajectories of social–emotional functioning. Journal of Consulting And Clinical Psychology, 84(4), 310–322. https://doi.org/10.1037/a0039937.

Pekdoğan, S., & Akgül, E. (2017). Preschool children's school readiness. International Education Studies, 10(1), 144–154.

Perry, B., Dockett, S., & Tracey, D. (1998). Ready to learn: Exploring the concept of school readiness and its implications. Paper presented at the Australia and New Zealand Conference on the First Years of School. Canberra, Australia.

Pianta, R. C., & Rimm-Kaufman, S. (2006). The social ecology of the transition to school: Classrooms, families, and children. In K. McCartney & D. Phillips (Eds.), Blackwell handbook of early childhood development (pp. 490–507). Malden: Blackwell Publishing.

Pianta, R. C., Steinberg, M. S., & Rollins, K. B. (1995). The first two years of school: Teacher-child relationships and deflections in children's classroom adjustment. Development and Psychopathology, 7, 295–312.

Ramey, C. T., & Ramey, S. L. (2004). Early learning and school readiness: Can early intervention make a difference? Merrill-Palmer Quarterly, 50, 471–491.

Raver, C. C. (2002). Emotions matter: Making the case for the role of young children's emotional development for early school readiness. Social Policy Report: A Publication of the Society for Research in Child Development XVI. 3–18.

Raver, C. C., Knitzer, J., & Columbia Univ, New York N. Y. National Center for Children in Poverty. (2002). Ready to enter: What research tells policymakers about strategies to promote social and emotional school readiness among three- and four-year-old children. Promoting the Emotional Well-Being of Children and Families Policy Paper.

Resnick, M. D., Bearman, P. S., Blum, R. W., Bauman, K. E., Harris, K. M., Jones, J.,… Udry, J. R. (1997). Protecting adolescents from harm: Findings from the National Longitudinal Study on Adolescent Health. JAMA: Journal of the American Medical Association, 278, 823–832.

Rudasill, K. M., Rimm-Kaufman, S. E., Justice, L. M., & Pence, K. (2006). Temperament and language skills as predictors of teacher-child relationship quality in preschool. Early Education and Development, 17, 271–291.

Serry, T., Imms, C., Froude, E., Joffe, B., Heine, C., & Merrigan, C. (2014). Preparatory teachers' perceptions of school readiness: A survey of Victorian teachers. The Australian Educational Researcher: A Publication of the Australian Association for Research In Education, 41(1), 109–124. https://doi.org/10.1007/s13384-013-0126-8.

Silver, R. B., Measelle, J. R., Armstrong, J. M., & Essex, M. J. (2005). Trajectories of classroom externalizing behavior: Contributions of child characteristics, family characteristics, and the teacher-child relationship during the school transition. Journal of School Psychology, 43, 39–60.

Slee, P. T. (1986). The relation of temperament and other factors to children's kindergarten adjustment. Child Psychiatry & Human Development, 17, 104–112.

Snow, K. L. (2006). Measuring school readiness: Conceptual and practical considerations. Early Education and Development, 17, 7–41.

Swayze, M., & Dexter, C. (2018). Working memory and school readiness in preschoolers. Contemporary School Psychology, 22, 313–323.

Thompson, R. A. (1994). Emotion regulation: A theme in search of definition. In N. A. Fox (Ed.), The development of emotion regulation: Biological and behavioral considerations (Monographs of the Society for Research in Child Development, Serial No. 240, Vol. 259, pp 242–243), 225–252.

Valiente, C., Lemery-Chalfant, K., & Swanson, J. (2010). Prediction of kindergartners' academic achievement from their effortful control and emotionality: Evidence for direct and moderated relations. Journal of Educational Psychology, 102, 550–560.

Welch, M. D., & White, B. (1999). Teacher and parent expectations for kindergarten readiness. (ERIC Document Reproduction Service No. ED437225). Retrieved from Caddo ParishSpecial Programs- Special Education Department.

Welsh, M., Parke, R. D., Widaman, K., & O'Neil, R. (2001). Linkages between children's social and academic competence: A longitudinal analysis. Journal of School Psychology, 39, 463–482.

West, J., Hausken, E. G., & Collins, M. (1993). Readiness for kindergarten: Parent and teacher beliefs. Statistics in brief. Washington D. C: National Center for Education Statistics.

Wilen, J. R. (2003). Ready for School: The Case for Including Babies and Toddlers as we Expand Preschool Opportunities. Chicago: Ounce of Prevention Fund.

Yoshikawa, H., Aber, J. L., & Beardslee, W. R. (2012). The effects of poverty on the mental, emotional, and behavioral health of children and youth. American Psychologist, 67(4), 272–284.

Zhang, X., Sun, L., & Gai, X. (2008). Perceptions of teachers' and parents' regarding school readiness. Frontiers of Education in China: Selected Publications from Chinese Universities, 3(3), 460–471. https://doi.org/10.1007/s11516-008-0030-6.
Ethics declarations
Conflict of interest
The authors declare that they have no potential conflicts of interest.
Ethical Approval
All procedures performed in studies involving human participants were in accordance with the ethical standards of the institutional and/or national research committee and with the 1964 Helsinki declaration and its later amendments or comparable ethical standards. This research protocol was reviewed and approved by the Institutional Review Board prior to data collection. Given that this was unfunded research, federal wide assurance requirements did not apply. The research methods qualified for expedited review as stipulated in the Code of Federal Regulations policy regarding human participants in research (Title 45 Public Welfare CFR Part 46 Protection of Human Subjects Subpart A, Federal Policy for the Protection of Human Subjects, 45 CFR 46.110) because the research involved the collection of identifiable data using survey methods and research on individual characteristics or behavior, but reasonable and appropriate protections were implemented so that risks related to invasion of privacy and breach of confidentiality were minimal. Informed consent was obtained from all individual participants included in this study. Confidentiality was maintained by de-identification of the responses. Participant's names were never directly connected with their responses. The study data is stored on a password protected computer and in locked file cabinets in the principal investigator's locked office.
Additional information
Publisher's Note
Springer Nature remains neutral with regard to jurisdictional claims in published maps and institutional affiliations.
About this article
Cite this article
Miller, M.M., Kehl, L.M. Comparing Parents' and Teachers' Rank-Ordered Importance of Early School Readiness Characteristics. Early Childhood Educ J 47, 445–453 (2019). https://doi.org/10.1007/s10643-019-00938-4
Published:

Issue Date:

DOI: https://doi.org/10.1007/s10643-019-00938-4
Keywords
Preschool

School readiness

Social-emotional development

Parent expectations

Teacher expectations