Abstract
Writing at school start is critical for students' literacy development but student composition is often undervalued in early education classrooms and understudied by literacy researchers. To address such needs, this mixed methods, sequential survey study investigated how writing practices are enacted in the fall semester of Norwegian 1st grade classrooms, and then inquired about teachers' decision making regarding their instructional writing practices. Specifically, 299 teachers (99% response rate) reported on students' writing opportunities (e.g., time spent, type of practices, genre of texts writing) and pedagogical practices for writing. Findings reveal meaningful differences in teachers' writing practices which vary from skill-based approaches to communication-focused approaches. Analysis documented that, overall, limited time is devoted to writing, with 19% of teachers not giving students opportunity to write their own texts in the fall semester. In a follow-up questionnaire, the teachers, who had not yet had students write, were asked to provide their rationale. Response themes indicated (a) prioritization of reading-skill tasks, (b) a sequential conceptualization of literacy development (i.e., reading before writing) and (c) a lack of pedagogical content knowledge for how to implement appropriate writing practices. The findings are discussed in relation to research-based recommendations for writing. Additionally, this analysis provides insight into teachers' understandings about children's writing development and provides direction for future research.
Access options
Buy single article
Instant access to the full article PDF.
USD 39.95
Price excludes VAT (USA)
Tax calculation will be finalised during checkout.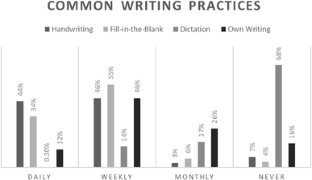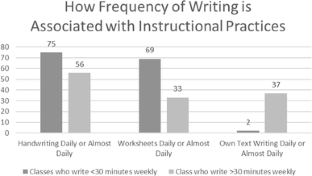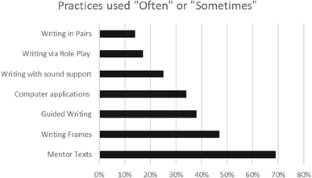 References
Applebee, A. N., & Langer, J. (2006). The state of writing instruction in America's schools: What existing data tell us. Albany: Center on English Learning & Achievement, University at Albany.

Aram, D., & Biron, S. (2004). Joint storybook reading and joint writing interventions among low SES preschoolers: Differential contributions to early literacy. Early Childhood Research Quarterly, 19(4), 588–610.

Bingham, G. E., Quinn, M. F., & Gerde, H. K. (2017). Examining early childhood teachers' writing practices: Associations between pedagogical supports and children's writing skills. Early Childhood Research Quarterly, 39, 35–46.

Blair, R., & Savage, R. (2006). Name writing but not environmental print recognition is related to letter-sound knowledge and phonological awareness in 308 pre-readers. Reading and Writing, 19, 991–1016.

Bloodgood, J. W. (1999). What´s in a name? Children's name writing and literacy acquisition. Reading Research Quarterly, 34, 342–367.

Borg, S. (2003). Teacher cognition in language teaching: A review of research on what language teachers think, know, believe, and do. Language Teaching, 36, 81–109.

Bradley, L. G., & Donovan, C. A. (2010). Information book read-alouds as models for second-grade authors. The Reading Teacher, 64, 246–260.

Burns, A., Freeman, D., & Edwards, E. (2015). Theorizing and studying the language-teaching mind: Mapping research on language teacher cognition. The Modern Language Journal, 99, 585–601.

Chomsky, N. (1975). The logical structure of linquistic theory. Chicago, IL: University of Chicago Press.

Clark, C. M., & Peterson, P. L. (1986). Teachers' thought processes. In M. C. Wittrock (Ed.), Handbook of research on teaching (3rd edn., pp. 255–296). New York: Macmillan.

Clay, M. M. (2001). Change over time in children's literacy development. Portsmouth: Heinemann.

Connor, C. M., Ingebrand, S., & Dombek, J. (2013). The reading side. In B. Miller, P. Mccardle & R. Long (Eds.), Teaching reading and writing: Improving instruction and student achievement (pp. 7–20). Baltimore: Paul H. Brookes.

Culham, R. (2015). Call a meeting with your writing teacher self. The Reading Teacher, 69, 219–222.

Cutler, L., & Graham, S. (2008). Primary grade writing instruction: A national survey. Journal of Educational Psychology, 100, 907–919.

Diamond, K., Gerde, H. K., & Powell, D. R. (2008). Development in early literacy skills during pre-kindergarten year in head start: Relations between growth in children's writing and understanding of letters. Early Childhood Research Quarterly, 23, 467–478.

Djuve, K. J. (2017). Hva kan elevene når de begynner på skolen? Variasjon i norske elevers skriftspråklige ferdigheter ved skolestart, og lærernes forutsetninger for å møte denne variasjonen. Masteroppgave. Stavanger: Universitetet i Stavanger. Det humanistiske fakultetet.

Elbow, P. (2004). Writing first: Putting writing before reading is an effective approach to teaching and learning. Educational Leadership, 62, 9–13.

Entwisle, D. R., & Alexander, K. L. (1998). Facilitating the transition to first grade: The nature of transition and research on factors affecting it. The Elementary School Journal, 98, 351–364.

Fisher, R., & Twist, L. (2010). Evaluation of Every Child a Writer: Report 1. University of Exeter and National Foundation for Educational Research. DfE RR108a.

Frith, U. (1985). Beneath the surface of developmental dyslexia. In K. E. Patterson, J. C. Marshall & M. Coltheart (Eds.), Surface dyslexia (pp. 301–330). London: Lawrence Erlbaum.

Gentry, J. R. (2006). Breaking the Code. Portsmouth: Heinemann.

Gerde, H. K., Bingham, G. E., & Pendergast, M. L. (2015). Reliability and validity of the writing resources and interactions in teaching environments (WRITE) for preschool classrooms. Early Childhood Research Quarterly, 31, 34–46.

Gerde, H. K., Bingham, G. E., & Wasik, B. (2012). Writing in early childhood classrooms: Guidance for best practices. Early Childhood Education Journal, 40, 351–359.

Gibson, S. A. (2008). An effective framework for primary-grade guided writing instruction. The Reading Teacher, 62, 324–334.

Graham, S., Bollinger, A., Booth Olson, C., D'Aoust, C., MacArthur, C., McCutchen, D., & Olinghouse, N. (2012). Teaching elementary school students to be effective writers: A practice guide (NCEE 2012–4058). Washington, DC: National Center for Education Evaluation and Regional Assistance, Institute of Education Sciences, U.S. Department of Education.

Graham, S., Liu, X., Aitken, A., Ng, C., Bartlett, B., Harris, K. R., & Holzapfel, J. (2017). Effectiveness of literacy programs balancing reading and writing instruction: A meta-analysis. Reading Research Quarterly. https://doi.org/10.1002/rrq.194.

Graves, D. (2003). Writing: Teachers & children at work (20th anniversary edn.). Portsmouth: Heinemann.

Håland, A. (2017). Disciplinary literacy in elementary school: How a struggling student positions herself as a writer. The Reading Teacher, 70(4), 457–468.

Hoel, T. (2013). Cultural features of performance in Norwegian children's narratives. Nordic Early Childhood Education Research Journal, 6, 1–21.

Hooper, M., Mullis, I. V. S., & Martin, M. O. (2015). PIRLS 2016 context questionnaire framework. In I. V. S. Mullis, & M. O. Martin, (Eds.). PIRLS 2016 assessment framework (2nd ed.). Newton, MA: Boston College, TIMSS & PIRLS International Study Center.

Jasmine, J., & Weiner, W. (2007). The effects of writing workshop on abilities of first grade students to become confident and independent writers. Early Childhood Education Journal, 35, 131–139.

Jones, C. D., Clark, S. K., & Reutzel, D. R. (2013). Enhancing alphabet knowledge instruction: Research implications and practical strategies for early childhood educators. Early Childhood Education Journal, 41(2), 81–89.

Kettle, B., & Sellars, N. (1996). The development of student teachers practical theory of teaching. Teaching and Teacher Education, 12(1), 1–24.

Korth, B. B., Wimmer, J. J., Wilcox, B., Morrison, T. G., Harward, S., Peterson, N., Simmerman, S., & Pierce, L. (2017). Practices and challenges of writing instruction in K-2 classrooms: A case study of five primary grade teachers. Early Childhood Education Journal, 45, 237–249.

Lapp, D., Flood, J., Moore, K., & Nichols, M. (2005). Teaching literacy in first grade. New York: Guilford Press.

Lincoln, Y. S., & Guba, E. G. (1985). Naturalistic inquiry (Vol. 75). Thousand Oaks, CA: Sage.

Lundetræ, K., & Walgermo, B. R. (2014). Leseopplæring—å komme på sporet. In I. K. Lundetræ & F. E. Tønnessen. (Ed.), Å lykkes med lesing. Tidlig innsats og tilpasset leseopplæring. Oslo: Gyldendal akademisk.

Marshall, C., & Rossman, G. B. (2014). Designing qualitative research. Thousand Oaks, CA: Sage.

Miller, K. (2016). Writing the way to reading. how opportunities to write in early childhood support reading development. Retrieved from http://discoverarchive.vanderbilt.edu/handle/1803/8333.

Ministry of Education and Research. (2006). Læreplanverket for Kunnskapsløftet. [The curriculum for the knowledge promotion reform]. Oslo: Ministry of Education and Research.

Mo, Y., Kopke, R. A., Hawkins, L. K., Troia, G. A., & Olinghouse, N. G. (2014). The neglected "r" in a time of common core. The Reading Teacher, 67, 445–453.

Morrow, L. M., & Tracey, D. H. (2007). Best practices in early literacy development in preschool, kindergarten, and first grade. In L. Gambrell, L. M. Morrow & M. Pressley (Eds.), Best practices in literacy instruction. New York: Guilford Press.

National Early Literacy Panel. (2008). Developing early literacy: A scientific synthesis of early literacy development and implications for intervention. Jessup, MD: National Institute for Literacy.

Norwegian Directorate for Education and Training (NDET) (2016). The education mirror. Facts and analyses of kindergarten, primary and secondary education in Norway. Retrieved from http://utdanningsspeilet.udir.no/2016/wpcontent/uploads/2016/10/Utdanningsspeilet_2016_en.pdf.

OECD (2006). Equity in Education. Thematic Review. Norway. Country Note. (Paris, OECD). Opheim, V. (2004) Equity in Education (Oslo, NIFUSTEP, rapport no. 7).

Parr, J. M., & Jesson, R. (2016). Mapping the landscape of writing instruction in New Zealand primary school classrooms. Reading and Writing, 29, 981–1011.

Ray, K. W., & Cleaveland, L. B. (2004). About the authors. Writing workshop with our youngest writers. Portsmouth: Heinemann.

Ray, K. W., & Glover, M. (2008). Already ready. Nurturing writers in preschool and kindergarten. Portsmouth.: Heinemann.

Roth, K., & Guinee, K. (2011). Ten minutes a day: The impact of interactive writing instruction on first graders´ independent writing. Journal of Early Childhood Literacy, 11, 331–336.

Rowe, D. W. (2015). Writing in early childhood: The value of children's early explorations of writing. In N. Kucirkova, C. Snow, V. Grover & C. McBride (Eds.), The Routledge international handbook of literacy education (pp. 251–263). Abingdon: Routledge.

Skar, G., Thygesen, R., & Evenesen, L. S. (2017). Assessment for learning and standards: a Norwegian strategy and its challenges. In S. Blömke & J. -E. Gustafsson (eds.) Standard setting in education. Methodology of educational measurement and assessment. Basel: Springer.

Skedsmo, G. (2011). Formulation and realization of evaluation policy: Inconsistencies and problematic issues. Educational Assessment, Evaluation and Accountability, 23, 5–20.

Skedsmo, G., & Mausethagen, S. (2016). Emerging accountability policies and practices in education: The case of Norway. I. J. Easley II, & P. Tulowitzki (Eds.), Educational accountability. International perspectives on challenges and possibilities for school leadership (pp. 205–223). London: Routledge.

Smith, F. (1988). Joining the literacy club. Victoria: Abel Press.

Solheim, O. J., Rege, M., & McTigue, E. (2017). Study protocol:"Two Teachers": A randomized controlled trial investigating individual and complementary effects of teacher-student ratio in literacy instruction and professional development for teachers. International Journal of Educational Research, 86, 122–130.

Sternin, J., & Choo, R. (2000). The power of positive deviancy. Harvard Business Review, 78, 14–15.

Whitehurst, G. J., & Lonigan, C. J. (1998). Child development and emergent literacy. Child Development, 69, 848–872.

Wigfield, A., & Eccles, J. S. (2000). Expectancy-value theory of achievement motivation. Contemporary Educational Psychology, 25, 68–81.

Wood, C. (1997). Yardsticks: Children in the classroom ages 4–14. Boston: Northeast Foundation for Children: Publishing Division.
Funding
Funding was provided by Norges Forskningsråd with Grant No. 256197.
About this article
Cite this article
Håland, A., Hoem, T.F. & McTigue, E.M. Writing in First Grade: The Quantity and Quality of Practices in Norwegian Classrooms. Early Childhood Educ J 47, 63–74 (2019). https://doi.org/10.1007/s10643-018-0908-8
Published:

Issue Date:

DOI: https://doi.org/10.1007/s10643-018-0908-8
Keywords
Writing

First grade

Skill-based writing

Communicative writing

Rapid letter instruction

Time spent on writing

Pedagogical content knowledge