Abstract
Reading skills are an important component of academic success for school-age youth, and are associated with increased academic performance and positive attitudes about school. The presence of an animal appears to reduce stress during reading. Therefore, the goal of this study was to assess the feasibility and effects of a 6-week after-school canine-assisted reading program in a public elementary school setting. Second-grade students were randomized to either an intervention group (n = 14) in which they read to a registered therapy dog for 30 min once weekly for 6 weeks or a control group (n = 14) with a standard classroom curriculum. Children's reading skills were assessed biweekly and attitudes about reading were assessed pre- and post-intervention. The 6-week after-school canine-assisted reading program was feasible. Reading skill scores did not change significantly for either group. Although scores on recreational reading attitudes also did not change significantly for either group, the academic reading attitudes scores increased significantly in the intervention group (p = .002), but not in the control group (p = .06). These results support the benefits of an animal-assisted intervention for child literacy on children's attitudes about reading and can inform future programs evaluating reading programs that include dogs.
Access options
Buy single article
Instant access to the full article PDF.
USD 39.95
Price excludes VAT (USA)
Tax calculation will be finalised during checkout.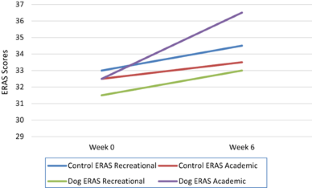 Notes
Systat 13.0, Systat, Inc., Chicago, Ill.
References
Allen, K., Blascovich, J., Tomaka, J., & Kelsey, R. M. (1991). Presence of human friends and pet dogs as moderators of autonomic responses to stress in women. Journal of Personality and Social Psychology, 61(4), 582–589.

Friedmann, E., Katcher, A. H., Thomas, S. A., Lynch, J. J., & Messent, P. R. (1983). Social interaction and blood pressure: Influence of animal companions. Journal of Nervous and Mental Disease, 171(8), 461–465.

Friesen, L. (2009). How a therapy dog may inspire student literacy engagement in the elementary language arts classroom. Learning Landscapes, 3(1), 105–122.

Friesen, L. (2010). Potential for the role of school-based animal-assisted literacy mentoring programs. Language & Literacy: A Canadian Educational E-Journal, 12(1), 21–37.

Good III, R. H., & Kaminski, R. A. (2002). Dynamic indicators of basic early literacy skills: Administration and scoring guide. Eugene, OR: University of Oregon.

Guthrie, J. (2004). Teaching for literacy engagement. Journal of Literacy Research, 36(1), 1–29.

Hall, S. S., Gee, N. R., & Mills, D. S. (2016). Children reading to dogs: A systematic review of the literature. PLoS ONE, 11(2), e0149759.

Helm, C. (2007). Teacher dispositions affecting self-esteem and student performance. Clearing House: A Journal of Educational Strategies, Issues and Ideas, 80(3), 109–110.

Jalongo, M. R., Astorino, T., & Bomboy, N. (2004). Canine visitors: The influence of therapy dogs on young children's learning and well-being in classrooms and hospitals. Early Childhood Education Journal, 32(1), 9–16.

Kurdek, L. A. (2009). Pet dogs as attachment figures for adult owners. Journal of Family Psychology, 23(4), 439–446.

Lane, H. B., & Zavada, S. D. (2013). When reading gets ruff: Canine-assisted reading programs. The Reading Teacher, 67(2), 87–95.

Le Roux, M. C., Swartz, L., & Swartz, E. (2014). The effect of an animal-assisted reading program on the reading rate, accuracy and comprehension of grade 3 students: A randomized control study. Child & Youth Care Forum, 43(6), 655–673.

Lenihan, D., McCobb, E., Diurba, A., Linder, D., & Freeman, L. (2016). Measuring the effects of reading assistance dogs on reading ability and attitudes in elementary school children. The Journal of Research in Childhood Education, 30(2), 252–259.

Levinson, E. M., Vogt, M., Barker, W. F., Jalongo, M. R., & Zandt, P. V. (2017). Effects of reading with adult tutor/therapy dog teams on elementary students' reading achievement and attitudes. Society and Animals, 25(1), 1–19.

McKenna, M. C., & Kear, D. J. (1990). Measuring attitude toward reading: A new tool for teachers. The Reading Teacher, 43(9), 626–639.

Prothmann, A., Bienert, M., & Ettrich, C. (2006). Dogs in child psychotherapy: Effects on state of mind. Anthrozoos: A Multidisciplinary Journal of the Interactions of People & Animals, 19(3), 265–277.

Sindelar, P. T., Monda, L. E., & O'Shea, L. J. (1990). Effects of repeated readings on instructional- and mastery-level readers. Journal of Educational Research, 83(4), 220–226.

Sloat, E. A., Beswick, J. F., & Willms, J. D. (2007). Using early literacy monitoring to prevent reading failure. Phi Delta Kappan, 88(7), 523–529.
Funding
The project described was supported by the National Center for Advancing Translational Sciences, National Institutes of Health, Award Number KL2TR001063. The content is solely the responsibility of the authors and does not necessarily represent the official views of the NIH.
Ethics declarations
Conflict of interest
The authors declare that they have no conflict of interest.
Ethical Approval
All procedures performed in studies involving human participants were in accordance with the ethical standards of the institutional and/or national research committee and with the 1964 Helsinki declaration and its later amendments or comparable ethical standards.
Animal Rights
All applicable international, national, and/or institutional guidelines for the care and use of animals were followed. All procedures performed in studies involving animals were in accordance with the ethical standards of the institution or practice at which the studies were conducted.
Informed Consent
Informed consent was obtained from all individual participants included in the study.
About this article
Cite this article
Linder, D.E., Mueller, M.K., Gibbs, D.M. et al. Effects of an Animal-Assisted Intervention on Reading Skills and Attitudes in Second Grade Students. Early Childhood Educ J 46, 323–329 (2018). https://doi.org/10.1007/s10643-017-0862-x
Published:

Issue Date:

DOI: https://doi.org/10.1007/s10643-017-0862-x
Keywords
Animal-assisted intervention

Reading

Human-animal interaction

Child literacy

Attitudes towards reading

ERAS