Abstract
The aim of this study was to examine the relationships between mothers' self-efficacy beliefs, their preschool children's home learning environments, and literacy skills. A sample of 112 mother–child dyads was recruited from Head Start centers in rural and urban communities. The measures included maternal self-efficacy and maternal perceptions of child's readiness to read as well as the Stipek Home Learning Activities (SHLA) scale, Home-Learning Environment Profile (HLEP), and the Stony Brook Family Reading Survey (SBFRS). Modeling path analysis was performed. Model fit indices indicated that the resulting model was a good fit for the data. Concerning the direct effects of maternal self-efficacy on home learning environment, positive significant effects for the SHLA measure as well as the HLEP were found. However, no direct effect was found with regard to maternal self-efficacy on SBFRS indicating evidence for the domain specificity of efficacy beliefs. Implications of the study include findings that higher maternal self-efficacy is related to creating a more positive home learning environment. Additionally, higher maternal perceptions of child readiness to read mediates the relationships between higher maternal self-efficacy and a more positive home literacy environment. Moreover, these findings highlight the link between home learning environment and children's receptive vocabulary skills.
This is a preview of subscription content,
to check access.
Access this article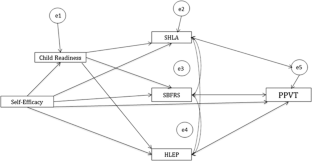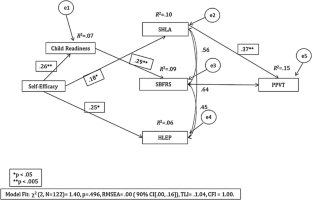 References
Anderson, J. C., & Gerbing, D. W. (1988). Structural equation modeling in practice: A review and recommended two step approach. Psychological Bulletin, 103, 411–423.

Aram, D., Korat, O., & Hassunah-Arafat, S. (2013). The contribution of early home literacy activities to first grade reading and writing achievements in Arabic. Reading and Writing: An Interdisciplinary Journal, 26(9), 1517–1536.

Baharduin, R., & Luster, T. (1998). Factors related to the quality of the home environment and children's achievement. Journal of Family Issues, 19, 375–403.

Bandura, A. (1977). Self-efficacy: Toward a unifying theory of behavioral change. Psychological Review, 84, 191–215.

Bandura, A. (1993). Perceived self-efficacy in cognitive development and functioning. Educational Psychologist, 28, 117–148.

Bandura, A. (1994). Self-efficacy. In V. S. Ramachaudran (Ed.), Encyclopedia of human behavior (Vol.4, pp. 71–81). New York, NY: Academic Press.

Bandura, A., Barbaranelli, C., Caprara, J., & Pastorelli, C. (2001). Self-efficacy beliefs as shapers of children's aspirations and career trajectories. Child Development, 72, 187–206.

Bennett, K. K., Weigel, D. J., & Martin, S. S. (2002). Children's acquisition of early literacy skills: Examining family contributions. Early Childhood Research Quarterly, 17(3), 295–317.

Bojczyk, K. E., Davis, A. E., & Rana, V. (2016). Mother-child interaction quality in shared book reading: Relation to child vocabulary and readiness to read. Early Childhood Research Quarterly, 36, 404–414.

Bradley, R. H., Caldwell, B. M., & Rock, S. L. (1988). Home environment and school performance: A ten-year follow-up and examination of three models of environmental action. Child Development, 59, 852–867.

Bradley, R. H., & Corwyn, R. F. (2001). Home environment and behavioral development during early adolescence: The mediating and moderating roles of self-efficacy beliefs. Merrill-Palmer Quarterly, 47, 165–187.

Brody, G. H., Flor, D. L., & Gibson, N. M. (1999). Linking maternal efficacy beliefs, developmental goals, parenting practices, and child competence in rural single-parent African American families. Child Development, 70, 1506–1518.

Duke, H. P., Allen, K. A., & Halverson, C. F. (1996). A new scale for measuring parents' feelings of confidence and competence: The Parenting Self-Efficacy Scale. Athens: University of Georgia (Unpublished manuscript).

Dunn, L. M., & Dunn, L. M. (1997). Peabody Picture Vocabulary Test—Third Edition. Circle Pines, MN: American Guidance Service.

Fielding-Barnsley, R., & Purdey, N. (2002). Developing pre-literacy skills via shared book reading: Assessment of a family intervention program for pre-school children at risk of becoming reading disabled. Australian Journal of Learning Difficulties, 7(3), 13–19.

Hart, B., & Risley, T. R. (1995). Meaningful differences in the everyday experience of young American children. Baltimore, MD: Paul H. Brookes Publishing Co.

Haverback, H., & Parault, S. J. (2011). High efficacy and the preservice reading teacher: A comparative study. Teaching and Teacher Education, 27(4), 703–711.

Heath, R. W., Levin, P. F., & Tibbetts, K. A. (1993). Development of home learning environment profile. In R. N. Roberts (Ed.), Coming home to preschool: The sociocultural context of early education (pp. 91–132). Norwood, NJ: Ablex.

Hoover-Dempsey, K. V., Bassler, O. C., & Brissie, J. S. (1992). Explorations in parent-school relations. Journal of Educational Research, 85, 287–294.

Hoover-Dempsey, K. V., & Sandler, H. M. (1997). Why do parents become involved in their children's education? Review of Educational Research, 67, 3–42.

Izzo, C., Weiss, L., Shanahan, T., & Rodriguez-Brown, F. (2000). Parental self-efficacy and social support as predictors of parenting practices and children's socioemotional adjustment in Mexican immigrant families. Journal of Prevention and Intervention in the Community, 20, 197–213.

Jackson, A. P., Choi, J., & Bentler, P. M. (2009). Parenting efficacy and the early school adjustment of poor and near-poor black children. Journal of Family Issues, 30, 1339–1355.

Jones, T. L., & Prinz, R. J. (2005). Potential roles of parental self-efficacy in parent and child adjustment: A review. Clinical Psychology Review, 25, 341–363.

Kiernan, K. E., & Huerta, M. C. (2008). Economic deprivation, maternal depression, parenting and children's cognitive and emotional development in early childhood. The British Journal of Sociology, 59, 783–806.

Kline, R. B. (1998). Principles and practice of structural equation modeling. New York, NY: Guilford Press.

Lee, V. E., & Burkam, D. T. (2002). Inequality at the starting gate: Social background differences in achievement as children begin school. Washington, DC: Economic Policy Institute.

Levy, B. A., Gong, Z., Hessels, S., Evans, M. A., & Jared, D. (2006). Understanding print: Early reading development and the contributions of home literacy experiences. Journal of Experimental Child Psychology, 93(1), 63–93.

Li, L., & Tan, C. L. (2016). Home literacy environment and its influence on Singaporean children's Chinese oral and written language abilities. Early Childhood Education Journal, 44(4), 381–387.

Lynch, J. (2002). Parents' self-efficacy beliefs, parents' gender, children's reader self-perceptions, reading achievement and gender. Journal of Research in Reading, 25, 54–67.

McClelland, M. M., Kessenich, M., & Morrison, F. J. (2003). Pathways to early literacy: The complex interplay of child, family, and sociocultural factors. In R. V. Kail & H. W. Reese (Eds.), Advances in child development and behavior (Vol. 31, pp. 411–447). New York: Academic Press.

Meng, C. (2015). Home literacy environment and head start children's language development:The role of approaches to learning. Early Education and Development, 26(1), 106–124.

Okado, Y., Bierman, K. L., & Welsh, J. A. (2014). Promoting school readiness in the context of socio-economic adversity: Associations with parental demoralization and support for learning. Child & Youth Care Forum, 43, 353–371.

Pajares, F. (1996). Self-efficacy beliefs in academic settings. Review of Educational Research, 66, 543–578.

Plourde, L. (2002). The influence of student teaching on preservice elementary teachers' science self-efficacy and outcome expectancy beliefs. Journal of Instructional Psychology, 29, 245–254.

Sammons, P., Toth, K., Sylva, K., Melhulsh, E., Sirai, L., & Taggart, B. (2015). The long-term role of the home learning environment in shaping students' academic attainment in secondary school. Journal of Children Services, 10(3), 189–201.

Seefeldt, C., Denton, K., Galper, A., & Younoszai, T. (1998). Former Head Start parents' characteristics, perceptions of school climate, and involvement in their children's education. Elementary School Journal, 98, 339–349.

Sonnenschein, S., & Munsterman, K. (2002). The influence of home-based reading interactions on 5-year-olds' reading motivations and early literacy development. Early Childhood Research Quarterly, 17(3), 318–337.

Stipek, D., Milburn, S., Clements, D., & Daniels, D. H. (1992). Parents' beliefs about appropriate education for young children. Journal of Applied Developmental Psychology, 13, 293–310.

United Nations Educational, Scientific and Cultural Organization. Retrieved March 2, 2014, from http://www.unesco.org/en/education.

Vukovic, R. K., Roberts, S. O., & Green, W. L. (2013). From parental involvement to children's mathematical performance: The role of mathematics anxiety. Early Education and Development, 24(4), 446–457.

Whitehurst, G. J. (1992). Stony Brook Family Reading Survey. Stony Brook NY: Author.

Yeo, L. S., Ong, W. W., & Ng, C. M. (2014). The home literacy environment and preschool children's reading skills and interest. Early Education and Development, 25(6), 791–814.
About this article
Cite this article
Bojczyk, K.E., Haverback, H.R. & Pae, H.K. Investigating Maternal Self-Efficacy and Home Learning Environment of Families Enrolled in Head Start. Early Childhood Educ J 46, 169–178 (2018). https://doi.org/10.1007/s10643-017-0853-y
Published:

Issue Date:

DOI: https://doi.org/10.1007/s10643-017-0853-y
Keywords