Abstract
To enable children to develop towards becoming part of the solution to environmental problems, it is essential that they are given the opportunity to become familiar with the natural world from early childhood. Familiarity is required to develop understanding of, care for and, ultimately, action in terms of protecting the natural world. As adult-led reading of picture books is a common form of indirect exposure to the natural world for young children, this study examines the biological accuracy of the representation of whales and dolphins in the images and text of picture books. Of the total of 116 books examined, 74 (63.8 %) had errors in the representation of cetaceans in the images and/or text. Errors were identified in both fictional (mean = 8.0 errors/book, SD = 11.1, n = 55) and non-fictional (mean = 2.3 errors/book, SD = 4.9, n = 61) books. The potential impact of the errors is discussed, and suggestions are made as to how the impact could be reduced and how the biological accuracy of picture books could be improved.
Access options
Buy single article
Instant access to the full article PDF.
USD 39.95
Price excludes VAT (USA)
Tax calculation will be finalised during checkout.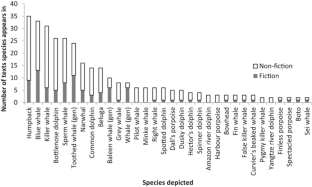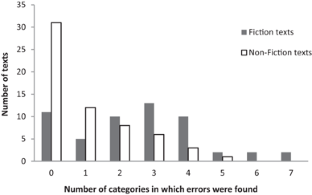 References
Alake-Tuenter, E., Biemans, H. J. A., Tobi, H., & Mulder, M. (2013). Inquiry-based science teaching competence of primary school teachers: A Delphi study. Teaching and Teacher Education, 35, 13–24.

Allen, M. (2015). Preschool children's taxonomic knowledge of animal species. Journal of Research in Science Teaching, 52, 107–134.

Bortnem, G. M. (2008). Teacher use of interactive read alouds using nonfiction in early childhood classrooms. Journal of College Teaching & Learning, 5(12), 29–43.

Burgener, V., Eliott, W., & Leslie, A. (2012). WWF species action plan: Cetaceans, 2012–2020.

Carle, E. (1969). The very hungry caterpillar. New York: Puffin Books.

Carwadine, M. (2000). Whales, dolphins and porpoises. Dorling Kindersley, U.K.

Ceballos, G., Ehrlich, P. R., Barnosky, A. D., García, A., Pringle, R. M., & Palmer, T. M. (2015). Accelerated modern human–induced species losses: Entering the sixth mass extinction. Science Advances, 1(5), e1400253.

Cohen, J. (2008). Science goes Hollywood: NAS links with entertainment industry. Science, 322(5906), 1315.

Corriveau, K. H., Einav, S., Robinson, E. J., & Harris, P. L. (2014). To the letter: Early readers trust print-based over oral instructions to guide their actions. British Journal of Developmental Psychology. doi:10.1111/bjdp.12046.

Derbyshire County Council. (2014). Library catalogue. Retrieved Jul. 21, 2014 from http://www.derbyshire.gov.uk/leisure/libraries/search_the_catalogue/default.asp.

Fraser, J., Reiss, D., Boyle, P., Lemcke, K., Sickler, J., Elliott, E. et al. (2006). Dolphins in popular literature and media. Society & Animals, 14(4), 321–349.

Gaiman, N. (2015). Why our future depends on libraries, reading and daydreaming. The Guardian On-line. Retrieved Jul. 21, 2015 from http://www.theguardian.com/books/2013/oct/15/neil-gaiman-future-libraries-reading-daydreaming.

Genovart, M., Tavecchia, G., Enseñat, J. J., & Laiolo, P. (2013). Holding up a mirror to the society: Children recognize exotic species. Biological Conservation, 159, 484–489.

Guest, H., Lotze, H. K., & Wallace, D. (2015). Youth and the sea: Ocean literacy in Nova Scotia, Canada. Marine Policy, 58, 98–107.

Hart, R. A. (1997). Children's participation: The theory and practice of involving young citizens in community development and environmental care. Earthscan.

Hoelzel, A. R. (Ed.). (2002). Marine mammal biology: An evolutionary approach. Blackwell.

IUCN Cetacean Specialist Group. (2015). On-line Retrieved Oct. 3, 2015 from http://www.iucn-csg.org/index.php/status-of-the-worlds-cetaceans/.

Juel, C. (1988). Learning to read and write: A longitudinal study of 54 children from first through fourth grades. Journal of Educational Psychology, 8(4), 437–447.

Kubiatko, M., & Prokop, P. (2007). Pupils' misconceptions about mammals. Journal of Baltic Science Education, 6(1), 5–14.

Kwen, B. H. (2005). Teachers' misconceptions of biological science concepts as revealed in science examination papers, AARE International Education Research Conference. November 27–December 1, University of Western Sydney, Australia.

Nadelson, L. S., & Jordan, J. R. (2012). Student attitudes toward and recall of outside day: An environmental science field trip. The Journal of Educational Research, 105(3), 220–231.

Neuman, S. B., & Roskos, K. (2012). Helping children become more knowledgeable through text. The Reading Teacher, 66(3), 207–210.

O'Brien, D. G., & Stewart, R. A. (1990). Preservice teachers' perspectives on why every teacher is not a teacher of reading: A qualitative analysis. Journal of Reading Behaviour, 22(2), 101–129.

Oliveira, A. W. (2015). Reading engagement in science: Elementary students' read-aloud experiences. International Journal of Environmental and Science Education, 10(3), 429–451.

Piro, J. M. (2002). The picture of reading: Deriving meaning in literacy through image. The Reading Teacher, 56(2), 126–134.

Preacher, K. J. (2001). Calculation for the chi-square test: An interactive calculation tool for chi-square tests of goodness of fit and independence [Computer software]. Retrieved Aug. 15, 2014 from http://quantpsy.org.

Reid, J. B., Evans, P. G. H., & Northridge, S. P. (2003). Atlas of Cetacean Distribution in North-West European Waters. 76 pages, colour photos, maps. Paperback, ISBN 1861075502.

Rice, D. C. (2002). Using trade books in teaching elementary science: Facts and fallacies. The Reading Teacher, 55(6), 552–565.

Royce, C. A., & Wiley, D. A. (1996). Children's literature and the teaching of science: Possibilities and cautions. The Clearing House, 70(1), 18–20.

Sackes, M., Trundle, K. C., & Flevares, L. M. (2009). Using children's literature to teach standard-based science concepts in early years. Early Childhood Education Journal, 36, 415–422.

Schiele, B. (2015). Globalisation of science communication. Journal of Scientific Temper, 3(1), 5–11.

Schussler, E. E. (2008). From flowers to fruits: How children's books represent plant reproduction. International Journal of Science Education, 30(12), 1677–1696.

Smith, M., & Mathur, R. (2009). Children's imagination and fantasy: Implications for development, education, and classroom activities. Research in the Schools, 16(10), 52–63.

Trivette, C. M., Simkus, A., Dunst, C. J., & Hamby, D. W. (2012). Repeated book reading and preschoolers' early development. Cell Reviews, 5(5), 1–13.

Tundle, K. C., Troland, T. H., & Pritchard, T. G. (2008). Representations of the moon in children's literature: An analysis of written and visual text. Journal of Elementary Science Education, 20(1), 17–28.

Wells, R., & Zeece, P. D. (2007). My place in my world: Literature for place-based environmental education. Early Childhood Education Journal, 35(3), 285–291.

Williams, J. A., Podeschi, C., Palmer, N., & Schwadel, P. (2012). The human-environment dialog in award-winning children's picture books. Sociological Inquiry, 82(1), 145–159.
Electronic supplementary material
Below is the link to the electronic supplementary material.
About this article
Cite this article
Beaumont, E.S., Mudd, P., Turner, I.J. et al. Cetacean Frustration: The Representation of Whales and Dolphins in Picture Books for Young Children. Early Childhood Educ J 45, 545–551 (2017). https://doi.org/10.1007/s10643-016-0819-5
Published:

Issue Date:

DOI: https://doi.org/10.1007/s10643-016-0819-5
Keywords