Abstract
This study investigated the moderating effect of gender on the causal relationships between different school play activities (pretend and non-pretend play) and social competence in peer interactions among a sample of Hong Kong children. Participants were 60 Hong Kong preschoolers (mean age = 5.44, 36.67 % female). Children with matched home pretend play time period were randomly assigned to pretend or non-pretend play groups to take part in pretend or non-pretend play activities respectively in the 1-month kindergarten play training. Children's pre- and post-training social competences were assessed by their teachers. Results revealed a trend that girls who participated in school pretend play tended to be less disruptive during peer interactions after the training than those who participated in non-pretend play, while boys were similarly benefited from the two play activities. The implications for play-related research and children's social competence development are discussed.
Access options
Buy single article
Instant access to the full article PDF.
USD 39.95
Price excludes VAT (USA)
Tax calculation will be finalised during checkout.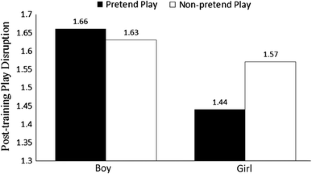 References
Bierman, K. L., & Welsh, J. A. (2000). Assessing social dysfunction: The contributions of laboratory and performance-based measures. Journal of Clinical Child Psychology, 29(4), 526–539. doi:10.1207/S15374424JCCP2904_6.

Black, B. (1989). Interactive pretense: Social and symbolic skills in preschool play groups. Merrill-Palmer Quarterly, 35(4), 379–397.

Bretherton, I. (1989). Pretense: The form and function of make-believe play. Developmental Review, 9(4), 383–401. doi:10.1016/0273-2297(89)90036-1.

Dennis, L. R., & Stockall, N. (2015). Using play to build the social competence of young children with language delays: Practical guidelines for teachers. Early Childhood Education Journal, 43(1), 1–7. doi:10.1007/s10643-014-0638-5.

Fein, G. G. (1981). Pretend play in childhood: An integrative review. Child Development, 52, 1095–1118. doi:10.2307/1129497.

Galyer, K. T., & Evans, I. M. (2001). Pretend play and the development of emotion regulation in preschool children. Early Child Development and Care. doi:10.1080/0300443011660108.

Garvey, C. (1990). Play. Cambridge, MA: Harvard University Press. (enlarged ed.).

Howes, C., & Matheson, C. C. (1992). Sequences in the development of competent play with peers: Social and social pretend play. Developmental Psychology, 28(5), 961–974. doi:10.1037/0012-1649.28.5.961.

Jones, A., & Glenn, S. M. (1991). Gender differences in pretend play in a primary school group. Early Child Development and Care, 72, 61–67. doi:10.1080/0300443910720105.

Kim, K. (2011). The creativity crisis: The decrease in creative thinking scores on the Torrance Tests of Creative Thinking. Creativity Research Journal, 23(4), 285–295. doi:10.1080/10400419.2011.627805.

Lillard, A. S., Hopkins, E. J., Dore, R. A., Palmquist, C. M., Lerner, M. D., & Smith, E. D. (2013a). Concepts and theories, methods and reasons: Why do the children (pretend) play? Reply to Weisberg, Hirsh-Pasek, and Golinkoff (2013); Bergen (2013); and Walker and Gopnik (2013). Psychological Bulletin, 139(1), 49–52. doi:10.1037/a0030521.

Lillard, A. S., Lerner, M. D., Hopkins, E. J., Dore, R. A., Smith, E. D., & Palmquist, C. M. (2013b). The impact of pretend play on children's development: A review of the evidence. Psychological Bulletin, 139(1), 1–34. doi:10.1037/a0029321.

Lin, S. H., & Lin, C. J. (2006). Development and validation of "Peer Interactive Play Rating Scales". The Journal of Study in Child and Education, 2, 17-42. Retrieved February 28, 2014, from http://web.nutn.edu.tw/gac680/js/2-02.pdf.

Lindsey, E. W., & Colwell, M. J. (2003). Preschoolers' emotional competence: Links to pretend and physical play. Child Study Journal, 33(1), 39–52.

Lindsey, E. W., & Colwell, M. J. (2013). Pretend and physical play: Links to preschoolers' affective social competence. Merrill-Palmer Quarterly, 59(3), 330–360. doi:10.1353/mpq.2013.0015.

Lindsey, E. W., & Mize, J. (2001). Contextual differences in parent–child play: Implications for children's gender role development. Sex Roles, 44(3–4), 155–176. doi:10.1023/A:1010950919451.

Mathieson, K., & Banerjee, R. (2010). Pre-school peer play: The beginnings of social competence. Educational and Child Psychology, 27(1), 9–20.

Pyle, A., & Bigelow, A. (2014). Play in kindergarten: An interview and observational study in three Canadian classrooms. Early Childhood Education Journal. doi:10.1007/s10643-014-0666-1.

Rubin, K. H. (1982). Nonsocial play in preschoolers: Necessarily evil? Child Development, 53(3), 651–657. doi:10.2307/1129376.

Schellenberg, E. (2004). Music lessons enhance IQ. Psychological Science, 15(8), 511–514. doi:10.1111/j.0956-7976.2004.00711.x.

Swindells, D., & Stagnitti, K. (2006). Pretend play and parents' view of social competence: The construct validity of the Child-Initiated Pretend Play Assessment. Australian Occupational Therapy Journal, 53(4), 314–324. doi:10.1111/j.1440-1630.2006.00592.x.

Underwood, M. K., Hurley, J. C., Johanson, C. A., & Mosley, J. E. (1999). An experimental, observational investigation of children's responses to peer provocation: Developmental and gender differences in middle childhood. Child Development, 70(6), 1428–1446. doi:10.1111/1467-8624.00104.

Vygotsky, L. S. (1967). Play and its role in the mental development of the child. Soviet Psychology, 5, 6–18.

Wainer, H. (1991). Adjusting for differential base rates: Lord's Paradox again. Psychological Bulletin, 109(1), 147–151. doi:10.1037/0033-2909.109.1.147.

Walker, S., Irving, K., & Berthelsen, D. (2002). Gender influences on preschool children's social problem-solving strategies. The Journal of Genetic Psychology: Research and Theory on Human Development, 163(2), 197–210. doi:10.1080/00221320209598677.
Ethics declarations
Ethical Approval
All procedures performed in studies involving human participants were in accordance with the ethical standards of the institutional and/or national research committee and with the 1964 Helsinki declaration and its later amendments or comparable ethical standards.
Additional information
The article is based on the first author's Postgraduate Diploma in Psychology thesis, under the supervision of the second author, submitted to the Hong Kong Institute of Education.
About this article
Cite this article
Fung, Wk., Cheng, R.Wy. Effect of School Pretend Play on Preschoolers' Social Competence in Peer Interactions: Gender as a Potential Moderator. Early Childhood Educ J 45, 35–42 (2017). https://doi.org/10.1007/s10643-015-0760-z
Published:

Issue Date:

DOI: https://doi.org/10.1007/s10643-015-0760-z
Keywords