Abstract
This ethnographic study presents findings of the literacy practices of Burmese refugee families and their interaction with a book distribution program paired with an intergenerational family literacy program. The project was organized at the level of Bronfenbrenner's exosystem (in Ecology of human development. Cambridge, Harvard University Press, 1979) to effect a change at the immediate level of the microsytem (i.e., the child's home life). These two programs–Imagination Library and Storycircles–were organized by the local Literacy Coalition in a Central New York community in the United States in order to assist the refugee families to transition into their new sociocultural context and increase their involvement in the school-based education of their children. Participant observations and interviews with parents and program providers indicated that, while the family literacy practices mostly centered on oral traditions, participation in the two programs led to the familiarity and use of print-based forms of literacy. Additionally, parents reported an interaction with books that were reaching their homes and consciously modeling the shared reading practices demonstrated by the program providers. The linguistic and cultural barriers are discussed in light with the pedagogical implications of the study in finding ways to provide culturally responsive instruction.
Access options
Buy single article
Instant access to the full article PDF.
USD 39.95
Price excludes VAT (USA)
Tax calculation will be finalised during checkout.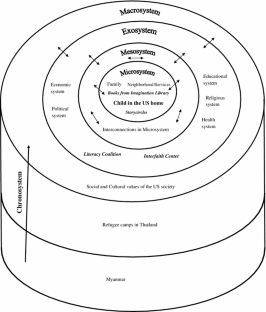 References
Anderson, J., Anderson, A., Fredrich, N., & Kim, J. E. (2010). Taking stock of family literacy: Some contemporary perspectives. Journal of Early Childhood Literacy, 10(1), 33–53. doi:10.1177/1468798409357387.

Anderson, J., & Morrison, F. (2011). Learning from and with immigrant and refugee families in a family literacy program. In P. R. Schmidt & A. M. Lazar (Eds.), Practicing what we teach: How culturally responsive literacy classrooms make a difference (pp. 130–138). New York: Teachers College Press.

Aram, D., & Aviram, S. (2009). Mothers' storybook reading and kindergartners' socioemotional and literacy development. Reading Psychology, 30, 175–194. doi:10.1080/02702710802275348.

Auerbach, E. L. (1989). Toward a socio-contextual approach to family literacy. Harvard Educational Review, 59(2), 165–181.

Barton, D., & Hamilton, M. (2000). Literacy practices. In D. Barton, M. Hamilton, & R. Ivanic (Eds.), Situated literacies: Reading and writing in context (pp. 7–15). New York: Routledge.

Bronfenbrenner, U. (1979). Ecology of human development. Cambridge, MA: Harvard University Press.

Bronfenbrenner, U. (1986). Ecology of the family as a context for human development: Research perspectives. Developmental Psychology, 22(6), 723–742.

Cameron, C. A., & Pinto, G. (2009). A day in the life: Secure interludes with joint book reading. Journal of Research in Childhood Education, 23(4), 437–449. doi:10.1080/02568540909594672.

Carrington, V., & Luke, A. (2003). Reading, homes and families: From postmodern to modern? In A. van Kleeck, S. Stahl, & E. Bauer (Eds.), On reading to children: Parents and teachers (pp. 237–253). Mahwah, NJ: Erlbaum.

Compton-Lilly, C. F., Rogers, R., & Lewis, T. Y. (2012). Analyzing epistemological considerations related to diversity: An integrative critical literature review of family literacy scholarship. Reading Research Quarterly, 47(1), 33–60. doi:10.1002/RRQ.009.

Conyer, J. (2012). My very own Imagination Library. Childhood Education, 88(4), 221–225.

Cummins, J. (1989). Empowering minority students. Sacramento, CA: Association for Bilingual Education.

Elley, W. (2000). The potential of book floods for raising literacy levels. International Review of Education, 46(3/4), 233–255.

Evans, M. A., Williamson, K., & Pursoo, T. (2008). Preschoolers' attention to print during shared book reading. Scientific Studies of Reading, 12(1), 106–129. doi:10.1080/10888430701773884.

Fuertes, A. (2010). Birds inside a cage: metaphor for Karen refugees. Social Alternatives, 29(1), 20–24.

Gee, J. P. (1996). Social linguistics and literacies: Ideology in discourses (2nd ed.). London: Routledge.

Gregory, E., & Williams, A. (2000). City literacies: Learning to read across generations and cultures. London: Routledge.

Hamilton, R., & Moore, D. (Eds.). (2004). Educational interventions for refugee children: Theoretical perspectives and implementing best practice. New York: RoutledgeFalmer.

Hart, B., & Risley, R. T. (1995). Meaningful differences in the everyday experience of young American children. Baltimore, MD: Paul H. Brookes.

International Reading Association (2010, August). Sparking the imagination: Dolly Parton's Imagination Library program presents 25 millionth book. Reading Today, 28(1), 2.

Kenny, P., & Lockwood-Kenny, K. (2011). A mixed blessing: Karen resettlement to the United States. Journal of Refugee Studies, 24(2), 217–238. doi:10.1093/jrs/fer009.

McBrien, J. L. (2005). Educational needs and barriers for refugee students in the United States: A review of the literature. Review of Educational Research, 75(3), 329–364.

Magro, K. (2009). Expanding conceptions of intelligence: Lessons learned from refugees and newcomers to Canada. Gifted and Talented International, 23(2), 79–92.

Morales, A., & Hanson, W. E. (2005). Language brokering: An integrative review of the literature. Hispanic Journal of Behavioral Sciences, 27(4), 471–503.

Merriam, S. B. (2009). Qualitative research: A guide to design and implementation (2nd ed.). San Francisco, CA: Jossey-Bass Education.

Miles, M. B., & Huberman, A. M. (1994). Qualitative data analysis: An expanded source (2nd ed.). Thousand Oaks, CA: Sage.

Mol, S. E., & Bus, A. G. (2011). To read or not to read: A meta-analysis of print exposure from infancy to early adulthood. Psychological Bulletin, 137(2), 267–296. doi:10.1037/a0021890.

Moll, L. C., Amanti, C., Neff, D., & González, N. (1992). Funds of knowledge for teaching: Using a qualitative approach to connect homes and classrooms. Theory into Practice, 31(2), 132–141.

Moll, L. C., & González, N. (1994). Lessons from research with language-minority children. Journal of Reading Behavior, 26(4), 439–456.

Moll, L., Sáez, R., & Dworin, J. (2001). Exploring biliteracy: Two student case examples of writing as social practice. Elementary School Journal, 101(4), 435–449.

Mui, S., & Anderson, J. (2008). At home with the Johars: Another look at family literacy. The Reading Teacher, 62(3), 234–243. doi:10.1598/RT.62.3.5.

Neuman, S. B. (1999). Books make a difference: A study of access to literacy. Reading Research Quarterly, 34(3), 286–311.

Office of the United Nations High Commissioner for Refugees. (2012). UNHCR country operations profile—Myanmar: Working environment. Available at: http://www.unhcr.org/cgi-bin/texis/vtx/page?page=49e4877d6&submit=GO#MYAYA.

Oh, S., & Stowe, M. V. (2008). Education, diversity, and inclusion in Burmese refugee camps in Thailand. Comparative Education Review, 52(4), 589–617. doi:10.1086/591299.

Patton, M. Q. (1990). Qualitative evaluation and research methods (2nd ed.). Thousand Oaks, CA: Sage Publications.

Perry, K. H. (2009). Genres, contexts, and literacy practices: Literacy brokering among Sudanese refugee families. Reading Research Quarterly, 44(3), 256–276. doi:10.1598/RRQ.44.3.2.

Reyes, L. V., & Torres, M. N. (2007). Decolonizing family literacy in a culture circle: Reinventing the family literacy educator's role. Journal of Early Childhood Literacy, 7(1), 73–94. doi:10.1177/1468798407074837.

Sleeter, C. (2001). Preparing teachers for culturally diverse schools. Journal of Teacher Education, 52(2), 94–106.

Souto-Manning, M. (2009). Negotiating culturally responsive pedagogy through multicultural children's literature: Towards critical democratic literacy practices in a first grade classroom. Journal of Early Childhood Literacy, 9(1), 53–77. doi:10.1177/1468798408101105.

Szente, J., Hoot, J., & Taylor, D. (2006). Responding to the special needs of refugee children: Practical ideas for teachers. Early Childhood Education Journal, 34(1), 15–20. doi:10.1007/s10643-006-0082-2.

Teale, W. H., & Sulzby, E. (1986). Emergent literacy: Writing and reading. Norwood, NJ: Ablex.

Thailand Burma Border Consortium. (2012). TBBC Program Report, January to June, 2012. Available at: http://www.tbbc.org/resources/resources.htm#reports.

Vygotsky, L. S. (1978). Mind in society: The development of higher psychological processes. Cambridge, MA: Harvard University Press.

Yin, R. K. (2003). Case study research: Design and methods (3rd ed.). Thousand Oaks, CA: Sage Publications Inc.
Children's Literature
Piper, W. (1976). The little engine that could. New York: Platt and Munk, Publishers.
Acknowledgments
This work was supported by a grant from the Sociological Initiatives Foundation and by individual grants awarded to Sunita Singh and Monica R. Sylvia from Le Moyne College's Center for Urban and Regional Applied Research.
About this article
Cite this article
Singh, S., Sylvia, M.R. & Ridzi, F. Exploring the Literacy Practices of Refugee Families Enrolled in a Book Distribution Program and an Intergenerational Family Literacy Program. Early Childhood Educ J 43, 37–45 (2015). https://doi.org/10.1007/s10643-013-0627-0
Published:

Issue Date:

DOI: https://doi.org/10.1007/s10643-013-0627-0
Keywords
Refugee

Family literacy

Book distribution

Imagination library