Abstract
In Fall 2006, North Carolina kindergarten teachers were charged with the task of meeting the NASPE guidelines for providing daily physical activity to their kindergarten students. In turn, the teachers researched resources and consulted experts to design and develop a developmentally appropriate physical activity and physical play environment for their students. The purpose of this article is to disseminate useful information one group of kindergarten teachers believed would help other teachers in similar situations. The article discusses the planning process, suggestions for activities and necessary equipment for program implementation, and vignettes regarding the experiences the teachers and students have had during the physical activity and physical play program's inaugural year.
Access options
Buy single article
Instant access to the full article PDF.
US$ 39.95
Tax calculation will be finalised during checkout.
Subscribe to journal
Immediate online access to all issues from 2019. Subscription will auto renew annually.
US$ 79
Tax calculation will be finalised during checkout.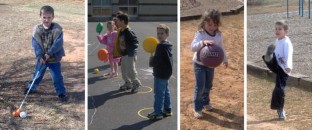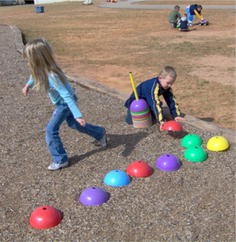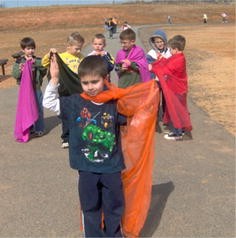 Notes
1.

Teachers are encouraged to contact universities for help and assistance in such efforts. Many university faculty and students today are involved in service learning and outreach projects and are looking for opportunities to partner with schools in the community.

2.

They are fortunate enough to have access to a track on their recess grounds, however at schools without a track, running in a large circle around the recess grounds is acceptable. It may be wise to place cones or other raised markers around the perimeter of the recess space (e.g. about six feet from the fence or "off limits area") to mark the path the students should follow while running since young children have trouble with Euclidean or flat boundaries.
References
Acs, Z., & Stanton, K. (2005). The infrastructure of obesity and the obesity epidemic. Journal of Health Economics and Health Policy, 4(3), 139–146.

Author Unknown. (n.d). Standard course of study: Healthful living education––Kindergarten. Retrieved March 22, 2007, from http://www.learnnc.org/scos/2006–HLE/K/.

Buchanan, A., Groccia, C., Rudisill, M. E., & Taylor, J. (2004). Global bridges curriculum. Beijing, China: Simplex, Inc.

Gabbard, C. P. (2000). Lifelong motor development (3rd ed.). Dubuque, IA: Brown & Benchmark.

Goodway, J. D., Rudisill, M. E., & Valentini, N. C. (2002). The influence of instruction on catching: A developmental approach. Motor Development: Research & Reviews (Vol. 2). Reston, VA: AAHPERD Publications.

Haywood, K. M. & Getchell, N. (2001). Life span motor development (3rd ed.). Champaign, IL: Human Kinetics.

National Association for Sport and Physical Education. (2004). Moving into the future: National standards for physical education (2nd ed.). Reston, VA: Author.

Newell, K. (1984). Physical constraints on the development of motor skills. In J. Thomas (Ed.), Motor development during preschool and elementary years (pp. 105–120). Minneapolis, MN: Burgess.

Newell, K. (1986). Constraints on the development of coordination. In M. G. Wade & H. T. Whiting (Eds.), Motor development in children: Aspects of coordination and control (pp. 341–360). Dordrecht, The Netherlands: Nij.

Ogden, C. L., Carroll, M. D., Curtin, L. R., McDowell, M. A., Tabak, C. J., & Flegal, K. M. (2006). Prevalence of overweight and obesity in the United States, 1999–2004. Journal of the American Medical Association, 295, 1549–1555.

Parish, L. E., & Rudisill, M. E. (2006). HAPPE: Promoting physical play among toddlers. Young Children, 61(3), 32.

Parish, L. E., St. Onge, P. M., Farquar, C. A., Breslin, C. M., & Rudisill, M. E. (2007). Mastery motivational motor skills program: Influence on heart rate and physical activity levels in pre-service teachers. Paper presented at the annual meeting of the North American Society for the Psychology of Sport and Physical Activity, June 7–9, San Diego, CA.

Rudisill, M. E., Taylor, J., Buchanan, A., Groccia, C., & Lectner, J. (2006). Global bridges learning themes. Beijing, China: Simplex, Inc.

Rudisill, M.E., & Wall, S. J. (2004). Meeting active start guidelines in the ADC-Boykin program: Preschoolers Teaching Elementary Physical Education, 15, 25–29.
About this article
Cite this article
Breslin, C.M., Morton, J.R. & Rudisill, M.E. Implementing a Physical Activity Curriculum into the School Day: Helping Early Childhood Teachers Meet the Challenge. Early Childhood Educ J 35, 429–437 (2008). https://doi.org/10.1007/s10643-007-0200-9
Received:

Accepted:

Published:

Issue Date:
Keywords
Early childhood physical education

Curriculum

Motor skill development